Traveling the world alone as a female can seem quite intimidating, but it's actually much more safe than you'd think, especially once you learn the right tips and advice. If you're looking to start your solo-traveling somewhere, we suggest trying smaller trips around the United States and then expanding your horizons to countries around the world which will help you become more comfortable with solo traveling. From the hilly streets of San Francisco to the sunny city of Honolulu, follow along as we round up the safest places in the U.S. for women to travel alone in 2020:
5. Portland, Oregon
Portland is an exciting and popular city that not only offers a ton of opportunities to enjoy outdoor activities as well as cultural events but is extremely safe for solo-traveling women. One reason is that the people are just so genuinely friendly around this city, so if you get lost don't hesitate to ask for directions as likely the first person you ask will be happy to help. The Portland International Hostel and Guest House is a great place for solo female travelers to stay as the staff and volunteers are excellent, plus they offer many freebies, group walking tours, and more. The Northwest District of Portland is loaded with cafes, unique stores, and incredible coffee shops. Visit during the fall and experience Forest Park, which is loaded with hiking trails ranging from beginner to advanced. Getting to the city center is easy as one train will take you straight from the airport, and from there you can start your travels.
4. Honolulu, Hawaii
It can be intimidating to visit Hawaii as a single woman, not because it's unsafe, but because most people are expecting to see a lot of honeymooners and romance. We are here to tell you that the island is not just full of lovers and the city of Honolulu is actually quite popular for solo females. Stay in the tourist area of Waikiki, where most of the hotels are and you will have access to the beach all the time. From here, you can do a variety of things including a hike up Diamond Head, visit Pearl Harbor, and relax on the beach. It is here where you can book tours to visit one of the island's beautiful waterfalls, take a whale watching tour, or snorkel at Hanauma Bay. Having a car is definitely the easiest option when it comes to exploring the island but you can also get around by renting a moped.
3. San Francisco, California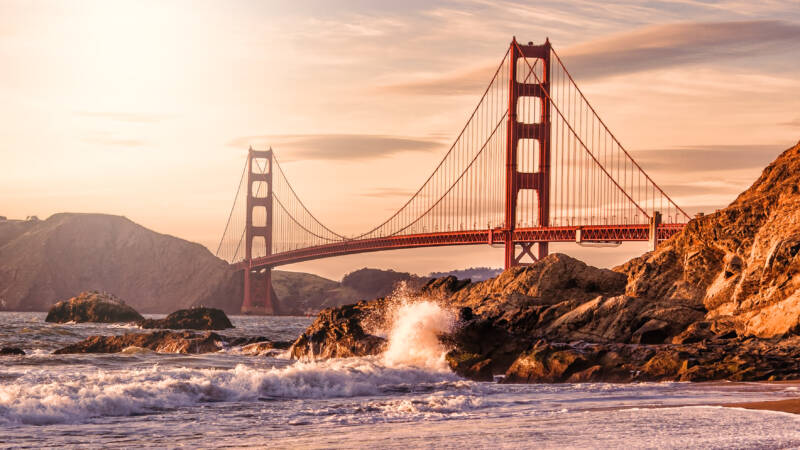 San Francisco is a popular travel destination and whether you are a solo female traveler or not, it has the added bonus of being extremely safe. Getting into the city is a breeze, one simply has to hop on the Bay Area Rapid Transit (BART) train that runs from the airport directly downtown, which is only a 35-minute ride or so and not to mention, budget-friendly. The city is also super easy to navigate without a car as there is a great combination of cable cars, streetcars, and buses that are easy to use. Stay near Union Square which is the main area for hotels as well as big restaurants and stores since the area is well lit at night and it's easy to get to other parts of the city via transit from here. Not to miss attractions include Fisherman's Wharf, the Golden Gate Bridge, Chinatown, North Beach, and more.
2. New York, New York
For those who are a little more adventurous and want to take on the big city of New York, you're in luck, it is actually surprisingly safe to be a solo female traveler here. Getting to the city's downtown core is a bit of a trek from one of the two airports but can be made easy and affordable with public transit. Make sure to book your hotel room in advance and find out the fastest and easiest way to get there. Once you are all checked in, it's into the city you go to. Wandering the streets is easy once you get the hang of the grid system and the great thing about New York is that there are so many other people around and so many other tourists that you never feel out of place. Join a sightseeing tour, visit Central Park, pay tribute at the 9/11 memorial and window shop at all those expensive stores you can't afford. Dine alone, at one of the thousands of restaurants, drink wine while listening to jazz, and do it all over the next day.
1. Seattle, Washington
An exciting urban city center surrounded by unmatched natural beauty awaits travelers in Seattle. Add in the bonus of it being one of the safest cities for solo female travelers and you've got automatic plans for your next travel destination. Belltown is the most recommended place to be if you are a solo traveler here, full of awesome hip venues, cool cafes, and unique boutiques. Don't miss out on visiting Pike Place Market, where after you get past all the flying fish you will discover a ton of things to explore. Join in on a historical walking or food tour, wander through Olympic Sculpture Park or dine at one of many local restaurants. It is effortless to get around the city and there are plenty of smiling people to greet you and make you feel welcome. If you want a really good cup of coffee, there is no better city in the US than Seattle.