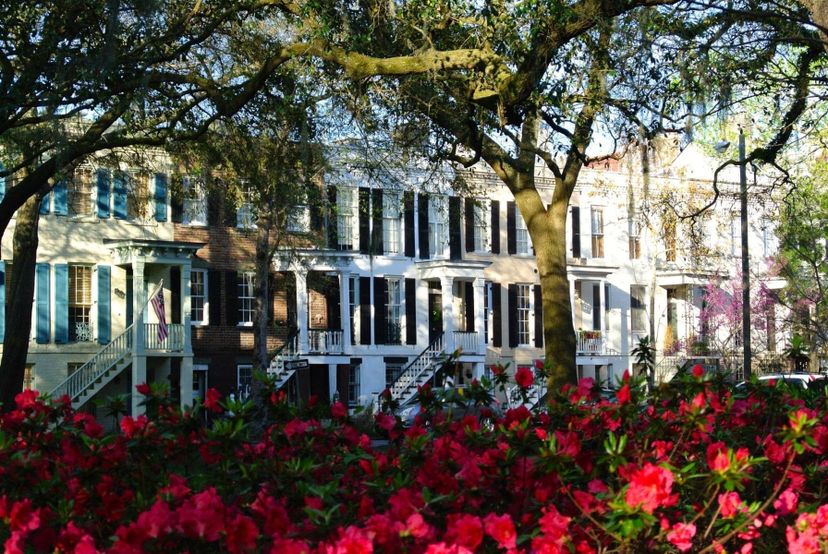 After my visit to North and South Carolina, as part of my 50×50 travel initiative, I headed on down to Savannah, Georgia with my boyfriend Keith.
How I dug Savannah. Somehow it resonated with me. I experienced it as a little like a slightly naughty debutante: beautiful, classic and polished on the surface; but with a funkiness that lies beneath, where things aren't quite as prim and proper as they appear. The leafy streets are populated with restored, historic Antebellum homes, and at the corner every couple of blocks are a series of small parks—some with fountains, all with gardens, benches and walkways.
Savannah's streets and buildings are as picturesque as they come; yet the town also feels very lived-in. It's vibrant and artsy, with plenty of galleries, independent boutiques, restaurants and pubs and bars of all nature. The town gets up early and stays up late, with every minute positively oozing friendly Southern charm.
It's one of those places that I visit and think, "Oh, I could totally live here."
We stayed at the historic Zeigler House Inn on Jones Street, which was called one of America's prettiest streets by USA Today and Southern Living.
Built in 1856, this Italianate home inn showcases gracious southern architecture, romantic splendor and the hallmarks of Savannah: wide verandahs, shady courtyards and museum-quality interior details such as pine and walnut staircases, carved ceiling medallions, original (non-working) fireplaces, and gorgeous chandeliers.
Yet Zeigler House Inn, like Savannah, is far from pretentious or stuffy. It offers guests unceremonious, home-away-from-home comforts with a gentle leisure and graceful, friendly service. The host, Jackie Heinz, made us feel so welcome and spent a lot of time orienting us to the city and making suggestions for things to do and places to eat. It's hard to want to leave this place once you're ensconced here.
We took Jackie up on a lot of her suggestions, too. A favorite was The Distillery Ale House, originally opened in 1904 and became a pharmacy during Prohibition (though rumor has it that bathtub gin and homemade beer were still produced on the 2nd floor throughout Prohibition years). It was resurrected as a historic saloon in 2008.
Insert random piece of travel advice here: If you're ever sitting at The Distillery in Savannah on a Saturday night, and there's a beautiful lemongrass infused alcohol being distilled in front of you, no matter how delicious and innocent it both looks and tastes, DO NOT end your late evening by asking the bartender to make you a concoction with this. It is the devil's potion.
We also did a trolley tour on our first full day in Savannah, which was a great way to see the highlights. The historic district is imminently walkable, which is one of the nicest things about the city. From City Market, lively and the most touristy spot, open well into the night (4 am on weekends!) to the waterfront and plethora of amazing restaurants, there's plenty to do in Savannah. You need at least a month just to eat everywhere!
The historic homes and sites are also amazing. The Juliette Gordon Lowe home and birthplace (founder of the Girl Scouts); the Mercer House (made famous in Midnight in the Garden of Good and Evil); Cathedral of St. John; Davenport House; Forsyth Park; and the many SCAD (Savannah College of Art & Design) buildings around town. We had a great time simply walking up and down Jones Street, and meandering through the small parks that dot every couple of blocks.
Savannah is, truly, a Southern Belle — just one with a little bit of a kick-butt attitude.