It is easy for any hotel to dig a hole, fill it with water and charge extra because they now offer a pool. What is hard is creating such an incredible pool that people actually come and stay just for that experience. The following 10 hotels have done just that, created amazing pools and water spaces that have guests coming back for more. From lazy rivers to water slides to private cabanas to live shows; don't miss out on these top 10 hotel pools in Orlando.
10. Orlando World Center Marriott
This complex of outdoor pools is located just a short drive from Disney World and has recently undergone a multi-million dollar renovation making it one of the best pools in Orlando. The main pool is the Falls Pool, located outdoors and features waterfalls throughout, along with a palm tree lining. The newest addition to this pool is a 90-foot-long "drop" slide and a pair of 200-foot-long curvy slides, some of the best hotel waterslides in the world, all reached by a 104 foot slide tower. These slides aren't just for children and more often than not, more adults are in line than kids! A poolside bar that can seat 180, a zero-entry children's pool with a ton of activities and a mermaid academy are just a few of the things offered at this unique pool.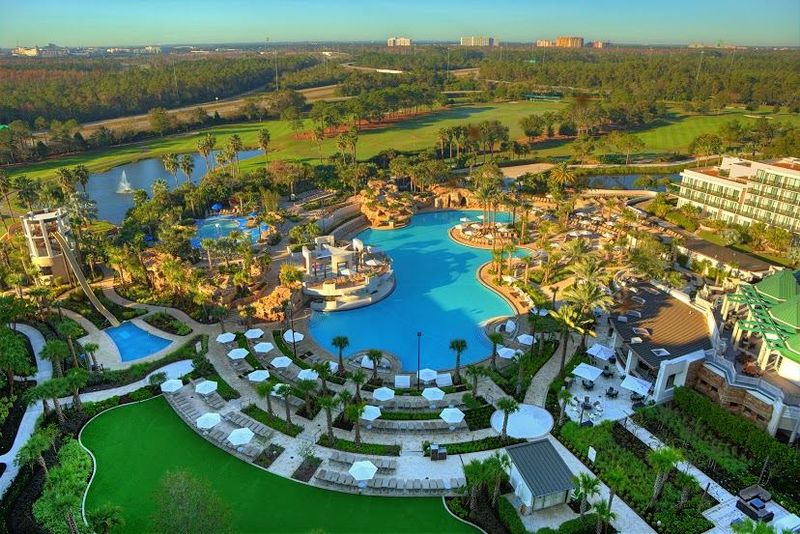 9. Hyatt Regency Grand Cypress
This 800,000 gallon free-flowing lagoon pool is located alongside thousands of feet of white sandy beach, making it one of the most desirable pools in Orlando. All together this pool boasts 12 different waterfalls, two whirlpools, heated and non-heated pools, a children's rock climbing station, wraparound sundecks, two waterfalls, a swim through grotto and the new and impressive Water Jet Splash Zone. This splash zone features almost 40 jets; all of different powers with LED lights for both day and night play. Kids and adults alike happen to love the new open-flume water slide that twists and turns 124 feet in length, plunges 17.5 feet, and runs low to the ground. It takes riders through palms and lush landscaping before splashing you into the heated pool. Open from 5am-11pm, there are no lifeguards on duty so parents will have to keep an eye on their children. The pool manages to be great for kids but also for adults with the enhanced lush tropical landscaping, rock formations and modern lighting.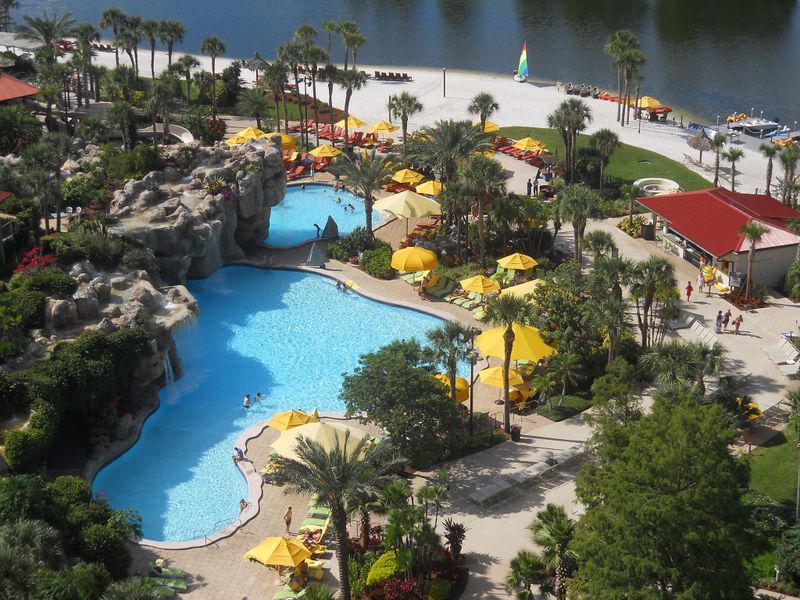 8. Stormalong Bay at the Disney Yacht & Beach Club Resort
This three acre water wonderland is perfect for both kids and adults and it will be hard to even fathom leaving these pools to experience anything else. Stormalong Bay is more of a waterpark than a pool, and offers an incredible sand-bottomed pool, a 230 foot waterslide, a lazy river and the replica of a shipwreck. Children are encouraged to play both in the main pool and in the kiddie pool, complete with miniature waterslide. For the adults there are choices of three leisure pools, all of which offer a tranquil and more peaceful setting, complete with whirlpools on hand. Bridges, towering palm trees and lush green foliage set the stage for a day of enjoyment, whether you are looking for a little romance or some family time.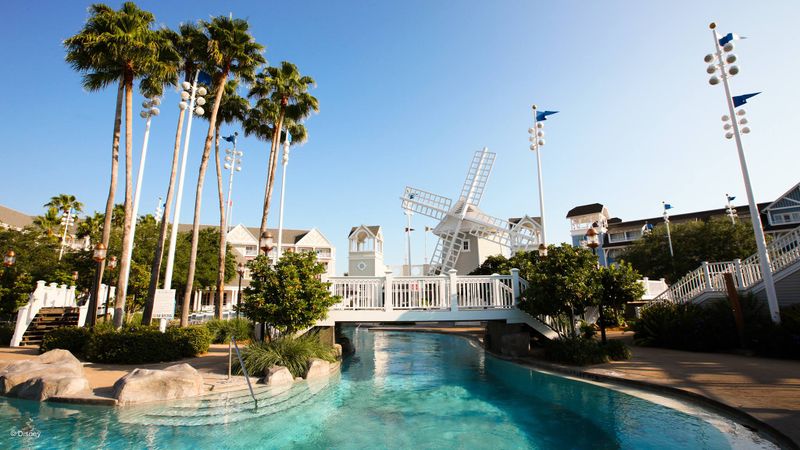 7. Reunion Resort & Club
There isn't just one amazing pool at this resort, more like 11 different pools to choose from and an amazing five acre waterpark for the kids. Whether you are floating down the lazy river that is full of surprises, taking a turn down the twisty waterslides or relaxing in one of many shaded areas, one thing is for certain, the pools here rock. The waterpark is full of thrills, spraying jets, tipping buckets and a lineup of activities to keep the kids busy all day long. The awesome Kids Club happens to be located right next to the waterpark and there is always something fun going on there for the little ones. The abundance of pools spread the hotel guests out and it is rare to ever feel over-crowded at this resort. Whether you are looking for some great poolside food and drinks, looking for a sun chair to relax in or looking to swim laps, you will find it here at the Reunion Resort & Club.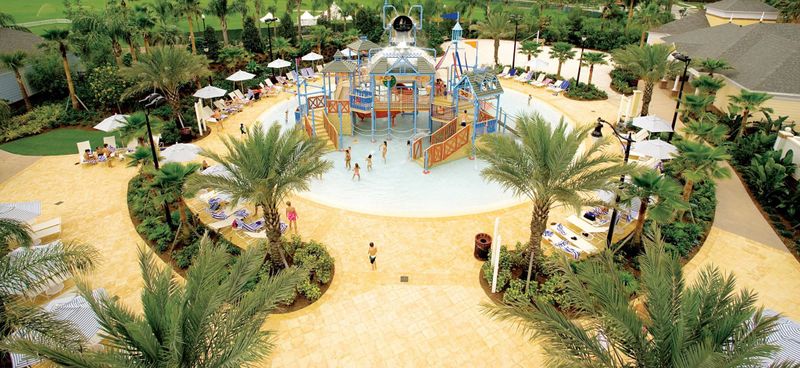 6. Omni Orlando at ChampionsGate
It is rare to come across a hotel that caters to both children and adults in terms of hotel pool, especially in Orlando. Omni Orlando is one of the few to absolutely master this concept and this explains why this hotel is a favorite of so many. The kid friendly lagoon pool is full of activities including corkscrew waterslides, dancing water fountains and tipping buckets. On the other hand the adult pool is built for relaxation with its private cabanas that feature comfortable sun beds, WiFi and televisions. The 850 foot lazy river is the favorite among guests, young or old and tunnels, gentle rapids and canyons await riders. Float through the beautiful surroundings but don't be too surprised by the hidden shooting cannons and incredible waterfall.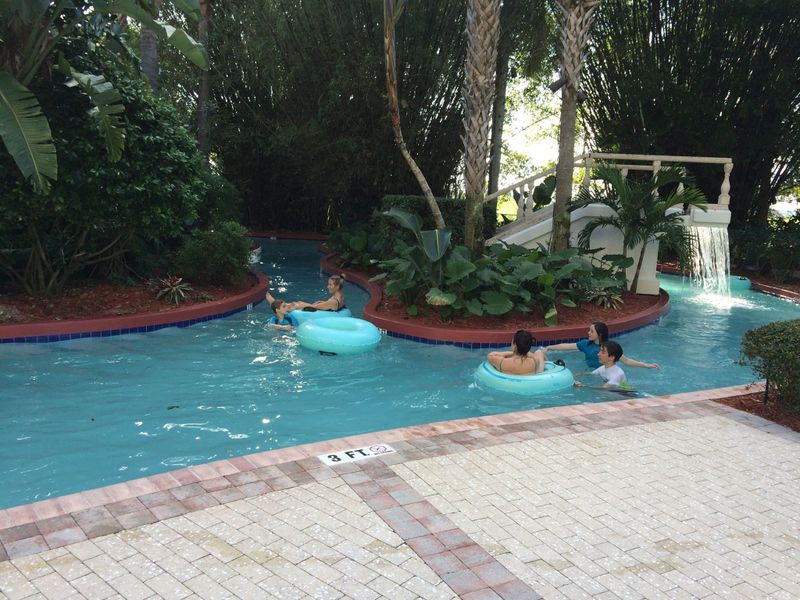 5. JW Marriot and Ritz-Carlton Grande Lakes
Swimming at either of these hotels will take your breath away, either the serene pool with lush tropical vegetation or floating down the lazy river. The best part about these pools is guests from either hotel can use all of the amenities. For those grownups that are looking to escape the kid-friendly city of Orlando, head to the adult only, outdoor, heated lap pool at The Ritz-Carlton Spa, just be sure you have a day pass or treatment reservation in order to gain access. The Ritz also offers a heated outdoor pool that is mainly filled with sunbathing adults and the occasional splashing kid. Kids really love to head to the JW Marriot for their water time though as it features a lazy river as well as a kid's only outdoor heated pool. Adults can cozy up in the whirlpool and relax the day away.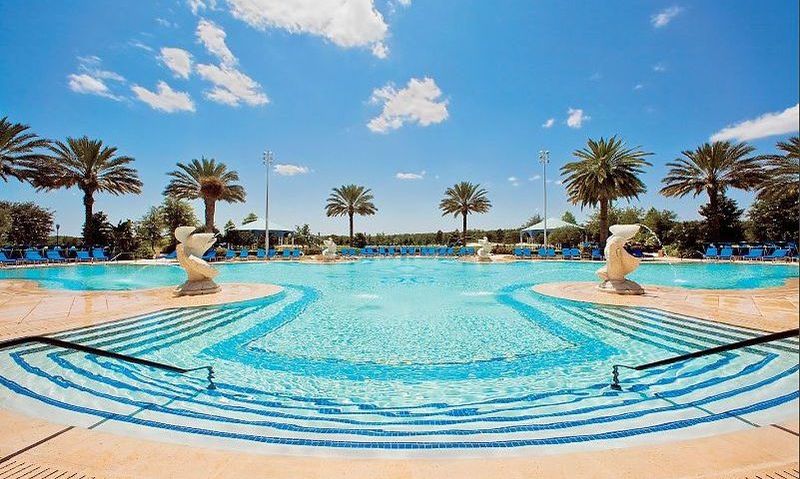 4. Waldorf Astoria
If you are looking to escape the hustle and bustle of all the theme parks and overcrowded malls that make up Orlando, this hotel pool will be the perfect oasis for you. Here you will find no lazy river, no towering waterslides and no DJ's busting out overly loud music trying to get people up and dancing. What awaits you here instead are both a quiet lap pool and a zero-entry pool, perfect for those looking to relax. Rows of cabanas, cocktail servers and lush palm trees all line these luxurious pools. Daily family poolside activities are offered for families but with a quiet grace as to not disturb others who are looking for peace and tranquility. If you do want a little more excitement, guests at this hotel have access to the lazy river, waterslides and pool at the Hilton Orlando Bonnet Creek, located right next door.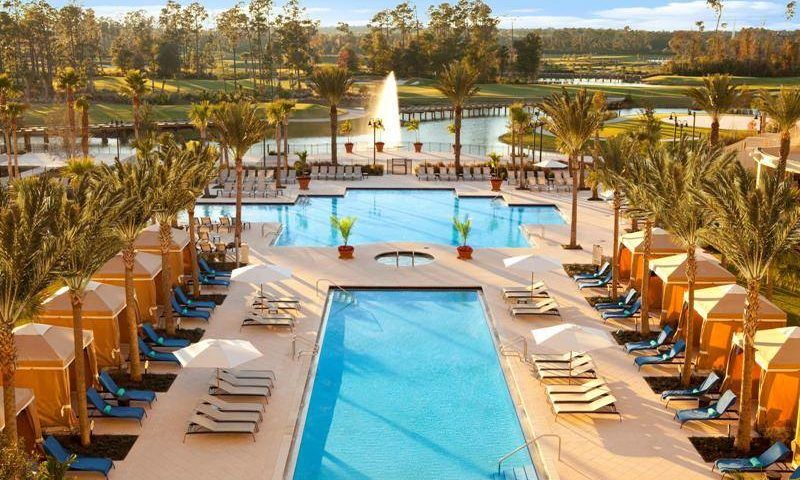 3. Four Seasons Walt Disney World
Obviously the only five star hotel here should boast a five star pool and this hotel pool, or should we say multiple pools definitely don't disappoint! Adults will love the peace and tranquility they find at the adults only pool that is open from sunrise to sunset, overlooking the lake and features an underwater sound system and an adjacent Jacuzzi. The family pool on the other hand is full of activity and splashing kids. This pool features a gradual sloping entry that is perfect for the little swimmers. The Splash Zone features a choreographed interactive fountain which blasts water up to 30 feet in the air. The Lazy River on the other hand features 11,083 square feet of water, waterfalls, frothing sections and twists and turns. For the adrenaline seekers make sure to try one of two 242-foot water slides.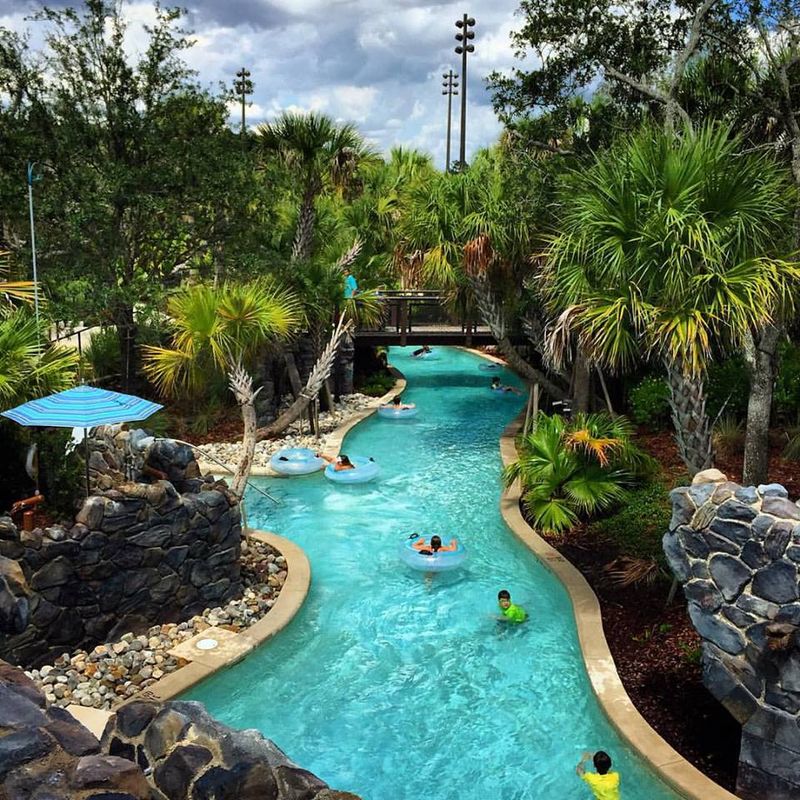 2. Hard Rock Hotel
The pool is really the centerpiece of this iconic hotel and every member of the family will have a blast exploring the 12,000 square foot pool. Tunes come from speakers both outside of the pool and under water, a feature that has everyone buzzing. The amount of activities offered in the pool and poolside is simply overwhelming at times, there is pool basketball, rock 'n' roll trivia, ping pong battles and "dive-in movies". Along with the enormous pool guests here will find two hot tubs, a beach volleyball court, a huge play area for the children and plenty of interactive fountains. A sand beach, waterslides and more make up this awesome hotel pool. Rent one of the private cabanas that come complete with ceiling fans, a plasma TV, free WiFi, sodas, water, a fruit basked and a personal server to bring you drinks and food all day long.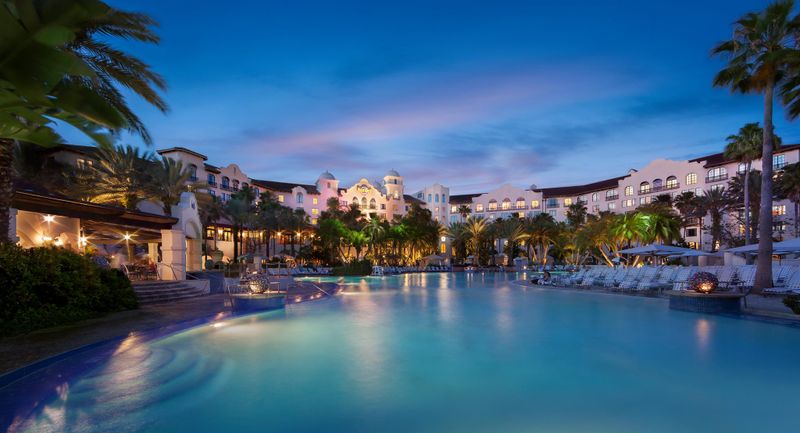 1. Nickelodeon Suites Lagoon Pool and Slides
This incredible hotel not only boasts an awesome pool but a full themed waterpark onsite complete with slides, nets and other awesome features. The Lagoon pool side features a zero depth entry heated pool along with a four-storey tower. The tower features seven waterslides, water jets, climbing net and the 400 gallon tank of water that tips over and splashes all who happen to be below. Every day guests of this pool will be treated to a live poolside show complete with music, pie throwing and plenty of fun. Watch out for that tipping bucket as not only does it tip water but green slime as well. For a quieter experience here, head to the Oasis side where there is a heated, Olympic-Style pool, more slides and a play area. Surrounded by palm trees and tropical foliage, you may never want to get out of this pool, and good luck convincing the kids to part ways.