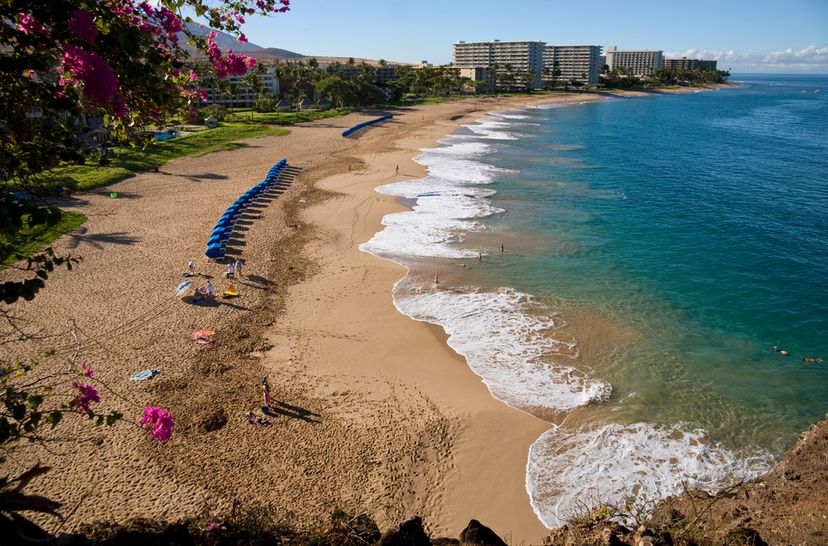 Maui is home to lush green foliage, bright fauna, bamboo forests, tropical rainforests, waterfalls and some of the most unique beaches. Paired with the largest dormant volcano in the world, breathtaking sunsets and some of the friendliest locals around; Maui is the perfect place for your next vacation. Pack a bathing suit, hiking boots and a camera with a huge memory card and you're ready to go. With year round beautiful weather and marine life that can't be seen anywhere else in the world, Maui caters to both adventurers and to those who are looking to kick back and relax. Read on to discover our top thirteen things to see and do in Maui.
13. Lahaina
A historic town in the western part of Maui, Lahaina is a port city that has been transformed into one of the hottest towns on the Island. Lined with art galleries, restaurants and nightclubs this is the place to be after the sun sets. Visit Old Lahaina Luau where you will find the most authentic Hawaiian luau to enjoy a Hawaiian feast, fire dancing, hula and a wide assortment of tropical drinks. If you're looking for Hawaiian souvenirs to bring home there is no shortage of shops selling whatever your heart desires. Lahaina is also home to the sixty foot Banyan Tree in Courthouse Square where in the early mornings it's filled with chirping birds. Take a few minutes to relax and appreciate the enormity of this old giant.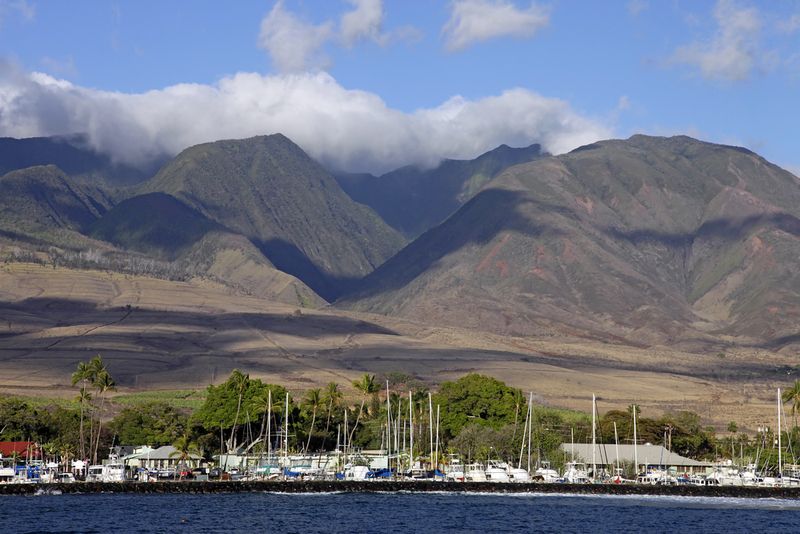 12. Kaanapali Beach (Black Rock)
Located just a stone's throw away from the historic town of Lahaina, Kaanapali Beach is known to be one of the best in Maui. This three mile stretch of sand is home to all of the town's seaside resorts and runs all the way to Black Rock. Black Rock is sliced across the beach and home to those wishing to snorkel and scuba. This is one of the best places to see sea turtles and rays while out for a leisurely snorkel (no guided tour necessary). If you are lucky enough, dolphins often appear near Black Rock and will frolic in the water with you. Locals and daring tourists will love jumping off one of many platforms on top of Black Rock. A suggestion to all visitors is to arrive early as this stretch of beach gets very crowded. If you have forgotten your snorkel gear, head to the Costco in town where you will pay a much lower price than at the resorts.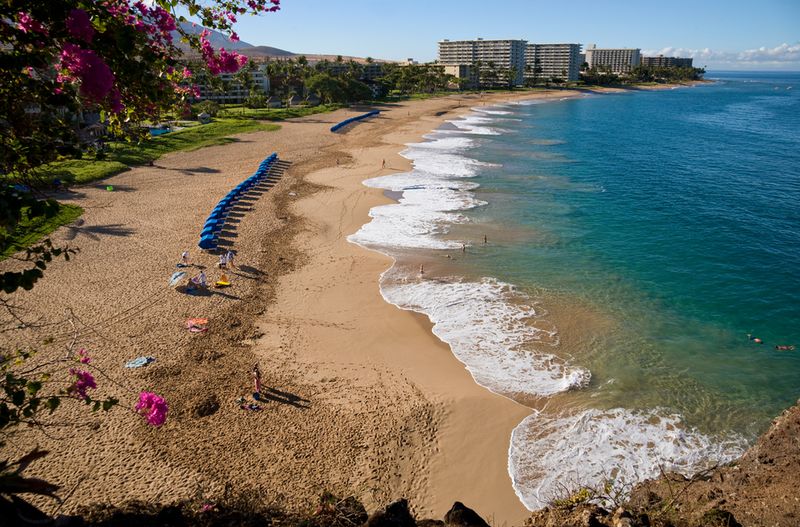 11. Iao Valley State Park
With so many beautiful beaches it is easy to forget that Maui offers incredible scenic hikes through striking landscapes. Head to Iao Valley State Park to immerse yourself in the forest of tropical foliage. The famous Maui landmark; the Iao Needle which rises 1200 feet in to the sky resides in this state park. History was made here and it was underneath the Iao Needle where the Hawaiian Islands became united. For the less serious hiker, take the paved path through the botanical garden that leads straight to the iconic rock formation. For the most serious hikers; Iao Valley State Park offers numerous hiking trails that vary in degree of difficulty.  Take a guided rainforest hike or explore the interactive exhibits that are housed in the Hawaii Nature Center; conveniently located in the park. Put on those hiking boots, load up the water and the snacks and get your camera ready for a picture perfect day of hiking.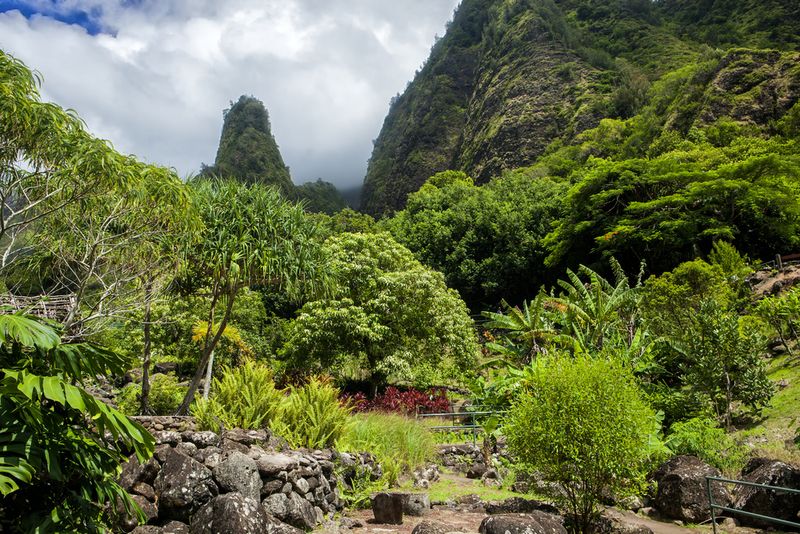 10. Oneloa and Pu'u Olai Beach
Often referred to as Big Beach and Little Beach, these two fabulous beaches are situated in Makena State Park. Big Beach is by far the best beach on the Island for body surfing or skim boarding and runs 1.5km long with 100 feet of width. Home to mostly calm waters; Big Beach is the perfect beach for a day of family fun. Public restrooms, parking and lifeguards are all present at Big Beach. For something a little different head north of Big Beach and hike the 5km trail over the steep lava outcropping to Little Beach. One of the only nude sunbathing beaches in Maui; this 660ft long beach offers calm waters and good times. Afternoons and evenings are often filled with fire dancing parties and drum circles and the motto is "live and let live".  Bring a packed lunch, plenty of sunscreen and enjoy two different but equally impressive Maui beaches.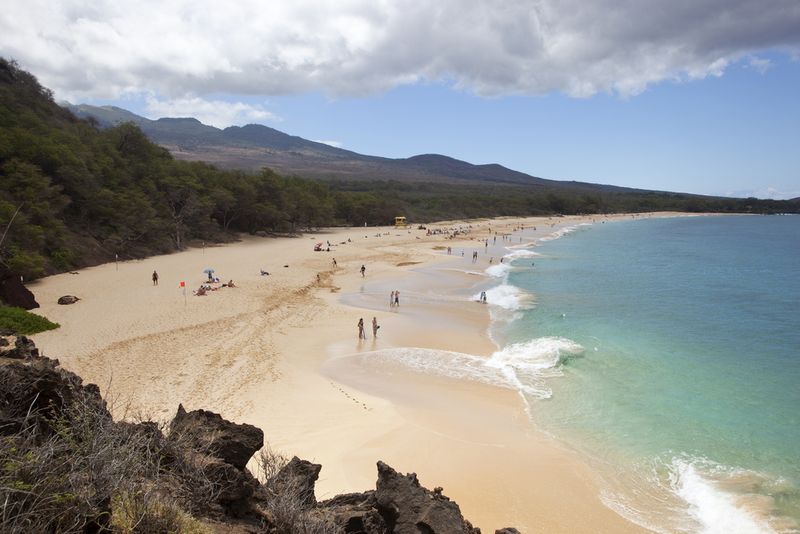 9. Humpback Whale Watching
If you're visiting Maui from mid December to mid May when thousands of Humpbacks come to soak in the warm tropical waters that surround Maui; whale watching is not something you want to miss out on. There are many ways to experience these magnificent creatures and we suggest trying a few of them. There are lots of companies that offer the traditional methods of whale watching; taking visitors out in a large boat or raft and these companies for the most part guarantee a whale spotting. For those more adventurous head out in a kayak or outrigger canoe with a guide and get up close and personal to these gentle giants. For the experienced Paddle Boarder there is no better way to view these whales than standing up on your board and watching them breach out of the water. If you want to keep your feet dry there are plenty of places to see the whales from land. One of the best places is the Maui Ocean Center; which happens to be the next thing to see and do on our list.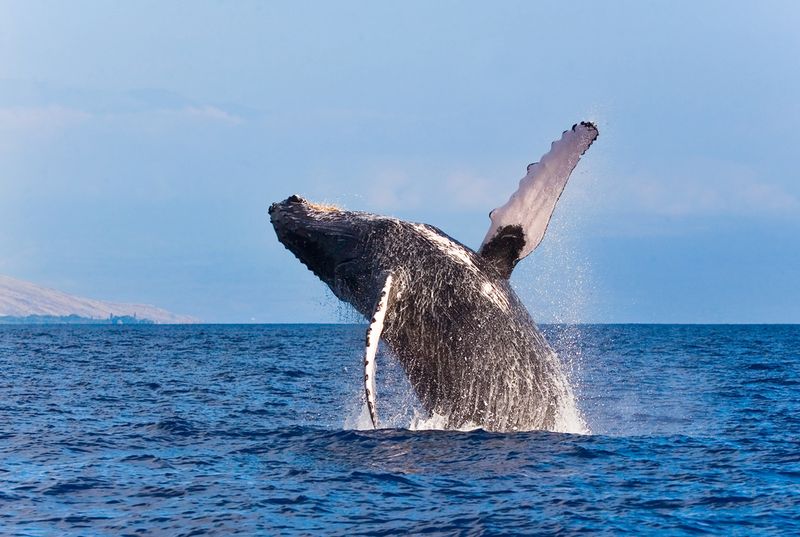 8. Maui Ocean Center
As stated in the previous slide, Maui Ocean Center is an excellent viewing point for the humpback whales with the Harbour Plaza being the best vantage point at the Ocean Center to witness whales breaching and spouting. Head inside the Ocean Center to discover over 60 exhibits including touch pools, a 750,000 gallon open ocean exhibit and interactive learning experiences. Get up close to tiger sharks, sea turtles, sting rays, hammerhead sharks, sea horses, colourful fish and many other species that only live in Hawaii. For the experienced scuba diver; discover a once in a lifetime opportunity to dive into the open ocean exhibit where you will encounter twenty sharks, stingrays and thousands of tropical reef fish. The Maui Ocean Center is good for adults and kids alike, perfect for a rainy day or when you have had a little too much sun.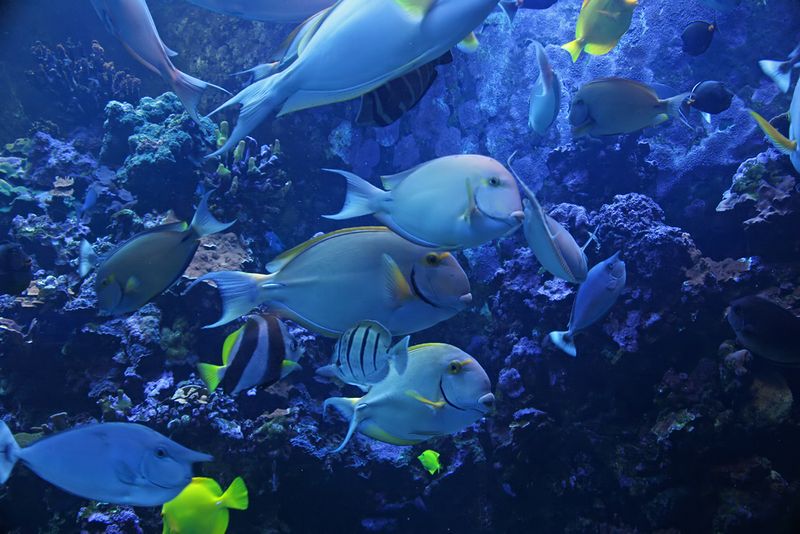 7. Ohe'o Gulch Pools
Commonly referred to as the Seven Sacred Pools, this is one of the most visited places in East Maui. Waterfalls cascade into dozens of pools starting from the mountains and draining into the Pacific Ocean; the rugged coastline also makes this one of the most breathtaking views. The lower pools are more easily accessible and although signs around the area prohibit jumping of any kind; this is where you will find lots of visitors and locals taking the plunge. The surrounding area is filled with self-guided hiking tours, waterfalls and impressive greenery paired with blue skies. This is also a starting point to the Pipiwai Trail and is part of the Haleakala National Park. To avoid the crowds of tourists that visit these pools on a daily basis we highly suggest visiting before noon, and remember your proper hiking footwear.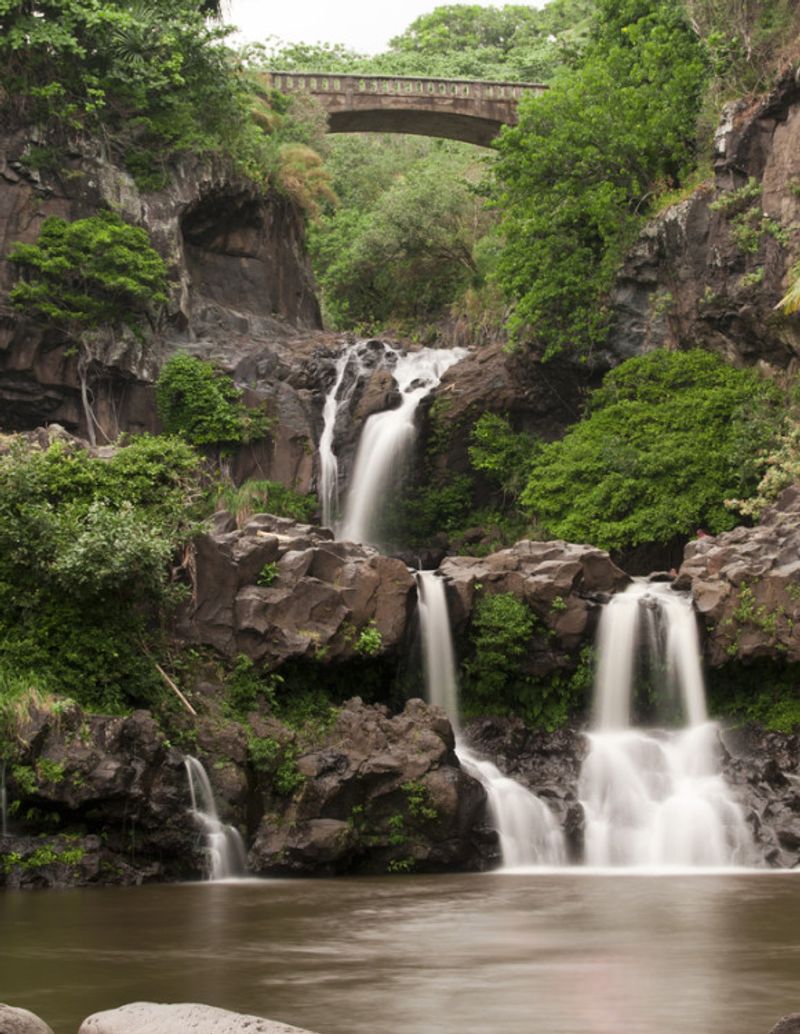 6. Hookipa Beach
There is no better surfer's paradise than Hookipa Beach where the waves are far too rough for swimming but just perfect for the daredevils who have the courage to surf them. The most popular sport as this beach is windsurfing and even if you don't have quite the expertise at these sports; this beach is still a must visit. With a dramatic landscape of hills and lava rock, surfers weaving in and out the huge waves and the sun reflecting on the brilliant blue water; this picture perfect landscape will delight you. Pack a picnic or stop at the small town of Paia for lunch as you won't find any restaurants lining this beach. Stay for the sunset and watch the sky transform into brilliant colours of red, orange and pink; while watching turtles make their way onto the beach to nest for the night.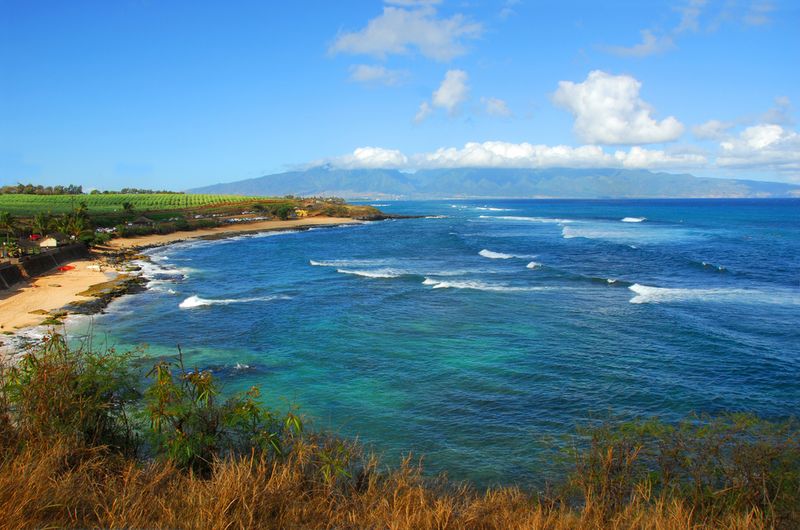 5. Waianapanapa State Park
One of the "stops" on the Road to Hana; Waianapanapa is home to Maui's best black sand beach or best black pebble beach as we like to call it. Dominated by sea caves, lava tubes, lush flora and the sounds of crashing waves; there are few more beautiful places on this Island than here. Explore the sea cave that contains a fresh water pool and make sure to bring a flashlight to explore the cave within the cave, also opening up to another pool of water. Discover the lava tubes and the blowhole that spouts water high into the air depending on the conditions. Watch the locals as they dive off the turtle shaped rock island in the middle of the water, walk through the rock archway or stroll through a small cemetery and pay tribute to those who first inhabited this beautiful place. Make sure to have sturdy sandals and water shoes to get the most out of your experience in this breathtaking park.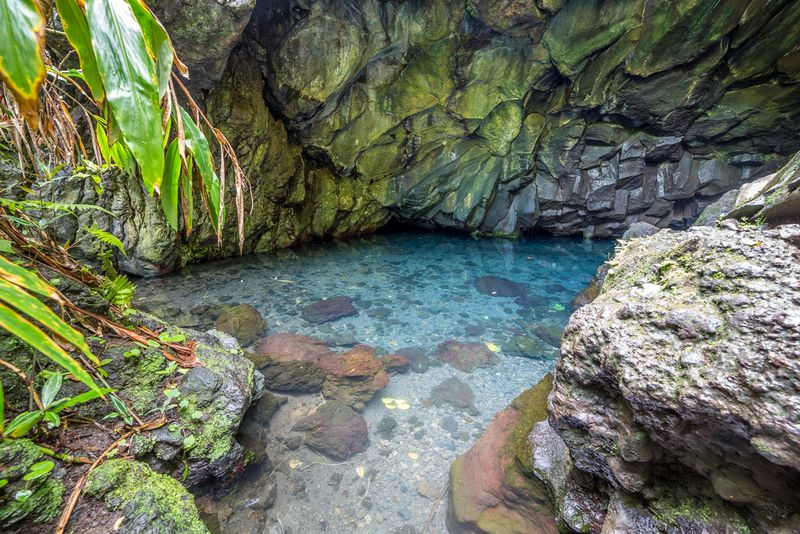 4. Molokini Crater
Formed by ancient volcanic eruptions; this crescent moon shaped crater rises from 300 feet below the ocean's surface.  Molokini is comprised of rock, not soil which allows for astonishingly clear visibility in the water, up to 200 feet in certain conditions. Home to thousands of tropical fish, some that are found nowhere else in the world, this underwater marine sanctuary is a prime scuba and snorkel destination.  The flourishing coral reef located in the middle of Molokini is protected from surging waves and has become a haven for marine life. If you are lucky, you may spot a whale shark; a gentle plankton feeding giant that often allows for visitors to hitch a ride. The best way to experience Molokini is to join a snorkelling or scuba cruise from Maalaea Harbor, where lunch is provided on-board the boat. Known as one of the best and most unique snorkelling destinations in Maui, Molokini is not to be missed.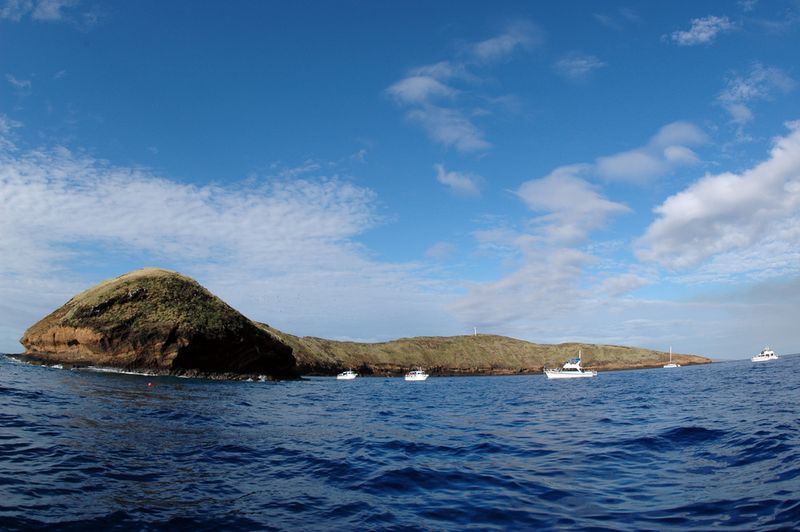 3. Kaihalulu (Red Sand) Beach
Kaihalulu means roaring sea in the Hawaiian language and that is exactly what one will witness at the red sand beach in Maui. A dramatic and beautiful hidden cove unlike anything you have seen before awaits you. Dark red sand and brilliant blue water coupled with the black lava wall and lush green trees makes this dramatic landscape a must visit. Cut deep into the Ka'uiki Head cinder cone, this crescent shaped beach is a hidden gem. Not recommended for young children or anyone who is unsteady on their feet, the pathway to Kaihalulu Beach is challenging with loose footing down a steep hill.  Strong currents and turbulent waters are often present so swimming is unsafe during certain conditions. Snorkelling when the waters are calm is magnificent with views of tropical fish as soon as your head goes underwater. One thing to note is this is a nude beach and a haven for Maui locals.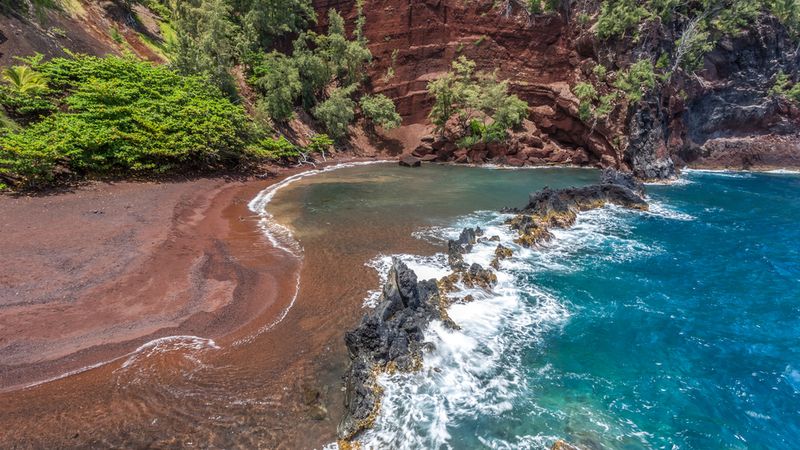 2. Haleakala National Park
Home to the largest dormant volcano in the world, Mt Haleakala; this national park encompasses 30,000 acres and five different climate zones. Awake early and head up the winding Route 378 to reach the summit of Mt Haleakala to watch the sunrise from one of the most magical places on earth. Looking out from over 10,000 feet above sea level you will understand why this Volcano is called "the house of the sun". We highly suggest bundling up when headed to the top as temperatures range from 20 to 40 degrees Fahrenheit. Another must do in Haleakala National Park is to explore the floor of the Haleakala Crater. The chance to hike among moon-like scenery with cinder cones that tower 600ft above you; in shades of red, orange and grey is a once in a lifetime opportunity. For the avid hiker check out the 4 mile Pipiwai trail that leads you along the southeast coast of the Island.
1. Road to Hana
Hidden waterfalls, secluded jungles, hairpin turns and unparalleled views of the coastline makes the Road to Hana our number one thing to see and do in Maui. There are two ways to explore the 60 mile plus stretch of highway that is carved into the cliffs and includes 600 turns and 54 one-way bridges. The first option is to take a guided tour, being the best choice for those who don't feel comfortable driving. For those who are planning on driving the route themselves we recommend picking up a guided CD that will point out secret stops along the way you might have missed if you didn't know about them. The Road to Hana is a journey not a destination and if you can spend a few days exploring you will get the best experience. Make sure you pack plenty of water, snacks, bug spray and a memory card with lots of storage; we promise you will want to snapshot these memories.