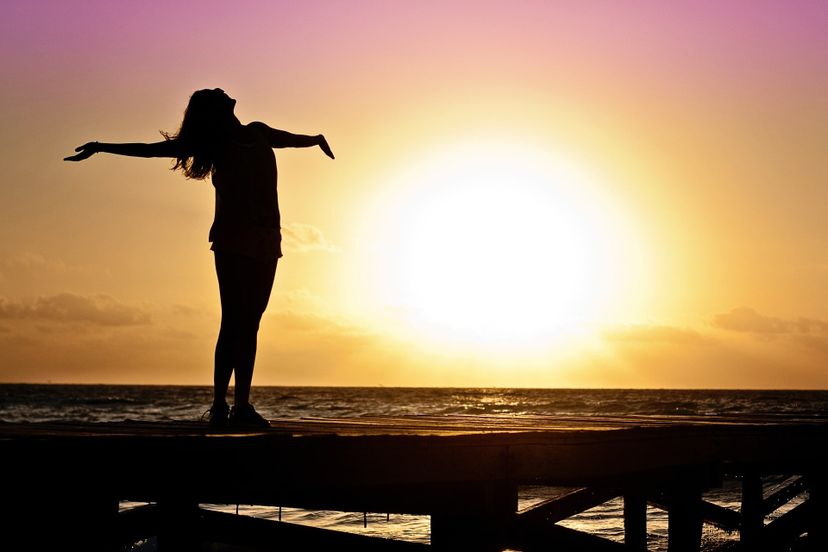 One of the things I most love about exploring the world is delving into vastly different cultures, traditions and beliefs—and seeing all the similarities underneath this, that bind us together in the human thread. Part of really connecting with a place and having authentic, meaningful cultural exchanges is through meeting people who are truly giving back to the communities; and when possible in a positive way, getting involved yourself or helping out, creating a "giving" aspect to travel instead of a merely consumerist, "taking" mentality.
In my journeys around the world I have been lucky enough to be involved in incredible volunteer work, meet some amazing people, and interview at non-profit organizations that are doing inspirational things to make our planet a better place. Here I would like to share the handful of people from many amazing initiatives I've witnessed around the world, who truly inspired me and left me awestruck with just their being.
Anuradha Koirala — Nepal
There is a room, hidden and cramped and dirty. In this place the bidding and sale of humans is done. Those who desire slaves to live in human bondage and be forced to do their bidding, can make an offer. For an agreed amount of money, typically only a few hundred dollars or even less, the buyer can leave with his new purchase: a human being.
One day you are a child.
The next day, you are a slave. Your childhood has ended.
Although many people believe that slavery is part of a dark and terrible past that we read about in history books, unfortunately slavery is alive and well today, and in fact human trafficking is the second biggest illegal trade in the world, behind only arms dealing (and ahead of the drug trade).
Anuradha Koirala is trying to do what she can to change that, for as many people as possible. She is an incredible woman, her fight and fire belied by her tiny, birdlike frame and grandmotherly appearance. Ms. Koirala is the woman behind Maiti Nepal, an organization that crusades to protect Nepali girls from becoming victims of domestic violence, trafficked into the sex trade, child labor and prostitution, and other abuses. The organization also launches rescue operations to retrieve young women who are already abducted and has a home where they can be cared for, rehabilitated, educated and loved.
Ms. Koirala was named the 2010 CNN Hero of the Year for her work; just before this, in 2009, I was honored to be able to visit Maiti Nepal and meet her in person. She talked to me about the creative initiatives she was doing to educate people, particularly the men who often sell their own family members due to dire poverty, about the realities of trafficking. She showed me around the Maiti Nepal campus, where women played with their children and bent in concentration over sewing and reading lessons, making their lives whole again.
Human trafficking is a crime, a heinous crime, a shame to humanity. I ask everyone to join me to create a society free of trafficking. We need to do this for all our daughters." ~Anuradha Koirala
Ponheary Ly — Cambodia
At the age of 14, Ponheary Ly died and came back to life. At least, that's how she describes it. The year was 1977, and the Khmer Rouge was on its deadly rampage in Cambodia. After seeing her father killed, along with 13 other family members, Ponheary was on the run and in hiding when some soldiers accused her of stealing food. They marched her deep into the woods and forced her to dig her own grave.
"The ground was very hard," she recalls. "I only got a few inches down, and then I don't remember what happened." The next thing she was aware of was waking up in the shallow pit, covered with dirt. "I must have fallen unconscious, I must have stopped breathing. The soldiers thought I died, and they buried me."
This was only one of many horrors that Ponheary survived during the brutal period in her country's history. After she reunited with her mother and six remaining siblings, the family was forced to start over. Education became her answer.
I met Ponheary when Keith and I traveled to Siem Reap, Cambodia in late 2010. Ponheary became a tour guide, leading visitors to the world-famous and awe-inspiring temples of Angkor Wat. But neither she, nor her tourist customers, could escape Cambodia's poverty and the thousands of children who weren't going to school. Not when they saw them every day at the historic UNESCO temples, working and begging.
She began using her tips to sponsor a child to go to school. That child turned into a few, and then her tourists began giving extra donations as well. Within a year she was helping 40 children get an education; today, the Ponheary Ly Foundation assists more than 2,000 children with their education as well as other necessities such as food and medical care. Ponheary was also named as a CNN Hero, and seeing Angkor Wat through her eyes was a humbling experience.
Gazing at the intricate stone carvings in the walls, one panel depicting heaven and hell showed a young man burning at the stake. "I saw the same thing happen to a boy," Ponheary reminisced sadly, but without rancor. "He was catching frogs to eat, and the soldiers called it stealing. They tied him to a tree and burned him alive."
As we spent the day with her, I noticed that it was very difficult for her to look at any form of suffering or violence. She turned away from the carved visions of agony on the wall. When we came across a snake in the road that had been run over and crushed by a car, but still alive, she was sympathetic to its pain as it writhed around in its vain death struggle. The tour guide averted her face.
It is too hard to see," said Ponheary, who had already seen far too much killing in her lifetime.
Rocky Turner — Kenya
Poverty here in the United States does not equal poverty in third world countries, says Rocky Turner. We, as Americans, are not poor because of genocide, drought, or being victims of war. There is no comparison.
From Africa to Guatemala, there are families living off $1 a day, have no access to clean water, and cannot receive any medical care. That is a tragedy, not a misfortune.
If you are an orphan in the United States or living in foster care, by law a child has to go to school. In most African countries, it is a huge opportunity and a gift to be able to go to school. That is a tragedy, not a misfortune.
Rocky admits she is defensive over this issue because she has been attacked by those who disagree with her international adoption. "There are so many orphans here in the United States, why couldn't you adopt one of them?" is one of her favorite questions. Being orphaned in the U.S. is not even close to being orphaned in Liberia, Guatemala, or India. It is a life or death situation in these other countries. That is a tragedy, not a misfortune.
Her own daughter is living proof of that. Her birth mother worked washing clothes, seven days a week, making only $30 a month. She was doing this alone and raising three children that she could not feed. Rocky's daughter was fed soda and tortillas for the first 10 months of her life because her mother could not afford milk. She could not sit up at 10 months old because she was so malnourished. She could not form words or any real sounds when Rocky adopted her at 18 months old.
The above is all from a blog post Rocky wrote in 2007, called Not All Poverty is Created Equal. Finding and reading this was my introduction to Rocky, who founded an organization called Mothers Fighting For Others which primarily supports the St. Monica's Home for Girls just outside Nairobi, Kenya. Rocky and I began a long, virtual friendship and from the very beginning, I vowed that one day I would go to Kenya with her, to volunteer with her beloved girls.
This finally happened this past April/May, 2012. It was one of the most rewarding experiences of my life—especially seeing Rocky with these girls, her second family, to whom she has dedicated her entire life.
I am a different person now. The girls at the orphanage changed my life and the people I have met along the way have made an amazing impact on my life. What I want for them is simple. I want them to feel loved. I want them to feel safe and secure. I want them to go to school and grow up to be great women. What I want for them is what their Mothers would have wanted. That is it. It's that simple." ~Rocky Turner
C.P. Kumar — India
How do you explain love? How do you begin to describe the forces of compassion, faith and dedication that can so define a person that he will spend the hours of his life loving those whom no one else begins to notice? Those whom he has no obligation to care about, no reason to work for, and no reward other than the knowledge that he is making some small dent in the endless tide of need.
The best you can hope to do is to stand outside a small, nondescript building on a dusty street in the middle of India, and watch two dozen orphaned children rush out to greet the man who didn't allow them to fall through the crack.
C.P. works in the government as his regular full-time job, but has taken it upon himself to run a nonprofit organization called Health Education and Rural Training Society (HEARTS), which provided the very first HIV/AIDS awareness training in the state of Andhra Pradesh, with India's highest HIV-positive prevalency rate. He also established this home I was visiting in 2007, called Little Hearts, which was home to 25 children who had lost one or both parents to the disease.
Not only does C.P. not get paid for his work with HEARTS, but he and his wife Mamatha have poured their own money into the program, and even gone into personal debt to keep it going. I spent several days with this tireless man and his extended family; in the evening he would sit on the rooftop and pore over the newspapers, which were full of stories of orphaned or abandoned children. Here, where the AIDS epidemic rampages, surrounding villages were populated mostly by the very old and the very young, the middle-aged population of mothers and fathers nearly wiped out by the disease.
The River Fund of Florida supports HEARTS, but C.P. needs a lot more funding in order to take on the numbers of children in need. When he would call about the children he read about every day in these newspaper accounts, he was usually told that he was the only person who had offered any sort of help.
I would ask C.P. how he could possibly accept more children; the Little Hearts home was already past capacity, the size of a small one-bedroom apartment where all the children and two women caring for them slept on the floor. But each time, he would simply gaze at me in long moments of silence before answering.
If not me, then who? If not now, when?"
Agnes Oswaha and Harriet Dumba — Sudan/Seattle
In 1998, Agnes Oswaha fled Sudan with nothing but her purse and her life.
She ended up in Seattle, Washington where she was granted asylum in 1999. "I can sleep through the night now without fear of being killed or kidnapped, although the nightmares have not stopped," Agnes says.
She lost brothers, sisters, cousins and grandparents to the civil war and its accompanying genocide, which has killed one out of every five Sudanese. In 2004 her younger sister, a medical student, was lit on fire near the family's house in Khartoum. Although she survived, she is still living with the physical pain, deformity and paralyzing fear of being attacked again.
In Seattle, Agnes teamed up with Harriet Dumba, another Sudanese refugee who had been forcibly separated from her parents at age five, to found the Southern Sudanese Women's Association (SSWA) at the University of Washington, to show the people of their home country that they have not forgotten about them. SSWA helps newly resettled Sudanese adjust to life in the U.S. and provides assistance to Sudanese women through a variety of programs including assistance with local housing, job training, and education about HIV/AIDS.
The women conduct HIV/AIDS workshops for the Sudanese community in Washington State, and travel back to Sudan regularly to bring quality health care to populations experiencing high levels of stigma and discriminatory practices. These two unstoppable advocates also founded Hearts of Angels for Health-Sudan Initiative, which works to address the devastation caused by what has been deemed Africa's longest running civil war. I met these incredible women when I was working in Seattle, and was privileged to write about their work.
As long as violence, persecution and discrimination continue in Sudan and beyond, I will continue to fight for social justice and human rights amongst the most marginalized and too often forgotten in our world." ~Agnes Oswaha

Sometimes I can't sleep at night when I think of what humans do to each other. I will not rest, not when I can talk, act and speak." ~Harriet Dumba