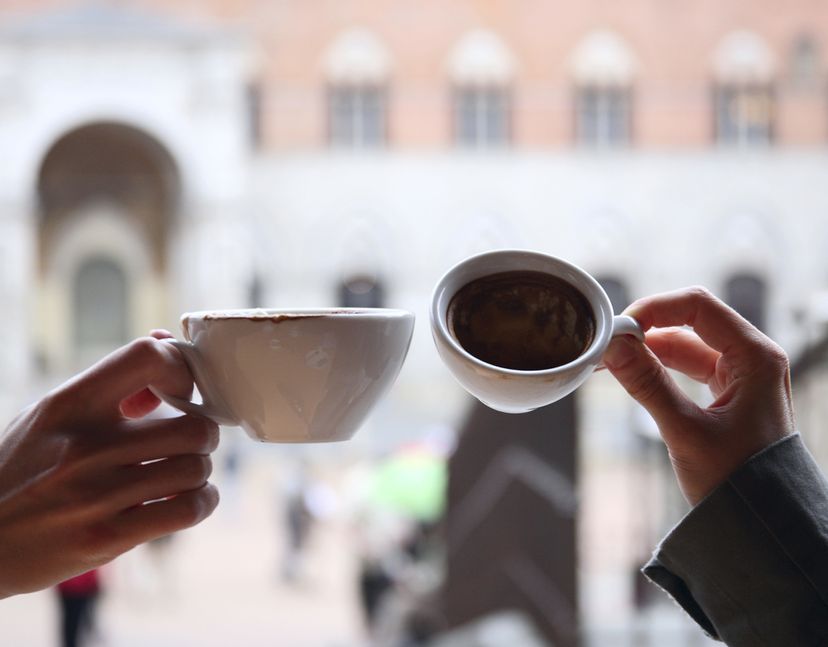 "Caffeine fix", "cup of Joe", "java"—whatever you call it, warm, delicious coffee has rabid devotees all around the world. Coffee's worldwide prevalence also makes it the perfect sipper to seek out while travelling, so you can compare how coffee in a foreign city tastes to the kind you're more familiar with back home. If you're a coffee lover, consider a jaunt to one of these five cities; these destinations all boast coffee cultures that are certainly alive and kicking (thanks in part to all the caffeine running through their residents' veins)!
5. Seattle, Washington, U.S.
Yes, Seattle is the home to coffee monolith Starbucks, but smaller specialty coffee shops thrive in this chilly city by the sea, too. In fact, Seattleites consume more coffee than residents of any other U.S. city! If you're a 'bucks devotee, then you can't miss checking out the original Starbucks location at Pike Place Market, which opened in 1971—and is still operating in the same location today. In addition to Starbucks, Seattle is the home base for bigger roasting outfits like Tully's Coffee and Seattle's Best, although beloved independent coffeehouses like Café Allegro and Victrola Coffee Roasters help the city's coffee scene really shine. Turns out nothing goes better with Seattle's famously chilly, dreary weather than a warm cup of coffee.
4. Melbourne, Australia
It's not all vegemite sandwiches down under—Australia's got some good things brewing when it comes to coffee. Nowhere is that truer than the hip city of Melbourne, Australia's unofficial coffee capital. Café culture is strong here, with the vibe of coffee shops shifting depending on their locations in Melbourne's diverse neighborhoods. One thing that unites the city's coffeehouses, though, is their focus on fostering community; you'll often find long, communal tables in Melbourne's coffee shops so patrons can sip their coffee while enjoying one another's company. For a taste of the best that Melbourne has to offer, head to the Captains of Industry café off Somerset Place. Once you down your flat white, feel free to stick around for a while and pick up some grooming tips from the dapper men that hang out here—there's even a barbershop and bespoke shoemaker upstairs!
3. Istanbul, Turkey
In Istanbul, they don't serve up your "typical" cup of American-style coffee, so don't even ask for it. Turkish coffee is famously rich, dark, and flavorful thanks to a unique brewing method. Turkish baristas grind their beans very finely into a meal, then boil the coffee in a specially designed Turkish coffee vessel called a cezve. The result? A full-bodied, thick cup of joe that's certain to jolt you awake. Just make sure you don't consume the last few sips of coffee left in your cup — since the coffee beans are ground so finely, quite a bit of grinds will collect in the bottom of your cup. For coffee sipping with a view, head to Galata Konak Café. The café's terrace is situated on the top floor of a historic building, affording café goers great views of the Galata Tower, Bosphorus, and Golden Horn.
2. Vienna, Austria
Café culture is a point of pride in Austria's capital; in fact, UNESCO listed the city's coffee shops as "intangible heritage" in 2011. And with good reason—the stylish Viennese deck out their cafes with inspired furnishings and finishes, making them great spots to while away an afternoon in. On your trip to Vienna, accompany your stint of people watching with a cup of Melange, an espresso, steamed milk, and milk froth concoction that's especially popular in Vienna. If you're looking for a Viennese coffee shop that's just a tad out of the ordinary, head to Cafe Neko, a "cat café" that opened in 2012. Here, you can stroke and play with a handful of rescue cats while you sip on some coffee—talk about a purrfect combination!
1. Rome, Italy
When in Rome, do as the Romans do, and drink lots and lots of coffee. Café culture is strong here, where shots of espresso are served up alongside cups of black coffee that may be slightly sweetened. And if you don't want to be taken for an ignorant tourist, don't order milk- and cream-based coffee drinks, like lattes, outside of breakfast time. To Italians, that's a big no-no; they think milky coffee drinks later in the day contribute to indigestion. A must-stop destination on your Italian café tour? Antico Caffè Greco, an historic café off of Via dei Condotti, which opened in 1760 and owns the distinction of being the oldest bar in Rome. Goethe, Wagner, Byron, and even Casanova were reportedly regulars there. It's time to add your name to that illustrious list!