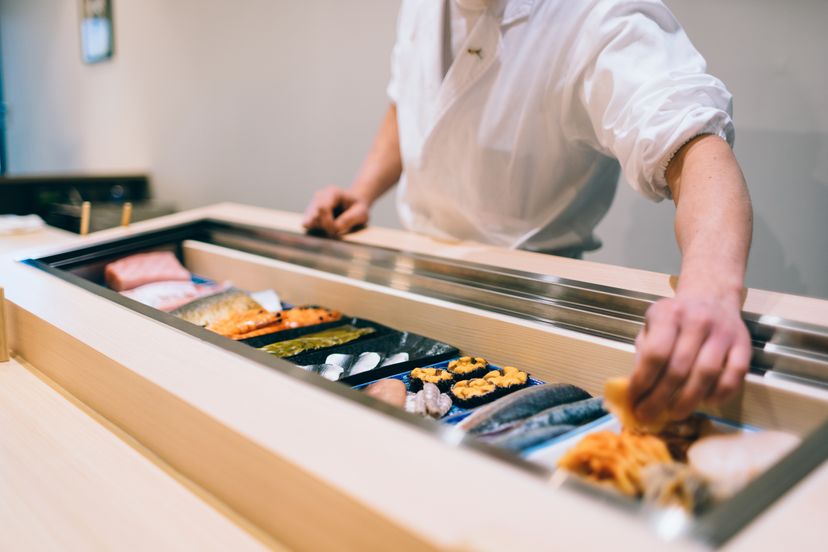 While sushi is a food that originated in Japan, it's now spread worldwide to be enjoyed in countries across the globe. It's important to know, however, that some restaurants definitely make sushi better than others. If you're looking for the best of the best when it comes to sushi, follow along for our roundup of the top sushi bars in the world. 
15. Fujiyama, Sea Point (Cape Town, South Africa)
You'll be initially impressed by the beautiful decor and Italian flare of Fujiyama, however, it's the high-quality sushi, sashimi, and Japanese classics that will truly make an impact, and have you begging for a return visit.
14. Miura (Hamamatsu, Japan)
Tucked away in the little town of Hamamatsu, just west of Nagoya, Japan, you won't catch many other tourists at Miura, however, the classic sushi prepared by Chef, Mr. Masaaki Miura is well worth the detour.
13. Matsuhisa (Los Angeles California, U.S.A.)
Ever since its beginnings in 1987, Matsuhisa has been known as one of the most notable sushi bars in the world. A virtual Japanese-Peruvian infusion, Chef Matsuhisa brought back influences from his time spent in South America. Trust the experts and leave dinner up to one of the delectable daily specials.
12. Sushi Den (Denver, Colorado, U.S.A.)
Sushi Den doesn't sound like anything fancy—especially when you consider its location—Denver, Colorado with no water in sight. However, the selection of entrees and sushi bar delicacies served up by their 7 chefs is quite impressive. Sit at the lengthy bar and watch the slicing and dicing up close.
11. Masu Sushi and Robata (Minneapolis, Minnesota)
It's no surprise that the "land of 1000 lakes" would host an extraordinary sushi bar and Masu Sushi and Robata is just that! You'll be in awe of the quirky atmosphere and decor. Masu Sushi and Robata is equally reputed for the mouthwatering sushi and sashimi as it is for its "Robata Selection", which are grilled, Japanese-style dishes like juicy jumbo shrimp or vegetable skewers.
10. Itsu, Chelsea (London, England)
There are no reservations needed at Itsu, the kaiten (or conveyor belt) style sushi bar in Chelsea. So if you see a particularly delectable plate of crab avocado sushi or beef and black beans in a mango sauce pass by, you can claim it as your own. Just remember the 3 three chefs are constantly preparing meals for the kaiten so pace yourself!
9. Shiro's, Seattle (Washington, U.S.A.)
Maguro, Toro, Albacore, unagi…oh my! It's never a dull meal at Shiro's in Seattle, renowned for their cold sake, perfectly chilled in beautiful, blue glass flasks. It explains why this Westcoast landmark continues to draw returning guests.
8. Yoshi, Vancouver (British Columbia, Canada)
Sticking closely to Japanese tradition, Yoshi in Vancouver is a favorite among adventurous diners who don't mind leaving their dinner up to the 3 skilled chefs behind the larger sushi bar. You'll be surprised by an assortment that could include sushi and sashimi made with marinated maguro, basashi (horsemeat sashimi) or hokke hiraki (grilled Japanese cod). 
7. Kintaro, Köln (Cologne, Germany)
Serving up traditional Japanese fare with an intimate touch, Kintaro and its hosts, owners Mr. and Mrs. Sotohiro Kosugi are an unforgettable duo. The mister will prepare maguro, salmon, or tuna that literally melts in your mouth while the missus manages the wait staff and attends to your every need.
6. Yutaka Sushi Bistro (Dallas, Texas, U.S.A.)
Serving fish and seafood fresh from the coasts of America, you'll be hard pressed to find more delicious uni, prickly sea urchin, salmon, or king crab. This super trendy, busy establishment is run by notable chef and owner, Yutaka Yamato.
5. Tojo's, Vancouver (British Columbia, Canada)
Every time Joe Perry of the band Aerosmith ventures near Vancouver, BC, he stops into Tojo's for "omakase" (which translates to "leave it to us"). The city landmark is known as the place where Chef Tojo can serve up heaven on a platter after just a few queries about your personal palate.
4. Soto, New York City (New York, U.S.A.)
Dining guides like Zagat and Michelin rate Soto as one of the most memorable sushi restaurants in the Big Apple. Known particularly for its assortment of sea urchin, you can watch from a stool at the bar as Chef Sotohiro Kosugi slices using his magic knives.
3. Sushi Sasabune (Honolulu, Hawaii, U.S.A.)
Put your dinner in the hands of Seiji Kumagawa, the chef at Sushi Sasabune in Honolulu and your taste buds will be mesmerized by the over 2 dozen kinds of seafood and fish hailing from Hawaii, Alaska, and as far as Japan.
2. Sukiyabashi Jiro (Tokyo, Japan)
Owned and operated by Jiro Ono and the only sushi chef in the world to earn 1-2-3 Michelin stars, Sukiyabashi Jiro is renowned as the "World's Top Sushi Restaurant." Grab a stool at the small, intimate sushi bar and watch Ono master his knife, and serve you up the most phenomenal tasting treats!
1. Urasawa, Los Angeles (California, U.S.A.)
There is a reason why dinner for 2 at Urasawa in Los Angeles will set you back about $1,000 (with tip and tax)—it's that darn good! This sushi bar offers a limited room at 10 diners per sitting, and the dining experience is as much a culinary one as it is an entertainment event. Chef and owner, Hiroyuki Urasawa, might just choose the evening as the perfect time to unveil fresh tuna on a custom-carved ice pedestal!