If you were to Google bungee jumping, you would find endless websites offering this experience in way of a vacation. 10-20 years ago, you would have been lucky to find more than 1 or 2. Thanks to the extreme sport enthusiasts, bungee jumping now has a unique devil-may-care following. Millions have taken the plunge, with millions more right behind them to try this adrenaline fueled activity. Bungee jumping began as a rite of passage for the Naghol tribes' youth on Pentecost Island in Vanuatu. It was done with tree vines tied around their feet, the young would pass through a spiritual journey into manhood. One enterprising man named AJ Hackett witnessed this ceremony and came up with a marketable, exhilarating adventure for the bravest of souls. There are now over 15 Hackett sites all around the world and AJ himself has made it into the Guinness Book of World Records for the highest bungee jump from the Macau Tower in China. To those who love bungee jumps, the thrill only gets bigger, and more extreme. We scoped the globe to come up with bungee thrills unmatched by any other and put together this top 10 list for your next leap of faith.
10. Taupo Bungee, Lake Taupo, New Zealand
Taupo Bungee is billed as "the highest water touch bungee in New Zealand". It is not the highest point to fall from, but frightening nonetheless. The staff leaves the water dunking up to you. That is to say, how far down into the freezing water would you liked to be dropped? The guides at Taupo bungee use your weight to figure out how to get you very deep into frigid temperatures. Once you have reached your deepest spot under the water, you are suddenly ripped back up into the sky, leaving a disorientation pulsing through your whole body. Surrounded by amazing scenery is the platform on top of a cliff overlooking the Waikato River leading from Lake Taupo. There is a wide range of activities to choose from along the meandering path of the Waikato River. The jump is intense, and somewhat maddening. You have the options of doing a solo or tandem bungee jump, or you can opt for a rope swing. Either way, this is the only place in New Zealand where you also get to swing cliff side.There is also HukaFalls Jet and tandem skydiving available in adventurous Taupo. Taupo is a resort town located on the banks of Lake Taupo, New Zealand's largest lake. The popular destination has a variety of recreational activities. For those less inclined to fly amongst a cliff or be submerged into chilly water, there is always fishing, boating, jet skiing, and whitewater rafting.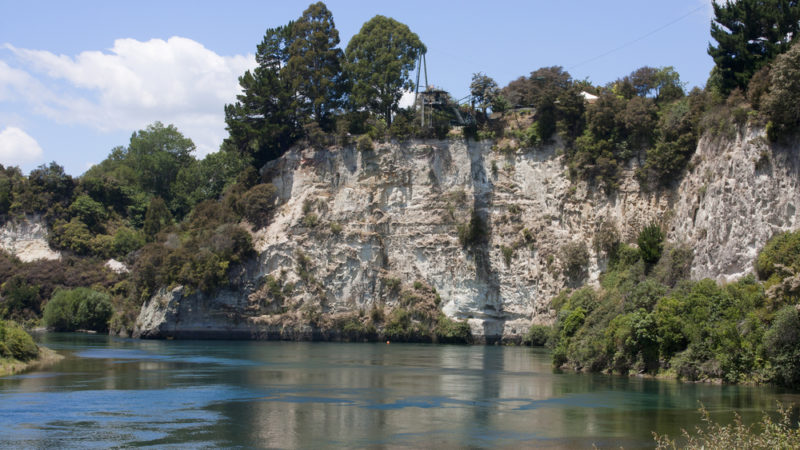 9. Royal Gorge Suspension Bridge, USA
In 1929, construction on the Royal Gorge Bridge in Canon City, Colorado was finally completed, making it the tallest bridge in the United States. If the workers only knew what this bridge would become famous for perhaps they would have wanted to jump from it too. The bridge is 1,260 feet long and suspended from towers over 150 feet high. For serious adrenaline junkies, this is the highest place to take the dive from. In fact it is so popular that a series of extreme activities takes place here every year. The 'Go Fast Games' offer legal BASE jumping over a 3 day period. This allows thrill enthusiasts to legally BASE jump without consequences. The September event is hosted by invitation only and caters to bungee jumping and BASE jumping, offering competitive and fun games. Royal Gorge also offers a different twist on bungee jumping; taking up to three riders on the Royal Rush Skycoaster. The ride begins at the edge of the canyon, pulling the three riders on a bungee swing then overtly dropping them to swing out over the canyon in speeds excess of 50 mph. The Skycoaster runs from mid-March through mid-October for those considering the wicked rush.
8. Verzasca Dam, Val Verzasca, Switzerland
James Bond did it! One of the best stunts in film history took place at Verzasca Dam in Val Verzasca, Switzerland. It took Pierce Brosnan's stunt double a week to muster up enough courage to pull this stunt off. He finally surrendered and plunged into a 7.5 second free fall parallel to the enormous dam. Standing out from the abundant scenery is the 380 meter long and 220 meter high dam wall called the Contra. This majestic man made dam gives all its enthusiasts the shivers. For those serious about their extreme sports, make this jump a priority. The Contra Dam is well lit with flood lights and even the moon. It can be reached from Gordola by way of a 2 kilometer long section of road, showing the way to the jumping station in the middle of the dam. What makes this a favorite for bungee jumpers? It is the only known bungee jumping site where you can fall from a bridge by the moonlight, taking the gregarious experience to a whole new level. Adrenaline seekers have nicknamed this jump as either '007' or 'Goldeneye'. This jump will bring out the 'James Bond' attitude and skill in all of us.
7. Macau Tower, China
Just off the coast of Hong Kong, is the highest Bungee jump in the world at the Macau Tower, home to A.J. Hackett's Guinness Book of World Records bungee jump. This massive tower stands at an impressive 764 feet high, and in the last 15 years, the site has been commercially developed to offer a world class urban adventure park. The latest technology is recognized here; such as the HD advanced video system. During this time Macau Tower and A.J. Hackett have implemented over 10 exhilarating activities for flight enthusiasts. This includes Skyjump, Xposure, Tower climb, Base Camp, and Skywalk, offering an alternative form of entertainment. Night Bungee is also available for those who cannot sleep. Macau Tower can be seen in many movies as Hollywood seems to love this as a location site. Macau is a rapidly growing city, and is quickly becoming a tourism mecca for all travelers. It is often called 'the Las Vegas' of Asia. Macau can be reached either by plane or a one hour ferry ride from Hong Kong. This free fall adventure is designed to provide the ultimate bungee jump experience. If cliffs and bridges get boring, try the Macau tower. This is definitely a top ten location for extreme sports and the city-minded brave hearts.
6. Victoria Falls Bridge, Zimbabwe Zambia
Zambia's tourism minister took the jump after a woman's safety cord snapped mid-jump; he wanted to focus on safety. Since then, tourists have jumped the stunning Victoria Falls, calling it the most spectacular free fall in the world. The thrill is in The Zambezi River beneath and the falls behind you. If you are going to take the leap of faith, this eye-popping scenery is the place to begin. The jump is straddled between two countries, on top of an old railway bridge which an enterprising young man named Cecil Rhodes ordered to be built. He was reported to have said "build the bridge across the Zambezi where the trains, as they pass, will catch the spray of the Falls". This bridge is also the site of unsuccessful peace talks which resulted in a 9.5 hour stand-off in 1975. The loud crash of Victoria Falls plummets down the huge cliff behind you. The locals promptly named Victoria Falls "the smoke that thunders". Beware of the hungry crocodiles circling in the mighty Zambezi River as you snap back up in a sheer moment of uncertainty. Victoria Falls Bridge is a historical attraction and for the less courageous they offer a walking tour under the main deck, or you can participate in a stunning zip line activity. There is also a small museum and a quaint little café to divert your attention from smashing heights, and jumbled nerves. Victoria Falls Bridge rates as some of the most amazing landscape in the world in which to free fall.
5. The Last Resort, Nepal
Not many people would think of Nepal as a vacation destination spot (unless you're into mountain climbing), and they are less likely to believe a world class bungee adventure is tucked away in the mountains of Nepal. Yet, way above the Bhote Kosi River in Nepal sits a cliff-top adventure known as the Last Resort. Located on a sharp ridge of a canyon with shanty houses of the locals is an adrenaline rush just waiting to happen. Deemed as a very scary jump, the dive is done from a pedestrian bridge over the small sliver of the narrow canyon, as the locals sit by and watch each time. The Last resort is about 60 miles east of Kathmandu and 7 miles from the Tibetan border. This resort is full of exhilarating adventures for jungle lovers. After the terrifying dive, you can partake in whitewater rafting on the rapids of the Bhote Kosi River or mountain bike in some rugged jungle terrain. The Last Resort also offers a thrill called the Canyon Ride, and serious hiking into hidden, secret canyons. This hidden gem of Nepal is an untouched and raw kind of adventure for those truly seeking a cultural, primitive time. Complete this jump with some white water rafting down the Bhote Kosi River. They also offer team building courses for schools and organizations. The Last Resort will not disappoint an adventure seeking enthusiasts' demands for a good time.
4. Niouc, Switzerland
Switzerland is often pictured as a blown up version of America's magnificent Rocky Mountains, so it is no surprise that it's home of Europe's highest bungee jump done from a scary suspended bridge. This nerve-raking leap will take some serious faith and downright courage to complete. Bungee jumpers willingly climb the shaky structure, appropriately nicknamed "Spider Bridge" and wobble their way out to the middle of the knife-edged bridge. The Spider Bridge has an intricate cobweb of cable wires, and the 190 meter footbridge is a heart-racing climb. Even more blood pumping, is that this jump not only drops you, but also swings you in all directions at the same time. There is complete surrender here, but at least you are free to enjoy the scenery as you finish the spins. Remember, every jumper is as nervous on some level as you are. Try to embrace the surrounding snow-tipped Alpine peaks and the quizzical views of the Navizence River as you muster some bravery climbing across Spider Bridge. You have arrived, in a land so mesmerizing, with the world famous Matterhorn right in front of you, and a beautiful little ski town called Crans-Montana waiting to set you for your next adventure. There is much to do in this part of the world aside from bungee jumping, and should be explored in between the leaps into 700 foot canyon. Mix this jump with every adventure the Alps has to offer.
3. Nevis Highwire Bungee, New Zealand
Another fear invoking bungee jump called the 'scariest bungee jump on the planet' is the Nevis Highwire Bungee in New Zealand. Enthusiasts of this harrowing free fall say it begins from the very first ride as you head on up to the jump. It is a bumpy mountain ride on a narrow passage climbing until you arrive at the stony and stark Nevis gorge. In the middle of the bridge, blowing in the wind, hangs a cabin. A small cable car takes you out to a suspended pod between two mountains leaving you vulnerable and at the mercy of the winds. The tiny cabin sways back and forth as you attempt to muster enough courage to make the leap, while also trying to make sure your equipment is safe. The free fall is eight seconds of frightening proportions. This is a place which should be a title contender for the world's most terrifying bungee jump. The Nevis in New Zealand now has the World's Biggest Swing designed to propel you fast over the gorge and leave you dangling on a high wire cable. It is without a doubt, second in thrills to bungee jumping.
2. Bloukrans Bridge, South Africa
Did you know that of all the people who decide to jump from Bloukrans Bridge only about 80% actually do? People who free fall from this frightening bridge suggest having an 'emotional sponsor'. It is just that terrifying. You can feel safe though, as no one has ever had an injury from this bridge in the whole 23 years of bungee operations. Bloukrans Bridge in South Africa is a problematic crosswind jump but provides a metal grated bridge to sturdy your feet. Carefully navigating your foot work across the bridge you cannot help but notice the abundance of rocks some 700 feet below. You are treading on the underbelly of this bridge with some serious high winds. This is enough to provoke the thought that this will be your last view, here on this vast bridge surrounded by the South African wilderness. The free fall lasts for eight seconds; and when you survive, it is the best feeling in the world. The Bloukrans Bridge is the highest commercial natural bungee jump in the entire world. Bungee enthusiasts say this site gives a double dose of thrill—jumping from the fourth highest jumping pod and a see-through bridge revealing a panoramic view of the amazing wild side of Africa. If you have second thoughts about Bloukrans Bridge, remember, Prince Harry and Jack Osborne have both braved this jump and survived.
1. The Pipeline Bungee, New Zealand
This is the place where it all begins. The Pipeline Bungee of New Zealand is the brainchild of bungee pioneer A.J. Hackett. It's the world's first commercial bungee jump and is also the most popular bungee site. The Kawarau Suspension Bridge of Queenstown offers leaps over the Kawarau River at an amassed height of 141 feet. It takes 20 minutes to drive from Queenstown to this jumping site. It is here A.J. Hackett and Henry Van Asch first demonstrated the art of bungee jumping to the locals of Queenstown in 1988. Over 25 years have passed since then and the site remains the world's most beloved bungee jump. Many people wishing to make that first jump, do it here if possible. Thousands of bungee enthusiasts make the trek to New Zealand every year to learn their very first lessons of the art of bungee jumping. For those followers of this extreme sport and those to come, they will be eternally thankful to A.J. Hackett for making their life an open casting call to feel free, to feel brave, and live in a moment on the jumper's edge. This niche in extreme adventures has taken millions to a courageous place inside the human spirit, and will continue, as the thrill seekers scout the world for a place to fly.