Imagine touching down somewhere that few people have ever been, discovering a remote world that you didn't know existed. Travelers are becoming more interested in places that offer more remoteness, that often take a journey to get to. Luckily the call for these types of places have been answered and throughout the world, remote hotels are popping up in places you didn't even know existed. From a beachfront hotel in Iceland to a surfing getaway in Samoa, these 8 remote hotels all have a few things in common- exceptional accommodations, stunning scenery, delicious cuisine and an air of privacy.
8. Hotel Budir, Iceland
The only real beachfront hotel in Iceland lies next to a lava field with views over the Snaefellsnes glacier. The accommodations here are simple, chic and unpretentious offering a variety of rooms including eight rooms in the attic, one suite, nine deluxe rooms and ten standard rooms. In the wintertime, guests cozy up by the fireplace in the lobby while staring out the large windows at the breathtaking surroundings.
Summertime brings bonfire parties on the beach and swimming during the day. Guests here will be treated to exceptional service, an exquisite restaurant and one of the most beautiful landscapes in the world. The possibilities for activities here are endless and hotel staff is delighted to help guests plan whatever their heart desires, whether they want to take a tour by helicopter, go horseback riding, fishing and more.
7. Fogo Island Inn, Newfoundland, Canada
Fogo Island is a remote island off the coast of Newfoundland, halfway between the North Pole and the Equator and home to the simple yet charming Fogo Island Inn. Open all year round, guests here are treated to the floor to ceiling views of the North Atlantic Ocean in one of 29 guest suites. Every piece of furniture and textile in the rooms are handcrafted, from the quilts to the chairs to the wallpaper.
Three meals a day are catered to suit your personal preferences along with snacks and focuses on fresh seasonal ingredients. In wintertime watch, as winter storms crash through, try your hand at cross-country skiing or ice fishing. In the spring the gigantic icebergs float by, bonfires are lit and wildlife viewing is at its finest. To get here, visitors have to take a ferry from Farewell Harbor or arrive in style in a helicopter.
6. Ultima Thule Lodge, Alaska
Deep in the Alaskan wilderness, hundreds of miles from paved roads sits this incredible remote lodge, taking people to places where nobody has gone before. It is a six-hour drive from Anchorage and then a 90-minute flight into the Wrangell Mountains to reach this lodge, set amongst the largest protected wilderness on earth. Visitors here should expect luxurious like bearskin rugs, floor-to-ceiling windows, a wood-fired sauna, freshly baked goods and stunning scenery.
There are no set itineraries at this lodge; every day is customized depending on the time of year, flying conditions and interests. Activities range from kayaking in a glacier-fed river, flying over the largest vertical rock face on earth, driving over glacier fields, and hiking across arctic tundra. Every experience at this lodge is unique and unforgettable and entirely worth the journey.
5. Aganoa Lodge, Samoa
Surfing is the main draw at this ultra-remote lodge, located on Savai'i, the more remote of the two main islands of Samoa. This lodge offers fully guided surfing experiences for a maximum of eight guests while catering to non-surfers and families who want an active travel experience. Eight open-air bungalows set the stage for this beautiful experience, each one constructed of reclaimed timber and lava rocks that were collected on site.
Beautiful white sand and crystal clear water beckon guests to swim, snorkel, surf, kayak and more; with the included equipment from the lodge. Dinner is served nightly in the open lounge and features the fresh catch of the day, along with other incredible seasonal ingredients. Whether you are looking to surf, dine or relax; this remote lodge will appeal to you.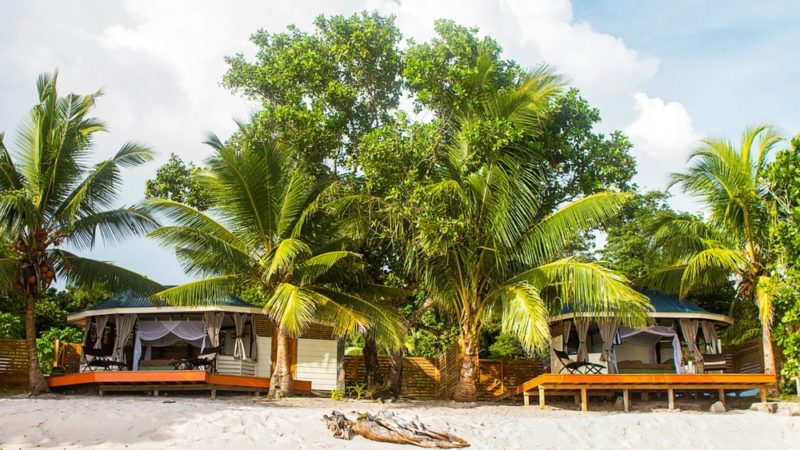 4. Lyngen Lodge, Norway
The ultimate remote getaway for winter sports enthusiasts is Lyngen Lodge, a remote lodge offering luxury accommodation, top quality cuisine and epic adventures in the world's most beautiful and undisturbed arctic regions on earth. The lodge only caters to 18 guests at a time so expect a personalized retreat with incredible cuisine and exceptional customer service. Relax in the center of the lodge where large panoramic windows offer spectacular views of the Lyngen Alps and a crackling fireplace keeps you warm.
Activities here include dog sledding, snowmobiling, skiing, Northern Lights viewing, boat tours, water sports, and Heli-hiking. Whether you choose to come in the winter for the unforgettable skiing or the summer for the abundance of activities, chances are, the experience will be unforgettable.
3. Yemaya Island Hideaway, Little Corn Island, Nicaragua
Little Corn Island is literally a speck in the in Caribbean Ocean, 43 miles off the east coast of Nicaragua. Getting here requires multiple forms of transportation including flight, taxi, panga boat and your own two feet. The reward is well worth it though, 16 private cabanas nestled among swaying coco palms with views of the crystal clear ocean. Private outdoor verandahs, a rainforest shower, and beautiful handcrafted furnishings await you.
Dining is done in the open-air restaurant that serves up local and organic ingredients grown on site along with fresh seafood. Guests here can enjoy activities such as daily yoga, sailing, kayaking, snorkeling, paddle boarding and incredible spa treatments. This hideaway offers the chance to reconnect, explore nature and live carefree, if only for a few short days.
2. The Oberoi Vanyavilas, India
Situated just ten minutes from Ranthambhore National Park, this is a chance for visitors to get up close and personal with the incredible Royal Bengal Tigers in the wild, while staying at an amazing remote hotel. Accommodations are in luxury tents, complete with a four-poster bed, a claw-footed tub, personal stocked bar, silk bathrobes and more.
Dining is done in the main hall of the restaurant in the winter time in front of an open wood fireplace while the outside courtyard becomes transformed into a restaurant in the summer complete with bonfires, candles and folk musicians. Explore the national park with its incredible ruins, elephants; hundreds of species of birds and of course the majestic tigers. Pamper yourself at the beautiful spa, have a private candlelit dinner or learn how to cook with Indian Spices; whatever your heart desires, you will find it here.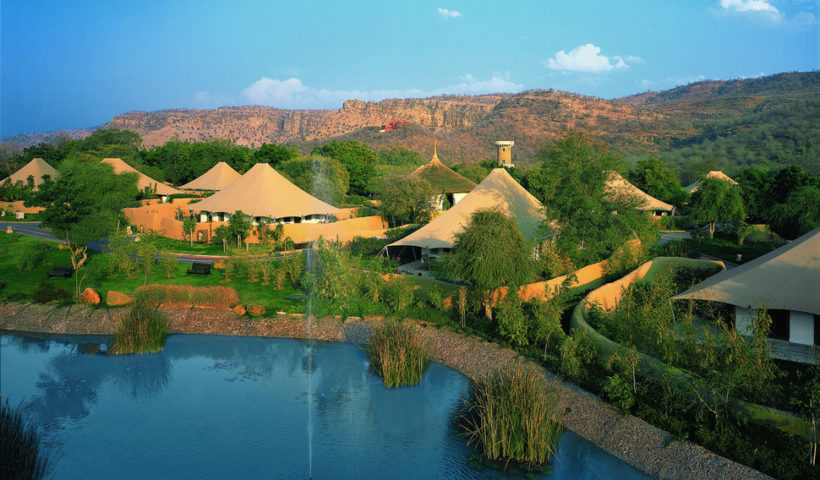 1. Mashpi Lodge, Ecuador
Perched at 3,116 feet above sea level in between rainforest and cloud forests sits an incredible lodge, surrounded by plants, orchids and a staggering 500 species of birds; along with monkeys, pumas and an abundance of waterfalls. Luxury and nature merge here at this five-star lodge where rooms feature floor-to-ceiling windows and glass walls that look out into the lush forest.
The towering two-story dining room features fully panoramic views and seasonal menu items that are prepared fresh by fine dining chefs. Top naturalist guides are on hand to take you through the surrounding trails and explain the flora and fauna that surrounds you. Voted as one of the most unique lodges in the world by National Geographic; this remote hotel is not to be missed.