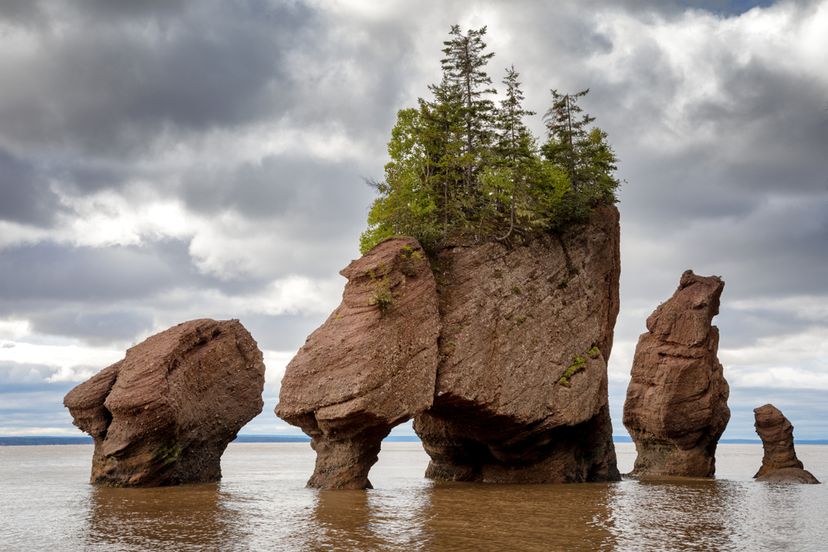 New Brunswick is blessed with an abundance of woodlands, a scenic coast, beautiful rivers and bustling cities. This province has everything anyone could ask for, yet is highly underrated. Tourists can come here to discover the highest tides on the Bay of Fundy, the cultural and historic capital city of Fredericton, sandy beaches, quaint seaside towns and more. From inlands to coast, this province is begging to be explored. Whether you come for a week, stay for a month or make this province your home, you shouldn't miss out on these 7 awesome things to see and do in New Brunswick.
7. Visit Hopewell Rocks
Visitors will want to head here both for the high and low tide, where you can really appreciate the height and range of the highest tides in the world. The time span between low and high tide is 6 hours and 13 minutes, thus presenting a unique opportunity to walk on the ocean's floor from 3 hours before low tide until 3 hours after. Many choose to see high tide first and then return later to explore the ocean floor with its coves, beaches, and flowerpot rock formations.
Others choose to rent kayaks and enjoy the unique experience of paddling around the flowerpot rocks at high tide. Keep your eyes peeled for wildlife in the area including moose, red fox, and black bears. The Interpretative Centre is the perfect interactive experience where visitors can learn why the Bay of Fundy is unique and about the surrounding landscape.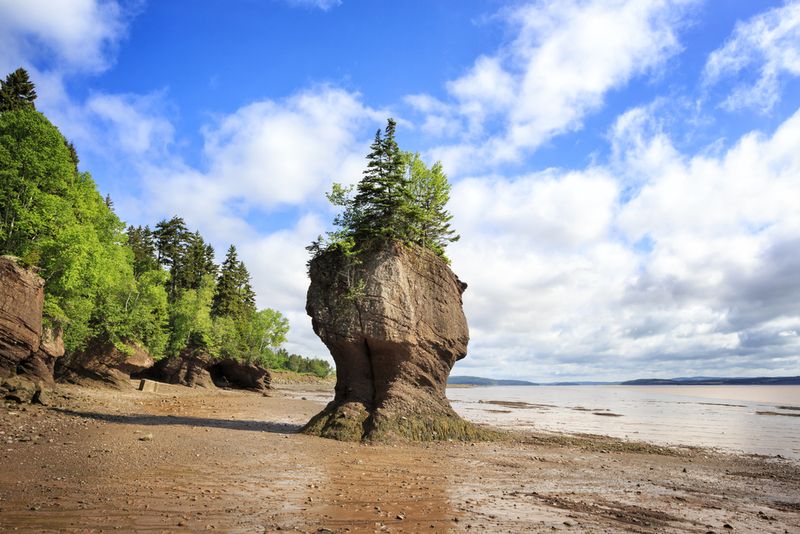 6. Drive the Fundy Trail Parkway
This scenic coastal drive lies northeast of Saint John, a slow-paced route that offers an abundance of lookout points, secluded beaches, a 275 ft. suspension bridge and more. Choose to drive, walk or cycle your way along the trail. This trail hugs the cliff tops above the world's highest tides and winds its way along of the last remaining coastal wilderness areas between Florida and Labrador and is one of the best places to view wildlife.
If you choose to hike or bike, be prepared for paths and stairways, a wicked suspension footbridge, towering waterfalls and pristine beaches. There are awesome programs for the kids here too including a Fundy Trail Adventure Hunt where children can pick up a checklist at the entrance gate and go on a discovery hunt, along with daily moose callings and free guided family walks on the weekend in the summer. Discover an absolutely stunning part of this incredible province.
5. Visit the Market
Canada's oldest continuing farmers market is actually located in Saint John, housed in a block-long building. This year-round market is open Monday-Saturday and offers a wide variety of local and international delicacies. At one time this city actually had six different markets but as the city grew in size and power, they realized that there was no need for six and instead centralized them into one.
The first market building was built in 1830 at Market Square and was constructed out of wood, and ended up burning down in 1837, and the second although made out of bricks burnt down in 1841. Nowadays the market building is the same one that was built in 1876, having two entrances with gates that swing closed at the end of each business day, with thing ringing on the bell. Wander through the aisles stopping to pick up delicious foods, handcrafted goods, produce, seafood, maritime crafts and more.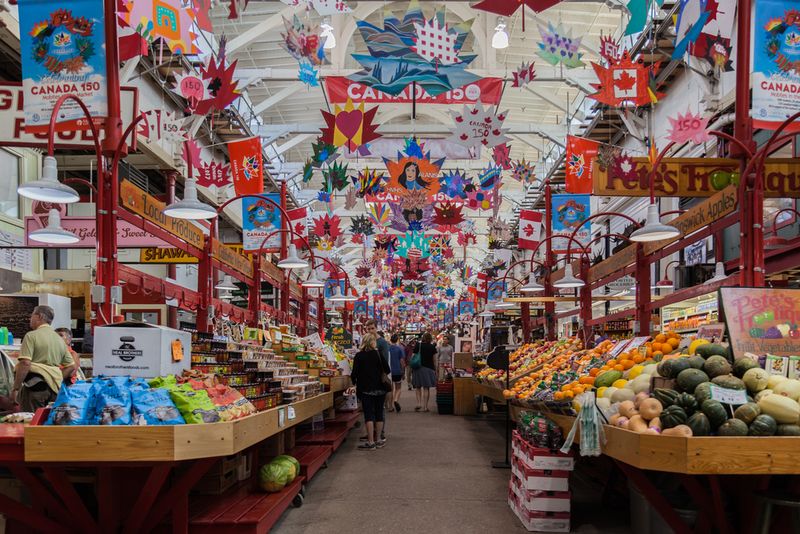 4. Watch the Reversing Rapids
The reversing rapid is a unique phenomenon created by the collision of the Bay of Fundy's huge tides and the mighty St. John River. What happens is the tides rise and push into the St. John River gorge, actually reversing the river's flow. Getting up close and personal with this phenomenon is the best way to witness it.
The top two choices here are zip lining above them or taking a sightseeing boat tour of the harbor where you can witness the whirlpools and falls. Or head to the Falls Restaurant observation deck of the Fallsview park to catch a glimpse of the action, if you can visit the rapids twice, once near low tide and once near high tide, you will truly be amazed.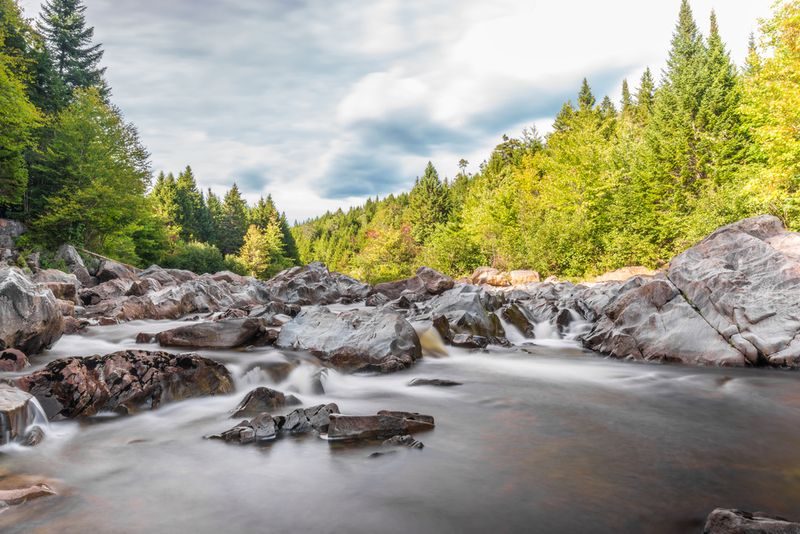 3. Explore Fredericton
The capital of New Brunswick deserves to be explored on any trip here as its both rich in culture and riverside beauty. Downtown Officer's Square is the perfect place to start exploring with its outdoor concerts, films, and theatres that are all put on for free. Head to the Beaverbrook Art Gallery or The Playhouse, or visit one of the best farmer's markets in the area. Tour through the historic neighborhoods with an audio tour or make your way along 85km of riverfront trails.
Take the day and travel to Killarney Lake where you can splash in the freshwater, or to Macrtaquac Provincial Park. Play a round of golf at the world-class championship golf course at Kingswood or experience living history at the Kings Landing Historical Settlement. Fredericton is full of incredible activities, awesome parks and a tremendous amount of friendly locals, waiting to invite you to discover their awesome city.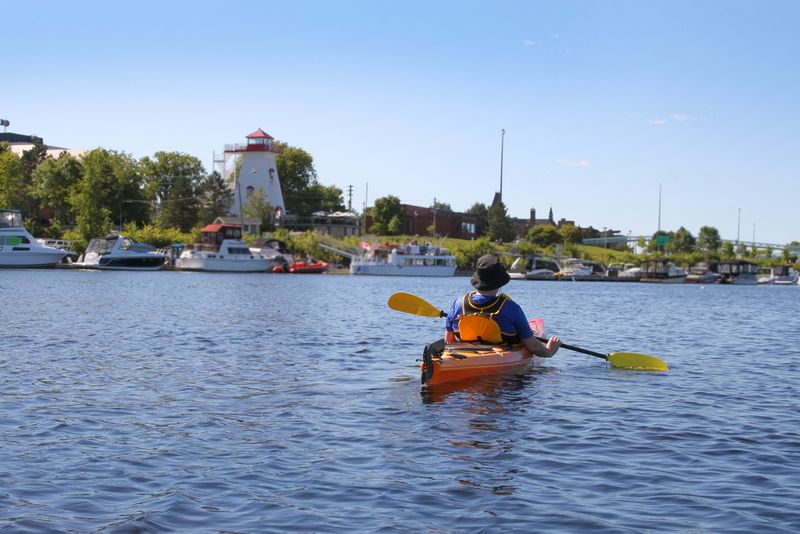 2. Visit the Parlee Beach Provincial Park
It is one of North America's finest beaches, boasting the warmest salt water in all of Canada. Don't expect to just laze around all day on the sand here, unless of course, you want to, as this beach is full of activities from volleyball to swimming to sand-sculpture competitions.
This park is also home to a 190 site campground on a beautiful groomed sited complete with restaurant, canteen, amphitheater, washrooms, showers, playground and more. Located in Shediac, this Acadian community is known as the lobster capital of the world and displays the worlds largest lobster sculpture. Make sure to dine on some local seafood in this town after a long day spent on a beautiful beach.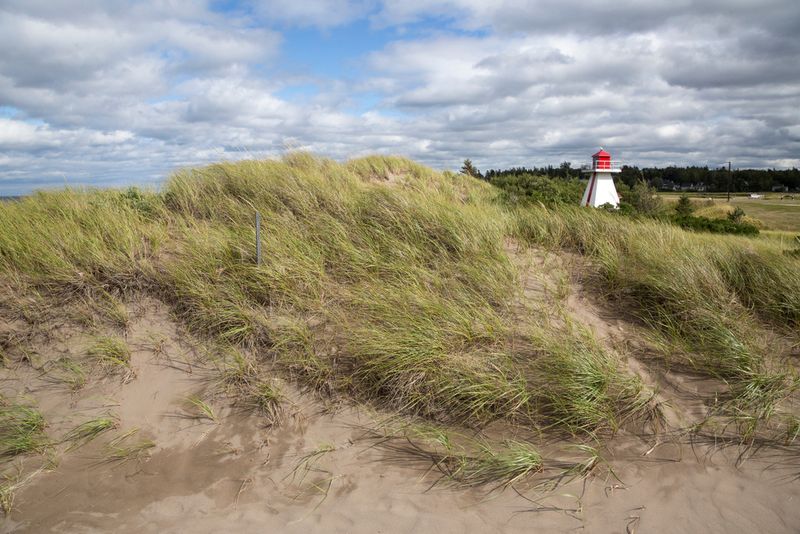 1. Discover St. Andrews by the Sea
This pretty little seaside town sits just by the U.S border and offers quaint old-fashioned charm and enough activities to keep every visitor happy. If you plan on spending a night here, make sure to stay at the historic Fairmont Algonquin Hotel where there are awesome amenities including mini-golf on site, huge fire pits to roast marshmallows, an on-site pool and a huge lobby filled with games.
Take a drive to Minister's Island during low tide, across the ocean floor and explore the historic houses, working farm or racehorse sanctuary. Take the kids to one of the most creative playgrounds in Canada where maze-like wooden structures, slides, swings, ropes and an amphitheater provide endless hours of fun. Whale watching, chocolate museum visits, sandy beaches, gardens, restaurants and more await you in this charming town.