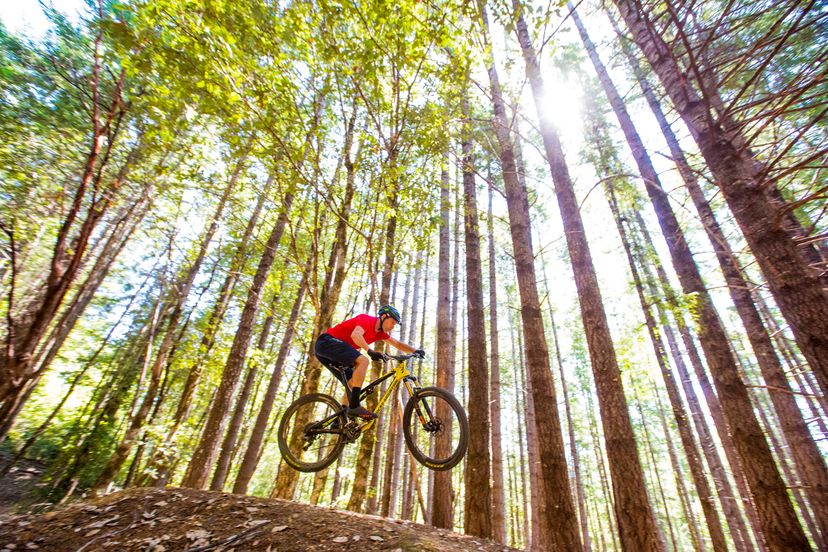 If you have ever thought about taking up the sport of mountain biking, there is no better time like the present, as thousands of incredible trails are awaiting you across the country. Whether you are a beginner or an advanced rider, these trails are packed with incredible scenery, technical descents, and grueling uphills. From narrow trails along the edge of cliff tops to trails winding through 300 year old forests, we have gathered our favorite 12 mountain biking trails in America. So what are you waiting for, grab your gear and hit the trails!
12. Bangtail Divide Trail, Bozeman, Montana
The Bangtail Divide Trail is regarded as Bozeman's most notorious mountain biking trail, and not because it is difficult in nature. No, the Bangtail Divide Trail is known for its breathtaking scenery and smooth single-track trails. The views here will include several mountain ranges and endless fields of wildflowers. Riders can do the whole loop, which runs about 31 miles and starts off with a big climb, utilizing twenty some off switchbacks.
It's around 18 miles that you will reach the best part of the trail, a five-mile ride downhill through a pine forest that is nice and smooth. It's so good, it's almost enough that you want to go up and do the whole thing over again.  Rounding out the trail is a final downhill that features some tricky switchbacks. All in all, the ride is smooth, moderately easy and full of epic scenery.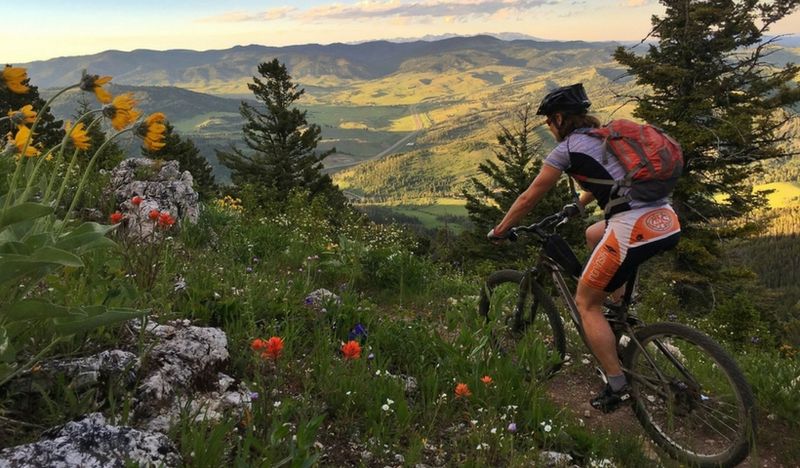 11. Poison Spider Messa down Portal Trail, Moab, Utah
You will either love or hate this trail and it will definitely make you cry, however old and in shape, you may think you are. Technically, physically and mentally this trail will rip you to shreds and that is what makes it all worth it. Words that have been used to describe it are deadly, dangerous, scenic and stunning. Riders can choose to ride the loop which is about 13 miles or as an out-and-back trail, but it starts off the same way, a relentless climb over deep sand, technical bedrock and slippery stones.
After you reach the viewpoint looking over Moab, you will join the Portal Trail that edges closer to the cliff walls than you have ever imagined. It is imperative to know your abilities before attempting this trail and in some places, you must dismount and walk your bike as you are literally on the edge. After riders have cleared the cliffs the trail gets even gnarlier with ledge drops, loose rocks, narrow squeezes and crazy turns.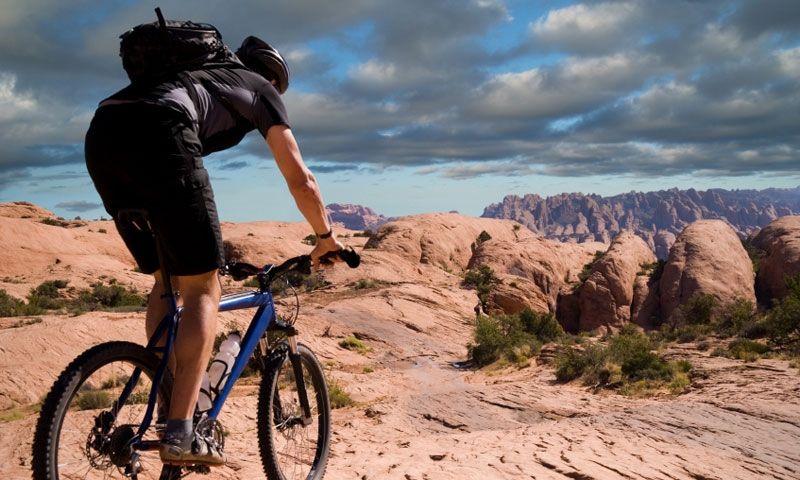 10.  Top of the World Trail, Whistler, British Columbia
This trail is only a few years old and is already a favorite among riders. To start, head up to the very top of Whistler Mountain via the lift, and make sure you get your ticket early as they only sell 150 of them a day. The trail starts at a whopping 7160 feet with incredible views of the shimmering lakes, Black Tusk, and the coastal mountains. There are two ways to go, as indicated by signs stating "this way is hard" and "this way is harder".
It's a 5km descent to the bottom, through creeks, around tight corners, and through rocky sections. The trail itself is a mix of alpine single-track and double-wide ski-runs with views of alpine trees, brilliant blue lakes and the backcountry of Whistler. With no uphill pedaling required, riders should be sure to have the proper gear including bike to ensure they make it the way down on this jumpy, fun, awesome new trail.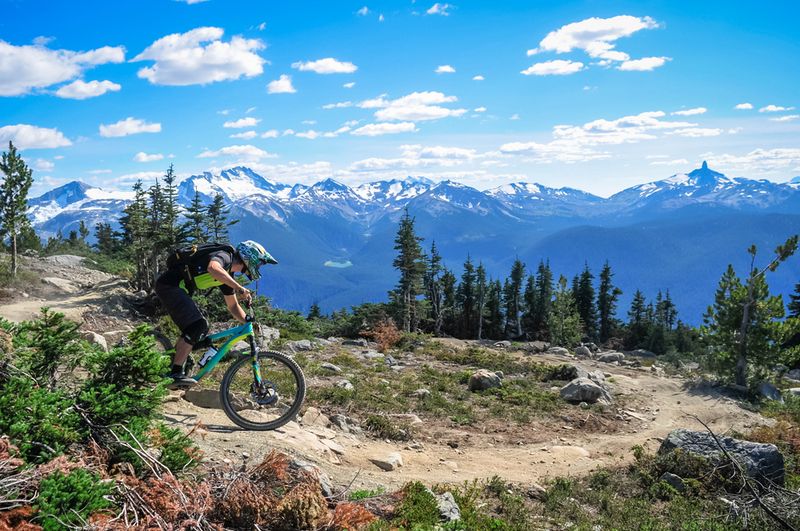 9. Mountainside Loop, Kingdom Trails, Vermont
This is the perfect trail to hop on if you are staying at the Burke Mountain Campground as it starts and ends here, but even if you aren't camping, we suggest trying this trail out. Riders will start off pedaling the 15.5 mile trail by making their way up some switchbacks in this wooded incline but prepared to immediately switch gears as you break into a quick descent.
The downhill is loaded with roots, bumps, a few jumps and some narrow bridges sans railings to navigate. Another ascent/descent awaits riders, although less challenging than the first. The final leg of this trail is an uphill climb to end at the campground where you will surely be ready for a cold beer. This route is technical and for riders that have experience with true dirt trails loaded with bumps, objects to navigate and other riders to contend with.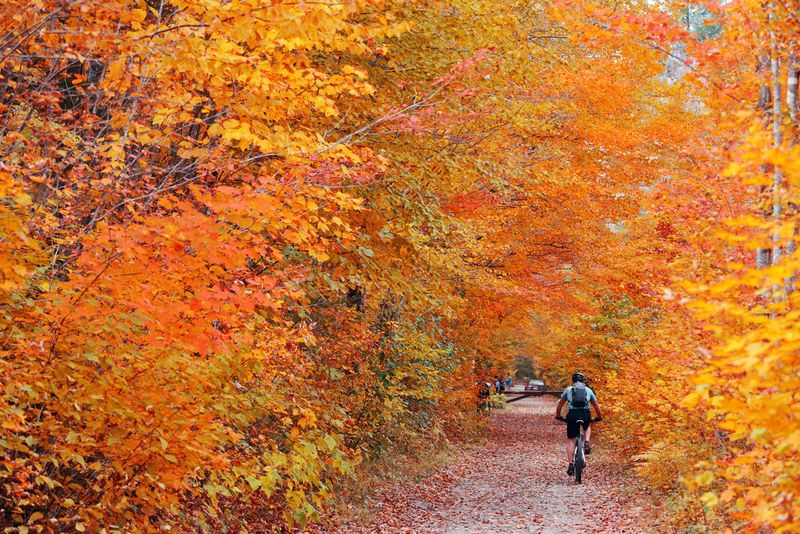 8. Deep Steep Trail, South Carolina
This single-track 4.6 mile track certainly doesn't sound that daunting but locals that ride here have a love/hate relationship with Deep Steep Trail. This trail actually has more climbing than any other in the Forks Area Trails and as much fun as it is to go down, one must go back up. It has also been described as one of the most fun trails in the area and riders can choose to ride it either way, with both offering tons of uphill's and downhills.
The ride is perfect for beginners and advanced riders as beginners can practice their stability and control on the descents whereas advanced riders can let loose. The trail is non-technical and littered with whoops, berms and gentle turns and promises that you won't want to ride it just once.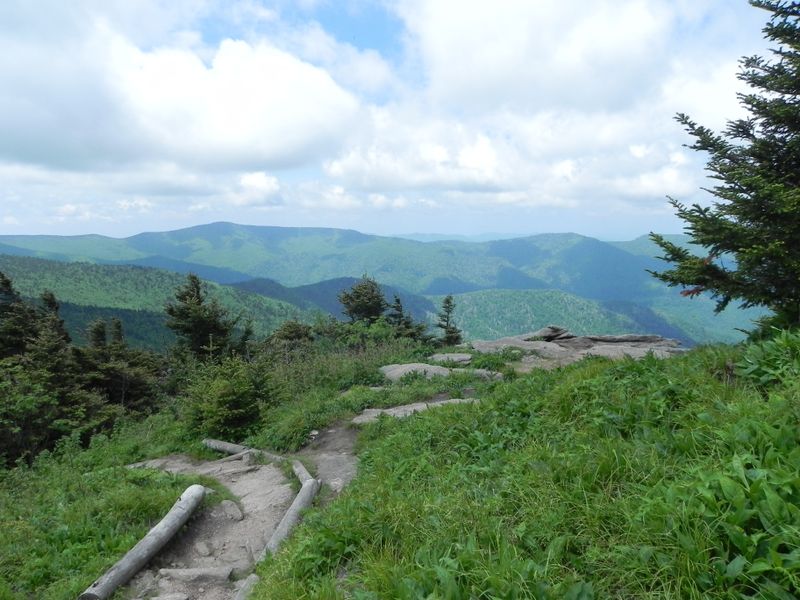 7. Downieville Downhill, Downieville, California
What awaits riders coming to this trail is a whopping 17 miles of the sheer vertical downhill drop and is recommended for the intermediate or advanced riders only. The town of Downieville is located a couple hours into the mountain and is a true mountain biker's destination. To get to the top of this trail, either take a shuttle up or have someone drop you off. From there it is all downhill, taking over an hour to reach the bottom.
Riders have the privilege of having this single-track trail to themselves for 85% of the way down and expect a steep technical ride on top as you battle your way through rock gardens, creeks, and long suspension bridges. Don't be fooled thinking you won't have any uphill battles though, as although this trail descends 17 miles, you will still have to pedal a few uphills.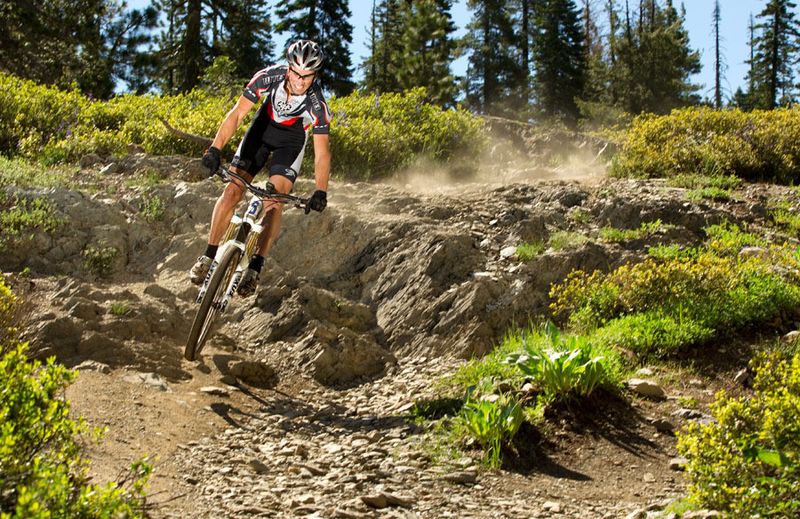 6. Munds Wagon Trail, Sedona, Arizona
The most difficult part of this trail is actually staying focused on riding, rather than admiring the beautiful scenery, although many will argue that this trail is both physically and mentally demanding as well. The trail is a tough 21.55 miles, single-track and is in excellent condition. Riders will be faced with a literal uphill battle though as they climb through stunning scenery.
The views only get better the higher you go and the reward at the top is simply surreal. Riders should prepare to contend with a few hikers that are often on the trail as well as a 5-6 hour ride, make sure to pack plenty of fluids and sunscreen. Think lots of speed, lots of technical spots and lots of pictures to be taken.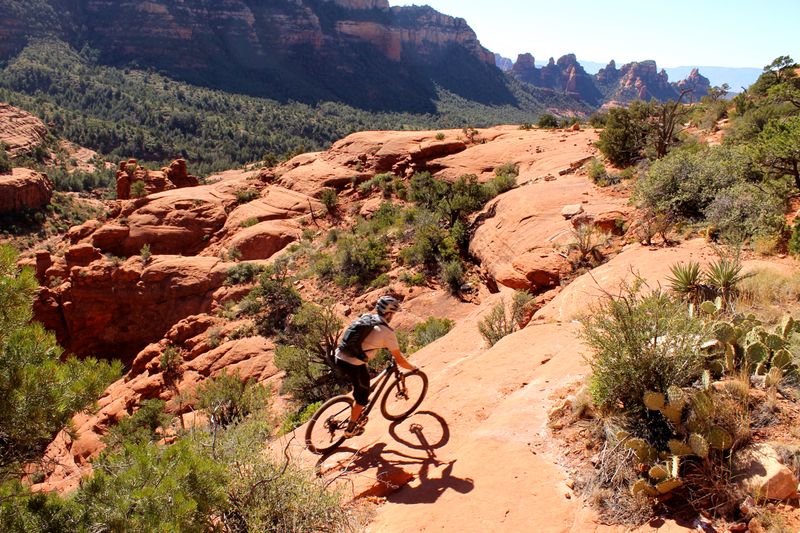 5. Rock Lake Epic, CAMBA Trails, Cable, Wisconsin
The Rock Lake Epic is, just like the name says, an epic 27 mile trail that is located in the hilly woods of Cable, Wisconsin. It is part of the Chequamegon Area Mountain Bike Association (CAMBA) Trails, which host a seemingly endless network of single tracks in the summer. The Epic loop takes riders through a web of tracks that winds its way through maple and oak forest through four of the best trails in the network: Rock Lake, Glacier, Patsy Lake, and Namakagon.
This dense terrain features plenty of rock ledges, plank bridges, step-ups and beautiful wilderness lakes.  This trail is not for beginners even though no climb is more than 100 feet, what gets riders through it's the constant rollers, downed logs, rock features and plenty of mud.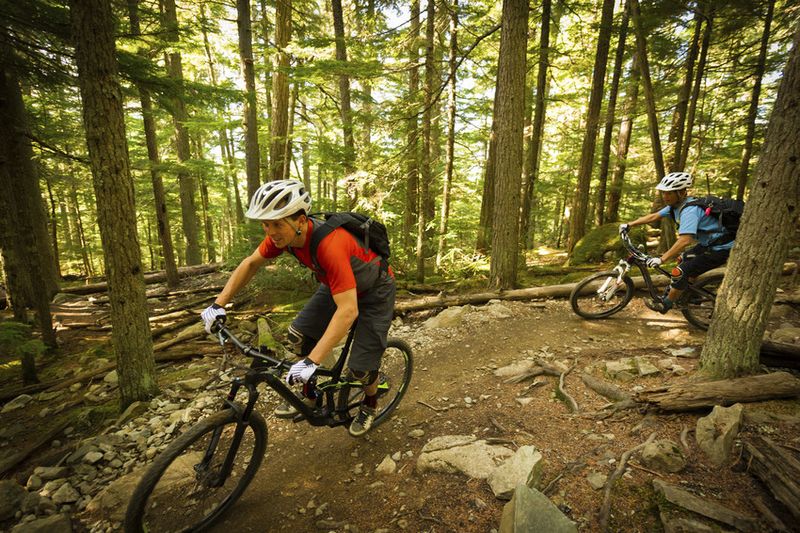 4. Paradise Royale Trail, California
Although much of California's land is off-limits due to preservation efforts, the Paradise Royale Trail was built specifically for mountain biking. Located deep in the King Range Mountains off the northern coast, this 14 mile loop thrills riders with its brief descend and then steady climb. Riders are advised to ride clockwise to take advantage of the long flowy descent on the east side.
Expect 19 gritty switchbacks which have been nicknamed "The Prince of Pain" along with steep side slopes, a skinny trail, and exciting flowy descents. Riders will take in incredible views of the Pacific Ocean as well as having the choice of optional jumps and drops on the way down. Once you get through that tough climb on the get go, it's nothing but laughs and fun on the way down, as long as you know what you are doing.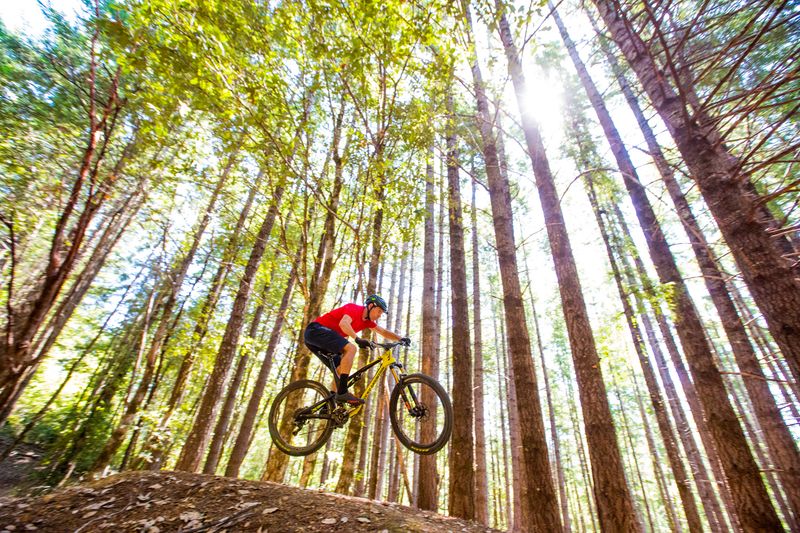 3. 401 Trail Crested Butte, Colorado
It is one of the best rides in the area as voted by riders and is a mix of road and single-track trail, which has you climbing and dropping for miles. This loop begins with a long but easy climb up Gothic Rd to Schofield Pass where you will catch the single-track trail and this is where the scenery begins to get epic with an incredible view of Emerald Lake.
Around 6.5 miles in is where the climb pays off as riders can take in unparalleled views of the Elk mountains and as you descend expect to see fields of colorful flowers. The downhill is generally fast and flowy with a few skinny sections to watch out for. Expect two more climbs after the downhill which are a little more technical than the first, or take the exit at Rustler's Gulch back to Gothic Road to end of one awesome ride.
2. McKenzie River Trail, Oregon
This trail on the west side of the Cascade Mountains will take riders through lush green forests and lava fields on a single-track that is meant for both beginners and advanced riders. It is recommended that riders shuttle to the top and then ride down to the bottom, zipping past crystal blue pools, towering waterfalls, and hot springs. The total distance of the trail is 26 miles and riders will do plenty of bobbing, ducking and weaving as they make their way through one of America's top trails.
Riders won't find any painful climbs here but will find challenging lava rock sections along with an abundance of logs, roots, and rocks. Don't expect to be going downhill the whole ride though, this trail drop 1800ft and goes back up 1000ft with lots of pedaling. Prepare to want to stop every few minutes to gaze at the waterfalls, 300 year old forest, mountain river and other spectacular scenery.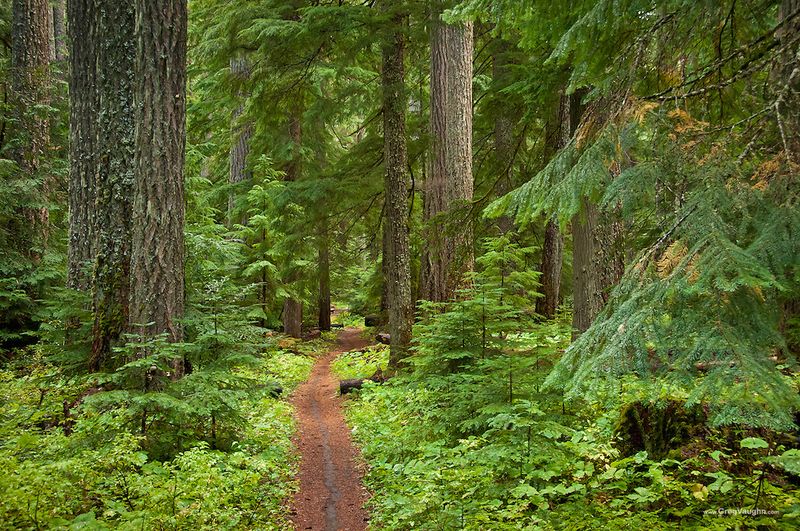 1. Porcupine Rim Trail, Moab, Utah
This world-famous ride should definitely be on your bucket list of trails, only if you are an advanced rider though. It can either be one-way with a shuttle car or a grueling 34 mile loop, for those truly hardcore riders. An incredible climb at the beginning takes riders up to the rim for breathtaking views of Castle Valley. From the top, the trail descends quickly through slick rock sections and some long smooth bits.
It is when you reach the single-track where the downhill gets extremely technical. The trail gets fast, the rocks start sloping sideways and the trail stays narrow. The views start to get incredible and riders should make sure to stay focused as the trail twists and turns. Expect to reach the bottom brimming with relief and excitement, knowing you just completed one of the best mountain biking trails in the country.