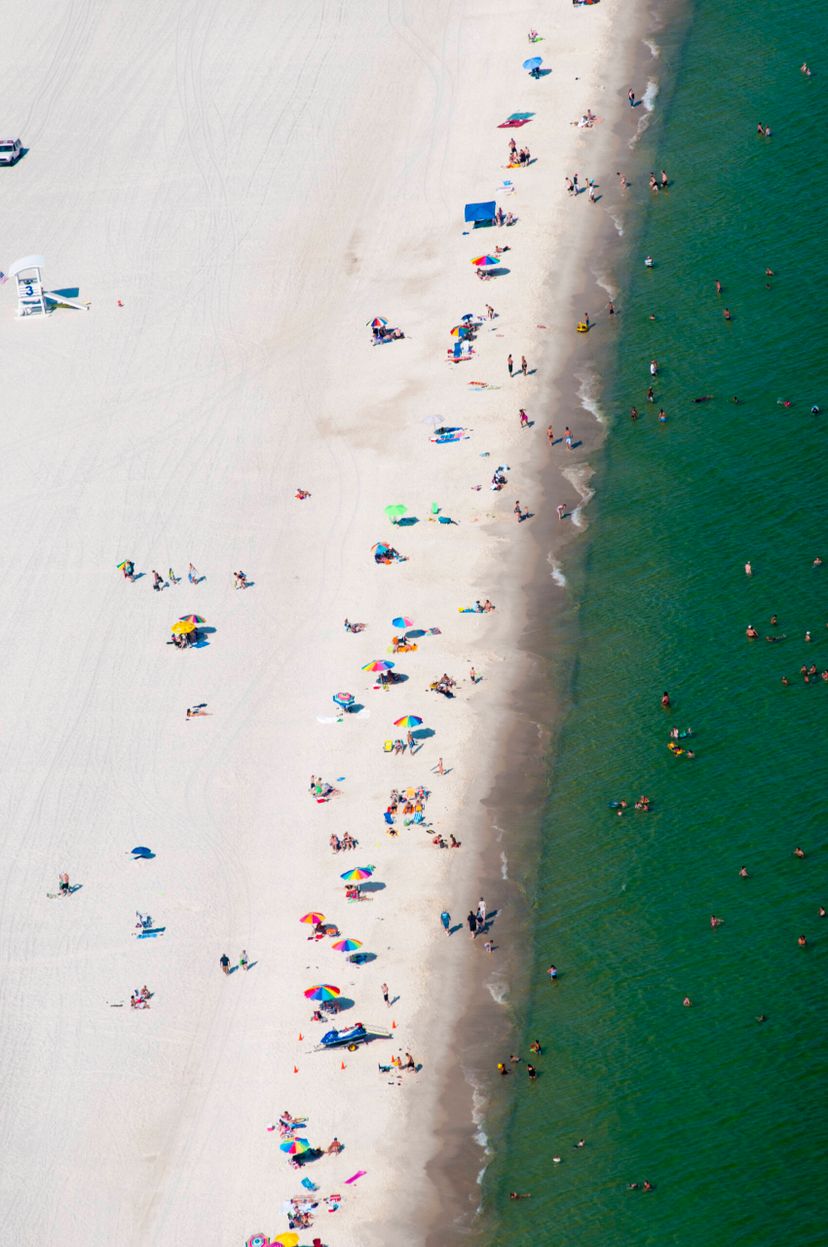 The 32 miles of sugar-white beaches along Alabama's Gulf Coast shoreline is a family-oriented destination that offers great nature and outdoor adventures, some of the most fantastic seafood in the U.S., and plenty of child-friendly activities. The sister cities of Gulf Shores and Orange Beach lie a true island, 27,000 acres separated from the mainland by the Intracoastal Waterway, and offering nearly 400,000 acres of protected back bay waters.
State and local Alabama officials are doing more to promote Gulf Coast Alabama ecotourism activities, including an Ecotourism Summit, Coastal Cleanup, and a sea turtle monitoring program. The beaches here are consistently rated among the best in the United States. Here's our road map for how to best enjoy their natural resources with your family.
Hike or Bike Wildlife Refuges
This area is a bounty for nature lovers, and the best way to experience it is often on foot or by pedal. Rent a bike from Beach Bike Rentals and hop directly on one of six trails that make up the Hugh S. Branyon Backcountry Trail, 11 miles of paved paths that are home to six distinct ecosystems. Rare and threatened plant communities, incredible bird sightings, a variety of small mammals, and even alligators can all be sighted from cycling trails easy enough for most ages.
Or visit the Bon Secour National Wildlife Refuge, established in 1980 to protect the coastal dune ecosystem and its endangered species. Coming from the French for "safe harbor," these 7,000 acres of wildlife habitat are easily accessible via multiple trails, and a launch site for canoes and kayaks is planned for summer 2013. Designated as one of Alabama's Ten Natural Wonders, Bon Secour charges no entry fees.
Get on the Water for an Informative Nature Cruise
The water is clearly the pull here. Bill and Cheryl Mitchell of Cetacean Cruises run dolphin and nature cruises on their custom pontoon boat, at a very affordable $15 and up. Spotting the area's playful dolphins is always exciting, but Captain Bill is extremely knowledgeable and protective of them. "They have the intelligence of an eight-year-old human," he explains. "If you love dolphins and want to see a sustainable practice, you've come to the right place." Cetacean is the only area company that passed the test to become certified for the Dolphin SMART program from the National Oceanic & Atmospheric Administration.
For a completely different on-the-water experience, climb aboard with Captain Skip of Sailaway Charters. On a 2-3 hour sailing adventure, Skip shows his guest how to go crabbing and shrimping, as well as various oyster techniques and bird identification. You will very likely also spot dolphins trailing along behind the boat for the leftovers.
Captain your own boat in a Kayak
For a more independent experience, you can grab your own kayak and glide along the peaceful estuaries of Graham Creek Nature Preserve in nearby Foley. These 484 acres of southern gothic waterway wind in and out of marsh grasses and larger bodies of water, with ancient water oaks lining the banks while pelicans and great blue herons fly overhead. Once out in more open water, you're likely to spot bottlenose dolphins. You can rent your own kayak to launch from the Graham Creek launching dock or set up with an experienced guide such as Certified Master Naturalist Carol Furman, through Fairhope Boat Company.
Relax on Sugar White Beaches
When all of the outdoor adventures and physical activity has worn you out, it's the perfect time to recharge on the sands that the island is famous for. Turquoise water meets soft white sand that curves gently up into grass-covered dunes. The city of Orange Beach has three Gulf State Park beach areas, and Gulf Shores has eight. Most offer public restrooms, showers, picnic tables or pavilions, and miles of pristine beach. Some, like Lake Shelby, Cotton Bayou, and Gulf Shores Public Beach, have more activity going on with people fishing, water skiing, boating, or playing volleyball. Others are more secluded and quiet—if that's your thing, try Florida Point, Gulf State Park, or the beach at Bon Secour National Wildlife Refuge.
Eating Sustainably
When it comes to dining out—and nighttime entertainment—your eco-vacation doesn't have to go awry. At Lucy Buffett's Lulu's at Homeport, run by the sister of famous Parrothead Jimmy Buffett, sustainability is an important part of both the food and the business operation. They serve only grass-fed, Alabama-raised beef and sustainably-caught fish—diners are even provided a website where they can see exactly where their fish was caught. Lulu's also received the prestigious Seventh Generation Award from the Dauphin Island Sea Lab in 2009, given annually to the person or organization that embodies the tenets of sustainability, stewardship, and pro-active practice in considering our natural resources.
Lulu's was recognized for, among other things, its installation of an environmentally-friendly windmill and being one of the first public venues to incorporate the rain garden concept into their parking lots, dramatically improving the quality of stormwater runoff into the Intracoastal Waterway. "With the volume of business that we have enjoyed in Gulf Shores, it was a natural progression for us to think of how we could operate from a more environmentally friendly point of view to help take care of the absolutely gorgeous natural beauty of Gulf Shores," said Buffett. "What we have done at LuLu's has brought awareness and sparked conversations between all types of people and agencies. Plus, it is just a lot of fun."