With a new year comes new vacation plans. Of course, whether you like it or not, with every new vacation comes hotel costs. To help you enjoy the trips you take this year without worrying about hotel costs biting into your wallet, below are 11 tips you can use to find the best hotel deals in 2020 no matter where your trips take you.
Book in Advance
Like anything, the farther in advance you begin looking for hotel deals, the more likely you are to find them. Not only that but booking far in advance can also allow you to book during otherwise unavailable data ranges, which can improve your visit (visiting during peak season, for example). With these two things in mind, it's useful to start the search for hotels as far out from your visit as possible.
Look for Last-Minute Deals
On the other hand, you can also find incredible hotel deals by searching for accommodations last-minute. In an attempt to fill otherwise non-booked rooms, many hotels will offer their rooms at lower-than-normal prices. You can search for last-minute rooms manually, or use apps like HotelTonight, One: Night to make the process easier. You can also use Priceline, a website that posts "tonight only" deals every day at 11 a.m.. Keep in mind that the type of trip you're taking can affect the availability of last-minute hotel deals. For example, if you're traveling to a city for a conference, hotels in the area know that people will need rooms. If anything, booking last-minute in this scenario will have you paying more rather than less.
Be Flexible With Your Dates
If you have a hankering to visit somewhere but aren't tied down to a specific date range, researching hotel stays for different dates can help you discover the cheapest time to take your trip. This also applies to the days of the week your visit covers. Generally speaking, since hotels see the most visitors on Friday and Saturday nights, mid-week stays such as a Monday through Thursday stays will result in much cheaper prices.
Bid on a Room
If you're okay with a little uncertainty, some services allow you to bid on hotel stays that fit within your desired price range. For example, Priceline's "name your own price" feature lets you select neighborhoods and star levels when you bid, but doesn't reveal the name of the hotel until your bid is accepted. Before you bid on anything, Priceline suggests researching hotels for your specific star level around the neighborhood you plan to stay in to give you an idea of what you might end up with. This is especially important considering that your credit card is charged as soon as your bid is accepted and you cannot change or cancel your reservation.
Travel During the Off-Season
If hotels know that lots of people will be looking for stays in their area, such as during peak travel season for that area, then it doesn't make sense for them to offer any discounts. People are almost guaranteed to pay full price regardless. With this in mind, to save money on hotels, plan your visits for the off-season when there aren't floods of tourists looking for hotels.
Pick a Different Neighborhood
It might be convenient to stay right downtown in the city you're visiting, but it's also more expensive. To find cheaper hotel stays, look in neighborhoods farther away from main areas. However, it's also important to factor in the cost of transportation to anywhere you plan to visit. In some cases, staying in a cheaper hotel farther away and taking public transportation every day might be more expensive than just biting the bullet and paying more for a hotel closer to downtown.
Use Hotel Search Sites
Sites like Skyscanner, Kayak, and Momondo can help you quickly find hotel deals no matter where you're visiting. For example, with Skyscanner, you can put in your destination and date range, among other filters, and Skyscanner will connect with its 1,200+ partners to find what hotels offer the cheapest stays for your travel period. Or, if you're flexible, you can put in your destination and see which dates offer the cheapest hotel stays.
Compare Sites and Deals
As useful as hotel search sites are, it can sometimes be cheaper to do your own research. You can start by using sites like Skyscanner, Kayak, and Momondo to give you an overview of the hotels in the area you plan to visit, but you should research those hotels on your own after. This is because some hotels offer the best rates only when you book through them directly. When searching on your own, be sure to search around Google and the hotel's website for promotions and perks such as free parking, meal discounts, complimentary WiFi, and so on.
Take Advantage of Rewards Programs
If you repeatedly stay with a specific hotel chain or hotel group, then it might make sense to sign up for any rewards programs they offer. Like perks you would get for using a specific credit card, many hotels offer perks for being a part of their rewards program. For example, with enough earned points, Wyndham Rewards members can redeem free stays at any Wyndham property worldwide, from the cheapest Days Inn to the most expensive Wyndham Grand resort.
Use Your Affiliations
It's always worth asking your hotel if they offer discounts for people with any associations you may have. For example, many hotels offer discounts for seniors, government employees, students, members of the military and AAA members.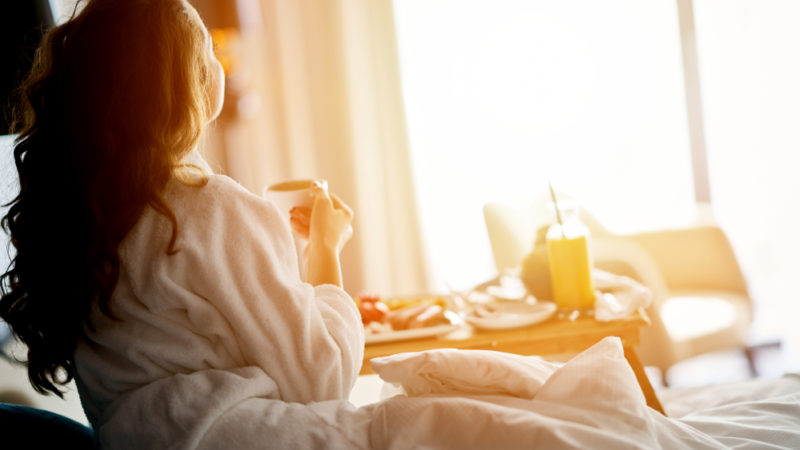 Negotiate Your Rate
Did you know that people who negotiate their room rate with hotels pay less or get a better room nearly 80% of the time? After doing your research and coming up with a number of hotel options, it's worth getting in contact with each of your options one by one, explaining the prices being offered by their competitors, and asking them if they can offer a better price.