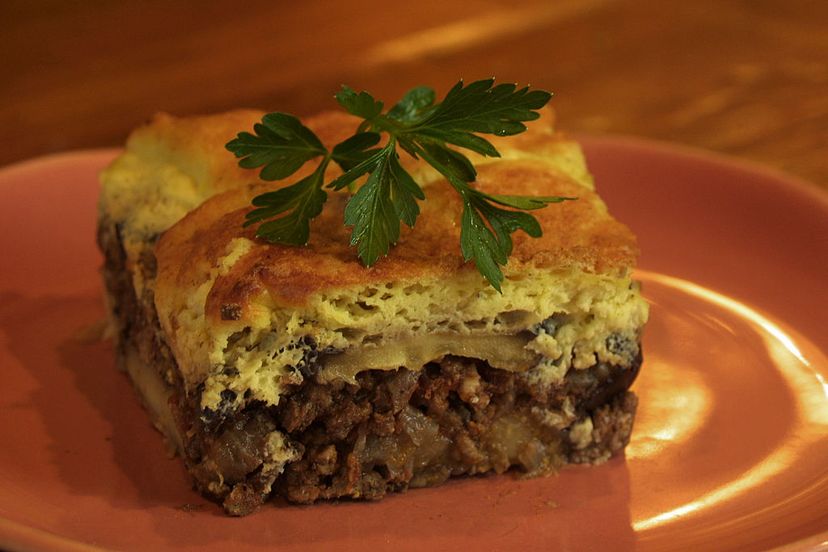 Cypriot cuisine has similar ingredients and flavors as Greek and Turkish fare, so there are likely some recipes that you'll recognize if you enjoy these more common cuisines. A typical Cypriot dinner begins with appetizers, dips, and salads, followed by meat-heavy mains, and concluding with a light dessert and traditional strong coffee that's brewed with local beans. Eating together is cultural in this Eastern Mediterranean country and meals are often shared to build relationships and community, so expect this to be the norm if you travel here. Here are 10 of the most popular and delicious foods from Cyprus.
Ekmek Kadayifi
A popular Cyprus dessert that's similar to bread pudding is ekmek kadayifi – rusk-like bread saturated in sweet syrup and topped with kaymak (Turkish clotted cream). Alternately, if honey satisfies your sweet tooth, a slice of baklava or galaktompoureko, both sweet cakes made with honey and nuts, will certainly do the trick.
Cypriot Coffee
The traditional coffee of the island is strong due to the fact that it's made from fresh, finely ground Brazilian coffee beans that are boiled to form a frothy cream known as "kaimaki" on the top. Most people drink it in small cups with dissolved sugar (called sweet "glikis") or take it medium sweet ("metrios") while a brave few drink it "sketos" (or unsweetened). The coffee is best sipped slowly, but be warned. Don't drink the thick layer at the bottom of the cup; it's commonly left untouched.
Kebabs
A selection of homemade deliciously prepared kebabs is traditional fare in Cyprus. Kebabs are mostly chunks of meat – such as lamb, pork, chicken, and fish – that are cooked on a skewer and seasoned with olive oil, oregano, and lemon. Kebabs are usually served with tzatziki and pita bread. This is a popular dish at Greek restaurants in North America, so it's likely that you've had this before.
Stifado
This traditional and fragrant stew is made with rabbit (or sometimes beef) that's simmered in wine, vinegar, whole pearl onions, and popular Greek spices, like garlic, oregano, and rosemary. Stifado is a slow cooked dish traditionally eaten in the winter months as a warming dish. It's rich-tasting with a deep history in the country, with historians believing that it was brought to Greece by Venetians.
Souvlaki
Souvlaki or "souvla" as the Cypriots call it, is thin sliced meat pieces – traditionally lamb, pork, chicken, or sometimes beef – served on top of pita bread with a pickled salad, hummus, and tzatziki. This is another very popular dish served at Greek restaurants in North America, so it's likely that you've had it before even if you haven't visited Cyprus.
Meze
A traditional selection of hot and cold appetizers, meze is basically Cyprus's equivalent to tapas. A meze platter offers variety and can include Mediterranean specialties like tzatziki – a healthy yogurt dip made with garlic, cucumber, and olive oil; tahini, which is a paste of crushed sesame seeds, olive oil, lemon, and garlic; taramosalata, a type of fish roe mixed with pureed potatoes, olive oil, lemon juice and onions; hummus, a traditional pureed chickpea and tahini dip; and haloumi, which is grilled and spiced soft goat or sheep's cheese. Mezze is also sometimes consumed as a snack while drinking and talking with others.
Moussaka
A widely enjoyed Mediterranean casserole, moussaka is baked in layers of eggplant and lamb (though sometimes beef is used instead), covered in béchamel sauce, which is a white sauce made with butter and flour cooked in milk. There's a very good chance that even if you don't normally enjoy eggplant, you'll love this traditional dish from Cyprus.
Ouzo
Ouzo, the famous and traditional Greek and Cypriot drink, is created through the double distillation of selected dry wines blended with seeds of anise. Commonly served before a meal as an aperitif, it has a distinct, black licorice taste that resembles Italian sambuca. You may also be offered Raki on the island, a local aniseed alcoholic beverage that is often mistaken for ouzo.
Kleftiko
Kleftiko is a traditional lamb dish that's baked in a kiln and cooked for a minimum of 24 hours in the clay oven while it marinates in a mixture of lemon juice, garlic, onion and cinnamon. It's commonly served with potatoes, though they are traditionally cooked separately. The name means "stolen lamb" and legend has it that it was named for the bandits who used to steal sheep and cook them in a sealed pit to trap smoke and keep their meal hidden.
Koupepia
These appetizers and Greek delicacies showcase minced meat (typically a mixture of lamb or pork), white rice, and spices daintily wrapped in steamed grape leaves and cooked in tomatoes and lemon juice. The difference between this dish in Greece and Cyprus is that tomato and cinnamon is added, and the avgolemono sauce is omitted. This common food in Cyprus is versatile and can be served as part of a meze platter or salad plate, or as a main dish.