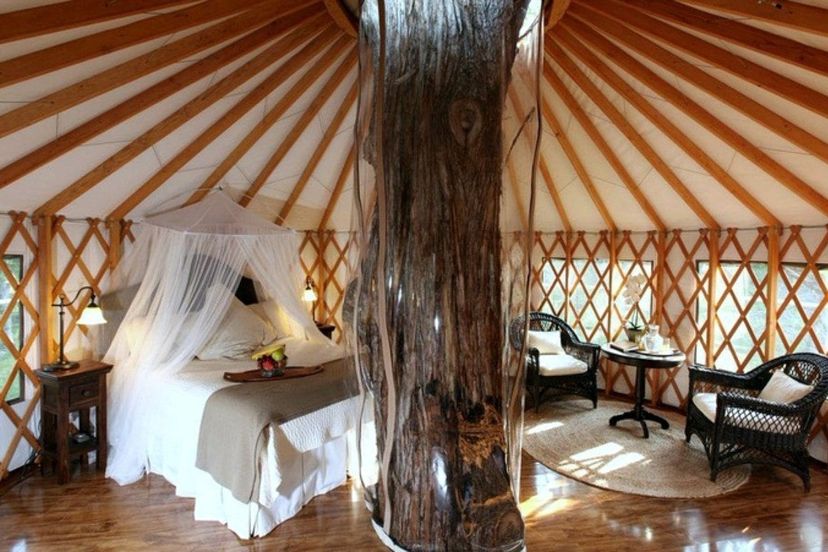 Springtime in the Texas Hill Country is pretty spectacular — temperatures are mildly warm, the gorgeous wildflowers are out in full bloom, and everything is green (before our crazy-hot summers turn everything brown).
What better way to experience the Hill Country than by glamping in a very cool treehouse, in Spicewood — about 45 minutes west of Austin, Texas.
In case you aren't familiar with glamping, check out my previous post about it. I booked my treehouse stay through GlampingHub.com; it was a lot of fun checking out the Texas Weekend Getaways on the site, with all the various cool properties to choose from. From luxury river or lake homes to cabins, yoga retreats, teepees, treehouses and even Airstream trailers, there are some really unique places to stay.
I ended up choosing a treehouse at Cypress Valley Canopy Tours. This resort offers an adrenaline-packed zipline adventure through the Texas forest, along with several treehouses that guests can stay in overnight as well as a 5-bedroom ranch house. I stayed in the adorable one-room Juniper treehouse, just a short walk from the parking lot and main center for the zipline tours.
You cross into the treehouse via a wooden plank cable bridge — the excitement started upon arrival! The treehouse is charming and comfortable; in fact the bed and especially the pillows were extremely soft and sinkable, giving me a fantastic night's sleep tucked away several dozen feet of the ground, in the treetops canopy.
My treehouse had electricity (including lights all along my bridge pathway that I could turn on or off), a coffeemaker and supplies, and small deck at the entrance with a little table and chairs. There is no air conditioning in the Juniper or the similar next door Treehouse, Willow — but plenty of screened windows and a fan make for good cross-ventilation. Still, I imagine the high summer months would be uncomfortable.
Juniper and Willow also use bathroom facilities (showers, sinks and toilets) that are a few dozen yards down the pathway. Other treehouses available at Cypress Valley — Lofthaven and the Nest — have private baths, and the Nest also has air conditioning.
Besides the awesome zip line adventure (which I have done before, in a prior visit to Cypress Valley), there are a lot of amenities including hammocks, grills, picnic tables, a trampoline, a swimming pool, volleyball and tetherball courts.
When you want to experience the great outdoors without roughing it, glamping is the way to go. And I loved my treehouse experience!