Welcome to a new series on Trading Places: Try-it Tuesday, where each week we'll take a look at something new to try. It might be a recipe, a new gadget, a review of a product, or DIY project.
Today's inaugural Try-it Tuesday is about something I've wanted to try for several months now: an electric pressure cooker. Ever since the Instant Pot exploded onto the scene recently and became a huge crazy — I had friends posting about it all the time — the idea of using an electric pressure cooker has been gaining appeal for me.
I love to cook and find new things to work with in the kitchen. I've never used a traditional pressure cooker because, to be honest, they are a little scary and intimidating to me. The appeal of an electric pressure cooker for me was that it was straightforward, everything is programmed for you (including the depressurization, cool down period, etc), and the fact that you can achieve pressure cooker results: namely, that you can cook things that typically take a long time, like many meats, stews, etc., in a very short amount of time, while achieving tender and delicious results.
Deciding on a product
So….I spent a couple of months researching the Instant Pot and other brands of electric pressure cookers (they aren't the only ones!), reading reviews, etc. In the end I purchased a Crock-Pot Express Crock Multi-Cooker. Yep, dear old Crock-Pot that I remember from way back when. My grandmother had one, my mom had one, and I had one (the regular old slow-cooker variety). The Crock-Pot electric pressure/multi-use cooker got great reviews, and I bided my time until it was $20 off at Target, costing me only $59.99 (versus the $79 retail price).
And — there it was. My shiny new cooker sitting on the countertop. One of the things I had learned from friends who were enthusiastic converts to this method of cooking, and my own perusal of the products, was that they can do so much more than JUST pressure cooking. They can cook rice and risotto, broth, steam vegetables, brown/sauté, make cakes — it can even make yogurt! (Making baked items and yogurt are high on my list of to-try with this, but I haven't gotten there yet).
The brown/sauté function was really important to me. One of the negatives of a slow cooker for use as something that you regularly cook all kinds of meals in, is that while slow cooking leads to some super tender and juicy meats and vegetables….it pretty much can just make, well, mushy food. That's fine for when you want soup or stew, or falling-apart roasts or tenderloins. But I like to sear and brown a lot of the food I cook, be it meat or vegetables. I knew that if this wasn't an option, my new pressure cooker wouldn't end up getting a whole lot more use than the old slow cooker.
The First Recipe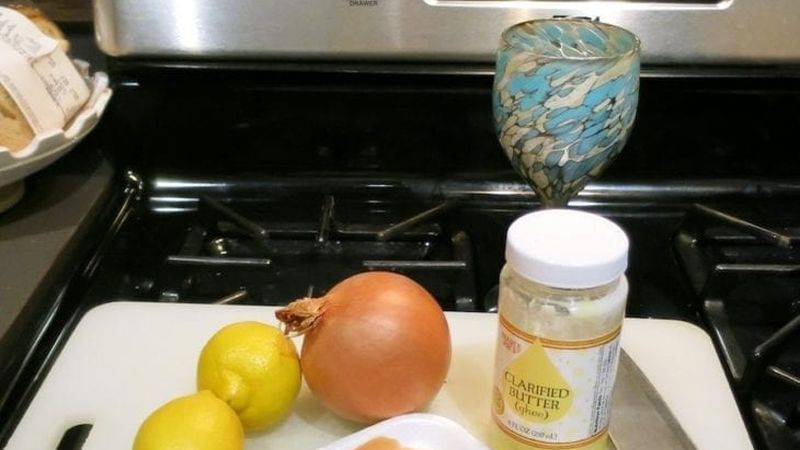 My first test was making Indian Butter Chicken, using a recipe I found through Pinterest on TwoSleevers blog. I adore Indian food, and this seemed like as good a place as any to start. And it was super, duper easy. It started off with the exact reason why myself, and many others, want to use these handy little multi-cooker machines: the ease of just throwing all the ingredients into the pot, programming it, pushing the button, and sitting back to wait for the deliciousness.
This recipe called for exactly that; throwing everything into the pot and seeing it to cook for 10 minutes. Then you take the chicken out, blend all the other ingredients so that the sauce is creamy with everything blended together and not chunky, and add in butter, cream, garam masala spice and fresh cilantro. I served it over rice, and yes — it was delicious!
As soon as I started making other dishes, I could see right off the bat how important that sear/brown function was going to be for me. And with my particular product, at least, it worked well for me. I put a little oil or butter in the bottom, push the setting for brown/sauté, let it warm up for a minute — and yes, I was able to brown my onions and vegetables, sear meats, etc just as well as on the stovetop in a sauté pan. Perhaps better, as the heat is much more evenly distributed.
I've cooked several vegetables whole in it, which is super easy and results in the most absolutely perfect steamed veggies I've ever made. Sweet potatoes? Damn! Seriously, throw whole sweet potatoes (or any other kind of potatoes, I've tried the small white ones as well) in there, set it on steam for 10-15 minutes, and you have perfect potatoes, evenly cooked all the way through with a yummy creamy texture. I also just did a whole spaghetti squash in it last night, and it turned out perfect as well.
The Verdict
So far, I don't have anything negative to say about my multi-use electric pressure cooker after a couple of weeks and several uses. I'm excited to use it more, and try it with cakes, yogurt, and rice. Also, though I haven't tried this, many friends say that you don't even have to thaw meat; you can put it straight from the freezer in to cook (obviously takes a little longer, maybe 30 minutes instead of 15; but when you compare the amount of time it normally takes to thaw and cook that type of food, it's amazing!)
I'll keep you posted in the future as I try new things with this baby. And in the meantime, check out my Pinterest board for Electric Pressure Cooker Recipes, which I'll continue to add to.
Disclosure: This post and review is based solely on my own experience and opinions. I was given no product, giveaway, tester, or any other sort of compensation. I bought and have tried this product just like anyone else!