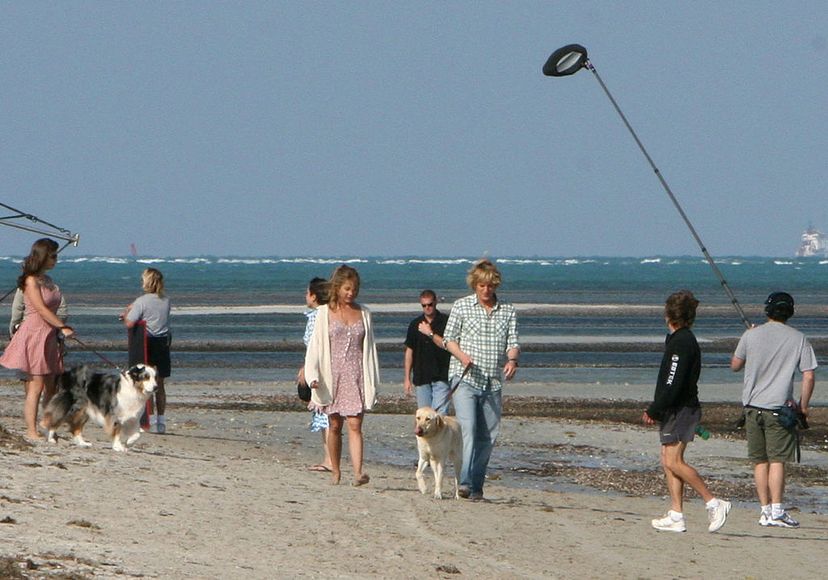 Miami, Florida has long been a popular filming location for TV shows and films with production having an annual economic impact around 2 billion dollars on the Southern Florida area. Some of your favorites may have even been shot there! If you're curious, check out our guide for a list of some of the most popular tv shows and movies that were filmed in Miami.
Moonlight (2016)
In this 3-time Oscar award-winning film, a young black man named Chiron (Ashton Sanders) wrestles with his identity and sexuality as the film jumps around between his life as a young adolescence, mid-teen, and young adult. The story follows Chiron as he grows up after living in a low-income area raised by a single crack-addicted mother, receiving what little life advice he gets from the neighborhood drug dealer, Juan, who becomes a central figure in his life. Moonlight was filmed through Miami's core, as well as at Virginia Beach during a scene in which Juan teaches Chiron to swim in the ocean and South Beach where Chiron and his friend, Kevin meet. Old-school Jimmy's Eastside Diner on Biscayne Boulevard is the backdrop for the tensest scene in the film when Chiron meets with a childhood friend after returning to Miami. Other notable locations in Miami include Liberty Square (where Chiron grows up), the Metromover (public transit), and Royal Castle on NW 79th Street.
Burn Notice (2007-2013)
In the campy spy series Burn Notice, follow down-and-out former agent Michael Weston (Jeffrey Donovan) as he outsmarts bad guys and comes up with clever DIY spy gadgets. In the show you'll find him on Ocean Drive where he schemes with his partners in crime on his latest case. In another episode, he does some charity work for one hapless man who lives at Sherita apartments, the art deco building looking worse for wear and standing out among the posh boutique hotels and condos in the Collins Park neighborhood of South Beach. Looks like there's trouble in paradise.
Marley and Me (2008)
In the family tearjerker Marley and Me, follow columnist John (Owen Wilson) as he makes a home with his wife Jenny (Jennifer Aniston). When Jenny gets a raise they celebrate over Cuban food at Latin American Café situated at the Bayside Marketplace, a popular dining and shopping area off Biscayne Boulevard in downtown Miami. Then it's a family outing with Marley at the Dolphin Stadium in Miami Gardens. Heading west over the Rickenbacker Causeway to Brickell Ave at SE 11th street, John and Jenny share precious moments with their fuzzy little pooch. You'll also catch a shot of Crandon Beach Park at Key Biscayne in the scene where the couple walks hand in hand on the beach and ponders starting a family. Cute dogs, family life, and walks on the beach. It doesn't get more wholesome than that in the county of Miami-Dade.
Dexter (2006-2013)
Although most of the Dexter series was shot in Long Beach, California and meant to resemble Miami, the first few episodes were filmed in Magic City. In fact, the pilot opens with Dexter (which features Michael C. Hall) cruising down Ocean Drive and checking out the heart of South Beach and its glorious art deco. With dead bodies piling up and a serial killer on the loose, things get even more messy when the body of a prostitute is found at Seven Seas Motel on Biscayne Boulevard. For a psychopath targeting call girls, the old motel is the perfect setting for PG13, television horrors.
The Birdcage (1996)
In a wonderful clash of cultures, watch two worlds collide when a young couple in love gets engaged in the classic screwball comedy The Birdcage (1996). Starring America's favorite comedy duo Nathan Lane and Robin Williams, the story centers around a flaming cabaret queen (Nathan Lane) who tries to pass as a right wing housewife to meet the new in-laws. Looks like a recipe for disaster and comedy gold. Along the way, there's a stop at the Lincoln Road Farmers Market that still happens every Sunday afternoon. Then it's time for the big show at the Birdcage club on Ocean Drive. Standing in for the club is the Carlyle Hotel, the famed art deco marvel in the heart of South Beach.
Goldfinger (1964)
It all starts at the Fontainebleau when James Bond (Sean Connery) finds Auric Goldfinger (Gert Frobe) cheating at cards. For the first installment in the Bond franchise, what better place to start than the opulent and historic Fontainebleau, which is considered by many as one of the most luxurious resorts in Miami Beach. You'll find it situated among the sleek condos and old money mansions of Millionaire's Row. Designed by Morris Lapidus in 1954, it's one of the architect's finest achievements and has been featured in so many movies, it's practically a movie star itself. So grab a spot at the posh bar for a martini, shaken, not stirred.
Ballers (2015-2019)
In the 5-season HBO series Ballers, follow retired NFL player Spencer Strassmore (Dwayne Johnson) as he cruises around Miami hotspots and tries to break into the sports management industry. Get an inside look into Star Island when he throws a yacht party to attract potential clients. Then he talks shop with NFL stars at the Biltmore, a lavish resort in Coral Gables that dates back to the 1920s. If you're part of the royalty set, you'll get used to extravagant lunches on their opulent garden terrace. For the Ballers, it's just a typical day in paradise.
Caddyshack (1980)
The classic 1980 comedy Caddyshack was primarily filmed at golf resorts in Plantation and Ft. Lauderdale, but the hilarious boating scene with Rodney Dangerfield was filmed at a yacht club in Biscayne Bay in Miami. While an old man (Ted Knight) shows off his modest sailboat, Dangerfield comes roaring past in a huge yacht near the Rusty Pelican restaurant off the Rickenbacker Causeway. It starts out with a few boat jokes before he revs the engines and blasts past the marina at full speed. He may have destroyed his little boat, but he scratched up Dangerfield's anchor. The nerve of that guy!
Miami Vice (1984-1989)
Dust off your white leisure suit from the 1980s and follow in the footsteps of Don Johnson's James Crockett as he battles with gangsters and their illegal White China in the hit tv show Miami Vice. Now a Kenneth Cole store on Collins Ave, the little counter service bodega used to be the place where Crockett stops for a café con leche and a smoke while talking shop with informants and detectives. Further north on Washington Ave, Cameo nightclub is the spot where Detective Crockett gets a shakedown from a dangerous criminal. Now a hip-hop hotspot, Cameo still has its original façade that you'll recognize from the legendary hit television series. For Detective James Crockett, it's all about looking cool, feeling cool, and catching bad guys.
Reno 911: Miami (2007)
When the rag-tag Reno Police Department heads to Miami for a conference in Reno 911: Miami, things get messy when a bioweapon threat quarantines the Miami Police force. Now it's up to Lieutenant Dangle (Thomas Lennon) and the gang to keep the city safe. What could possibly go wrong? Follow the kooky crew to all the South Beach hotspots like Lummus Park across from Ocean drive where they spot Terry (Nick Swardson) being indecent, again. Then, Dangle and Officer Trudy (Kerri Kenney) run into some mishaps in the bedroom at the shabby International Inn on Normandy Drive. In between all-night partying and unfortunate tattoos, it's back to serious police work at the Miami Beach Police Department on Washington Ave.
Ace Ventura: Pet Detective (1994)
With Snowflake, the beloved Miami Dolphin mascot kidnapped, Ace Ventura: Pet Detective (1994) captures the heart and spirit of this vibrant city. Naturally, there are quite a few scenes filmed at Dolphins Stadium in Miami Gardens where Snowflake gets taken. In between sniffing around the stadium for clues, Ace Ventura (Jim Carrey) calls Campton Apartments home sweet home. Then, catch a peek into the debauchery of high rollers when Ventura searches for clues at a mansion party at Vizcaya, the 1916 villa in Coconut Grove that is a must-see on your next trip to Miami.
Scarface (1983)
This might be one of the most famous movies filmed in Miami! Jackie Gleason may have put Miami on the map with his iconic Fillmore and art deco influence, but Brian de Palma's Scarface (1983) immortalized its party image with a twisted update on a gangster classic. Fresh off the boat from Cuba, Tony Montana (Al Pacino) wreaks havoc on Miami when he becomes the ringleader of a powerful cocaine operation. At the glitzy Ocean Drive at 13th St., Montana gets his first taste of freedom and the American Dream. But first he survives a potential chainsaw massacre at an art deco apartment, which is now a CVS Pharmacy after undergoing major renovations in 2017. His name might be Tony Montana, but he'll forever be remembered as Scarface.
Flying Down to Rio (1933)
Hollywood has been mesmerized by the allure of the tropics since the early days of filmmaking. In the 1933 classic Flying Down to Rio, Fred Astaire and Ginger Rogers make their first appearance together, which marked the beginning of a stellar dancing duo legacy. In the lively musical extravaganza, follow the world's best dance team as they tap, twirl, and croon their way across Miami and Rio. It all starts at Hotel Hibiscus, a studio set modeled after Miami's historic art deco buildings. Although most of the movie was filmed on a studio set, it captures the spirit of Miami with lavish art deco interiors and Hollywood's version of Ocean Drive in the 1930s.