We have all seen the three letter airport codes when we book our flights, heard the flight attendants refer to an airport with them, but have you ever wondered why some airport abbreviations make sense such as Dallas-Ft. Worth (DFW) while others make no sense at all, such as Chicago O'Hare (ORD). Turning to experts from around the world we have discovered where airport codes came from, how they are chosen and why we even have them in the first place.
6. The History
The assignment of airport codes is administered by the Montreal-based International Air Transport Association, also known as IATA and the codes cover airports all around the globe. All airports with just a few minor exceptions have a three-letter code. But before there were three-letter codes, in the early years of aviation, the airline simply copied a two-letter system that was used by the National Weather Service to identify cities across the U.S. that had weather stations. When the airline service industry exploded in the 1930's it was determined that cities without weather stations needed identification. The three-letter system was born and to simplify things in the beginning, existing airports simply added an X after the weather station code. Hence Los Angeles went from LA to LAX in 1947, Portland went from PD to PDX and Phoenix went from PH to PHX.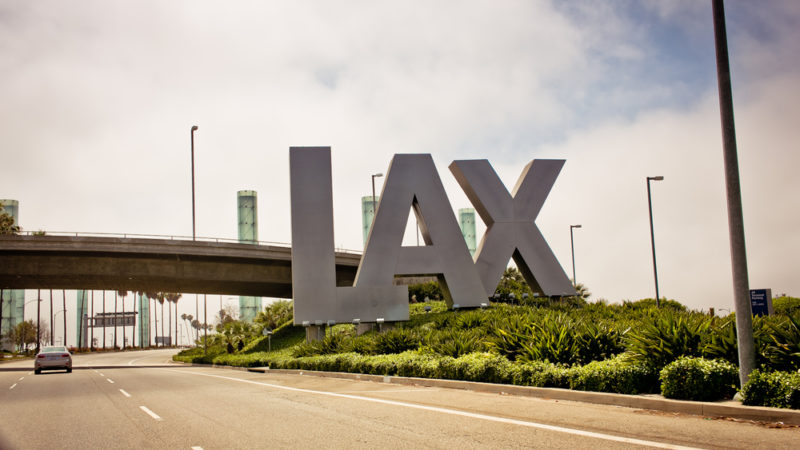 5. K, W and N
You won't find any airports with codes that being with the letters K, W and N and no that is not a coincidence; there is actually some rhyme and reason for this. Some special interest groups actually lobbied the government to obtain their own letters. The Navy for example saved all the new N codes for themselves, and the Navy training airport in Pensacola, Florida is coded as NPA. This also explains why Newark airport became EWR. In terms of the letters K and W, cities that start with these letters are not allowed to have airport codes beginning with the first letters of their proper names. That is because these two letters are reserved for radio stations east and west of the Mississippi. That explains why Key West, Florida's airport code is actually EYW.
4. City vs. Airport
Some airport codes have been developed by using the actual name of the airport. For example Charles De Gaulle airport in Paris, France is actually CDG, a code that confuses just about anyone who flies through there irregularly. A more well-known airport that uses their name for the code is John F. Kennedy airport in New York, who uses JFK as their three-letter code. Some airports on the other hand are actually named for the city they are in. Harrisburg International airport is actually located in Middletown, Pennsylvania and is known as MDT. Salt Lake City is another example of this with their airport code reading SLC. It gets tricky when the name of the place has changed though and the airport code remains the same. For example St. Petersburg used to be called Leningrad and therefore still has the LED airport code it got stuck with. PEK in Beijing faces the same issue as the city used to be called Peking.
3. The Unusual
There seem to be some airport codes out there that just don't make any sense at all. Take the Knoxville airport for example with the letter code of TYS. It turns out that the land that the airport was built on was actually donated by a family, who's last name 'Tyson' was used in honor of their son killed in WWI. How about Orlando's airport code MCO? Most of us assume that it stands for Mickey Mouse Country but that is in fact not true. The real reason is that McCoy Air Force Base used to be on the land that now holds the airport and so the code was essentially transferred. Kahului airport in Maui, Hawaii always confuses people with its OGG three-letter code. The story behind this code is that it was named in honor of aviation legend and Lihue native Hawaiian Airline Captain Bertram James "Jimmy" Hogg, using the last three letters of his last name.
2. Canada Eh
Canadians somehow made off with all the "Y" letter codes and one has to venture back into history to understand why, and even then we aren't exactly sure how we ended up with them. Most theories suggest that Canada had locked up the entire Y for its radio transmitters and therefore it made sense to translate that into airport codes. Some of the airport codes here seem to be the most logical YOW for Ottawa, YYC for Calgary and YVR for Vancouver, which locals joke translate into Vancouver Very Rainy. Others don't make as much sense such as YQQ for Comox or even YYZ for Toronto. The story in Toronto though, goes as follows: YTO, the code that most people would assume stands for the Toronto airport actually refers to the entire region, which encompasses a total of two airports. Billy Bishop airport is YTZ and YYZ is the larger airport, Toronto Pearson. It remains undiscovered why a Z was used and we aren't sure we will ever know who actually made that decision.
1. The Funny
Some of the airport codes out there are just downright funny, some even inappropriate and although some residents have embraced the names, others hate them. Fresno, California's three letter codes is FAT and rumor has it that the locals don't enjoy it at all. At least they aren't stuck with PEE which is Russia's Bolshoye Savino Airport or Brazil's Poco De Caldas Airport that has to live with POO as their airport code. Other names are slightly more appropriate but still amusing, such as Hot Springs, Arkansas which is HOT and Willow, Alaska which is WOW. One airport in particular has gone to great lengths to try and get their code changed. Sioux City's Gateway Airport has the unfortunate airport code of SUX. City leaders petitioned the FAA to change the code in 1998 and 2002 but the airport trustees didn't like any of the alternatives. It seems this airport has finally accepted its fate and back in 2007 started promoting the airport with a slogan that said "FLY SUX".