A visit to South America isn't complete without a stop in Quito – Ecuador's lively and dynamic capital. Founded on the ruins of an ancient Incan city, Quito offers a rich history, unique culture, and mouth watering food while its proximity to the surrounding volcanic peaks serves as a perfect jump off to explore the lush and diverse natural areas nearby. Often overlooked because of the big city factor, Quito is very much underrated, and EscapeHere is happy to tell you why this South American city deserves your travel consideration:
City Overview
Nestled in an Andean valley but still managing a whopping 9350 foot altitude, Quito is considered the highest official capital city in the world. On their first Quito trip, many travelers make the common mistake of leaving their warm clothes at home thinking ALL of South America is hot. Think again – high altitude means cool temperatures, with an average high of 19°C (66°F) and an average low of 10°C (50°F), so pack those layers! Close to the equator, the average temperatures don't fluctuate much throughout the year, so the best time to visit is dry season (June – September). Once you arrive, start learning Spanish – the Spanish spoken in Quito is much clearer than the surrounding area so it is a great place to learn!
Arts and Culture
You will be surprised by the diversity and beauty that you can find in Quito. Stop by Iglesia de La Compania de Jesus – an epic religious site decked out in gold, the Guayasamin Museum featuring the famous contemporary artist, and the little non-profit pre-Columbian art museum Casa del Alabado. Pursue more art at Museo del Banco Central, perhaps Ecuador's most renowned museum. Visit Casa de la Cultura which features local Ecuadorian art as well as live performances. Downtown Quito has been declared a UNESCO World Cultural Heritage Site with one of the best preserved historic centers in the world, so get downtown and start exploring. Join a Free Walking Tour offered 6 days a week, and take a stroll around Old Town Quito to meet some other travelers and learn from the experts.
Music
Not typically known for its music scene, Quito will surprise you with its range of musical options. If you want something traditional, track down the National Symphony as they perform weekly in different venues around the city. Big names sometimes stop by Quito, so catch a concert at Estadio Olímpico Atahualpa or another big venue in the city. For folkloric, classical, and jazz music, be sure to visit the Casa de la Musica. If you are lucky enough to be in town for the first week of December, you'll witness the Fiestas de Quito – a huge party that includes incredible live music (and lots of liquor!). If you are into smaller music venues, catch some live music at La Liebre, Varadero, or El Pobre Diablo.
Sports and Recreation
Step away from traditional sports and recreation in Quito. Watch old men play Bochas; Ecuador's version of bocce ball at Parque El Ejido, rent a bike and take part in a weekly Sunday 30 kilometer bike ride of the Ciclopaseo, or go mountain biking in the surrounding volcanoes, lakes and valleys with Biking Dutchman Mountain Biking Tours. Most weekends you can head to Estadio Olimpico Atahualpa, the home pitch for Ecuador's national soccer team to watch the passionate fans support their home team or head to Mulligan's or Finn McCool's – the best sports bars in town – to watch the games live (and have some snacks and beers while you're at it).
Food and Drink
In Quito, steer clear of 'international' restaurants marketed towards hungry travelers, and dig in to the local food. Stop by Mercado Central for stall after stall of cheap, traditional street food like empanadas and locro de papa; a traditional Ecuadorian potato soup. A great food and drink zone is the Mariscal area – wander around and if the restaurant looks busy, it's probably a good bet. Grab a plate of fritadas, empanadas and llapingachos at La Choza, ceviche at Fried Bananas, vegetarian-friendly dining at Govindas, and the infamous guinea pig (cuy) at Mama Clorinda. Finish your meals with tres leches cake or bienmesabe, both are delicious local desserts. Try Espiritu del Ecuador; a local golden liqueur with tropical fruit flavors, some local Ecuadorian rum, or one of the local beers: Pilsener, Club, Clausen or Biela.
Attractions
The city of Quito has plenty of attractions to keep you busy when you are in town. To get a bird's eye view of the city, take the TelefériQo gondola ride (or hike) to the top of Pinchincha volcano where you can experience amazing panoramic views. Head 45 minutes from the city to The Middle of the World (or Mitad del Mundo as it's called locally) where you can actually stand on the equator! Wander through the Parque Metropolitano or the Jardin Botanico to soak up some nature in the heart of the city, and take a Spanish class at Ailola Quito Spanish School Day Class. Don't worry if you're sick of the city…just use Quito as a home base while you explore the nearby natural attractions (which we discuss in a few slides).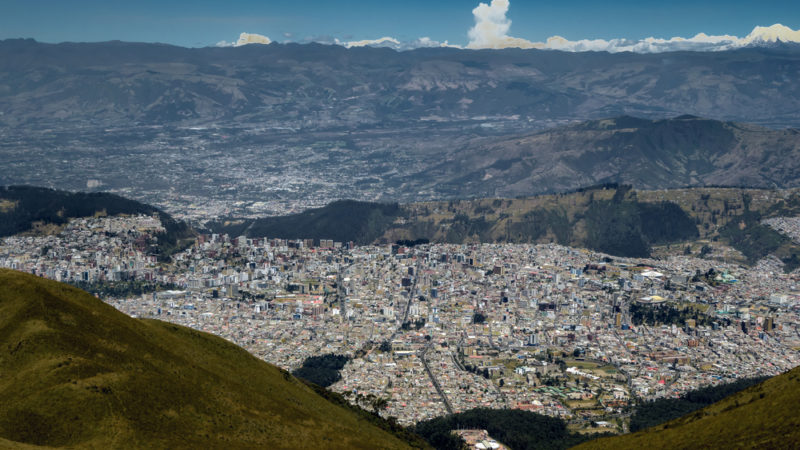 Nightlife
Even though Quito doesn't have the 'party 'til the sun rises' reputation of major club hot-spots like Buenos Aires or Rio, Quito can hold its own in the nightlife department with no shortage of places to let loose on the dance floor or grab some drinks. Head to the Mariscal district around Calama, Mariscal Foch and Reina Victoria Streets for the best selection, where you'll find Cats, Diego de Almagro, Calama, and Oceana Club Lounge to get your dance on, or explore the pubs in the district if you're looking for a more laid back evening. Some local travel tips: expect a cover charge for live music, remember that most places close at midnight during the week and 2am on weekends, and catch a cab home to stay safe in the early hours!
Accommodations
You have plenty of options of where to stay when you visit Quito Ecuador. For budget-saving options, check out 593 Hostel Boutique, Discovery Quito Hostel, Community Hostel or Minka Hostel where you'll get great value for money and the added bonus of making new friends by getting to know other travelers. For higher end stays, check out Casa Gangotena Boutique Hotel for a luxurious historic setting or Hotel Casa de Hacienda La Jimenita for beautiful old-world Ecuadorian charm. If you plan to stay in Quito for an extended period of time, consider renting an apartment or a condo to get a real feel for the city and enjoy the experience of living like a local.
Shopping
Looking for some local art work to remember your time in Quito, or perhaps some souvenirs? Wander through just about any street in the Mariscal District and you'll see lots of little markets, or check out Olga Fisch Folklore or Shepherd for a hassle free experience. If you have time for a road trip, visit the famous Otavalo market (located in the town of Otavalo about 2 hours away). If not, try your haggling skills at the Mercado Artesanal Metropolitano. If you are missing the big chain stores, visit Centro Comercial Mall El Jardin. Inside you'll find all the big brands including many recognizable North American chains as well as fast food restaurants.
Natural Beauty
A trip to Quito isn't complete without exploring the natural beauty of the surrounding area. To get the most out of the area, consider renting a car or leave the organization to someone else and join a sightseeing tour group. Take a day trip to the nearby Maquipucuna Cloud Forest Reserve where bird lovers can delight in seeing some of the more than 375 species that call this forest home. In fact Maquipucuna harbors about 4% of the world's bird diversity! Check out Hacienda La Alegria farm, a family-run organic farm where you can enjoy a horseback ride while you take in the natural beauty. Visit the active volcano Cotopaxi and check out condors at the Limpiopungo Lagoon or, if you have longer, consider a rafting trip on the nearby jungle rivers, or go all out and visit the Galapagos Islands for a once in a lifetime experience.