Stepping into Plovdiv is to step back in time – ancient cobbled streets, boho cafes, and galleries galore – but don't let the old charm fool you; this city is built upon layers of history and boasts a dynamic night life scene, an active artist community, a rich culture, and plenty of delicious and unique food. One of the oldest cities in Europe, this small, pedestrian friendly city is great for walking to soak up the Greek and Roman historical sites. Mild winters and hot summers mean that Plovdiv can be on your itinerary any time of year. Many travelers often see Plovdiv as merely a convenient stopover point on their European trips or sadly bypass this beautiful city in favor of the larger and more bustling Sofia, but this gem of a city is worth its own visit with plenty to see and do. Often underrated, here is why you should check out this cultural hotspot:
City Overview
The city of Plovdiv is the second largest city in Bulgaria with a population of over 300 thousand people. Found on the banks of the Maritsa River on the large plain between the Rhodope Mountains and the Balkan Range, on a clear day you can see both mountain ranges from the city center. Plovdiv's history goes back over 6000 years – once a Thracian city before becoming Greek then Roman. In the middle ages, this city went back and forth between the Byzantine and Bulgarian Empires, and then fell under Ottoman rule. Plovdiv was liberated by Russia in 1878, became part of Eastern Rumelia, but then became part of Bulgaria. Although Plovdiv never gets very cold, the best time to visit is spring through fall to give you the most time outdoors to wander this ancient city's streets. In Bulgaria, you will be using the Bulgarian lev as currency.
Getting Around
Plovdiv has a prime location that makes it an international transport hub – the upside of which means that there are plenty of options to get into the city. Plovdiv has an international airport, a train station, and 3 bus stations, so getting into the city is no problem. Once you are there, taxis and buses will help you get around (there are around 29 main and 10 extra bus lines). If you are traveling in a small group, taxis are your cheapest option – just keep a careful eye out to spot fake taxis that will trick their customers with accelerated counters. With such a small downtown area and safe streets, you will most likely be walking to get around. Make the most of it by giving yourself the time to wander to your daily destinations so that you can savor the strolls down the beautiful cobbled streets. Stop for coffee, pop into a coffee shop that smells good, or sit down on a bench and watch the locals.
Arts and Culture
There are many places to explore the arts and culture scene in Plovdiv. Found in a local nineteenth century house, the Ethnographic Museum is a great place to learn about the traditions and lives of Bulgarian people from the Plovdiv region, and you can see exhibits on farming, crafts, traditions, and folklore. Visit the Bachkavo Monasastery (about 30 kilometers from Plovdiv) and the Djumaya Mosque to learn some of the religious history and culture of the area. A great place to learn and explore the arts scene of Plovdiv is at the Cultural Center-Museum TrakArt near Stambolov Square. Here, you will have a chance to see incredible Roman mosaics, ceramics, and ancient glass bowls. Try the guided tour for an informative experience and take all the photos you want! For some more recent history, consider checking out the Plovdiv Regional Historical Museum where you can learn about the rich social history of the 19th century. Plovdiv is home to the International Fair Plovdiv, the theatrical festival A Stage on a Crossroad, and the TV festival The Golden Chest, so check the schedule when you are in town.
Food and Drink
Eating and drinking in Plovdiv is cheap in comparison to the western world, which means that you can enjoy your fill of the high quality, delicious local food that is readily available when you are in town. Local food and drink is mostly made up of stewed meats, soups, fresh salads, cheeses, and wine. For the budget conscious, head to the main street where you can grab a bowl of delicious soup at Supa Bar for around 3 leva, or try tapas and wine at Vino Culture, and get a real taste for the local food at Grazhdanski Klubb (Citizens' Club). If you have a bit more money to spend, head to Hebros Hotel Restaurant, Elea Restaurant, Hemingway, or Megdana. Vegetarians or vegans can enjoy Veggic, and dessert lovers can flock to Afreddo Gelateria (which also has great coffee!) or Sweet House Kolakov to finish off their meals. Take advantage of the delicious local wine by trying the Wine Diversion tour, and try to catch the annual Young Wine Parade in late November where you can sample and learn about local area wines.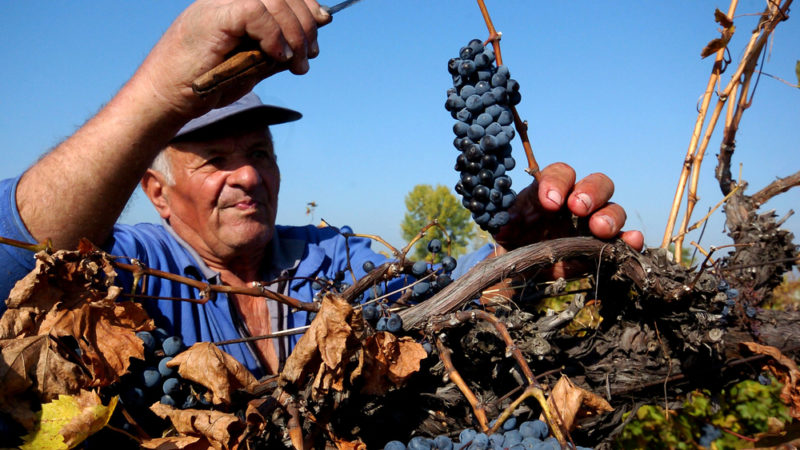 Attractions
Being an ancient city with a rich history, many of the attractions of Plovdiv are exploring the old buildings. For a one of a kind souvenir, try the Old Plovdiv Retro Photo, where you will dress up in traditional Bulgarian Folk costumes (or ancient Roman costumes!) and have your photo taken to document your trip. Explore the Roman ruins in Plovdiv Old town, including the Plovdiv Roman Theatre. If you have a morning or afternoon free, consider checking out the nearby Assenova krepost (Asen's Fortress). You will have to hire a driver or take a bus to Asenovgrad, then walk uphill (about 3 kilometers) to the old fortress where you'll get some jaw dropping panoramic views of the area. Keen to learn more about the Soviet history of the city? Check out the Alyosha Soviet Army Memorial atop one of the seven hills of Plovdiv, where you can learn about Plovdiv history while soaking up the view of the city.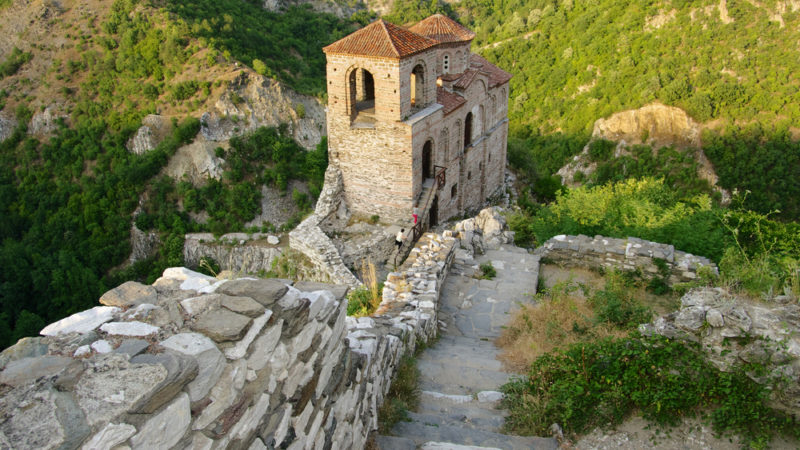 Nightlife
When the sun goes down, there is no shortage of options in Plovdiv if you're not quite ready to call it a day. If you're in town in the summer, head to The King's Stables – an outdoor venue where you can grab some food, drinks, and relax to the sounds of live local music. If you are in the mood for dancing, try Secrets folk & more club, Club Pasha, Plazma, Planeta Payner, or Galaxy Live Club – all great spots for clubbing until the sun comes up. Dying to impress the locals with your karaoke skills? Stop by Marmalad Bar and Diner on Friday nights to show off your pipes. If you don't want to settle on a place and simply wish to see where the night takes you, head to the Kapana neighborhood just north of the Dzhumaya mosque where there is a large concentration of pavement cafés where you can grab some cocktails, make some new friends, and just go with the flow.
Accommodations
Since Plovdiv is such a small city, wherever you choose to stay will be a prime spot from which to explore the entire city. This old city has plenty of budget, mid-range, and luxury options that will keep you comfortable and safe when you are in town. Book well in advance and keep your eyes open to get the best deal. The top budget friendly options are Hostel Old Plovdiv, The Crib, My Guest Rooms Plovdiv, and Bike Hostel Plovdiv, where you can opt for dorm rooms to save cash and meet other travelers from all over the world as an added bonus. Mid range options that give you more privacy but don't break the bank are Hotel Ego, Landmark Creek Hotel, Hotel Nord, and Hotel Leipzig. If you are feeling fancy, splurge and treat yourself at Hotel Imperial, Park Hotel, Sankt Peterburg Park Hotel, or Novotel Plovdiv for some deluxe options.
Shopping
Because downtown Plovdiv is so pedestrian friendly, the best way to explore the local shopping scene is to hit the ground running and meander through the wide streets that are studded with shops and cafés to keep you caffeinated and energized on your shopping sprees. With few international brands, you will step away from mainstream shopping and experience the local stores and styles for footwear and fashion on Knyaz Alexander I street. If you are looking for craft shops, local jewelry, or unique fashion, head to Otets Paisiy Street, Saborna Street, and the Kapana district for some good spots to get your shop on. If you are looking for a special antique to take home and commemorate your trip for years to come, go to Old Town where you can find ancient paintings, furniture, books, and even weapons at one of the many antique stores. Make sure you try out your haggling skills – prices at antique stores aren't fixed. Finally, for large scale malls – check out the Shopping Center Grand, Market Center, or the Galeria Mall.
Sports and Recreation
Plovdiv has much to offer in the world of sports and recreation. The Plovdiv Sports complex is a great place to check out a football (soccer) game at the Stadium, or simply enjoy the grounds and hit the tennis courts, swimming pools, and playgrounds. Join the locals for a run along the Maritsa River to stay healthy on vacation. Check the schedule for the international boxing tournament Strandzha to see if you can catch a match when you are in town. If you are in the city for an extended period of time, consider a longer trip to the nearby Rhodope Mountains where you can explore Thracian temple-tombs, hit the slopes for skiing or snowboarding at the world class ski resort Pamporovo, go for a hike in the hills, check out the National Rila Park, or head to Spa Hotel Devin for a relaxing and luxurious spa and wellness experience.