Singapore, a city-state in Southeast Asia is a mix of old and new. Modern skyscrapers, a sophisticated travel system, mouth-watering food, world class shopping, a diverse and colorful blend of Chinese, Malay, and Indian culture, a tropical climate, safe, clean streets, low crime, and a happening nightlife scene makes Singapore a place to add to your bucket list. Often overlooked on a traveler's trip to Asia thanks to its squeaky clean reputation, Singapore, although on the rise had been highly underrated as a top travel destination, and here is why:
City Overview
A small island country with a sizeable population of almost 6 million, Singapore is very densely populated. Although crowded on paper, Singapore boasts lots of green space – more than 50% of the country is greenery – giving it the nickname the Garden City. The island nation is warm year-round so tourism is pretty steady. To avoid paying through the roof, skip Singapore during national holidays and big events like the Singapore Grand Prix in September (unless that's your jam), and avoid the rainy season from November to January. July through October offers the lowest tourist traffic but also comes with hazy weather and low air quality. The city has very strict drug laws, so make sure you bring prescriptions for any medicine you have with you.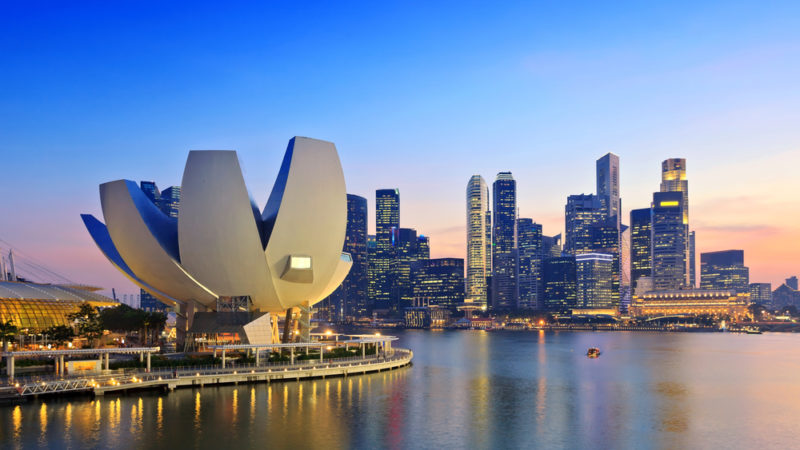 Getting Around
Getting around Singapore is easy. The extensive public transit system and cheap taxis mean that you can easily get to and from wherever you need to go. Use online tools to help you figure out your route or estimate your taxi fare. If you're planning to be in Singapore for an extended period of time, check out the EZ-link or Nets Flash Pay card to get yourself discounted fare. If you plan on checking out the main tourist attractions of Singapore, consider getting the Singapore Tourist Pass to get some discounts! The MRT and LRT are the main components of the public transit system – the buses are slower and harder to use. Singapore is pretty pedestrian friendly, but avoid jaywalking since it's illegal!
Arts and Culture
Singapore is taking huge leaps to move beyond its boring reputation by branching out in the world of art and culture. Check out the Esplanade theater in Marina Bay to see what's happening when you're in town and catch the Singapore Arts Festival if you are visiting in the summer. As far as museums go, you must stop by the Asian Civilizations Museum, The Arts House, Red Dot Design Museum, The Changi Chapel and Museum, the ArtScience Museum, 8Q SAM, and the Peranakan Museum. When the sun sets, walk down to the water and enjoy the Wonder Full Light and Water Show with lights choreographed to music for an unforgettable experience.
Music
While you may not have guess this, Singapore actually has a great music scene. Hit The Esplanade, the beautiful venue for the Singapore Symphony Orchestra, for a one of a kind show at the high tech concert hall. Check the concert listings at the National Stadium to see if you can catch a show when you are in town. For live music, check out top bands at Timbre at The Substation, rock 'n' roll at Crazy Elephant Bar, local music at the Hood Bar and Café, and jazz bands at Blu Jaz Café (if you're there on the second Wednesday night of the month, you can also try out your best jokes and try to get some laughs as a stand-up comic).
Sports and Recreation
Head to the Night Safari for a unique zoo adventure – this night zoo uses special lighting to give you a glimpse into the world of nocturnal animals. After spending a day on your feet exploring the city, grab a fish pedicure to leave your feet refreshed. If you are inspired by all the food you are eating, take a cooking class so you can replicate your favorite dishes at home and impress your friends and family! As far as sports goes, nothing beats the annual Grand Prix Season in Singapore which takes place each September if cars are your thing. Otherwise, you can try to catch a soccer game at the brand new National Stadium.
Food and Drink
Singapore is a food lover's heaven and draws upon its Indian, Chinese, and Malay heritage to produce complex, delectable dishes. Head to one of Singapore's many hawker centers (huge congregations of food stalls) for some cheap (around 2 – 5$) and clean eats (each stall must have a health certificate). Try Maxwell Food Centre in Chinatown, Bukit Timah Market, Tiong Bahru Market, and Makansutra Glottons to name a few. Definitely try Hainanese chicken rice, laksa, char kway teow and chilli crab. For fancier dining, visit Restaurant André (among the top 50 restaurants in the world) then grab dessert at 2am:dessertbar. Make sure you swing by Raffles Hotel to try the original Singapore Sling cocktail, and grab some local Tiger beer or try a new local microbrew.
Attractions
With so much to see and do, Singapore can be overwhelming – get your bearings with a 200 meter bird's eye view of the city at Marina Bay Sands SkyPark. To further get a feel for the city, join a walking tour, and then make sure you visit the Singapore Botanic Gardens, the Waterfront Promenade, and the Kranji War Memorial. Take advantage of the coastline and head to the beach or the nearby Sentosa Island where you can relax in the sun or try your hand at water sports. If you can't beat the heat, go to Wild Wild Wet Water Park for a day of refreshing excitement. If you're feeling lucky, try your hand at gambling at Marina Bay Sands or Resorts World Sentosa casinos.
Nightlife
Alcohol is widely available but very expensive thanks to taxes upon non-scrupulous pastimes, so check prices before you buy and try to catch happy hour for deals. Friday and Saturday are the biggest nights out, Sunday is typically gay night, Wednesday or Thursday is ladies' night, and Monday and Tuesday are quiet. If you want to get a taste of the local nightlife scene, grab your new travel buds and hit the nearest karaoke spot (big chains are K-Box and Party World) and rent a room. For clubs, head to Zouk, Attica, the Butter Factory, Club Kyo, or Home Club. For a more relaxed night, visit the British pub The Yard, the microbrewery LeVel33, and The Good Beer Company – a beer stall in Chinatown hawker center.
Accommodations
Whatever your budget, you can find a great place to stay in this city. For high end luxury hotels, consider Raffles, Conrad Centennial Singapore, or The Ritz-Carlton for a deluxe experience. For mid-level, try The Forest by Wangz, AMOY, or The Quincy Hotel for a little more bang for your buck. If you're saving money or looking for a way to meet other travelers, there are many hostels to fit your needs, mostly found in Little India, Chinatown and Clarke Quay. Best bets are Quarters Hostel, River City Inn, Travellers Inn, Wink Hostel, and extra cheap (but still great!) options are Happy Snail, Rucksack Inn @ Lavender Street, and Tresor Tavern.
Shopping
Shopping is a national pastime with a huge array of competitive options and deals galore. Try to visit during the Great Singapore Sale (usually held in June or July) where shopping centers offer crazy deals and promotions. Swing by Chinatown to grab some souvenirs at the Little Drom Store, and if you're lucky you'll catch MAAD Pyjamas – the monthly art and design flea market. Visit Millennia Walk to see new Singapore fashion designers, stop by the boutiques in Orchard Central, and experience shopping the way the locals do it at a TANGS store. Tiong Bahru has some great bookstores, Funan DigitaLife Mall or Sim Lim Square have all your tech needs covered, and ION Orchard mall carries all the fancy brands you could hope for.
Natural Beauty
Called the Garden City for a reason, you must explore the beautiful green spaces in the city when you visit Singapore. Visit Merlion Park, National Orchid Garden, the Cloud Forest, Gardens by the Bay, take a walk on the MacRitchie Nature Trail or in the Southern Ridges, and visit the Flower Dome to see flowers from all over the world. If you're feeling adventurous, swing from tree to tree at Forest Adventure, visit the local beaches, or take it one step further and go island hopping and explore the seas for an afternoon (or a week!) to take in the beautiful marine scenery and soak up the sun.