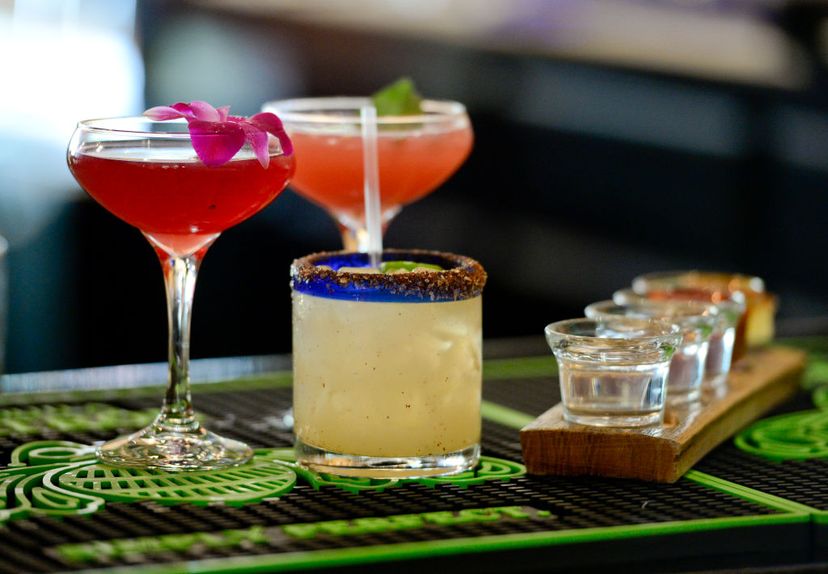 Oakland, CA
As one of California's most diverse cities, Oakland knows how to celebrate Cinco de Mayo. And with its abundant entertainment and dining options, you'll have more than enough venues to honor Mexican food, drink, and culture. Here are a few top picks.
Cinco de Mayo in the Fruitvale District
Wait for the weekend to celebrate Cinco de Mayo and Mother's Day at the same time. This popular family-friendly event celebrates all things local—businesses, students, and families. Enjoy musical performances from Lady Mariachi Band and Los Rakas and a breakdancing performance from Skyline High School's Breakdancing Club. The festival takes place from 10 a.m. to 4 p.m. at Fruitvale Transit Village and International Boulevard.
Reclaiming Cinco de Mayo
Communities United for Restorative Youth Justice (CURYJ) hosts its third annual event on Thursday, May 5. The festival, which kicks off at 5:30 p.m., features live music, spoken word, dancing, and an art exhibit. Enjoy free food and enter to win raffle prizes. This year's theme is "From Defending Our Pueblos to Defending Our Hoods" –to end the incarceration of children and young adults in the criminal justice system. The event takes place at La Cultura Cura Cultural Arts Café in Oakland's Fruitvale District.
Cinco de Mayo in the Mission
From Oakland, take BART to the 24th Street Mission station and celebrate Cinco de Mayo during an all-day block party on Valencia Street. Dance to live music from local and national talent, watch cultural performances, compete in the "Zumbathon," and shop and eat from more than 65 vendors. It's a celebration for the whole family, and one of San Francisco's most anticipated festivals.
"Cinco de Mustache" Sombrero Bike Ride and Party
Start growing your mustache now to get ready for this Cinco de Mayo-themed bike ride and party in Danville. The 30-45-minute ride starts and finishes at Norm's Place, where you can refuel with $3 tacos, $4 draft beer, and $7 tequila. The festivities start at 7 p.m.
Nieves Cinco de Mayo
Any day is a good day for ice cream, but Cinco de Mayo seems like a great day to visit this Oakland favorite. Try the Mangonada, a frozen Mexican treat made of mango ice cream, chopped mangos, chili spices, and tamarind candy.
Reno, Nevada
The Reno-Tahoe area has a rich Latino community that loves to celebrate good food, music, and games. Cinco de Mayo parties are held all over the city, but the largest one is held at the Grand Sierra Resort in Downtown Reno.
Cinco de Mayo Celebration, Grand Sierra Resort
Admission: $5 per adult
The annual Cinco de Mayo celebration at the Grand Sierra Resort is northern Nevada's largest celebration of Latino culture. Located in the southeast parking area, the event will feature live music by bands like De Durango, carnival rides, amateur boxing, food, drink, arts and crafts, and an expo with games and prizes. There will also be a team of Mexican Dancing Horses and the Miss Cinco de Mayo Talent Contest will also be held.
South Lake Tahoe Family Resource Center's Annual Cinco de Mayo Party
Tickets: Adults $20 in advance and $25 at the door; children 6-12 are $10; children 5 and younger are free.
The South Lake Tahoe Family Resource Center will hold its 13th annual Cinco de Mayo festival at Heavenly's California Lodge on May 6. The event will feature an all-you-can-eat Mexican buffet, authentic live music, folkloric dancers, children's activities, a no-host beer and wine bar, and tequila tasting.
Piñatas & Predators at Animal Ark
Admission: $15 adults; $12 children; $13.50 seniors 62+
The Animal Ark near Reno is a wildlife sanctuary that features injured, abandoned, and otherwise non-releasable wildlife. For Cinco de Mayo, beautiful animals like Milo the mountain lion, and L.G. the black bear will be given piñatas full of treats to rip open.
Salt Lake City, UT
Celebration of St. Patrick's Day is not restricted to the Irish, and neither should a lack of Mexican heritage prevent anyone from celebrating Cinco de Mayo. Many mistakenly believe Cinco de Mayo to be Mexico's Independence Day and have no idea that on May 5, 1862, the Mexican Army won a huge battle against the French that is still celebrated today. While interesting to some, as is true with any holiday, in-depth knowledge of history is unnecessary to celebrate the holiday and to experience a different culture.
So, forget about building a wall and show some love to our friends and neighbors with Mexican heritage by celebrating this Cinco de Mayo. If you happen to find yourself in the vicinity of Salt Lake City, here are five tips to celebrate Cinco de Mayo properly:
1. Visit one of Salt Lake City's best Mexican food restaurants
Salt Lake City is home to a number of authentic, award-winning, and margarita serving restaurants. Get the celebration started right at the Red Iguana, Frida Bistro, Alamexo, or Taqueria 27. All are excellent choices but will be busy. Be sure to call ahead for reservations.
2. Hit the town for live music, dancing, and drinks
Gracie's Bar plans on an epic Cinco De Mayo celebration that features live music from Latin Jazz Factory All-Stars. Drink prices at Gracie's are reasonable. Keep in mind, consumption of tequila may be linked to an increased ability to dance, but not to an increased ability to dance well.
3. Start a family tradition and celebrate Cinco de Mayo
Need a kid-friendly event? Celebrate with the whole family and at Midvale's annual Cinco De Mayo celebration. The event begins on Friday, May 6, and continues all day May 7. It celebrates Mexican culture and features live music, entertainment, a parade, and vendor booths. There will also be a kids' carnival that the little ones are sure to enjoy.
4. Learn the Mexican Hat Dance with music from live mariachi bands
The Telemundo Cinco de Mayo festival promises the best live music in town including authentic mariachi bands. At this Salt Lake City attraction there will be plenty of music and dancing at the event on Saturday, May 7, from 11 a.m. – 7 p.m. at West Valley City's Centennial Park.
5. Head to Ogden for some Thunder from Down Under and Utah's best margaritas
Australia's finest specimens of male form are on display in an interactive show that promises to bring Cinco de Mayo/Aussie fantasies to life. The show is at Peery's Egyptian Theatre and starts at 7:30 p.m. Chiseled Australian abs are not very Mexican per se, so grab dinner before the show at Ogden's own Sonora Grill. The food is authentic Mexican fare, and the margaritas were voted best in Utah. Who can say no to a combination like that? At the very least, it will be a Cinco de Mayo to remember.
Orange County, CA
Southern California offers many ways to celebrate Mexican heritage from the nearby Missions to hundreds of Mexican-inspired cantinas. Check out this list of the top ways to celebrate Cinco de Mayo in Orange County.
Silverado Chili Cook-Off & Cinco de Mayo Festival
Saturday, May 7th
Silverado Canyon Fairgrounds
Cinco de Mayo isn't limited to just one day! Keep the celebration going with the city of Silverado's Chili Cook-Off! Taste some great chili, stop by dozens of vendor booths, participate in family games, and more. Best of all, proceeds from this event support the Silverado Children's Center & Silverado Modjeska Recreation & Park District programs. Slurp down your chili while enjoying the beautiful views of the Santa Ana mountains.
26th Annual Cinco de Mayo Fiesta – San Clemente
Sunday, May 1st
Max Berg Park Plaza, San Clemente
Celebrate in the beach town of San Clemente for the 26th year in a row with this festival. Enjoy Mariachi bands, salsa dancers, Mexican cuisine, games, and activities for kids. This Fiesta celebrates Mexico's independence in the best way – with delicious food and fun!
Mission San Juan Capistrano Battle of the Mariachis
Saturday, May 14th
Mission San Juan Capistrano, San Juan Capistrano
The best Mariachi musicians in California will gather for the 12th Annual Battle of the Mariachis in SJC in the Mission San Juan Capistrano Courtyard. This festival also includes bilingual marionette shows and the ringing of the famous Mission Bells.
Santa Ana Cinco de Mayo Festival
Saturday, April 30th- Sunday, May 1st
Downtown Santa Ana – E 3rd Street & French Street
Over 150,000 people attend this two-day festival, which is in its 17th year. Enjoy a carnival, delicious carnival food, and fun in downtown Santa Ana. This free event features artists like Kevin Ortiz and Banda La Nueva Aventura. Don't forget to try out all the delicious tacos and tostadas!