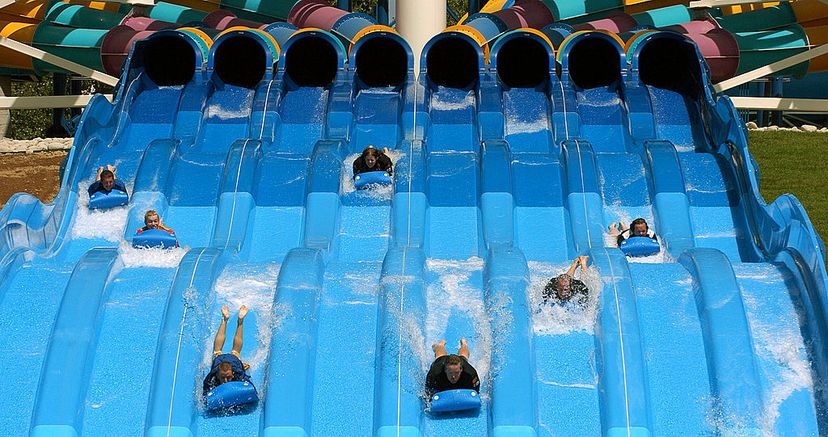 Waterparks provide wet and wild fun for people of all ages, and Utah has plenty of them for you to make a splash at. Each park offers a variety of attractions from waterslides, lazy rivers, play structures, and lots more. Admission is quite affordable and some parks even sell season passes so you can visit as much as you want for a one-time fee. Plus, you can often find deals and stay overnight at the parks' hotels to maximize your time spent having fun in the water. So if you're looking for waterparks in Utah, here are five that you should definitely pay a visit to.
Lagoon Park
One of the most historic and long-lasting amusement and waterparks in Utah is Lagoon Park. Located in Farmington, the park opened in 1886 as Lake Park before changing locations 13 years later to where it is now. The park has evolved into one of the most fun places to spend a summer day with the family.
Lagoon A Beach, the waterpark section of Lagoon Park, boasts six acres of water rides. Run The Rapids is an enclosed water slide that features a 70-foot drop. A more relaxing option is the lazy river, which will gently float you along waterfalls and tunnels. Visitors can rent a tube for the entire day for $5, plus receive a coupon for a free soft drink or water bottle.
This park also has water-free rides to enjoy for those preferring to stay dry. Visit the Victorian-era carousel that was built in 1893 with 45 hand-carved characters or ride the Cannibal – a 208-foot tall roller coaster – if you're looking for a thrill. Day passes for the entire park costs $51.95 for kids and $69.95 for adults.
Seven Peaks Waterpark
With 11 waterslides, four kiddie attractions, and one wave pool, there's a ton of fun to be had at Seven Peaks Waterpark. It's nestled at the bottom of the mountains in Provo and is open every day from 10 a.m. to 6 p.m. Those wanting to hang out at the waterpark in comfort can rent a cabana for private use, which can be booked for the day for $20 either at the wave pool or the Adventure Bay area of the park.
Prices for the park are fairly inexpensive, but you can save money by visiting between Monday and Thursday for reduced rates. On weekends, a day pass costs $28.99 for adults and $21.99 for youth. Season memberships are also available to purchase for people who want to make the most of their money and take advantage of the park throughout the warmer months.
Cowabunga Bay
Just a 10-minute drive away from Salt Lake City is Cowabunga Bay. One of the best places to enjoy the water is in the 2,500 square foot beach-style pool with zero-depth entry. The park's take on the lazy river is the "Cowabunga River", which is a 600-foot long path of water decorated with surfboards, squirting tikis, and even a 67' VW bug. Another great play area for kids is the massive structure made up of three water slides, tunnels, and bridges. One of them is 200 feet long and two stories high, which makes for a good entry-level slide for young ones. There's also a 1,500-gallon bucket that soaks anyone standing below and a 1,000 foot enclosed slide.
Parking, tubes, and life jackets are completely free for visitors. You can book your tickets online in advance for a morning or afternoon park session. Prices for children under 48 inches tall cost $16.99, seniors pay $9.99, and everyone else pays $16.99 to visit the attraction.
Provo Beach
You don't need the ocean to learn how to surf, you just need to head over to Provo Beach where you can find Flowrider, an indoor wave machine that pumps 30,000 gallons of water a minute to give users a realistic surfing experience. Anyone with a minimum height of 42 inches can boogie board on the Flowrider and anyone over 52 inches can surf.
It costs $20 per hour, per guest to take advantage of this attraction, with towel rentals also available for $2. You can even rent the Flowrider for up to 40 guests for private events! Aside from the Flowrider, Provo Beach has other things to do such as bowling, laser tag, and a ropes course.
Cherry Hill
Since opening in 1967, Cherry Hill has turned itself into a popular summer destination in Kaysville, Utah. It gets its name from the 20 acres of land it sits on, which used to be a working fruit farm. It has over 700 trees, many of which are cherry trees.
There are many ways to get your feet wet at Cherry Hill including two swimming pools and a lazy river. One of the attractions includes an authentic 40-foot pirate ship that has a simulated cannon battle. If you dare, check out the Double Dragons water slide that takes you on a trip through tunnels with fog and lighting. There's also the Cardiac Canyon River Run where you can experience sudden drops and turns while admiring the waterfalls and caverns.
Cherry Hill has 140 shady campsites for people who want to explore the resort for more than one day. This can give you enough time to partake in scheduled events such as concerts, competitions, and games that happen on the property. With a day pass wristband, you're able to go in and out of the park as needed and can use tubes in all water parks for free. Choose between a number of ticket options that start at $14 for an evening half-day ticket.