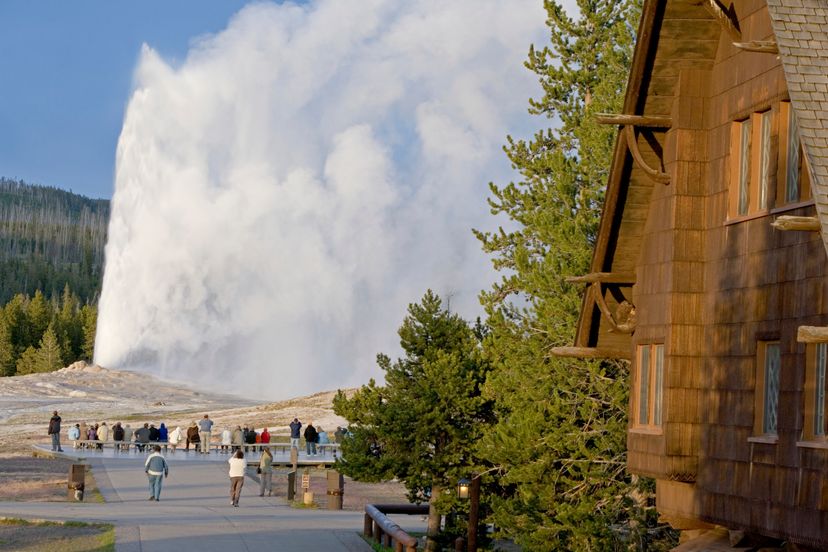 Wilderness resorts are growing in popularity as more people and their families look to spend time away from their desk and in the outdoors. So why not trade in your luxury beach vacation for one of these comfortable lodges at one of these natural retreats in the USA this year. You won't be disappointed! From the hot springs of Yellowstone National Park to the awe-inspiring mountains of Washington, these 10 wilderness and natural retreats are among the best in the United States.
Kachemak Bay Wilderness Lodge, Alaska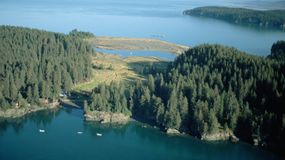 Alaska is loaded with incredible wilderness lodges and frankly, it's hard to pick just a couple to feature. Kachemak Bay, in particular though, offers an unmatched incredible and personalized experience. Offering a ratio of 12 guests per 10 naturalists, visitors here get the full Alaskan experience.
This all-inclusive lodge features charming cabins, gourmet meals featuring freshly caught local seafood, and a range of activities to keep you busy. Amenities range from outdoor hot tubs to log saunas, incredible views, and all food, beer, and wine included for one price. Challenge yourself on one of many hiking trails, take a boat trip to look for whales, seals and sea lions, learn to sea kayak, relax at morning yoga, or curl up with a good book in front of the fireplace. Whatever your heart seeks, you will find it here.
Big Cedar Lodge, Missouri
This massive wilderness resort, tucked away in the Missouri Ozark Mountains, overlooking Table Rock Lake, perfectly combines contemporary luxury and natural beauty. Visitors can decide whether they want to spend their days hiking the trails and exploring the lost caves or relaxing on one of the sunset cruises. Rustic log cabins provide privacy and comfort for those looking to escape the daily grind. Other activities of interest here are wagon rides, fishing, standup paddle boarding, painting, cooking lessons, spa services, four golf courses, and regular ever-changing events like family campfires, games, and scavenger hunts.
This wilderness resort offers the perfect experience for families who aren't quite at the level of "roughing it" and still want exceptional amenities to keep the kids happy, such as the awesome lazy river and outdoor heated pools. Don't worry about not feeling "wild" enough though. Once you are tucked into your cabin in front of the wood-burning fireplace, your experience will feel "natural" enough.
Old Faithful Inn, Yellowstone National Park, Wyoming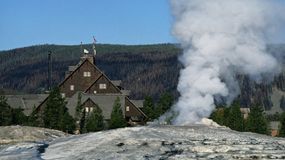 This historical log-and-stone building has been operating since 1903 and remains one of the first true wilderness lodges that's still in operation. Located in Yellowstone National Park, this inn is the largest log structure in the world and the most requested lodging in the park. Visitors will be enthralled by the towering lobby that features a massive stone fireplace and handcrafted clock made out of copper and iron.
Guests here must be willing to embrace ruggedness as there are no televisions, radios or air-conditioning in any of the park lodgings. Instead, visitors spend their time outdoors, embracing nature through hiking, boating, horseback riding, or taking guided tours. Stunning scenery, sunsets, and wildlife viewing are all a part of this memorable experience here at the Old Faithful Inn.
The Lodge at Buckberry Creek, Gatlinburg, Tennessee
Located in the foothills of the great Smoky Mountains this lodge was inspired by the great camps of the Adirondacks. Step back in time at this rustic lodge, but with all the conveniences of modern amenities. Rooms range from Lodge Suites, which offer crackling fireplaces and soaker tubs, to Gallery Suites with separate sleeping quarters, hand-woven rugs, and authentic Adirondack artifacts.
Hundreds of acres for hiking, skiing, fishing or lounging in one of the hammocks surround Buckberry Creek. Meals can be taken at the exclusive on-site restaurant whose menu changes daily depending on the "catch of the day" and what's in season. Expect incredible customer service at this natural retreat in the USA that has won awards from both Tripadvisor and Zagat.
Red Reflet Ranch, Ten Sleep, Wyoming
If you've ever wanted to experience a working cattle ranch in the heart of the Wyoming wilderness, your chance awaits you at Red Reflet Ranch. This all-inclusive wilderness experience is fully customizable depending on whether you are looking for non-stop fun or a quiet and relaxing getaway. Guests are encouraged to spend their time exploring the ranch on horseback and no matter what level of rider you are, this ranch has a horse to match your abilities.
Hiking, mountain biking, skeet shooting, rock climbing, swimming, star gazing, fishing, and ATVing are all potential activities. Guests can stay in luxurious chalets complete with private hot tubs, stocked kitchens, and fireplaces that sleep anywhere from 2 to 14 people. Wildlife in the area includes elk, fox, deer, antelope, and raptors, which make for excellent wildlife viewing. Perhaps what is most astounding about this ranch though is the landscape, which varies from red rimrock to rolling foothills to aspen forests, limestone canyons, and mountain meadows. Red Reflect is truly one of the best natural retreats in the USA.
Alderbrook Resort and Spa, Washington
Located just two hours from Seattle, this resort and spa will make you feel like you're worlds away. The resort rests on the shores of the Hood Canal, surrounded by the Olympic Mountains, which is home to a plethora of wildlife including eagles, osprey, seals, and salmon. This luxury natural retreat features beautiful guest rooms with amenities such as luxury linens, soaking tubs, and fireplaces. They also have rooms that can accommodate your furry friends if you're hoping to bring fido on your getaway! During the day guests are encouraged to take advantage of the Hood Canal and explore the waters by canoe or kayak to try crabbing or fishing.
The surrounding 525 acres are perfect for hiking and exploring. Back at the resort guests can indulge in the spa or glassed-in pool with mountain views, and wine and dine at the restaurant with its drool-worthy ever-changing menu. If you're looking for luxury meets wilderness, the Alderbrook Resort and Spa is the place for you.
Phantom Ranch, Grand Canyon, Arizona
This historic oasis is nestled at the bottom of the Grand Canyon – the only lodging below the canyon rim and only reached by foot, raft or mule, making this is the ultimate wilderness experience. Welcoming visitors since 1920, this ranch is often booked years in advance. Hiking the bottom of the canyon from the ranch is the reason trekkers head here and although you won't find luxury linens and gourmet meals; you'll find a fantastic group of people, family style meals, and comfortable cabins and dorms.
The ranch provides guests with all meals, including a bagged lunch to take with you as you head out for the day. Make sure to visit Bright Angel Creek to cool off in the hot summer months. Experiencing this wilderness retreat is only made sweeter with a full moon in the sky – something to look forward to when you book.
The Point, Saranac Lake, New York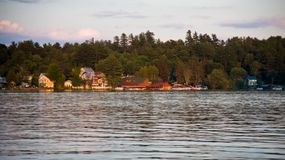 When you combine nature and luxury you get The Point, an upscale adults-only wilderness retreat in the Adirondacks. Once the former great camp of William Avery Rockefeller, it has maintained its natural charm with added exceptional luxury. Guests have the freedom to explore the breathtaking surroundings, by hiking, boating, fishing, waterskiing and more in the summer.
Winter time brings snowshoeing, cross-country skiing, warm fires, and mulled wine. The quality of service from the staff and management make the experience truly unforgettable – something The Point prides itself on. In fact, the Forbes Travel Guide awards this lodge 5 stars in 2020! A 24-hour kitchen, top-shelf liquor and wine, stunning guest rooms with handcrafted furnishings, and gourmet dining complete with a twice-weekly black-tie affair; make this natural retreat in the USA stand out as one of the best.
Spring Creek Ranch, Jackson, Wyoming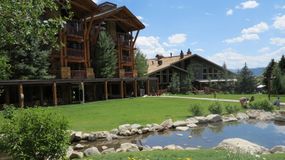 Spring Creek Ranch is actually located on a wildlife sanctuary, which is home to over 100 species of birds and wildlife, located 1,000 feet above the town of Jackson. Boasting some of the best views of the Teton Mountain Range, this is true cowboy country with the ranch offering luxurious accommodations with rustic flair that will make you feel as though you are a true part of the wilderness. In the wintertime, guests enjoy sleigh rides, snowshoeing, skiing, and wildlife safaris that feature wolves, bears, and more.
Summertime brings activities such as hiking, climbing, fly-fishing, and wildlife safaris. Accommodations range from 2-4 person rooms in the inn, to 1-4 bedroom townhouses and 4-bedroom mountain villas, depending on your budget and the size of your party. You won't go hungry eating at the beautiful restaurant overlooking the Tetons that serves up upscale mountain-man cooking. Other amenities include outdoor hot tubs, fireplaces, the Wilderness Adventure Spa, heated pools, and incredible staff. You won't want to spend just one night here, we promise that!
Tordrillo Mountain Lodge, Alaska
It is considered one of the best heli-skiing lodges in all of Alaska and you can't get much more into the wilderness than Tordrillo Mountain Lodge. Staying here requires a float plane ride in, and includes all accommodations, transportation, meals, and activities. This remote lodge is located on the banks of the Talachulitna River and Judd Lake, and well within eyeshot of two 11,000-foot volcanoes and iconic Mount McKinley.
Visitors here can expect deluxe guest rooms, grand family rooms that create a cozy atmosphere for fireside chats, hand-selected wine from the 200-bottle cellar, a lakeside, wood-fire hot tub and sauna, professional massage services, and wireless Internet (something that you don't always get at remote lodges!). Wintertime brings heli-skiing enthusiasts to the lodge – whether beginner or expert – for a week of carving through the incredible powdered landscape. Summertime, on the other hand, brings guests who are looking to indulge in heli-fishing, heli-hiking, and water sports. Whatever adventure you're seeking, you can expect to get the ultimate wilderness experience at this natural retreat in the USA.