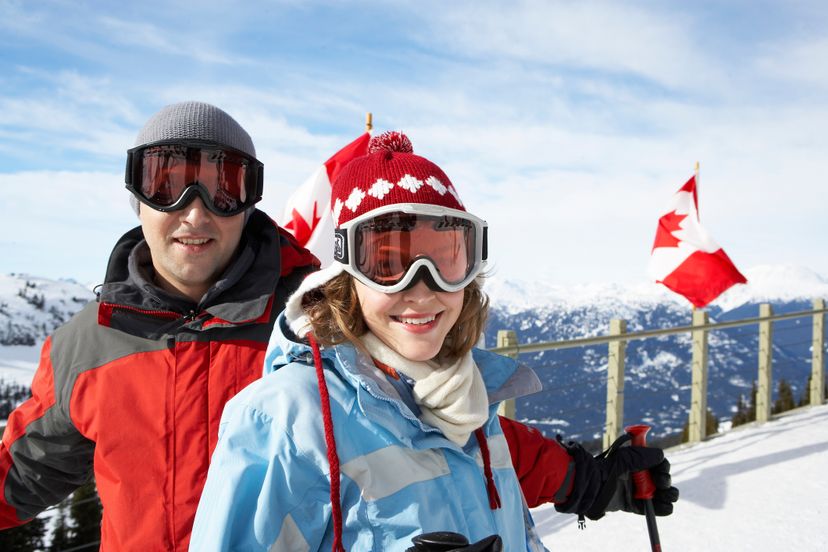 The winters in Canada are cold but that doesn't mean it isn't worth visiting during the winter! Canadian winters will provide you many great opportunities to go skiing, snowboarding, snowshoeing, ice skating, sledding, as well as many other cold-weather activities. Winter In Canada usually begins in December and generally lasts through March. When you're ready to embark on a snowy getaway check out our list of the best winter vacations in Canada. 
Banff, Alberta
If you're looking for winter sports, snow, and ample opportunities to check out the great Canadian Rockies, Banff, Alberta is where you want to go. Here you can put on ice-cleats and discover the epic ice pillars that form around frozen waterfalls in the Johnston Canyon. You can also go ice-skating on the breathtaking Lake Louise which is a sight to see in itself! You'll also have the opportunity to go dog-sledding, horseback riding, ice fishing and so much more!
Stay in one of the city's lodges such as Deer Lodge where you can grab a cocktail on the illuminated ice-lounge patio, snuggle into a sheepskin fur, and drink by candlelight. Or you may also enjoy staying at the UNESCO World Heritage Site, the Fairmont Chateau Lake Louise where its sheer beauty is simply overwhelming at times. Here you will enjoy deliciously crafted meals by award-winning chefs, luxurious suites, and a breathtaking view that you will remember forever. 
Ottawa, Ontario
There is one famous activity that brings over one million people to Ottawa in the wintertime and that is skating on the Rideau Canal. This famous 7.8 km long Skateway takes place on the picturesque Rideau Canal during the months of January and February. Slide, twirl and whisk your way along the ice while you take in views of the impressive parliament buildings and the beauty Chateau Laurier hotel. 
We highly recommend visiting during February when the capital's annual winter festival, Winterlude is going on. The festival attracts thousands of tourists from all over the world every year and takes place during the first 3 weekends of the month. While you skate along the Rideau Canal you can check out the thrilling vendors that offer everything from hot chocolate to Beaver Tails and delicious maple taffy.
St. John's, Newfoundland
If you're looking for a winter getaway where you can experience a lot of snow make sure you book a vacation to St. John's, Newfoundland! The city offers hospitable and very friendly locals, a beautiful coastline, a range of accommodations and many great winter activities. Try your hand at ice-skating in the oldest and most historic park in the province, Bannerman Park, or head to the year-round zipline adventure company where you will go whisking through the air in the snowy conditions. 
Furthermore, skiers and snowshoers will enjoy the trails at Pippy Park which boasts a beautiful landscape. During your stay In St. John's, you'll also want to check out a hockey game where you can join thousands of others as you cheer on the AHL IceCaps. Dine with locals, enjoy the live music of the East Coast, and stay in friendly B&Bs as you make your way through this awesome city and surrounding area.
Tofino, British Columbia
If hitting the slopes isn't your thing and you are actually looking to avoid any kind of snowy activities the best place to visit is Tofino, BC. In fact, British Columbia is the warmest place in Canada during winter. It is here where you will find green mountains, a serious lack of snow, and crashing waves. 
Tofino in the wintertime offers epic storm watching opportunities, winter surfing, hikes along the Pacific Coast Trail, and the chance to experience this popular tourist town during its off-peak season. A range of accommodations are available including the excellent Wickaninnish Inn, where guests will be treated to rooms with views of the Pacific Ocean, a farm-to-table dining experience, an extensive wine list, and exceptional service. Expect this winter getaway to be full of rainforest walks, wildlife viewing, a bit of rain, and a destination that feels far removed from the harshness of Canadian winters.
Mont Tremblant, Quebec
Just mere hours from both Montreal and Ottawa, nestled in the Laurentian mountains lies a world-renowned skier's paradise. Mont Tremblant boasts 654 acres of slopes and almost 100 trails, it's no wonder this is one of Canada's top winter getaway destinations!
The accommodations here are arguably some of the best in Canada, ranging from luxury hotels to quaint villas. The village offers excellent dining choices, bars, nightclubs, and even features a micro-brewery. When you're done hitting the slopes, take the gondola up to the Casino de Mont Tremblant and try your hand at the tables. Whatever it is you are searching for in a winter getaway, Tremblant is sure to deliver!
Whitehorse, Yukon
Visit Whitehorse in the winter and really get a feel for the local culture and community, plus you'll have the chance to soak up the sunshine that fills the short days. You may even get the opportunity to see the northern lights (also known as aurora borealis). They are usually visible from mid-August through mid-April but the best time to see this breathtaking natural light show is during the first few weeks of winter. 
Winter activities here range from dog sledding and snowmobiling to snowshoeing and ice fishing, and much more. If you want to stick indoors you are in luck as Whitehorse offers a plentiful variety of local galleries, cultural centers, shops, and cafes that are worth exploring. With a wide range of accommodations and dining, this city is perfect for any budget. 
Whistler, British Columbia
Whistler is truly the winter playground for anyone visiting Canada, and although it's known for its spectacular downhill skiing, that's not all that entices visitors here. Winter activities here range from dog sledding to sleigh rides, winter fishing, skating, snowcat tours, and so much more. Add in an abundance of hotels and chalets, along with incredible dining options, and you'll see why Whistler is one of the best places for a winter vacation! 
Located just two hours from Vancouver, Whistler is easy to get to, hard to leave, and absolutely breathtaking in terms of scenery. Expect plenty of snow, a great variety of winter sports activities, and the laid-back atmosphere of a ski town. If you really want to spoil yourself, consider booking a room at the Nita Lake Lodge, a luxury lodge with incredible farm-to-table dining and awesome amenities.
Quebec City, Quebec
Whether you are looking for a romantic winter getaway that includes strolling through cobblestone streets lit up by dazzling twinkling lights, for family fun, or you looking to party, Quebec City has it all. Visit here during the month of December where stores are decked out in Christmas decorations and local restaurants are offering incredible seasonal menus. 
You may also want to visit during the famous Winter Carnival which takes place during the first few weeks of February. The festival features plenty of fun activities for families, couples, and single people. Quebec City also offers a range of luxury hotels and plenty of warm fireplaces to curl up next to with a great glass of wine. This is surely a place you don't want to miss in the wintertime.