The Harbin Ice & Snow Sculpture Festival takes place in Harbin, Heilongjiang, China and is now the largest ice and snow festival in the world. This international festival and competition features the largest ice sculptures in the world and hasn't stopped growing since its debut in 1963. At first this festival was a part of the traditional ice lantern show and garden party that is held annually but in 2001 it merged with Heilongjiang's International Ski Festival and became the massive two month long festival it is today. From ice mazes to wedding ceremonies to sculptures to castles; this is one winter wonderland you don't want to miss out on. More than 1 million people come to enjoy the festivities but make sure you bundle up; temperatures often reach -30 Celsius at night.
This festival caters to people of all ages and makes sure to have lots of activities for both kids and adults. Along with wandering the grounds and staring at the fascinating sculptures; there are numerous games and sports to play including bicycling on ice, ice climbing, ice sledding, hockey, snow football and alpine skiing. Snow activities are the main content at this festival. As well visitors can watch as professionals compete in speed skating competitions, ice photography and even winter swimming. Let's not forget about all those 'selfies' that can be captured here; make sure to climb in the massive snow globe made for two and snap away.
The opening ceremonies start the fun and with music, dancing and the lantern show; it is a spectacle not to be missed. Another ceremony unique to the festival is the group wedding, organized by the city and in 2015 featured 11 couples including some from Russia, Egypt and China. We can only imagine the amazing wedding photos these couples would have. Many of the ice sculptures can be interacted with and sitting atop an ice horse in your wedding gown just sounds too gorgeous to be true. The white dresses and red flowers create a striking and beautiful moment at this festival.
Festival goers can either walk around the grounds with a steaming cup of hot tea; courtesy of the many free tea stations set up around the venues. For a small fee for those who don't want to walk there are horse drawn carriages that carry you from one place to another; lit up in the nighttime theses are magical rides to take. For those who want to do a little extra physical activity there are plenty of snowboarding, sledding and ice-skating opportunities throughout the venues.
Visitors come from all over the world to experience this festival and in 2015 there were three theme parks to navigate as part of this festival. Unique experiences included a colorful maze comprised of ice and LED lights that let visitors have some chilly fun trying to navigate their way through. Another theme park featured multiple ice slides where both kids and visitors have a ball sliding down them. Many of the sculptures can be used for photos and many can be climbed on and played with; enticing kids and adults. Because of its close proximity to Russia; many of the tourists that come to the festival come from Russia and the food and culture has made its way into the festival in a variety of ways.
The Sun Island Park is where visitors head to see the amazing snow sculptures. It has the world's largest indoor ice and snow art museum and it opens to the public from November every year and runs until the end of the festival. This is also where visitors can watch the national snow sculpture competition that takes place each year. Ice and Snow World is the second park visitors can enjoy and here they will find one of the world's largest ice architecture parks featuring sculptures derived from Chinese Fairy Tales and world famous architecture.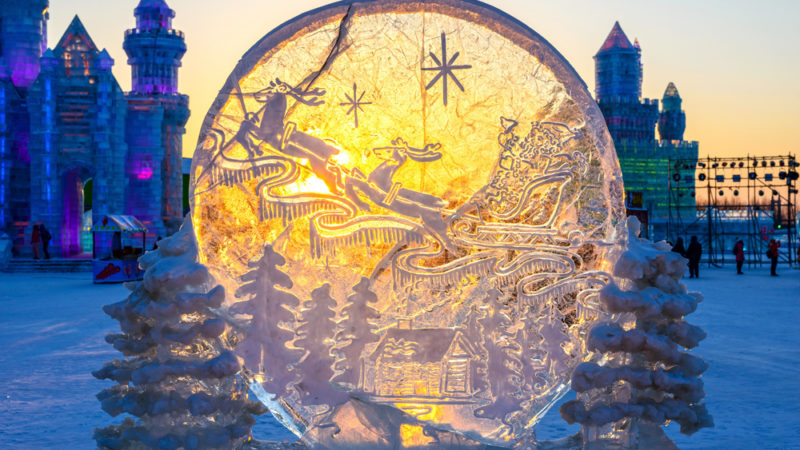 Zhaolin Park features the impressive ice lanterns; a wintertime tradition that started many moons ago. Back in the 1650's the peasants and fisherman invented these ice lanterns using a bucket, water and a candle. The water was allowed to freeze into ice; it was then pulled out of the bucket and gently warmed so a hole could be chiseled in the top. The remaining water poured out and a candle was placed inside; thus creating a windproof lantern. Today's ice lantern involves plastic art combined with ice, snow, lights and music to create an unbelievable visual display. Zhaolin Park is where you will find these amazing art structures.
One of the main attractions at the festival is the Crystal Ice Castle that forms the centerpiece of the festival. Reaching over 160 feet in 2015 this elaborate castle is different every year but never disappoints in terms of design and size. The castle is lit up at night using LED lights to create a stunning visual effect. Being the centerpiece of this festival is of great importance and the thousands of people that come together each year to create it is simple unbelievable. Along with the castle, thousands of other ice statues are lit up with LED lights creating a light show like no other.
The massive snow and ice sculptures are one of the main highlights of the festival and worldwide sponsors along with artists work together to create these breathtaking art pieces. Each year is a different theme and artists work within that theme as well as creating pieces pertaining to China. The blocks of ice are cut out from the Songhua River and reworked into the art with chisels, ice picks, various types of saws and even laser cutters. Workers can be seen day and night leading up to the festival working on their creations. The Snow Sculpture Art Expo on Sun Island is home to these infamous, gigantic sculptures ranging from coy fish to lions to Egyptian tombs to larger than life trains. Iconic landmarks such as the Great Wall of China and the Egyptian Pyramids appear year after year as huge ice sculptures. Telescopes are scattered near the sculptures so people can get a closer look at the detail that goes into this amazing pieces of art.
Sculpting the statues is no easy feat. First the ice has to be lifted out of the frozen Songhua River and a forklift brings the huge blocks into place; very carefully. Artists then start carving the outline of the sculptures. Once that is in the place the design comes next and using specific tools they are able to include those fine details. Carving the faces is perhaps the hardest part for artists as they try to make features as soft and realistic looking as possible. In just 24 hours the team of designers and sculptures can make blocks of ice become people, character and animals; truly unbelievable.
Winter swimming is another important part of this festival and serious competitions occur in a makeshift swimming pool cut into the river. Swimmers brave the cold and compete in swimming competitions, comedic diving performances and even water games. With an average air temperature of -20 degree Celsius during the festival, one can only imagine how cold it must be in that water. This very popular outdoor activity draws thousands of spectators who watch in awe as the locals show off their strong physique and willpower. Visitors can take part if they dare; but we warned you; its cold!
The shows are a highlight for visitors and locals alike as acrobats and dancers take the stage on a sheet of ice wearing skates and performing flips and twists. 2015 was the first year that acrobatics on ice were part of the festival and it was such a huge hit; expect to see this trend continue. The other large and popular show that takes place is the epic fashion show which is paraded across the t-shape ice stage. Ice and snow mix with fashion elements to get visitors a delightful stunning visual experience. If shows aren't your priority there is always the ice bar you can visit and grab a frosty cocktail.
This winter wonderland draws visitors from around the world and via the pictures we understand why over a million people visited in 2015. From the unbelievable ice structures that light up at night in a dizzying array of colors to the mammoth snow sculpture that takes teams of people to create to the dazzling fashion and acrobat shows; it is no wonder this festival is quickly becoming the most popular wintertime festival in the world. Whether you are finding your way through the ice maze or whipping down the ice slide or indulging in a cocktail from the ice bar; one thing is for certain this is truly a once in a lifetime experience.