If you've ever been in or around an airport you'll know that there's a lot going on.  People everywhere, excitedly coming together, tearfully saying goodbye, or for the seasoned traveler simply drifting through another prosaic process.  In 2014 commercial aviation is celebrating its 100th year and it's fairly safe to say business is booming; in 2013 alone over 6 billion travelers passed through almost 2000 airports in 160 countries across the globe.  Here's a run-down of the 10 busiest passenger airports in the world for 2013:
10.  Jakarta, Indonesia (CGK)
Soekarno–Hatta International Airport, named after Indonesia's first president and vice-president respectively, is the third busiest airport in Asia by passenger numbers.  Last year the number of travelers using the airport rose 4.1% to 60,137,347 and it's only getting busier, with plans for a new third runway to be completed in 2015.  Even with this huge amount of travelers passing through, it has dropped down from its place as the 9th busiest airport in 2012.
9.  Dallas/Fort Worth, Texas, USA (DFW)
Dallas/Fort Worth International Airport is less an airport and more a city-state; at almost 70 km sq. it's the second-largest airport by area in the USA and the US Postal Service considers it a city in itself, giving it its own ZIP code.  It boasts its own fire, police, and emergency medical services, and is the largest operating hub for American Airlines.  In terms of passenger numbers, in 2013 they were up 3.2% from 2012 to 60,470,507, making it the 4th busiest airport in the US.
8.  Paris, France (CDG)
Opened in 1974, and named after the French President from 1959 to 1969 Charles de Gaulle, the airport is the busiest in France and the second busiest in Europe.  Last year 62,052,917 made a trip through its 3 terminals, marking for an increase of 0.7% on the previous year.  The 2004 Tom Hanks movie The Terminal took inspiration from the case of Mehran Karimi Nasseri, who lived in Terminal 1 of Charles de Gaulle from 1988 until 2006 after losing his refugee immigration papers.
7.  Dubai, United Arab Emirates (DXB)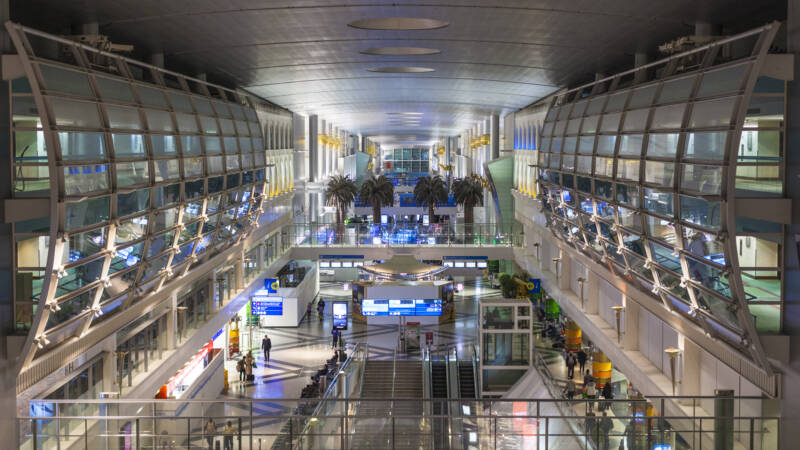 Out of the top 10 busiest passenger airports Dubai International is the most rapidly growing.  Over the past 10 years, annual footfall has increased by over 48m, and between 2012 and 2013 it increased by 15.2% to record 66,431,533 passengers using the airport.  A huge local and international hub, the airport is massively important to the local economy, contributing over a quarter of Dubai's GDP, and supporting almost a 5th of the workforce.
6.  Los Angeles, California, USA (LAX)
Known simply by its short form, LAX is the third busiest airport by passenger numbers in the USA with 66,667,619 people moving through it in 2013, up 4.7% from 2012.  Due to its proximity to Hollywood, LAX is often used as a filming location and has been featured in a number of motion pictures, from the opening credits of The Graduate to the climax of Heat, via the music video for The Backstreet Boys' 'I Want It That Way.
5.  Chicago, Illinois, USA (ORD)
More commonly known as O'Hare the airport was originally built as a manufacturing location for military aircraft during the Second World War.  It was renamed in 1949 after Edward O'Hare, the first US Navy recipient of the Medal of Honour in World War 2 and until 1998 it was the world's busiest airport in terms of passenger numbers until government restrictions designed to reduce delays were imposed.  As of 2013, the airport handles 66,777,161 domestic and international passengers a year.
4.  Tokyo, Japan (HND)
Tokyo International Airport or Haneda as it's broadly known is the second busiest passenger airport in Asia, and the fourth busiest in the world handling 68,906,509 travelers in 2013, a 3.2% increase on the previous year.  After growing in 2010 the airport has the capacity to deal with 90m passengers and is known for its punctuality having been recognized by Forbes Traveller more than once.  The first flight to depart from the airport was in August 1931 and took a cache of insects to Dalian in northeastern China.
3.  London, UK (LHR)
London is home to the busiest airport system in the world in terms of passenger traffic.  Over 100m people pass through the city's 6 airports annually, 72,368,061 of them through Heathrow in 2013.  With the newest Terminal 5 opened by Queen Elizabeth II in 2008 Heathrow is not only the busiest airport in the UK but in the whole of Europe.  It's also the main hub for the UK's flagship carrier British Airways.
2.  Beijing, China (PEK)
Passenger numbers are growing faster in Asia-Pacific than anywhere else in the world, and in 2013 the region handled 2.06 billion passengers – more than any other area on the planet.  The region's busiest airport is Beijing Capital International which as of last year dealt with 83,712,355 passengers.  In 2008 the latest terminal, Terminal 3, was opened in time for the Olympic Games and became the 6th largest building on earth by floor space, covering 1,713,000 square meters.
1. Atlanta, Georgia, USA (ATL)
Hartsfield-Jackson International, named after two previous mayors who championed aviation and construction of the airport – William B. Hartsfield and Maynard Jackson – has been the busiest passenger airport in the world since 1998.  It maintained its spot atop the list in 2013 even though the number of travelers passing through dropped 1.1% from 2012 to 94,431,224.  Hartfield-Jackson is a major hub for flights in the US, with the most popular destinations in 2013 being Orlando domestically, and Cancun, Mexico internationally.