You might be wondering why you would ever want to visit some of the smallest countries in the world, other than to just get that passport stamp and bragging rights. But the fact of the matter is what these small countries lack in size they make up for in amazing things to see and do. Discover the smallest country in the world that is home to the largest Catholic Church and 5 million visitors a year. Discover a country that is still ruled by a royal family that sits atop a mountain in their castle. Find out why some of the smallest island countries are once-in-a-lifetime opportunities to visit and why most travelers prefer to spend their time on these islands underwater. Tag along as we explore the world's 10 smallest countries worth visiting.
10. Vatican City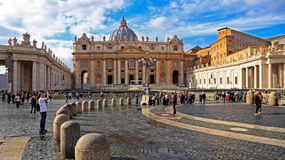 Coming in at .2 square miles this is the smallest country on our list but the most visited with over 5 million people visiting every year. Vatican City is unique in that it is a city within a city, a walled enclave within Rome, and an internationally recognized independent state. Housing the largest Catholic Church in the world; St. Peter's Basilica and one of the best collections of artistic masterpieces in the world; this small but mighty country is a must-visit. Did we mention that along with the 800 people who live here, the Pope just happens to reside in this tiny country?
Entrance to the Basilica is free and here you will find Peter's tomb and famous works of art such as Michelangelo's Pieta. The Vatican museum is overflowing with art and history and is often best seen with a guided tour as it can be quite overwhelming. Here you will also find the Sistine chapel which is famous for the painted ceiling frescoes that depict the story of creation and the story of Noah. There are many hotels and B&B's located just a short walk from the Vatican City and most visitors pair their visit here with a few days in Rome. A beautiful country with years of history behind it is our first choice for the smallest country worth visiting.
9. Monaco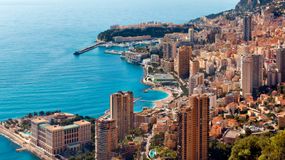 Known as the playground for the rich and famous Monaco is only .7 square miles yet is home to over 32,000 residents! Located along the French Riviera this glitzy and glamorous state is home to yacht owners, superstars, and billionaires. Besides the opportunity to visit amongst the wealthiest, there are so many reasons to visit this beautiful tiny country. Among them include great weather, world-famous restaurants and nightclubs, the Grand Prix Formula 1 race, the world's most famous casino, and exclusive shopping.
You will have to reach deep into your pockets to visit this country though, even in the off-season hotel rates are astoundingly high. Hotel de Paris is the oldest and most famous luxury hotel in the country and offers a private beach, thermal spa, and a restaurant run by the very famous Alain Ducasse. Visit one of the five casinos, attend a show at the prestigious Opera or simply gaze at the very expensive but very beautiful cars that line the streets. Visitors should head to the Old City which offers cobblestone streets, picturesque cafes, and the Prince's Palace. Whether you can afford to stay a few days in this charming country or simply take a day trip here; it is one small country worth visiting that's for sure.
8. Liechtenstein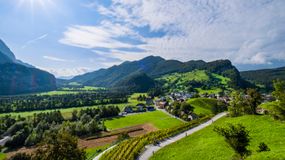 Sandwiched between Switzerland and Austria is the world's sixth smallest country rich in beauty and mountains. Liechtenstein is the last remnant of the Holy Roman Empire and is still ruled to this very day by the Liechtenstein family that lives in the castle on the hill. Although this country doesn't look like more than a dot on the map, there is plenty to see and do here in this laid back relaxing atmosphere.
Visit during the winter for some excellent intermediate skiing on Malbun and return to a place where the hills aren't overcrowded and only a handful of chalets and hotels grace the hillside. Catch a glimpse of the historical and imposing castle Schloss Vaduz where the royal family is often spotted skiing in and out of. In the summer there are a bountiful number of hiking and cycling trails that offer spectacular views of cliffs, villages, and lush green forests. In fact, you can cycle from Switzerland to Austria through this country in just a few short hours. We suggest spending at least a few days here exploring the beauty, friendly locals, vineyards, and village-side mountains.
7. St. Kitts and Nevis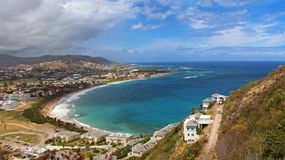 This two-island nation in the West Indies makes up 104 square miles but is packed with history, activities, beaches, and mountains. This is an island that once survived on the tobacco, indigo, and sugar industry but has since made tourism its main source of life. Visitors that travel here often have a yearning to explore, to get off the beaten path, and discover the secrets that await them.
Amongst the cruise ships that dock here, the luxury hotels and the private jet terminal are natural reminders of what this island once was. Travel along the scenic railway that was designed to transport sugar cane or head to Brimstone Hill Fortress National Park; a UNESCO World Heritage Site that offers excellent views as it sits atop a volcanic peak. St. Kitts offers bustling nightlife, adrenaline-pumping activities such as zip-lining, and is the bigger of the two islands. On the other hand, if you want peace and quiet Nevis offers a handful of gorgeous beaches and a quaint capital city. It is easy to see why this small country begs to be explored and can take multiple visits to understand all it has to offer.
6. The Maldives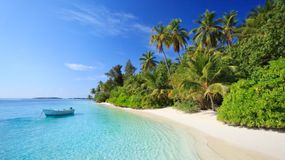 A trip to the Maldives is a once-in-a-lifetime opportunity. This country is comprised of 26 coral atolls that contain 200 inhabited islands and 80 islands with tourist resorts. Visiting a resort here means your own private beach only shared with other guests of that resort. From budget guesthouse rooms to over-the-water bungalows with plasma TVs to personal butlers this country is perfect for any type of traveler. Islands offer different luxuries but all have one thing in common; the opportunity to discover an amazing underwater world.
The Maldives is for the traveler that wants to discover the underwater life; for the diver or snorkeler who longs to be in the water and is happy to curl up on the beach in between dives. From baby sharks to manta rays to thousands of colorful fish to wrecks to huge coral walls to massive caves, the opportunities are endless as to what you might see in these extremely warm waters. The white-sand beaches, crystal blue waters, and the choice of accommodations make this country worth every penny it costs to visit.
5. Palau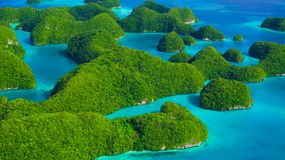 A global leader in protecting marine ecosystems; Palau or as it's often known as Belau, is a group of 250 islands in the Micronesia area of Oceania. It is no surprise then that most visitors who come here prefer to spend their time underwater scuba diving. Home to famous sites such as The Blue Corner, German Channel, and Blue Holes; a visitor could dive the same spot every day and each time have a unique experience. Teeming with sharks, giant clams, coral reefs, blue holes, caves, tunnels, unique sea creatures, and an abundance of colorful fish this is the ultimate underwater playground. Make sure to snorkel in the sting-less jellyfish lake located in this country for an unforgettable experience.
On-land visitors will delight in the exotic birds, breathtaking flora, and diversity of the islands. From the saltwater crocodiles that can be found in the mangrove swamps to the rock islands that boast lush green jungle covering jagged limestone to the orchids that sprout everywhere -there is no shortage of beauty to be found. A range of accommodations from budget to luxury along with a number of restaurant choices and even a local brewery makes this country worth visiting.
4. Grenada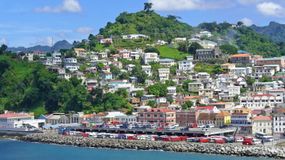 Known as the Spice Island Grenada is home to exotic plants, flowers, and an abundance of spice trees and is a major source of producing nutmeg, cloves, ginger, cinnamon, and cocoa. Combine that with the lush green tropical rainforests, towering waterfalls, cascading rivers, and breathtaking mountain lakes and you may never want to leave here. Coming in at 133 square miles this is one of the larger small countries on our list that is definitely worth spending your vacation time on.
Visitors will delight in the number of local fairs, festivals, and markets that take place and one should head to the fishing village of Gouyave on Fridays for an absolutely authentic local experience complete with fresh seafood, live music, and a lot of late-night partying. White sand beaches, colorful hillside towns, the first underwater statue museum, rum distillery tours, and activities such as river tubing and hiking will all likely be a part of your travels here. From luxury hotels to small guesthouses and plenty of eateries around the island; one should head to this undiscovered country for the ultimate getaway before anyone else finds out about this gem.
3. Andorra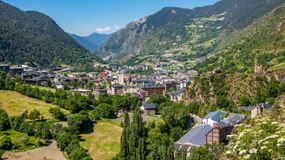 The second-largest country on our list coming in at 180 square miles is located between France and Spain and is known for having the best skiing in the Pyrenees. For this reason alone any travelers that are looking to hit the slopes should pack their bags immediately and head to Andorra. Over the last few years, the ski resorts have invested millions of dollars to ramp up restaurants, chairlifts, gondolas, snow-making machines, and anything and everything ski-related. What awaits you in this country is some serious ski time.
The country's capital and only town are loaded with some 2000 shops which attract a number of visitors each year and also contribute to the somewhat bad reputation this country gets as a "fuming traffic jam". Visitors should head outside the town to discover narrow valleys, breathtaking mountains, and villages that dot the countryside. Hikers will be in paradise in the warmer months with plenty of trails ranging from beginner to expert with plenty of guided hikes available as well. Discover a rugged landscape with beautiful architecture surrounding you as you ski or hike some of the greatest mountains located in this small but mighty country.
2. Niue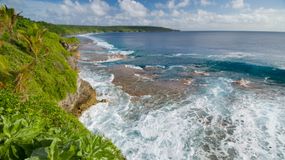 A small island country located in between Tonga and the Cook Islands, Niue is small in stature but big on adventure. The best way to explore this small country is to have an open mind and let the opportunities come to you. The dense tropical forests cover most of the island with caves and limestone arches making up the remainder and dozens of walking paths allow visitors to explore the untouched beauty. You won't find any beaches here as the shoreline is steep and rocky with coral reefs to explore instead.
Offering one of the most spectacular and extensive cave systems in the South Pacific, a popular activity is exploring these caves and the swimming pools that are often hidden within them. Swimming with whales, dolphins, sea turtles, and going on an unga (coconut crab) hunt are all reasons why this small country deserves a serious visit. Being able to hike through the rainforest with no fear of poisonous plants or animals is just one of the bonuses in this country. Spend time here and arrive as a visitor and leave as a friend as the local population welcomes you with open arms.
1. Malta
Our last remarkable small country worth visiting is extremely rich in history; not to mention beautiful and friendly. Malta is often described as an open-air museum with its fortresses, temples set on sea cliffs, walled cities, and underground tunnels. From the 17th-century capital of Valletta that is built on a plateau and offers superior views of the sea to the underground necropolis; The Hal Saflieni Hypogeum this country is full of surprises. Wind your way through the different townships in the country to discover something new at every turn.
A lot of visitors choose to sail along the coasts as the scenic caves, sunsets, and coastline offer stunning views from the water. Malta is also home to numerous note-worthy festivals that draw visitors from all over the world. The beautiful beaches and clear waters provide tranquility and relaxation and many visitors like to try their hand at diving. Underwater divers can catch glimpses of rocky reefs, caves, and an abundance of marine life in the warmer months. Malta is truly the perfect country to visit for the historian, explorer, or anyone looking to do something different on their travels.