There's classic, colonial, modern, and even gothic…and then there's the just plain bizarre. Yes, buildings take on many shapes and forms and those that design them sometimes strive to reach a level of uniqueness not seen anywhere else. Constantly pushing the limits of design, a building is only constrained by the imagination. A unique building can really put a town on the map, making it a hot spot for eager tourists and photographers alike -not to mention inspiring countless postcards and tourist trinkets. Once you see this list we think you'll agree that the architects behind these buildings were definitely not short on imagination. Here are 15 of the most bizarre building in the world:
15. Lloyd's Building -London, England
Located in the heart of England in London's financial district is Lloyd's building which is the home and main office of the Lloyd's of London insurance company. The building is sometimes referred to as the 'inside-out building' because of its unique design where the building services (ducts, elevators, etc) are located outside the building in order to maximize space on the inside.
The building was completed in 1986 after the original Lloyd's building on the same site was demolished to make way for a newly designed mega-structure. The design was done by British architect Richard Rogers whose concept of space maximization led to the inside-out design and industrial look. This steel and glass structure looks like it could have been designed for the scene of a futuristic sci-fi movie.
14. Fuji Television Building -Tokyo, Japan
Quite possibly one of the most striking buildings in all of Japan (and that's saying a lot) the Fuji TV building located in Tokyo is a sight to behold. The metallic grid-like building is ultra-futuristic and features a giant silver ball that looks 'suspended' in the structure.
The 25-floor building was opened in 1997 and has served as the television station's home base ever since and often invite the public into their space for events and even behind the scenes tours. The man responsible for this forward-thinking design is Japanese architect Kenzo Tange who also carefully planned the building to be fully earthquake-proof; a task which took 3 years to complete. The highlight of the design is obviously the huge silver ball which measures 32 meters in diameter and weighs a reported 1200 tons. Visitors can take a trip up to the ball which serves as an observation deck with views across Tokyo Bay.
13. Ripley's Believe It or Not Building -Niagara Falls, Canada
Located in the densely populated tourist area of Clifton Hill in Niagara Falls Canada is a most unusual building. The home of 1 of 3 Ripley's museums in Canada, the Niagara building almost looks like it was built sideways.
Ripley's Entertainment specializes in the most bizarre events and oddities from around the world and they are usually notorious for designing their museums to reflect the strange things you'll find inside them. The Niagara Falls building is shaped like a miniature version of the famous New York City landmark Empire State Building with a scaled version of King Kong standing atop it. The eye-catching structure is the second oldest of all 32 Ripley's Odditoriums around the world.
12. Kansas City Public Library -Missouri, USA
One of Downtown Kansas City's most notable landmarks, the Kansas City Public Library Building has a facade worthy of an up-close investigation.
'The Community Bookshelf' as it's called, runs the south wall of the Central Library parking garage on 10th Street between Wyandotte Street and Baltimore Avenue. This most intriguing mural was completed in 2004 and features 22 outward facing book spines measuring apx. 25 feet by 9 feet which represent titles from a wide variety of reading interests. Titles were suggested by library readers and the final 22 titles which made it into the design were selected by the library board of trustees. Among the titles featured on the building are classics such as 'Catch 22', 'Adventures of Huckleberry Finn' and 'To Kill a Mockingbird'. The downtown Kansas City gem is routinely featured on many lists of the most unique buildings in the world.
11. Crazy House -Da Lat, Vietnam
Formally known as Hang Nga guesthouse, but popularly nicknamed 'Crazy House' this Vietnamese oddity attracts much attention due to its unconventional design. The building which is located in the city of Da Lat was designed with inspiration from the natural environment surrounding the city.
The guesthouse was built as a special project by Vietnamese architect Dang Viet Nga and was opened to the public in 1990. The overall design resembles a giant tree and draws inspiration from the Catalan style of famed architect Antoni Gaudi and parallels have also been drawn between this structure and the works of Salvador Dali and even Walt Disney. Few right angles are found in this design which closely resembles nature and natural forms as Nga produced paintings rather than blueprints when conceptualizing this whimsical structure which local craftsmen then brought to life.
10. Wonderworks -Tennessee, USA
The topsy-turvy building that houses one of the most popular attractions in Pigeon Forge and the Smokey Mountains will definitely make you look twice. One of 6 Wonderworks museum locations throughout the United States, this indoor amusement park and learning center certainly knows how to attract a crowd.
Children are often drawn in by the building's exterior which was purposefully built upside-down to resemble a traditional museum that has been picked up and dropped by a tornado. The design was modeled after other successful locations in popular tourist spots like Orlando Florida and Myrtle Beach South Carolina where standing out from competitors is a must. Wonderworks does this well and it's not just the exterior that's upside-down; even the lobby is flipped and looks like it's gone through a tornado!
9. Sanzhi UFO Houses -Taipei City, Taiwan
Unfortunately, this next group of bizarre buildings no longer exists but its design still makes it worthy of a place on this list. The Sanzhi UFO Houses, also called Sanzhi Pod City were a group of pod-shaped buildings with an out of this world design.
Built-in 1978 in New Taipei City Taiwan, the houses were meant to be a vacation resort geared towards U.S. Military officers coming from East Asia postings but the project was abandoned in 1980 amidst unfortunate and controversial circumstances including several car accident deaths and suicides during construction. Some claimed these losses were as a result of the act of severing the existing Chinese Dragon sculpture near the resort gates in order to widen the road while others say it was a curse as the resort land is said to be a burial ground for Dutch soldiers. The abandoned buildings were finally demolished in 2010 but their lore lives on today.
8. Grand Lisboa -Macau, China
If we had to use only one word to describe the Grand Lisboa Hotel building in Macau China it would probably be: flashy! This 47 floor, 865 feet tall building is the tallest in the whole city and definitely adds pizzazz to the Macau skyline.
The Casino and restaurants opened in 2007 while the hotel portion opened in 2008. Designed by Hong Kong architects Dennis Lau and Ng Chun Man, the exuberant exterior artfully reflects the interesting treasures within the building such as 3 Michelin star award-winning restaurant 'Robuchon a Galera' as well as 'The Star of Stanley Ho', a 218.08-carat diamond said to be the largest cushion-cut D colored diamond in the world. Clearing everything about the Grand Lisboa is fancy!
7. St Basil's Cathedral -Moscow, Russia
The Cathedral of Vasily the Blessed, or more commonly known as St. Basil's Cathedral is one of the most notable landmarks in Russia. This colorful place of worship lies in Moscow's Red Square and looks as if it could have come straight out of a children's storybook.
The building was consecrated in 1561 and received its heritage designation in 1990 and holds the distinction of being 'like no other Russian building' as nothing similar can be found through the entire millennium from the 5th to 15th century. The design stems from smaller side churches being built around the main church which was known then as Trinity Church, as Ivan the Terrible marked every victory of war by building a new church next to the original. There are now 9 churches surrounding the original church building in the center, each with its own brightly colored and patterned dome.
6. The Cleveland Clinic -Nevada, USA
Also known as the Lou Ruvo Center for Brain Health, this medical building built in Las Vegas, Nevada in 2010 definitely catches the eye. The center was built as an outpatient center and research facility for Keep Memory Alive which is the centers fundraising body. The KMA Foundation was founded by Larry Ruvo who lost his father Lou to Alzheimer's Disease and this important organization has become one of the biggest charity initiatives in Las Vegas.
Designed by famed Canadian-American architect Frank Gehry, the building exemplifies the architect's signature style with a rippling shiny metal facade. The total cost of the project was a reported $70 million and the 65,000 sq ft complex features offices for practitioners and researchers as well as 13 exam rooms, a museum, and an auditorium.
5. Basket Building -Ohio, USA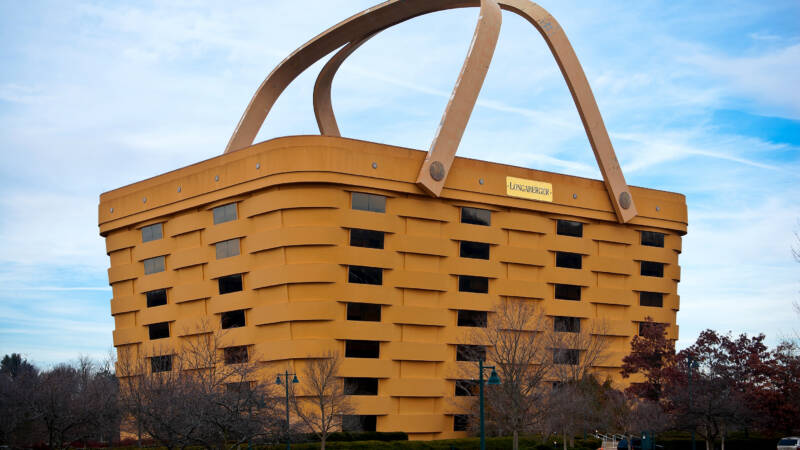 Some know this building as the Longaberger headquarters building, but most just know it as the Basket Building because well –it looks just like that. Located in Newark Ohio, this interesting piece of architecture definitely represents its use.
The Longaberger Company is an American manufacturer of handcrafted maple wood baskets so it's only fitting that their headquarters is modeled after their best selling product; the 'Medium Market Basket'. There was no need for an architect for this 180,000 sq ft building as The Longaberger Company designed it themselves. The most unusual structure opened in 1997 and the basket handles alone weigh a reported 150 tons and can be heated during the winter to prevent falling ice and snow.
4. Haines Shoe House -Pennsylvania, USA
Located on Shoe House Road in Hallam Pennsylvania lies the strangely unique Shoe House –and contrary to the nursery rhyme it doesn't belong to an old woman. It was actually built by shoe salesman Mahlon Haines who used it as a visual advertisement for his company's work boots.
Built in 1948, Haines reportedly handed a work boot to the building's architect and said "Build me a house like this". He then lived in the house himself for a short period of time before moving across the road and using the 25 ft tall, 5 story shoe house as rental units. Today the house is open to the public who can check out the living room in the toe, kitchen in the heel, upstairs bedrooms in the ankle, and ice cream parlor in the instep. Oh, and of course there's also a shoe-shaped dog house outside on the lawn.
3. Crooked House -Sopot, Poland
Krzywy Domek, which means 'crooked little house' in Polish is the name of what most people know as the Crooked House in Sopot Poland. The building that can only really be described as highly irregular, was built in 2004 and designed by Architects Szotyńscy & Zaleski who were reportedly inspired by the fairytale drawings of Per Dahlberg and Jan Marcin Szancer.
With a design that almost seems like a bad case of vertigo, this more than 43,000 sq ft commercial building is actually a part of the Rezydent Shopping Center and the popular tourist attraction is home to many shops, restaurants, and a radio station. This unique design is definitely worth checking out but be prepared, you may get dizzy looking at it!
2. The Waldspirale -Darmstadt, Germany
The Waldspirale which translates in English to Forest Spiral is an unusual-looking apartment building located in Darmstadt Germany. Sometimes referred to as Hundertwasser House as it was designed by Austrian architect Friedensreich Hundertwasser and built in the late 1990s.
The U-shaped, colorful building's construction was completed in 2000 and is home to 105 apartments, a café and bar, and a parking garage. The bar and café are both located at the top of the building's spiral. One unique feature of this building is the over 1000 individual windows, of which no two are alike. The apartment door handles are reportedly all different as well. We think it's safe to say everything about this building goes against the grain.
1. Dali Museum -Figueres, Spain
Capping off our list of the most bizarre buildings is none other than the Dalí Theatre and Museum located in the artist's hometown of Figueres Spain. Like the works of Salvador Dalí himself, the design of this theater and museum is anything but conventional.
Dalí was once quoted as saying "I want my museum to be a single block, a labyrinth, a great surrealist object. It will be totally theatrical museum. The people who come to see it will leave with the sensation of having had a theatrical dream". With sculpted eggs lining the roof, a uniquely textured facade, and a glass geodesic dome roof, it seems safe to say that architects Joaquim de Ros i Ramis and Alexandre Bonaterra did justice to this most iconic artist. The museum is the second most visited in all of Spain and definitely an attraction no tourist should miss.