Dolphin and Whale Watching usually go hand in hand. It's hard to see one without being able to see the other…at least in their natural environment. There is nothing more spectacular than seeing these incredible animals in their natural habitat or even as part of a wonderfully well-kept aquatic zoo. People hear stories all the time about dolphins and their intelligence. Planning a vacation to go discover for yourself just what they are capable of and to experience their docile and friendly nature is something your entire family can do. It will guarantee lifelong memories and an awesome feeling of wonder at what Mother Nature can provide.
8. Virginia Beach, Virginia
If you have the great fortune to visit Virginia Beach, you won't want to miss the chance to go dolphin spotting. Many companies offer Dolphin Watching Boat Tours. They last about 90 minutes and well educated staff narrate while you get to watch the action live in their natural habitat. The scenic beauty and natural wonders will wow you. Tours are usually held between April and October. One such company that offers dolphin cruises is Dockside Seafood and Fishing Center. They offer sunset cruises daily that last about 90 minutes beginning Memorial Day thru Labor Day. You can see dolphins in action while heading toward the historic Cape Henry. It is also one of the best places to spot birds because of the numerous species there. Rudee Tours offers Dolphin Watching Tours narrated by knowledgeable staff, while Sunset Cruises provide adult beverages and a romantic boat ride for you and your loved one and Winter Wildlife Tours held through March 15th, where you can see dolphins, whales and other large marine animals.
7. Vancouver, British Columbia
Vancouver, British Columbia, located on Canada's west coast on the Pacific Ocean, is one of the best places to spot dolphins and whales. You can take a dolphin and whale watching tour and see them in their natural environment or visit the Vancouver aquarium where you can see well-trained and happy dolphins perform for their trainers. The proximity of Vancouver to the Pacific Ocean provides the perfect venue for spotting the Pacific White Sided Dolphin. These particular dolphins are common throughout the North Pacific Ocean all the way from Japan to North America and from Alaska to Baja, Mexico. There are about 900,000 white sided dolphins in the Northern Pacific and their habit of swimming in groups up to 2000, makes them quite easy to spot. You can take a tour from Vancouver to Victoria to see the marine life in their natural habitat or visit the Vancouver Aquarium where you can see an entertaining dolphin show and learn more about them and their habits while having great fun with the family.
6. Sea Ranch Marina
Sea Ranch Marina has two locations. Sea Ranch One is at South Padre Island, Texas and Sea Ranch Two is located at Port Isabel, Texas with both being open daily from 7:00 a.m. to 5:00 p.m. They offer two of the most exciting boating locations on the Gulf Coast. Sea Ranch One provides access to Laguna Madre Bay located along the western coast of the Gulf of Mexico. There you will not only see dolphins but because it is home to more finfish than anywhere else along the Texas coast, you can see catfish, flounder, kingfish, ladyfish, smooth butterfly rays, blacktip sharks and many, many more kinds of marine life. Sea Ranch Two located at Southpoint in Port Isabel, provides 41 wet and 150 dry stack slips. It also offers boat sales and service, dolphin watching trips (of course), fishing trips, para-sailing adventures, ECO tours and glass-bottom boat rides. It's a paradise for boaters and watchers alike. There is no lack of things to see and do here.
5. Key West, Florida
Key West, Florida is an island well-known for their interactive dolphin experiences. There are numerous tours, cruises and dives all over Key West. Some let you dive and swim with the dolphins while others are strictly a chance to get to watch them in their natural environment. Whatever your preference, the abundance of bottle-nosed dolphins in the area, mean you will most likely not be disappointed. Once such organization is call Fury's Key West Dolphin Watch and Snorkel Tour. They are "Dolphin SMART" certified which means they are trained to observe dolphins responsibly. Fury offers a catamaran trip where you can snorkel with the dolphins to observe up close and personal how these gentle creatures interact in their home. They supply the snorkeling gear, snorkeling instruction, complimentary beverages and fresh water showers on board for after your dive. They also offer a sunset combo trip where you can watch the magnificent sunset while sipping on champagne. Make sure to buy tickets in advance for whatever tour you decide to take so you won't be disappointed by a sell-out.
4. Scotland Dolphin Watching
Located at the mouth of the River Spey, the Scottish Dolphin Center is one of the best places to go dolphin watching in the U.K. It offers more than just dolphin watching. In fact, there is so much to see and do there, you may need more than just a day to experience it all. Seven days a week, there is land-based dolphin watching where you can see some of the world's largest bottle-nosed dolphins. They also show a video in the Ice House called The Dry Dive where you will see the life both above and below the water's surface shot around the bay. It is a thrilling experience through the eyes of a dolphin transporting you from the sunlit river world down into the depths of the sea. You will see birds above, jellyfish floating around you and dolphins and porpoises darting around. You can also take a free tour of the U.K.'s largest ice house. You can see and touch giant whale bones, enjoy the stunning view from above the River Spey and learn about the history of salmon fishing in the area. It's a wonderfully educational and adventurous way to spend the day.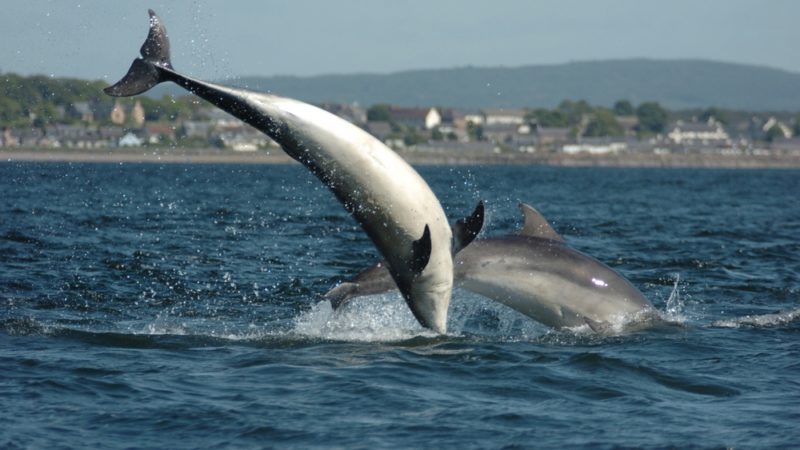 3. Hong Kong Harbor
Have you ever seen a pink dolphin? I'm not talking about a video game or a drawing by a child, but a real actual pink dolphin. You can see these beautiful creatures in Hong Kong Harbor. Pink dolphins were first spotted about 300 years ago, but until the late 1980s, nobody paid much attention until there were plans to build the Chek Lap Kok Airport. The airport was set to be built in the Northern Lantau Island area which is the natural habitat of these gorgeous creatures. Due to public outcry, the Hong Kong government started funding research projects for endangered and understudied species. The Pink Dolphin is also known as the Chinese White Dolphin because the adult can either be pink or white. Newborns are born black and slowly turn grey before developing spots and eventually either turn pink or white. Around Hong Kong however, they are mostly pink. Though they are clearly endangered due to their low numbers, there are year-round dolphin watching cruises organized by Hong Kong Dolphinwatch where you will get to observe these magnificent creatures in the wild. The cruise takes 3-4 hours and 96% of them result in successful sightings.
2. Indus Dolphin Boat Safari
The Indus River in Pakistan is where the people who live along the Indus travel in large wooden boats propelled by oars and sails making them very non-invasive and therefore the ideal place to interact with the marine life there. Because the dolphins are a gentle animal, the inhabitants along the river have learned to coexist with them and are quite familiar with their habits and location in the river. The Indus Dolphin Boat Safari is an eco-tourism project initiated by the non-profit organization, The Adventure Foundation of Pakistan (AFP). The tour is run by these boat people living and working along the river after training them to understand and preserve the Indus Dolphins protecting them from extinction. Unlike some tours, the Indus Dolphin Boat Safari does not allow people to get in the water and swim with or feed the dolphins which endangers both the animals and the viewers. Instead they can see them from the boat and listen to their sounds in the water using a hydrophone. With a great respect for nature preservation, this tour is the ideal place to teach your children about being eco-smart while giving them a thrill of a lifetime.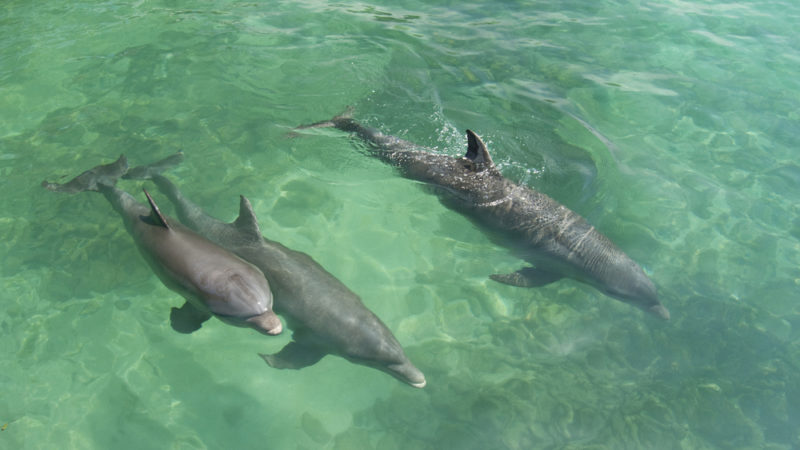 1. Iceland's Coast
Iceland is one of the most perfect spots in the world to go to spot dolphins and whales. It is one of the few places where you can find seven different species of the dolphin family. The most common are white-beaked dolphins, white-sided dolphins, killer whales and long-finned pilot whales. The less commonly found ones there are the striped dolphin, bottle-nosed dolphin and the common dolphin. The most common dolphin found in Iceland is the white-beaked dolphin found all over the country with numbers in the tens of thousands. They are found both offshore and inshore but very rarely ventures close to land. There are many tour companies that can bring you to the heart of where they can be found at peak times. You will have the opportunity to see all kinds of marine wildlife along with the dolphins in their natural habitat. Some of them include whales, dolphins, porpoises, seals, and sharks to name a few. Their natural setting is the only place where you can see these animals act in the most natural way. It's an unforgettable experience no matter your age.