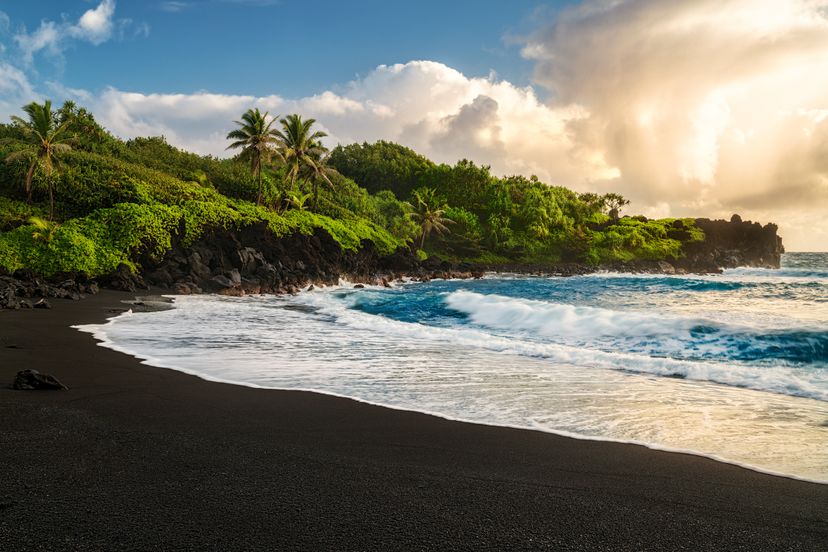 If you're an avid beachgoer, it's likely you've used to visiting beaches with glittering white sand. While these beaches are obviously beautiful, there is a whole other beach phenomenon you may be missing out on black sand beaches! These darkly-colored beaches are often formed as a result of lava and volcanic materials being broken down over centuries by the ocean. They are absolutely beautiful and can be found all over the world from Hawaii to New Zealand to California! Follow along for our guide to some of the world's most beautiful black sand beaches. 
12. Shelter Cove (California, USA)
When someone says "black sand beach," you probably think of an exotic location. While it's true that black sand beaches occur in some pretty far-flung and exotic places, they also exist in places like California. Situated on California's Lost Coast, Shelter Cove is secluded and quiet, accessible only by boat, plane, or a small mountain road through King Range. It's home to Black Sands Beach state park, which features 3.5 miles of black sand beach and offshore reefs to explore. The sand comes from greywacke, a dark-colored sandstone, and compressed shale that was produced by tectonic activity just off the shore. Popular with hikers, as well as travelers looking for a quiet vacation spot, the rugged terrain makes this an area worth exploring.
11. Anse Chastanet (Saint Lucia)
Most people envision long stretches of clear white sand when they think of Caribbean islands, but Saint Lucia is a tropical paradise with some gorgeous black sand beaches as well. Among the most highly recommended is Anse Chastanet, which is something of a hidden gem. Soufriere Beach, which has a highly variable amount of traffic, and Anse Couchon, hidden behind jungle undergrowth and edging on tranquil, has aquamarine waters that are perfect for snorkeling. Like the other Lesser Antilles, Saint Lucia is volcanic, but unlike nearby Martinique, Saint Vincent, and Barbados, the island is more mountainous, with its highest peak standing 3,120 feet above sea level, making for breathtaking scenery at any elevation.
10. Samyang Beach (Jeju, Korea)
Perhaps the most obscure entry on this list, Jeju is located in the Korean Strait, off the coast of South Korea. The island is volcanic and dominated by Halla Mountain, which has 360 satellite volcanoes. Associated with the mountain is a national park and a World Heritage site dedicated to the island's lava tubes. Halla is also responsible for the volcanic soil and the black sand that forms Samyang Beach. Samyang's darkly-colored dunes contrasted with crystal-clear waters make it popular with the locals; its proximity to Jeju City, the largest city on the island, doesn't hurt either. Samyang's sands are finer and softer than Jungmun beach, and as black sand is believed to have healing properties, Samyang is becoming increasingly popular.
9. Point Venus Beach (Tahiti)
When discussing black sand beaches, Tahiti has to come up. The island's reputation is built on its famed black sand dunes. The largest island in the Windward Islands of French Polynesia, Tahiti was formed by volcanic activity and its geography is rugged and mountainous. Beneath the ocean surface, the island is surrounded by vibrant coral reefs, which make it ideal for snorkeling and diving. As much of the coastline is composed of stunning black sand, travelers have their pick of beaches here: from Lafayette Beach, which forms part of an upscale resort, to the half-mile long Plage de Toaroto and Point Venus Beach, which has a lighthouse and a park as part of its appeal. No matter your tastes, Tahiti's black sand beaches have something for you.
8. Anse Ceron (Martinique)
Deep in the Caribbean lies the tiny volcanic island of Martinique which boasts not just one, but four beautiful black sand beaches. In the north, there is Anse Ceron, a well-shaded beach with many coconut trees and surrounded by high cliffs. In the south, you'll find Anse Noire, the only black sand stretch on this side of the island. Between St. Pierre and Le Carbet, Playa de St. Pierre also boasts ebony sands, a reminder of the island's volcanic past. All of the beaches boast perfect opportunities for divers and snorkelers.
7. Cahuita Beach (Costa Rica)
Nestled on the Caribbean coast of Costa Rica is Playa Negra, the Black Beach, near the tiny city of Cahuita. From December through March, surfing is a popular activity at this volcanic-sand beach, as is bird-watching in nearby Cahuita National Park. Cahuita's climate is tropical and the area is home to the rainforest. The park also protects some 55,000 marine acres. In this area, you'll find one of Costa Rica's only living reefs, which makes snorkeling along with it an absolute must. The city itself is known for dessert crepes and grilled chicken variations, as well as its laid-back Afro-Caribbean culture. If you want to escape the icy climate of the North American winter, make like a bird and fly south to Cahuita!
6. Lovina Beach (Bali)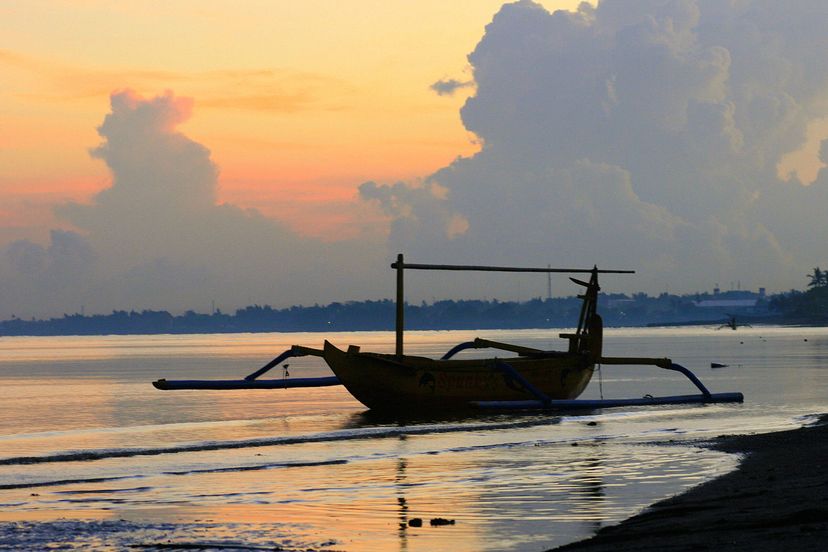 Halfway around the world, in the Pacific Ocean, lies another volcanic island paradise. Bali is home to a rich cultural history and, yes, black sand beaches. While most travelers head to the white sand beaches on the south side of the island, the black expanse of Lovina Beach lies on the northern shore of the island. Formed by a lava flow from Mount Agung, Lovina is quiet and calm, as are the waves, which make it ideal for swimming. Nearby is a local fishing village and volcanic hot springs. Come at dawn and catch a glimpse of dolphins jumping in the surf. On the west coast, you'll find more black sand: Candikusumah, Pantai Rening, and Balian offer black sand seascapes and make for quieter destinations.
5. El Bollullo Beach (Tenerife, Canary Islands)
The Canary Islands, located just off the northwest coast of Africa, are volcanic in nature and mostly composed of basalt. Tenerife, the largest island, hosts the magnificent El Bollullo beach, just north of Puerto de la Cruz. La Gomera has Valle Gran Rey, which is also its longest beach. La Palma is home to Los Cancajos, a black sand beach bordered by narrow, rocky inlets along the coastline. El Golfo beach on Lanzarote is notable because its cove, which was formed during a volcanic explosion, is bordered by the ocean on one side and a vibrant green lagoon on the other. No matter which you choose, the beauty of these beaches is bound to take your breath away!
4. Vik (Iceland)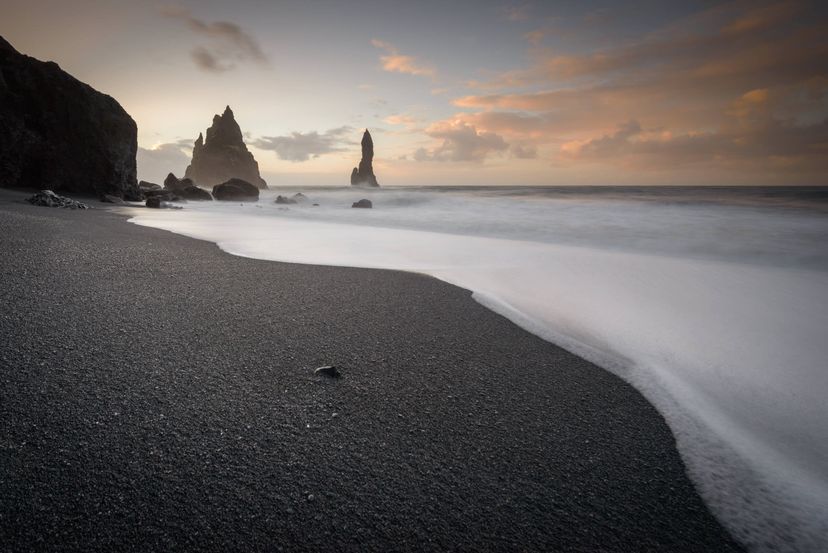 Iceland is probably one of the last places you'd think of when someone mentions beaches, but a stunning black sand beach lies at the foot of the island's southernmost settlement, the village of Vik. There's little swimming at Vik, thanks to Iceland's northern latitudes and the icy Atlantic, which batters the shoreline full-force; the remainder of a vast cliff, long since eroded, is a testament to how hard the island is hit by Atlantic rollers. Vik's black sand is a product of the nearby Katla volcano, which last erupted in 1918. Katla is directly beneath the Myrdalsjokull glacier, meaning Vik exists under constant threat of eruption and flash flooding. Vik is a beautiful basalt beach for the brave!
3. Muriwai Beach (New Zealand)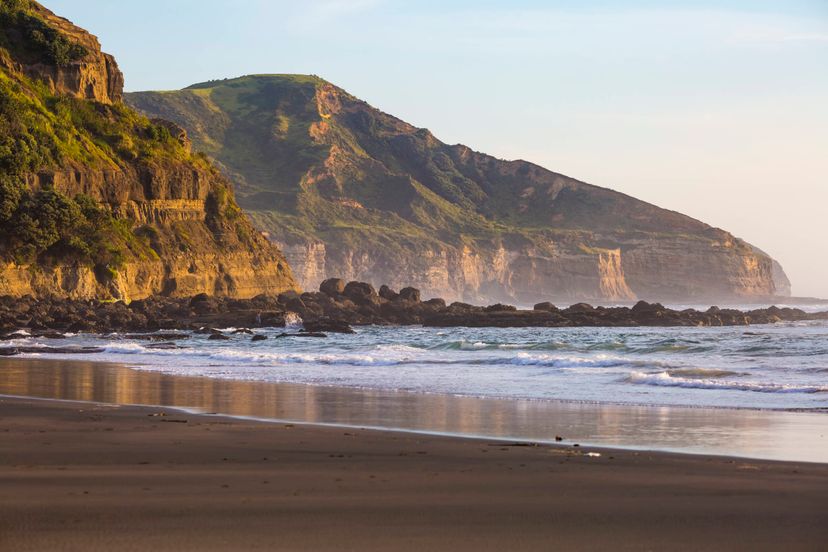 Muriwai is a hugely popular beach in the Auckland Region of New Zealand. Located on the North Island, the area is renowned for its silty black sand, a result of iron content in the silt deposited by ancient volcanoes, particularly the so-called Kaipara Volcano, which was active 16 million years ago. The sand is now moved by longshore drift and deposited along the beach. The area is popular for surfing, as well as paragliding and hang-gliding, as the prevailing westerlies provide favorable conditions. There are also many trails for both hiking and mountain biking, and people love to cross the beach on horseback or by car.
2. Agios Georgios (Santorini, Greece)
Thanks to its unique geology, the island of Santorini features beaches of all colors. The island is essentially a volcanic caldera, created by an eruption during the height of the ancient Minoan civilization, around 1600 BC. The volcanic eruption left most of the ancient town intact, much like Pompeii. Drive down to Perivolos to find Agios Georgios, the black sand beach. With crystal-clear water warmed by the volcano, this beach is perfect for diving and swimming. Or, if you prefer, lounge in the sunshine on one of the deck chairs provided. Be sure to bring your flip-flops, though—the black sand absorbs the heat of the sun, making it even more scorching than a white sand beach!
1. Punalu'u (Hawai'i, USA)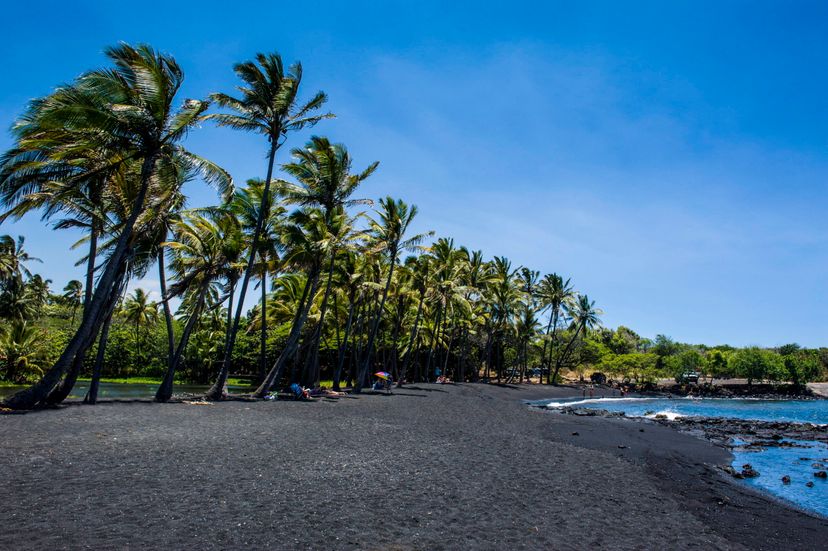 What other beaches could claim the top spot? Also known as Black Sand Beach, Punalu'u is possibly the most famous example of a beach with ebony-colored dunes. Located on the Big Island of the Hawaiian chain, Punalu'u is formed of basalt sand that was deposited by lava flowing into the ocean and exploding as it cooled. It's a haven for many endangered species, including the Green Sea turtle and the Hawksbill turtle, often seen basking on the black sand. Sightings of Spinner dolphins and humpback whales are also common along this stretch of shore. There are lots of cultural artifacts in the nearby park area, including petroglyphs and remnants of the ancient Ala Kahakai trail.