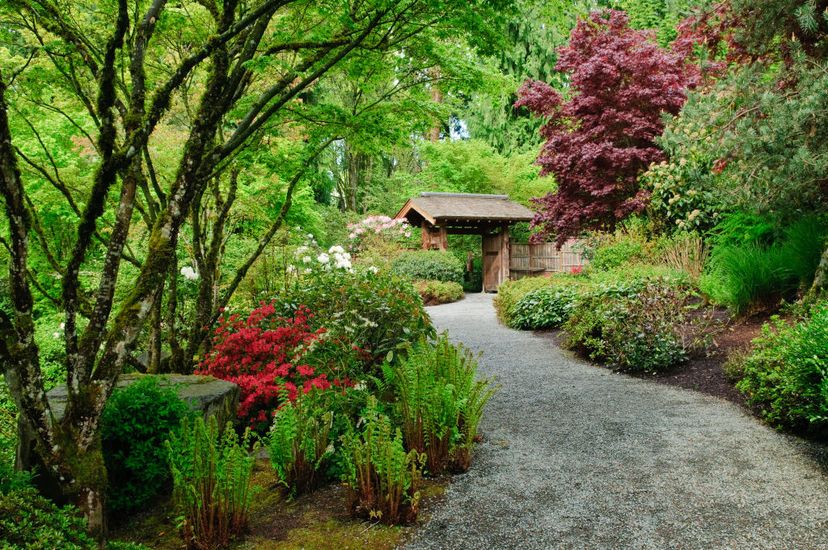 The nice thing about cities is you don't usually have to walk far to find everything you need. And if something is a bit far for you, there are convenient transit options to keep your feet well relaxed. Who needs to walk when you've got wheels, right? Especially if you're traveling with children, keeping everyone contained in a car crying "Are we there yet?" while stuck in traffic amidst a forest of skyscrapers is so much easier. If you don't like to walk and enjoy the exercise, then keep your wheels out of Bellevue's suburban neighborhoods, which offer a number of recreational areas that require a fair amount of walking, natural beauty, and fun activities for the kids.
Crossroads Community Park
This 34-acre park in the Crossroads neighborhood of Bellevue requires a pair of comfortable walking shoes. It has a circular jogging trail next to a water-play area that connects to a paved walking trail that takes you through a wooded area, past another playground, to a par-3, nine-hole golf course – where you can practice your golf swing while you follow your ball through the course. If walking and golfing isn't enough to deter you, there is a tennis court, a basketball court, and a skate bowl to get your blood (or your blood pressure if you're watching your child on a skateboard) flowing. If you must sit down, do so at one of the Bellevue Youth Theater's running shows. And is that the Crossroads Mall on the other side of the hedge?
With over 150 acres of wetlands, forests, community gardens, picnic areas, and blueberry farms, you would have a lot of walking to do in this recreational area. Who would possibly think walking through a farm and picking your own blueberries and purchasing fresh produce is fun? Visit the Ranger Station and you and your family could end up following a park ranger on a Saturday tour of the greenbelt, or miss a perfect lounging day during the spring and summer months hiking the trails learning about nature. Oh, the humanity.
At 105 acres, this park demands a good walk. The park's trails are part of a larger trail system, the Lake-to-Lake Trail and Greenway, which even connects to the Lake Hills Greenbelt. If you're a parent, forget walking. You will be running after your children through the play area, two baseball fields, and one soccer field. And it is adjacent to the expansive Bellevue Botanical Garden, where there are even more pathways to walk through as you enjoy the stunning themed gardens. It's just too much for someone with an aversion to walking.
Bellevue Square
Even in Bellevue's urban downtown, be prepared for a hike. With 1.3 million square feet of pure shopping pleasure, you better be ready for a workout that is not just on your wallet. As part of the Bellevue Collection, which includes Lincoln Square and Bellevue Place, you have even more walking and shopping to do. Oh, and did I mention it is next to the beautiful 20-acre gem, Bellevue Downtown Park? Stay away from the heels and leather dress shoes, people.