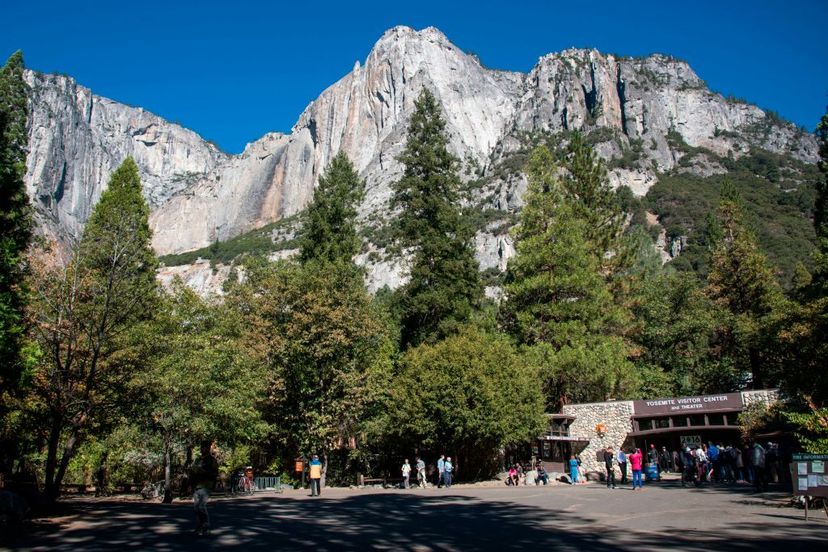 Land of Waterfalls, Giant Sequoias, Valleys, and Sheer Cliffs
Yosemite National Park's 1,200 square miles of towering waterfalls, giant sequoias, broad meadows, narrow canyons, and rugged mountains have beckoned to visitors for more than 150 years. But the area's resplendent natural beauty is more than just breathtaking scenery — it's the birthplace of the modern conservation movement.
Walking beneath the majestic cliffs of Yosemite Valley, or amid the giant sequoias of Mariposa Grove, it's hard to believe that such resplendent nature was once threatened by commercial exploitation and development. But by the late 1800s, overgrazing of Yosemite's meadows and excessive logging of its sequoias were among the concerns that drove America's first conservationists — most prominently the legendary naturalist John Muir — to petition the government to set the land aside so that future generations might marvel at its many wonders.
That legacy holds true today. Open year-round, with a different calendar of activities for each season, Yosemite is a flagship national park in terms of education, volunteerism, and of course, outdoor adventure.
Activities in Yosemite National Park
Since Yosemite is open all year, there's always something to do. To help you plan your itinerary, we've broken down some of the park's highlights by season. Make sure to check conditions before you go — road closures due to snow or wildfires can put a serious damper on your trip!
Summer Activities
Early summer is a fantastic time to take in Yosemite's waterfalls. The bright California sun melts snow at higher elevations, causing a deluge that swells Yosemite, Bridalveil, Vernal, and Nevada falls during May and June. Yosemite Valley and Wawona-area wildflowers tend to reach peak bloom during this time as well, making day hikes along Glacier Point Road particularly picturesque.
Subalpine grasslands tend to bloom later in the season. For another late-summer treat, catch the Perseid meteor shower during the second and third weeks of August, when a clear night at Tuolumne Meadows can turn into quite a spectacle. Summer is also high season for backpacking — just make sure to bring insect repellent to ward off mosquitos.
Warm temperatures also bring more visitors to the park, so while all of Yosemite's roads are usually open by Memorial Day weekend, traffic can impede progress between destinations. Expect lots of company during day hikes within Yosemite Valley. Likewise, summer is a popular time of year for those wishing to access Yosemite's backcountry; while the park requires permits for overnight hikes regardless of what time of year it is, advanced reservations are highly recommended during summer months.
Autumn Activities
Crowds thin out after Labor Day, leaving Yosemite to those in search of solitude, warm temperatures, and dry weather, particularly in the park's high country. Backcountry ranger stations begin closing in October, leaving a month-long window for intrepid trekkers to take advantage of hospitable conditions. There are downsides — trails can show wear from the summer, smoke from controlled burns can make for hazy views, and rain becomes more frequent as the season progresses — but these are more than made up for by the seasonal tide of fall colors that peak by the first week in November.
Plus, sparser crowds and warm temperatures are ideal for bicycling on Yosemite Valley's 12 miles of paved trails or climbing its legendary rock faces. Mariposa Grove's evergreen sequoias, unhindered by summer traffic, are an incredibly inviting option at this time of year.
Winter Activities
If you're visiting Yosemite in the winter, come prepared. Roads that are open will likely require cars to affix chains due to snowy or icy conditions. A snow-dusted walk in the valley can be very romantic, but don't expect sufficient enough coverage there for snowshoeing or cross-country skiing. Winter sports enthusiasts instead might consider a trip to Yosemite's Badger Pass ski area, with 10 trails geared toward beginner and intermediate skiers, plus cross country skiing and snowshoeing. The recreation area is open from mid-December until April.
Spring Activities
Since snow can fall in the High Sierra even as late as May, access to trails around Yosemite can be limited during spring, particularly at higher elevations. But lower-altitude thaws bring brilliant displays of California poppies, dogwoods, and redbuds.
Visiting Yosemite National Park
Park Conditions, Reservations, and Fees
Yosemite National Park is open all year, but seasonal conditions affect the status of campgrounds, roads, and trails. Generally, there tend to be restrictions from late autumn through spring months due to snowfall, and naturally occurring and controlled-burn fires often affect regions of the park during summer. Be sure to check conditions before visiting the park.
Entry fees are $20 per car or $10 per person if arriving on foot, horseback, bicycle, motorcycle, or non-commercial bus. Reservations are not required to enter the park, but special permits are required for visitors who want to stay overnight. No permits are required for any day hikes from Yosemite Valley, with the exception of the Half Dome day hike. Check the park's website for additional information on fees, permits, and special passes.
Camping
Camping is a very popular activity at Yosemite, and the park has made ample accommodation for those travelers looking to enjoy an overnight stay in the great outdoors. There are 13 campgrounds plus recreational vehicle camping at Yosemite National Park, and seven of those sites operate on a reservation system. Campers should be aware that bears are active within the park during all seasons and take precautions by utilizing bear-proof food lockers at campsites or appropriate food canisters while backpacking.
Rock Formations
One look at Yosemite's imposing panorama should make it clear that the park is a haven for rock climbers. While lots of people prefer to hike up Half Dome's backside, it's also possible to climb up the formation's 5,000-foot vertical face. Just bear in mind that the ascent is super steep — with a 93% grade, it's the sheerest cliff in North America. A favorite among experienced rock climbers, El Capitan's 3,600-foot vertical rise might be less than its neighbor to the east, but the going is pretty tough. While the best speed climbers can scale the giant granite formation in about 24 hours, a typical ascent of El Cap can take as long as seven to ten days. Middle Cathedral of the Cathedral Rocks is another popular climbing formation, but there are many faces to explore in the park — if it's there, chances are someone's climbed it. Climbers should note that while it's prohibited to camp at the base of any wall, it's okay to camp while in ascent.
Giant Sequoias at Mariposa Grove
These ancient trees — some of which are estimated to be more than 3,000 years old — are some of the world's largest living things. About 500 of them live in Mariposa Grove, near the southern entrance to Yosemite. Some of the grove's notable trees are its Grizzly Giant, the world's fifth-largest tree, and the peculiar Wawona Tree, which fell after a snowstorm in 1969.
Early promoters of the area cut a tunnel into the tree large enough to fit a horse-drawn carriage through it. Later in its history, people were even allowed to drive cars through the hole in the tree. Although fallen, the tree's remains were left, and serve as a prescient reminder of the hazards of exploiting nature. The grove is open from May until late October.
Waterfalls
Graceful and powerful, Yosemite's waterfalls reach their peak flow in late spring and early summer, when thaws in the High Sierra flood the park's aquifers. By late summer, most of them run a little more than a trickle, although autumn storms might breathe a little extra life into them. At 2,425 feet, Yosemite Falls is the park's largest.
History of Yosemite National Park
Buffalo Soldiers
Unfortunately, Yosemite's history is marred with violence between European settlers and native peoples, which concluded in the displacement of the latter population. Buffalo Soldiers — African-American army regiments formed after the Civil War — fought in many of these conflicts, and were eventually responsible for stewardship duties in the park, ranging from evicting poachers to extinguishing forest fires. In that respect, they were some of the park's first rangers. Some 500 Buffalo Soldiers served in Yosemite and nearby Sequoia National Parks, which fell under the administration of the United States Army from 1891 to 1913.
"The Incomparable Valley"
Many of the Yosemite area's early white settlers became enamored with the valley's natural beauty, and soon writers, photographers, and artists flocked there to find their own inspiration amid the valley's stately cascades and granite precipices. James Hutchings, an enterprising Englishman with business interests as diverse as publishing, gold mining, and hospitality, was an early booster of the Yosemite region. He and his wife built and maintained one of nine small inns that populated the valley floor by 1864. Theirs and other hostelries served as expedition bases for explorers, who came in search of the ideal natural wonderland publicized in Hutchings' own writings. Legend has it that it was Hutchings' 496-page ode to Yosemite, "In the Heart of the Sierras," published 1886, that lured a young Ansel Adams to the valley. Adams would later gain critical acclaim for his landscape photography of Yosemite and other natural vistas.
John Muir
Hutchings was not alone in singing the praises of Yosemite. In fact, he reportedly had a tense relationship with the renowned naturalist John Muir, taking exception to his celebrity and popular mantle as "official" Yosemite spokesman. It probably bothered Hutchings even more that Muir was a worker at his valley sawmill.
But despite Hutchings' ire, Muir certainly had claims to that the title. His poetic observations on the High Sierra, Yosemite, and the natural world at large gained a broad following in newspapers, receiving the backing of noted American literary and scientific figures of the day. With that support, Muir's scope — not to mention his popularity — grew even broader, and he began to rally readers around the cause of conservation, with a particular eye on the abuse of natural resources of the Yosemite land grant by livestock. His exposes culminated in a bill before Congress that expanded the grant and created Yosemite National Park in 1890.
Galen Clark
Another important figure in Yosemite's history, Galen Clark, is credited with popularizing the Mariposa Grove of giant sequoias from his Wawona ranch. Remembered as much for his hospitality as for his stewardship of the Yosemite land grant, Clark met Muir during his first visit to the Sierras and accompanied the famous naturalist on mountaineering and glacial survey expeditions.