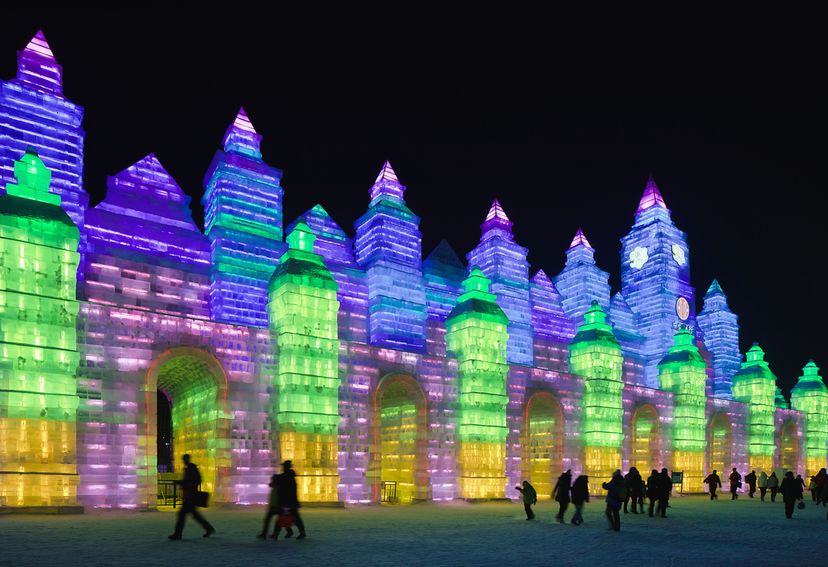 Whether you love winter or hate the cold, there are many destination choices available to you rather than going into hibernation mode. Hate the cold and snow? Then tropical destinations are out there just waiting for you to enjoy and leave the winter blues behind. Sandy beaches, tropical rain forests and warm sunshine are just the medicine you need for what ails you. Migration is much more enjoyable than hibernation. Or, maybe you can't wait for winter snowy weather. The world is your playground with many places to go and play in the great outdoors. Winter blues are in the past if you go where you can get away from it all and just have fun. Below are a few suggestions for some winter fun that can be adapted to just about anyone's budget and desires. You don't need to travel far to have a great relaxing and therapeutic vacation alone or with your loved ones.
10. Jackson, Wyoming
The town of Jackson is located in the Jackson Hole valley and has a population of around 9,600. It's in close proximity to many ski resorts and a gateway to well-known national parks like Yellowstone and Grand Teton. In 2009, the town was designated as a Preserve America Community -meaning it's recognized as a place to preserve and celebrate their historic assets and heritage.
Jackson is rich in culture and natural beauty. Take a tour of the National Museum of Wildlife Art which looks like a natural outcropping, Images of Nature by Thomas Mangelsen featuring nature photographs, The Brookover Gallery, Wild Safari at Spring Creek Ranch, Laurance Rockefeller Preserve, Jackson Hole Tram Rides, Town Square, or the National Elk Refuge. Of course there are also great places to ski like Rendevous Mountain – the most challenging mountain to ski in the country, and Snow King Resort. Other activities could include Teton Ice Park which offers ice climbing lessons for all skill levels. Fun and adventure never cease in Jackson…a little town with loads to offer.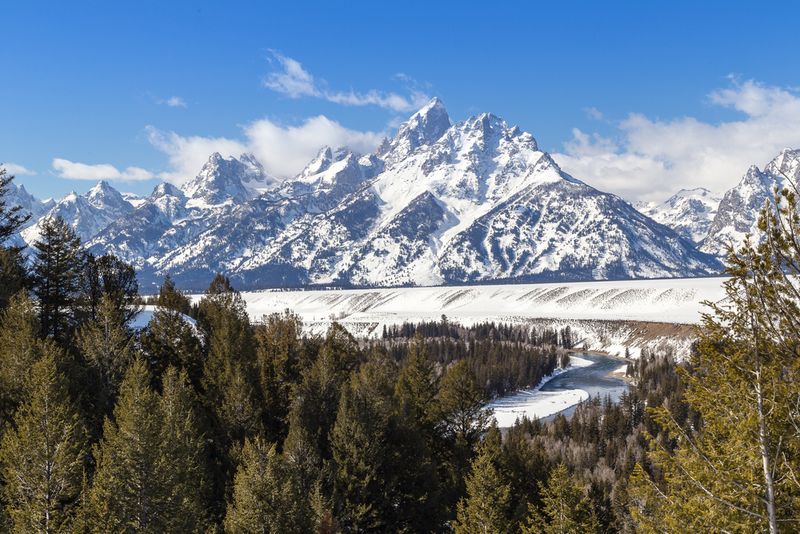 9. Crystal Mountain Resort & Spa, Thompsonville, MI
Located in Thompsonville, MI, Crystal Mountain Resort and Spa is the ultimate destination for anyone looking to enjoy winter with or without their children. You don't have to be a skier to enjoy this resort because there is plenty to do whatever your age or interest while vacationing. There are condos and cottages on site as well as rooms in the resort itself.
For a romantic getaway with your special someone, Crystal Mountain Resort & Spa offers couples' massages, an outdoor hot tub and indoor pool. A great way to unwind and relax those tired, tense muscles after a long week at work. There are great meals and amenities and the staff caters to all your needs. For a family vacation, there is cross-country skiing, nighttime laser tag, dog sledding and many other family friendly events. You can also enjoy some snowmobiling through the groomed trails and enjoy the amazing northern scenery all around you.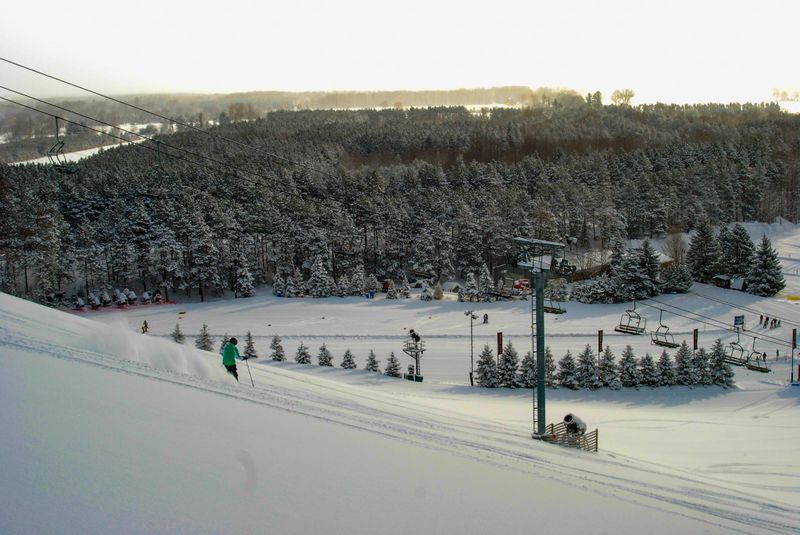 8. Ogden, Utah
Ogden is a city of a little over 82,000 people and is located about 10 miles (16 km) from Salt Lake City. Serving as a major railway hub, it's a convenient location for manufacturing and commerce with large amounts of freight rail traffic. It is also well-known for its closeness to the Wasatch Mountains, its many historic buildings and Weber State University. The city was named Ogden after Peter Skene Ogden of the Hudson's Bay Company who was known for trapping in the area.
There are museums to visit featuring different interests such as Hill Aerospace Museum for anyone interested in military and aeronautic history, Treehouse Children's Museum which is a hands-on museum focusing on literature and arts for children, and Dinosaur Park & Museum for a quick trip back in time to explore prehistoric times. For some family fun, you can stop at The Salomon Center a sports complex and gaming center, Kangaroo Zoo for a clean, safe place for your children to let loose and play together, and so many other attractions, outdoor adventures and natural wonders, you'll leave with memories to last a lifetime.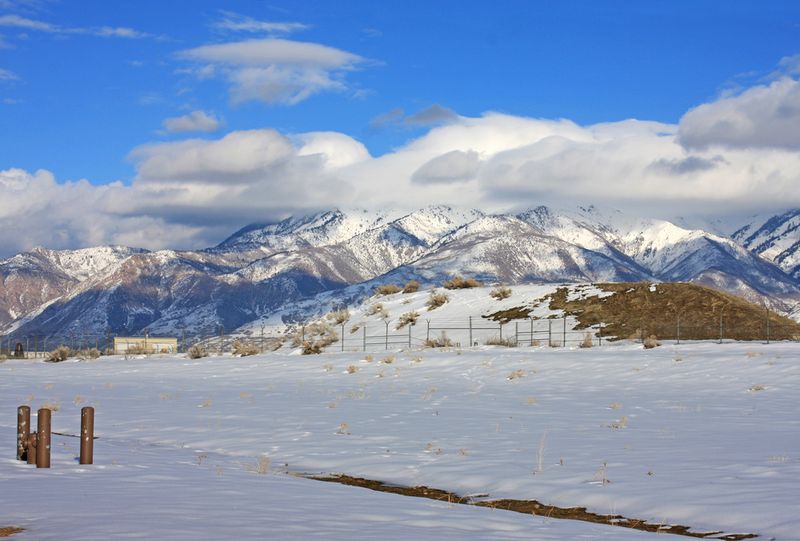 7. Aspen, Colorado
Aspen, Colorado is located in a remote area of the Rocky Mountains' Sawatch Range and Elk Mountains. It was originally founded as a mining camp during the silver boom, and the name was eventually changed to Aspen for all the aspen trees in the area. The White River National forest serves as a summer complement to the four ski areas in the vicinity making it a four season playground.
The John Denver Sanctuary features rocks carved with songs written and sung by the iconic star. Most can be seen in the winter as well as the summer. Aspen Mountain is the prime destination for avid skiers and snowboarders having earned the reputation as "the athlete's mountain". Wheeler Opera House offers an intimate setting for a great show and a little culture. Buttermilk Mountain is a great place for skiers of all skill levels or to just sit back and absorb your incredible surroundings. While visiting this winter wonderland, you can also take a snowmobile tour through the White River forest or enjoy some pampering at one of the resorts.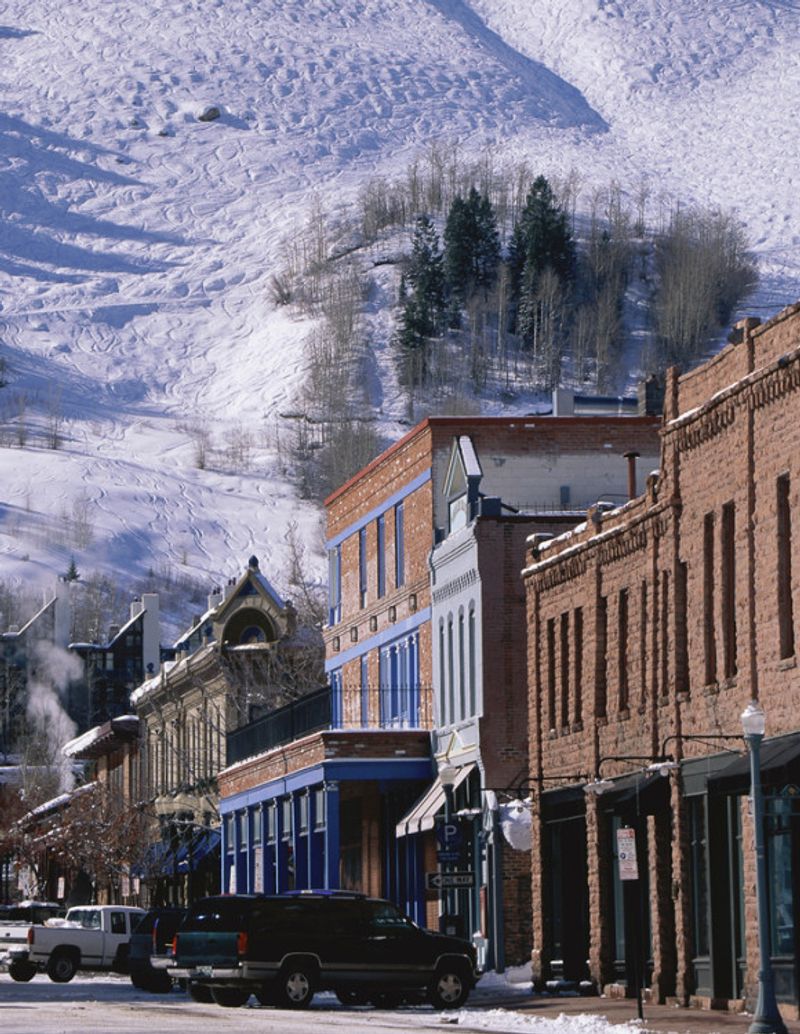 6. Harbin Ice and Snow Festival, China
The Harbin International Ice and Snow Festival is an annual winter festival hosted in Harbin, Heilongjiang, China and is the largest ice and snow festival in the world. Though it started off primarily with Chinese participants, it has since become an international celebration and includes the world's largest ice sculptures. The month-long festival begins January 5 each year, however many exhibits can be viewed earlier weather permitting.
The festival is comprised of ice and snow world, the international snow sculpture art expo, the ice lantern art fair, winter swimming watching, ice hotels, dog sledding and safari-style Siberian Tiger watching. You can go snowmobiling, ice skating, skiing or enjoy a beautiful relaxing sleigh ride. There are several ski resorts in Harbin as well if downhill skiing or snowboarding is more your style. The scenery is awe-inspiring with the mountains and countryside you'd never expect to find in such a populous area. Take your own tour or book yourself on one of the many guided tours available.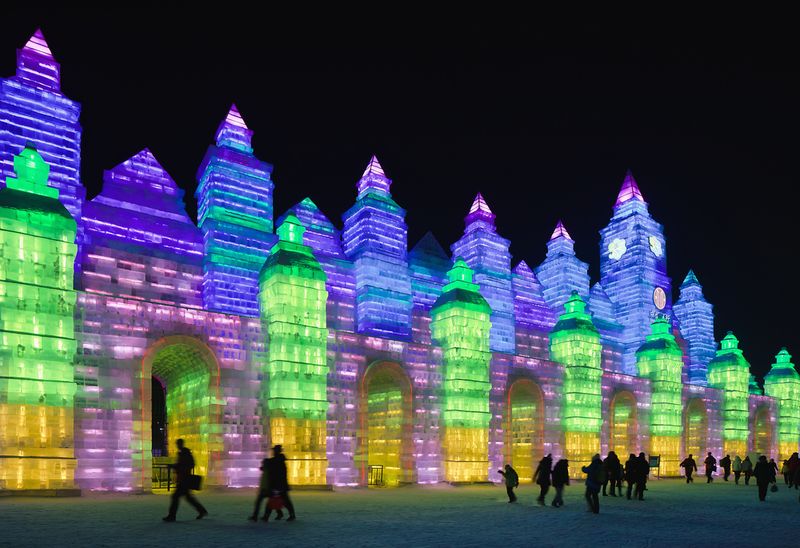 5. Cuba
Cuba is an island country located in the Caribbean. It's the largest island in the Caribbean with a population of over 11 million. The country rates very high in human development and high in measures of health and education. The largest city in Cuba is its capital, Havana. In the last decade, Cuba has invested highly in tourism and tripled their share of the Caribbean tourism market with the growth rate expected to continue. Due to the country's proximity to the Tropic of Cancer, the climate is tropical and warm all year.
Old Havana is a world heritage site preserving the beautiful architecture from 200 years ago. Veradero is a popular beach destination featuring beautiful white sand beaches, caves, flower gardens, restaurants and hotels. The cobblestone streets of Trinidad will take you back in time to colonial times with the incredible architecture. Other beach destinations worth visiting are Guardalavaca, Playa Paraiso, Cayo Largo del Sur, and Cayo Coco. The many cities there have historical significance and beautiful buildings and sculptures that will keep you in awe during your vacation.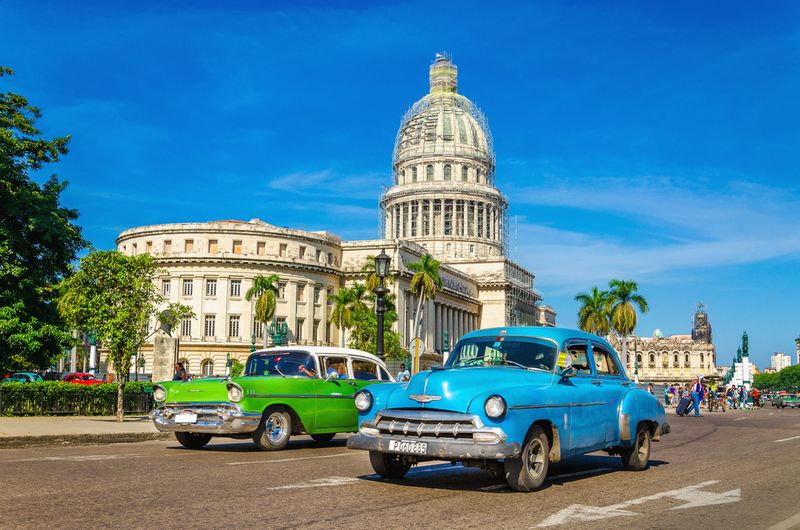 4. Miami, Florida
A common destination in the winter is the state of Florida…a tropical paradise. Miami in particular caters to tourists all year-round with plenty to see and do. Located on the Atlantic coast of the United States, there are numerous sandy beaches where you can sunbathe under the hot sun or enjoy a dip in the crystal clear waters. The beaches aren't the only thing to see and do in Miami however; all of the available attractions are too numerous to mention here though we'll give you just a taste of what's to be had…
Some of the attractions you can check out while in Miami, include a Biscayne Bay Sightseeing Boat Cruise, Miami Seaquarium, Zoo Miami, Jungle Island, Vizcaya Museum and Gardens, Coral Castle Museum, Lion Country Safari and the Key Largo Glass Bottom Boat Cruise to name just a few. There are many incredible resorts to stay in with all the amenities you could ever imagine. You'll want to take advantage of every moment you spend in Miami and forget the winter while you bask in the warmth and beauty it has to offer.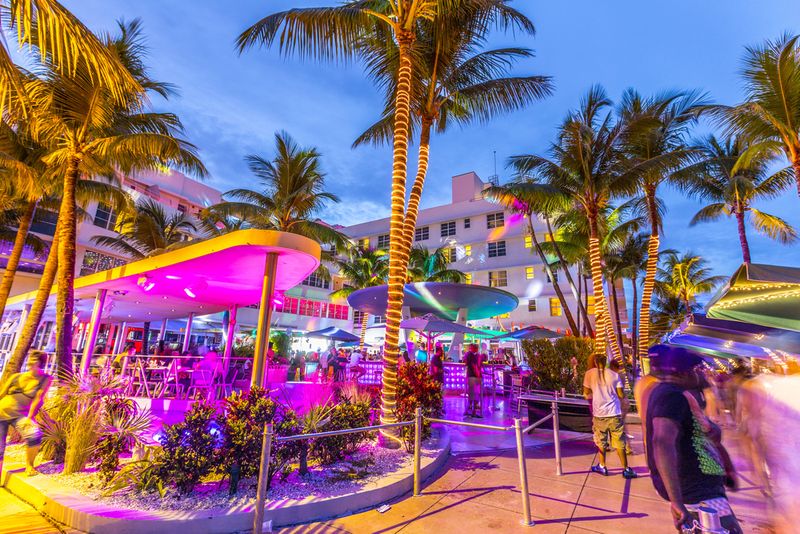 3. Dominican Republic
The Dominican Republic is part of the island of Hispaniola in the Caribbean region. It's the second largest nation in the Caribbean region after Cuba with a population of nearly 10 million. It is the most visited destination in the Caribbean because of its golf courses which are open year-round, not to mention its warm inviting climate, breathtaking scenery and the cultural uniqueness.
The area is picture perfect, inspiring many a postcard with the lush sandy beaches, crystal clear water, amazing waterfalls, and tropical forests. Parque Nacional del Este offers Saona Island beaches and tropical forest, Bavaro Beach of Punta Cana offers the most popular resort vacations, the Marinarium exhibits off-shore reefs and marine life where you can go on a snorkel tour and get up close and personal or perhaps you'd like to go zip-lining or horseback riding at Scape Park at Cap Cana. Whether you are the adventurous type or more laid back, the Dominican Republic always has something incredible to experience.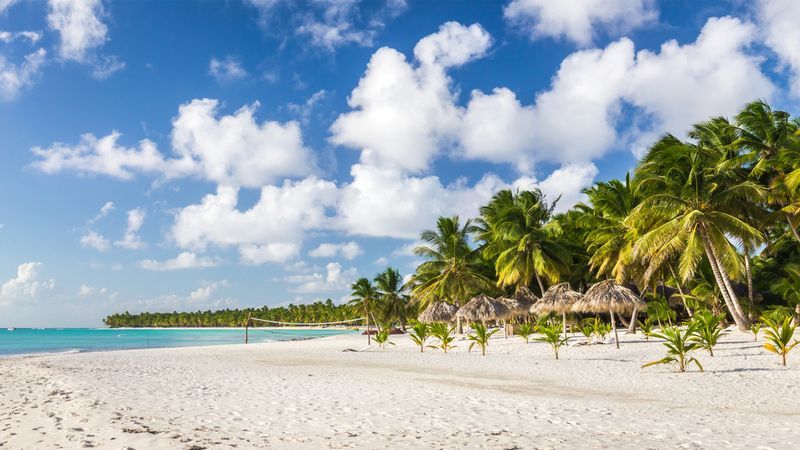 2. Los Angeles, California
The City of Los Angeles, also known by its initials L.A., is a bustling California metropolis and the second largest city in the United States. It's well-known for its inviting warm climate, ethnic diversity, film and television industry and of course…the celebrities. With all the entertainment, culture, shopping, fashion and media around, Los Angeles is a city of endless possibilities. If you can't find something to see and do there, you aren't opening your eyes.
Take a walk down to Union Station on N. Alameda St or stroll down Olvera Street where you can shop for your souvenirs and take in all the cultural displays. Not far from Union Station you can go to the Los Angeles City Hall, which you'll probably recognize from many movies in which it appeared, and go up to the observation deck for an incredible view of downtown L.A. For a little cultural nourishment, you can visit Walt Disney Concert Hall for some classical music or Jazz or perhaps the Performing Arts Center, one of the largest and most highly regarded performing arts centers in the U.S. There is so much to see and do in LA, you can spend months here and never see the same thing twice.
1. Kauai, Hawaii
Kauai, appropriately called "Hawaii's island of Discovery", is the oldest and fourth largest of the main Hawaiian Islands. It's known as the "Garden Isle" and measures 105 miles (169 km) across. The highest mountain on the island is Kawaikini at 5,243 feet (1598 m). The island is home to thousands of wild chickens which were brought there by Polynesians for food. Having few natural predators, the chickens have thrived there and have since mated with European cock-fighting chickens that have broken free.
The Waimea Canyon often referred to as "The Grand Canyon of the Pacific" though not as big, is 14 miles long, one mile wide and 3,600 feet deep – a geological wonder in its own right. The Napali Coast with its emerald green pinnacles, panoramic view of the Pacific Ocean and cascading incredible waterfalls offers boat tours, kayaking, challenging trails and incredible adventure. Zip-lining, kayaking, whale watching, snorkeling, scuba diving, surfing, and mountain tubing are some of the activities waiting for you on this tropical getaway. The natural wonders on the island are one of a kind and must be experienced to be fully appreciated.