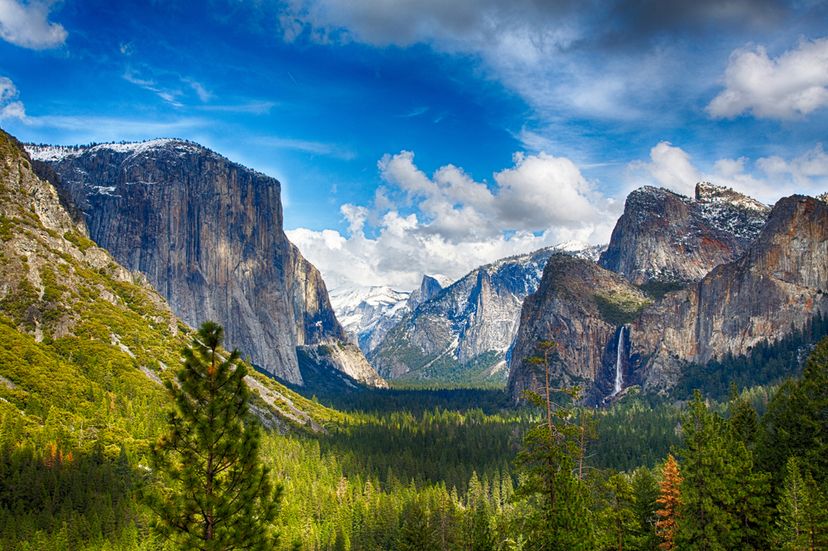 California is home to 38 million people and is the most populous state in the United States and there is absolutely no shortage of things to see and do in this state. Besides the obvious attractions such as Sea World and the famous San Diego Zoo there are so many interesting and unique places to visit here. From the hottest place on earth to a behind the scenes tour of Warner Bros. Studios to the most crooked street in the state; you cannot possibly run out of things to do. Along with the obvious and awesome attractions such as Disneyland we have discovered the interesting and unique side of California. Discover our list of ten things you should see and do next time you are in this sunny state.
1. Visit Disneyland
If there is one thing that screams "you must visit when in California", it's Disneyland. Sister park to the enormous Walt Disney World in Florida; this scaled down version happens to be more family friendly, accessible and easier to visit if you only have a couple of days. Two major parks make up Disneyland; Disneyland Park and Disney California Adventure with a larger-than-life sleeping beauty castle in the middle.
Choose to stay in one of three hotels on the resort and it's a quick and easy walk to both parks that happen to be located right across the street from each other. A monorail is also in place to provide easier transportation from park to park. Attractions and rides such as a bobsled ride down an icy mountain or the spectacular nighttime parade will keep your days full and exciting. If you only happen to have one day to explore this magical place; make sure to make the most out of it by choosing ahead which attractions, shows and rides you want to see and do.
2. Zig Zag Up Lombard Street
Located in San Francisco, this east-west brick street is famous for its steep one-block section that contains eight hairpin turns. It's rumored to be the most crooked street in the world due to these eight hairpin turns. The street was designed in 1922 in response to vehicles not being able to make it up the steep grade of the hill. Now visitors flock to this unique street to drive or walk down it.
To avoid waiting in a line to drive down this famous street head to Lombard during the week where it should take you approximately two minutes to get around those curves. Take it slow and appreciate the views of the city as you wind your way down. Walking the street puts it in a whole other perspective. Straight stairs allow visitors to walk up or down and snap some unbelievable pictures. The flowers in the spring, the views of Alcatraz and the city views will leave you breathless. Visiting Lombard Street is a must on any trip to California.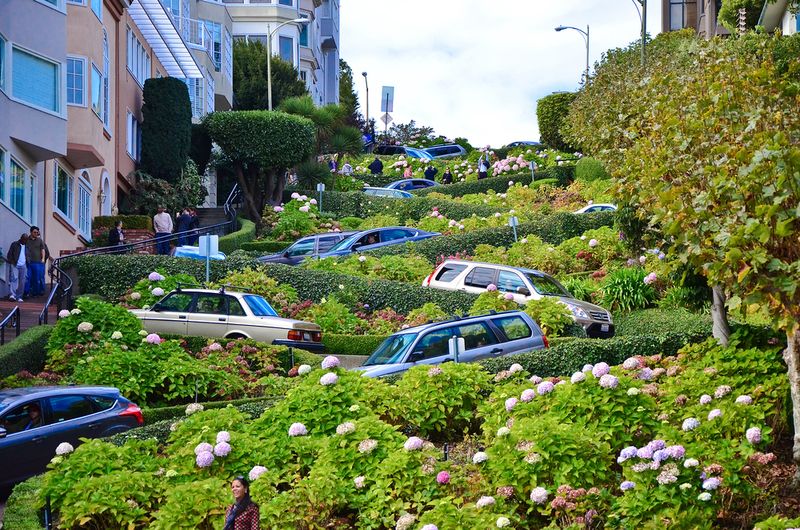 3. Visit Alcatraz
This is one attraction that is a must see sooner than later as the prison is literally falling apart. An incredible piece of history; visiting and learning about "life on the rock" will truly knock your socks off. To get to Alcatraz you must board a ferry that takes hundreds of passengers a day; the same route that once ran prisoners over to the island.
A park ranger will meet you upon arrival to give you a brief history of the island and the do's and don'ts while you are here. There are generally three options of exploring this prison and the grounds; by guided tour, self-guided audio tour or simply wandering on your own. The self-guided audio tour is the favourite choice and will lead you through the prison step by step. The voices on the audio tour even include former cellmates. Escape attempts, food riots and solitary confinement will all be described as you wander through the actual cells, kitchens and dining halls. Watch as the current crashes against the rocks and imagine the prisoners as they tried to escape. A riveting experience and one that will too soon be gone, as the prison deteriorates quicker and quicker each year that passes.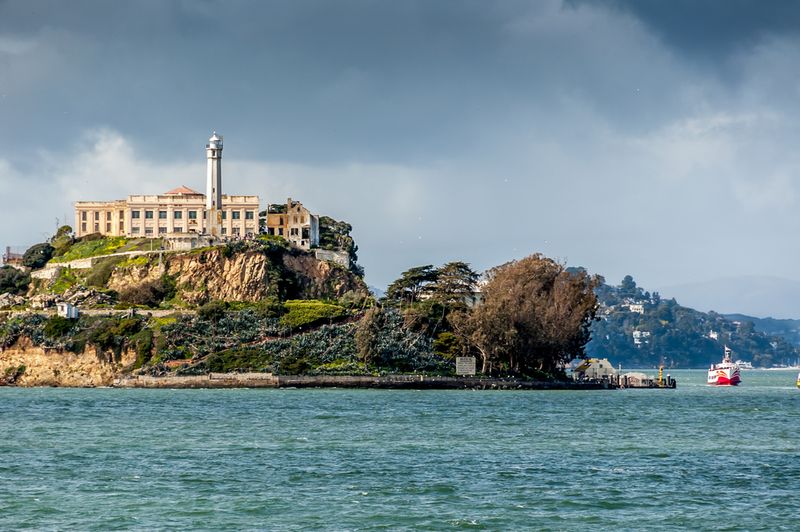 4. Yosemite National Park
Known for its granite cliffs and waterfalls, Yosemite National Park's breathtaking scenery was responsible for the creation of the National Park System. You have to be in mildly good shape to take in this park as it does require some hiking to view the most fabulous sites. Head in on one of the roads that lead you to the valley floor where most of the best attractions are located. Whether you are coming in for a day trip or camping; Yosemite will beg you to stay just a little longer.
Cross off climbing an unbelievable hike on your bucket list if you dare to try your luck at Half Dome as you haul yourself up a granite dome along a set of slippery wet cables. The reward is a stunning view overlooking the valley floor and the triumph of pulling off such a hike. Or head to the famous Yosemite Falls where three separate falls make up the fifth highest waterfall in the world. Yosemite is full of places to discover and it is best to do some research before hand on what you would like to see and do in this amazingly beautiful national park.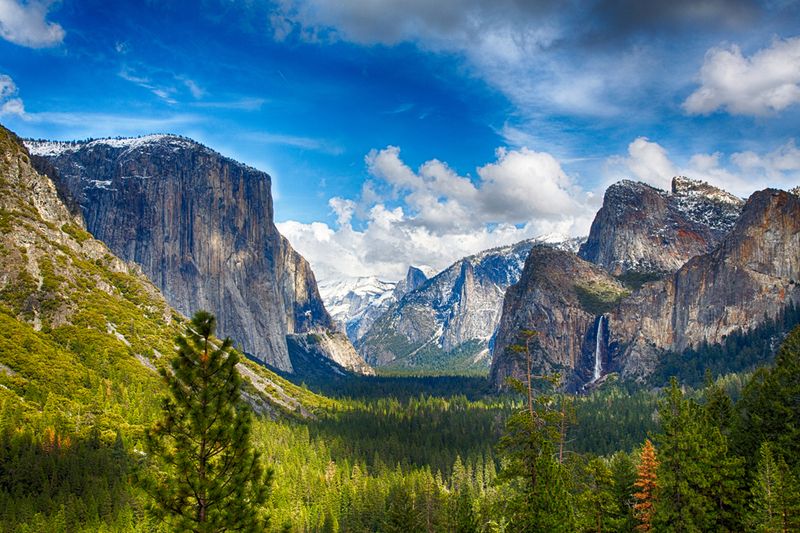 5. Warner Brothers Studio Tour
Have you ever wondered what happens behind the scenes of your favourite T.V or movie? Have you ever wondered what the sound stages and screening theatres look like? The Warner Bros. Studio Tour offers the perfect opportunity for visitors to go behind-the-scenes in a real working film production area. This is not your typical theme park attraction and each tour runs differently depending on what is being filmed at the time.
Tour the twenty some odd acres of exterior sets where guides will point out significant spots such as the place where Spider Man and Mary Jane first kissed. Visit the studio museum where artifacts, scripts and props are all on display, not under glass but right in front of you. Tour such places as the costume departments, editing rooms and you may be lucky enough to see one of your favourite films in action as well as discover building fronts that are built just for show. For over 75 years Warner Bros. have been making movies here so come witness a part of this history with the ultimate behind the scenes tour.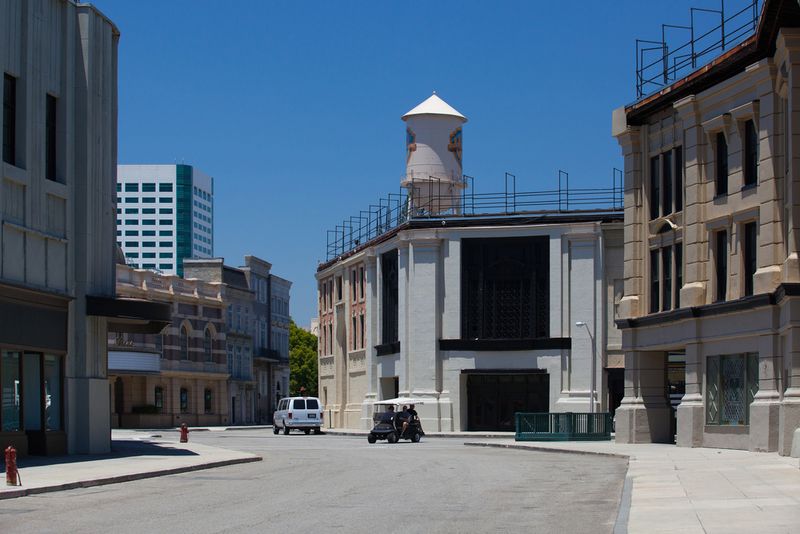 6. Visit Death Valley
Known as the hottest place on earth and the driest place in North America; this desert valley reached a whopping 134°F in 1913. Death Valley has a barren, rugged and yet surprisingly colorful beauty that reaches out to millions of visitors a year. Escape reality and feel like you are on another planet as the crazy landscapes surround you.
The lowest point in North America was once a lake but is now a 5 mile wide swath of white salt called Badwater. This almost surreal spot is a great starting point for your explorations. Head to Artist's Drive next with its multi-hued volcanic and sedimentary hills. Or catch the sunset at Zabriskie Point where eroded badlands make this a popular stopping point. The highest dunes in California reside here as well as the 600-feet deep Ubehebe Crater; along with a dry lakebed nicknamed the "racetrack" where rocks mysteriously slide across the sand leaving long tracks for visitors to ponder. These 3.4 million acres of desert and mountains are home to the most unusual landscapes and scenery and will surely be one of the highlights of your California adventure.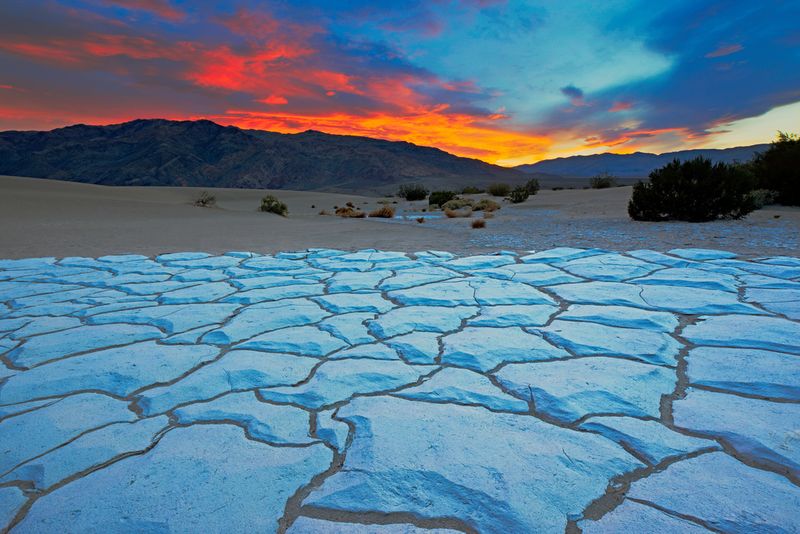 7. Visit a Haunted House
Dubbed as one of the most haunted places in America by the Travel Channel, the Whaley House is located in Old Town San Diego and is a must stop for anyone looking for a good ghost story, and perhaps even a ghost encounter. Smack dab in the middle of where criminals used to meet their end by way of hanging, Thomas Whaley purchased the land and built his castle.
Built in 1857, this structure became the home of the Whaley family, a general store, a theater for the first stage plays and an old court. Sightings of ghosts and paranormal activities have become so common that every tour guide has a different experience to tell of. Open during both the day and night, it is up to each visitor to determine if they are brave enough to explore the house in the dark. Guided ghost tours at night add a different element and most visitors who have felt and saw spirits or ghosts have been at night. The excellent staff will answer any questions, give you a brief lesson in the history and encourage you to take photos and videos. The real question is, are you brave enough to go in?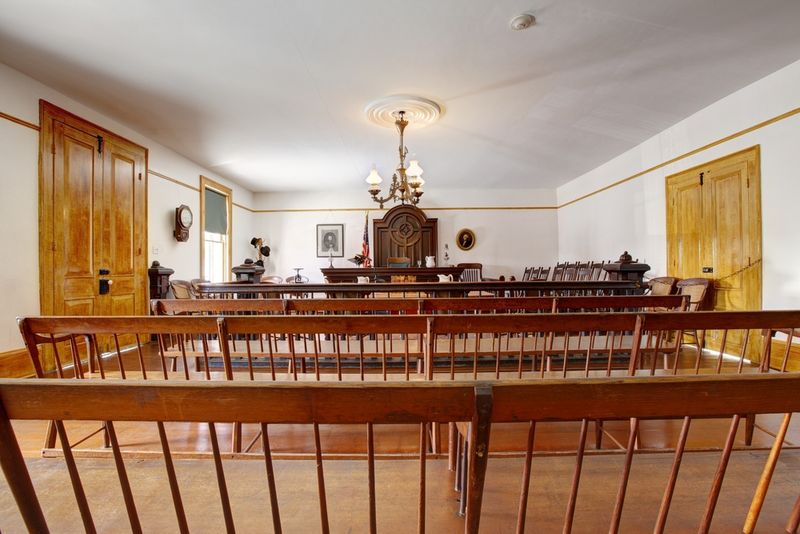 8. Hike to a Shipwreck
The hardest part might be finding the unmarked trail that leads you to a rusted out, photo opportunity worthy shipwreck that is scattered in pieces along the beach near Rancho Palos Verdes. The SS Dominator ran off course on March 13, 1961 off Palos Verdes and after two days of coastguards and tugboats trying to refloat her, they abandoned the ship. The heavy waves that pound this area have broken the ship up and it now lays dispersed amongst the rocky shores.
Not for the faint of heart, getting to this shipwreck involves a very steep and rocky trail. Only attempt this if you have proper footwear and are prepared for rocks, rocks, and more rocks. Along the way you will find tidal pools full of marine life such as starfish, crabs, and urchins. The rusted out wreck is truly the prize at the end of the hike. Being up close and personal and imagining a ship that huge getting lost in fog and how strong the waves must have been to break it up into that many pieces is truly a spectacle. Be careful of the sharp rusty edges of the wreck but be sure to get close enough to take a picture of this incredible site located on the rocky shores.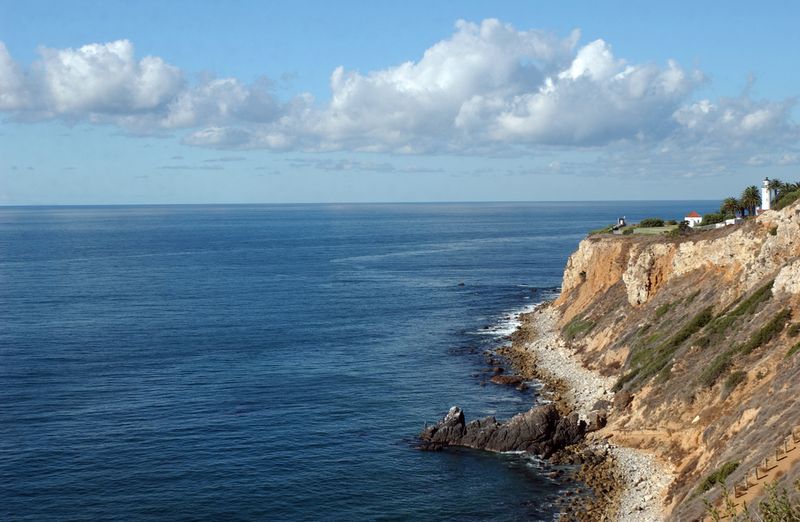 9. Spend a Night at the Madonna Inn
This unique quirky one-of-a-kind hotel is located in San Luis Obispo and boasts 109 rooms in total, with no two being the same. The eccentricity and quirkiness that surrounds this hotel promises to offer you an experience you will not find anywhere else. From the room that is made entirely from rock to the western theme room with tractor-seat bar stools to the cavemen room complete with a cascading rock waterfall shower and animal prints hanging on the walls, the choices are endless.
The steak house boasts bright pink inviting booths, colorful floral carpeting and extravagant decorations. The hotel offers live music and dancing every night of the week and features different artists and bands that are shown on their website. Tantalize your taste buds at one of the restaurants, cafes or cocktail bars where hand-crafted drinks and food will surprise and amaze you. But perhaps the biggest attraction here is the fountain urinal in the men's washroom in the downstairs lobby, after all it's not everyday a man can relieve himself into a water streak that is cascading down a rock wall into a drain below. Men; watch out for the ladies that are often found checking out this urinal in the men's washroom.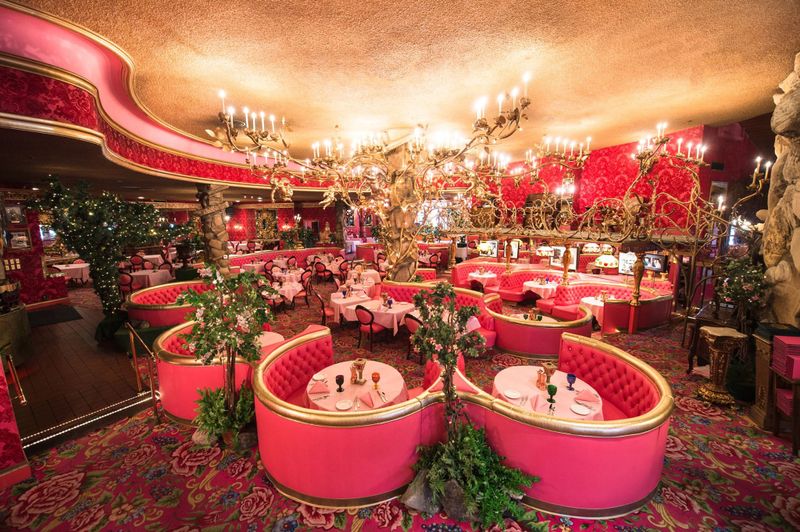 10. Visit the Golden Gate Bridge
Last but definitely not least on our list of things to see and do in California is to stop and visit the Golden Gate Bridge. A trip to this state certainly wouldn't be complete without a visit and photo of this iconic structure. In recent years the bridge has become more tourist friendly with the addition of the Bridge Pavilion, an informative center dedicated to telling the history of the Golden Gate Bridge.
Inside the pavilion you can find exhibits, merchandise and the "test tower" they used in 1933. Outside interactive exhibits will show you the history of the bridge and the science and technology behind it. Free walking tours are offered by San Francisco's City Guides and are an alternative to learn more about the bridge. Whether you are walking, driving, jogging or cycling; crossing this bridge is an important part of visiting California. Make sure to take plenty of photos and be aware of the opening and closing times of the sidewalks.