Move over Iceland; there's a new northern country in town. Long ignored by travelers, Greenland is finally earning its place on the international stage. With vast tracts of wild open spaces, huge ice fields and small, friendly towns with plenty of culture, it's little wonder that Greenland has been named one of Lonely Planet's top destinations. It may have gotten a bad rap because it's home to some of the coldest places on earth but there is lots to explore in this winter wonderland. If you're planning to book your ticket to the northernmost capital city in the world, here are 10 ideas to consider adding to your itinerary:
10. Sail Amongst Icebergs
This might seem a bit dangerous at first, but one of the most popular things to do in Greenland is to take an iceberg sailing tour. An expert guide navigates through the narrow passages between icebergs, bringing you up close to one of nature's most awesome forms of art. While boat excursions are possible at any time of year, summer offers the most open water. The bergs are drifting southward during this time, many of them melting. You might even spot a whale or two! Boat trips are just a way of life for Greenlanders; you'll probably take a boat just to get from point A to point B a couple of times during your trip. If you do take a tour, keep in mind that there are no official routes, so each trip may take you to a new location, like a waterfall.
9. Take a Dog Sledding Tour
While boats are popular modes of transport and snowmobiling has largely displaced dog sleds, you can still experience this traditional mode of transport by taking a dog sledding tour during your Greenlandic excursion. There's nothing quite like the symbiotic relationship between a musher and his dogs, the dogs' paws pounding out a rhythm over the snow. Even though dog sledding is a wintertime excursion, the colder temperatures will be made more tolerable as you sip a warm cup of tea while bundled up in a sealskin garb and wrapped in a reindeer skin blanket—traditional parts of the dog sled experience! Another part of the experience is a heavy dose of Greenlandic culture, as dog sledding has been an integral part of myths and legends for 5,000 years. Many stories are entwined with dog sledding—and you may hear a few of those tales along the way.
8. Hike to Norse Ruins
Hiking is a popular pastime throughout Greenland. With a range of different landscapes, the terrain is almost certain to challenge and the untamed wilderness of many areas will attract those travelers looking for adventure off the beaten path. Some of the more tame hikes will take you to various Norse settlement sites, where you can still see ruins. The Norse settled in Southern Greenland, but had all but disappeared by the 1700s. The best preserved ruins are in Hvalsey, which was part of the Eastern Settlement, near modern-day Qaqortoq. The ruins of Hvalsey church are considered the best-preserved example of Norse architecture and settlement in Greenland. Other sites include Brattahlid, Erik the Red's estate near Qassiarsuk; Sandnaes near Kilaarsarfik; Dyrnaes north of modern-day Narsaq; and Gardar, which was the seat of the Norse bishops.
7. Trek to an Ice Cap
Despite the name, huge portions of Greenland are covered in ice. While there is concern that much of Greenland's ice is melting away, one popular activity you can take part in is hiking out to an ice cap. In the south of Greenland, you can take the Iceview Plateau Hike, which departs from Narsaruaq. The trek takes about 5 or 6 hours to complete. The first stage of the hike is pleasant, with varied scenery. A milky-blue river wends its way through valleys. The real hike begins with the incline; bright blue ropes mark the way and you may need to pull yourself up as you gain 300 meters in altitude. At the top, you'll have a spectacular view of the pond-dappled Iceview Plateau. The area features a lake surrounded by glacial boulders. Descend into the valley and walk across 10,000-year-old ice.
6. Go on "Safari"
You might think that safaris only happen in Africa, but wildlife watching is one of the most popular activities in Greenland. Although the country doesn't have the abundant biodiversity that exists in Africa or South America, there are still plenty of opportunities to get up close and personal with some of Mother Nature's creations. Whale watching is one popular wildlife expedition. On steep mountainsides and sheer seaside cliffs, you'll find colonies of seabirds like puffins and auks. Snowy owls and arctic foxes hunt hares and ptarmigans. Reindeer, polar bears and arctic wolves roam the untamed wilderness. Seals and other aquatic wildlife dwell on beaches. The best time to visit is in the summer, when seabirds will be nesting and numerous whales move by the coast of Greenland.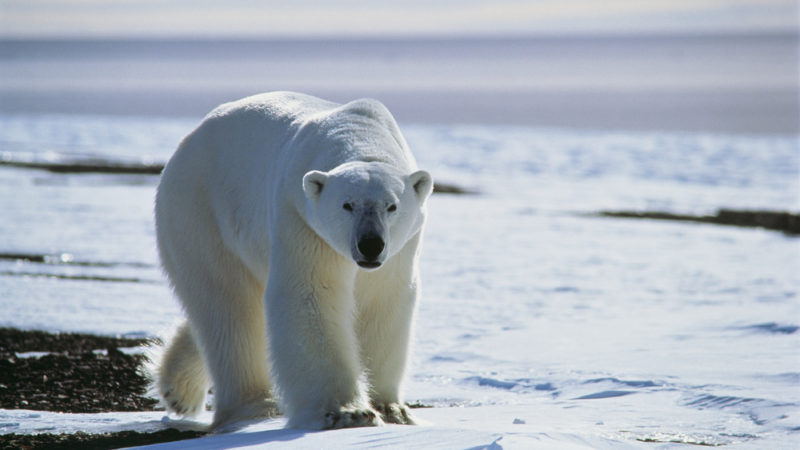 5. Visit Nuuk
Nuuk is Greenland's capital city and the world's northernmost capital city, just beating out Reykjavik by a few kilometers. Nuuk is also one of the smallest capital cities by population, with approximately 16,500 inhabitants. Nuuk has a long history, however, dating back to around 2200 BC. It has been inhabited by various Inuit peoples, including the Dorset culture and the Thule, as well as the Norse and eventually the Danish. It was the Danes that founded the modern city. Nuuk is situated on a fjord, with a mountain as the backdrop, making the city scenic at any time of year. Nuuk is the cultural center of Greenland, with museums and heritage buildings, as well venues for concerts, conferences and exhibitions. Nuuk is also the center for professional sports. The Greenland National Museum is located in the city.
4. Explore an Abandoned Village
Greenland has a number of sites that have been either abandoned or built over top of; many modern communities sit on ruins or very near to former settlements. The Norse ruins are good examples of this; Sandnaes and Dyrnaes, for example, are just a few kilometers from modern communities. Another good example is Kangeq, an abandoned fishing village near Nuuk, Greenland's capital. It is located on a small island, which was also the site of the first Danish settlement in Greenland, between 1721 and 1728. In 1728, the Danish colony was moved to the mainland. Kangeq has been an important site for the Inuit peoples of Greenland for thousands of years; the Thule people settled there and Kangeq functioned as a traditional fishing village until the 1970s. The village has been used as a stand-in for 1950s Nuuk, and the ruins are sometimes visited by tourists.
3. Experience Traditional Cuisine
You've taken a dog sled trip or a boat trip and heard traditional Greenlandic stories. You've explored both Inuit villages and Norse settlements. You've even seen Greenlandic art and history at Nuuk's museums. But there's more to Greenlandic culture yet—have you tried the traditional tastes? Suaasat, a traditional soup commonly made from seal, is considered Greenland's national dish. Meat and seafood are staples in most Greenlandic meals, with reindeer meat being the most popular food. Berry compotes, often made of blueberries and crowberries, are common accompaniments. After dinner, enjoy a cup of Greenlandic coffee, an alcoholic brew that's set on fire before serving. Beer is another popular drink; try the ice beer, which is made with 2,000-year-old Arctic ice water, brewed by the Godthaab Bryghus and the Icefiord Bryghus.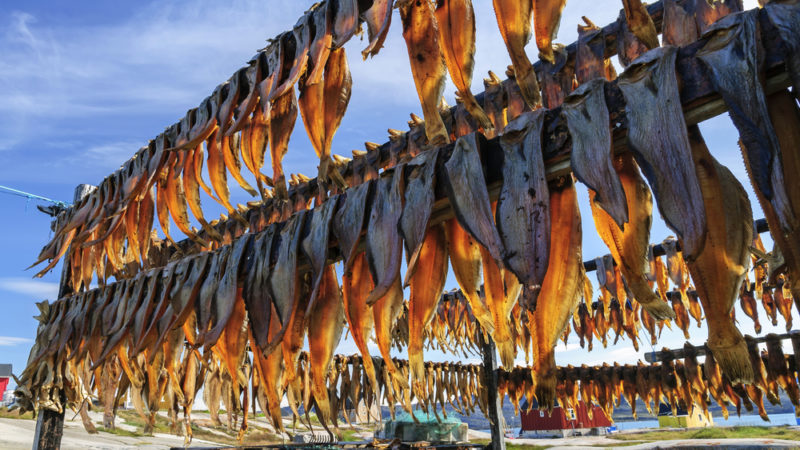 2. Participate in a Festival
Although most of the population of Greenland is Christian, Greenlandic culture has been heavily influenced by traditional Inuit beliefs, which are widespread even today. In many remote communities, Greenlanders still practice their traditions and religion. Many in Southern Greenland celebrate national holidays and Christian festivals using traditional Inuit costumes, music and dancing. In the summer, Greenland celebrates its National Day, which is also the longest day of the year. The celebrations are both an expression of national identity and of welcoming the short summer in the country. Many people wear traditional costumes, and plenty of singing and dancing are on the agenda. In the winter, Greenlanders celebrate the return of the sun after the long polar night, typically in mid-January. In December, they celebrate Christmas, although Christian traditions are mixed with expressions of Inuit culture and identity.
1. Go Kayaking
The Thule people arrived in Greenland thousands of years ago and they brought with them 2 modes of transportation: the dog sled and the kayak. Since that time, kayaking has been an important part of Inuit culture, and many Greenlanders still use kayaks just to get around. If you're not up for taking a boat trip with someone else piloting the vessel, a kayak adventure is just what the doctor ordered. Rent a kayak and head out into one of the many fjords and bays. Show your daring by navigating through fields of icebergs or paddling with the whales as they swim by in the summer waters. Take your kayaking tour to hard-to-reach areas, such as the sheer cliffs used by nesting seabirds. Ask the locals about points of interest; there may be waterfalls, ruins or even an eagle's nest nearby.