North America is full of unique hotels, RV sites and camping destinations, but for travelers that are itching to explore the outdoors without sacrificing amenities such as hot showers and a comfortable bed, they are in luck. Glamping has come to North America and is taking the world by storm, combining the comforts of home with an epic experience in nature. From luxurious safari tents that feature private hot tubs to personal chefs and butlers at your beck and call, spending the night in the wild doesn't mean sleeping in a wet tent anymore. There are endless opportunities to get your 'glamp' on in North America and here are 10 of the most unique.
10. Soule Creek Lodge, British Columbia
Soule Creek Lodge is one of the most talked about fashionable glamping lodges with its chic yurts and upscale cabins. The goal of this lodge is to introduce visitors to the West Coast and show them the true authentic experience. This includes visits to some of the largest trees in the world, treks down to the beach and eco-marine adventures. Visitors should take advantage of the amazing yurts here as they are unlike any other in the world. Each one is slightly different but some of the most talked about amenities are the natural stone mosaic tiled showers, the spacious living room within the yurt, the large number of windows to let natural light in, the fine furnishings, the native artwork and the absolutely stunning views of the ocean they offer. Overall this lodge is one of the best glamping experiences in all of North America and guests return each year to enjoy it.
9. Long Point Eco-Adventures, Ontario
This adventure resort is located just two hours from Toronto, Ontario but visitors will truly feel like they are deep in nature, without the hassle of setting up camp. The luxury tents feature queen or king beds, private flush toilets, hardwood floors, electrical outlets, mini-fridge and an outdoor shower. Muskoka chairs out front on the makeshift porch completes the picture perfect glamping experience. Along with these gorgeous safari style tents, this resort features zipline and canopy tours, kayaking and mountain biking. An on-site observatory lets overnight guests use the free telescope to gaze up at the stars and the winery that is housed just across the street encourages visitors to come for tastings and dinner. This unique outdoor adventure retreat is the perfect spot to get your 'glamp' on and truly enjoy what nature has to offer.
8. Dunton River Camp, Colorado
This small exclusive all-inclusive resort is located across the mountain from Telluride and offers guests the ultimate in luxury glamping. With your choice of mountain or river tents you can assure either one offers a king bed, en-suite bathroom with soaker tub, shower and heated towel racks, a gas stove and WiFi. Mountain bikes are included for you to go out and explore the trails. The food is world class with the chef using only local organic ingredients and pairing the food with exceptional wines. The outdoor fireplace beckons you after dinner to enjoy a glass of single malt whiskey and a freshly cooked s'mores. The sauna that sits by the river, the fishing that awaits you a stone's throw away and wilderness that surrounds you makes for an incredible glamping experience.
7. The Resort at Paws Up, Montana
The best and most well known glamping in the US is at the breathtaking luxury resort at Paws Up in Montana. Safari like tents boast fine linens, rustic furniture, a private en-suite bathroom, a skilled on-camp chef and a butler for your every need. Your camping butler will do everything from build the fire to prepare delicious s'mores to help you arrange your daily activities and transport. Offering both family friendly tent options with two bedrooms and romantic honeymoon packages; there isn't an occasion that you can't celebrate here. From horseback riding to fly fishing to chuck wagon rides; this ranch is full of activities. If you are planning on spending more than a few nights here and crave the luxury of home, this resort offers a few luxury homes that include hot tubs, high-speed internet and other amenities. You better have deep pockets to stay here though; nightly rates for the glamping tents start at $1200.
6. Treebones, California
This family run unique glamping experience is located on Big Sur Coast; a breathtaking destination that offers visitors the chance to become part of a coastal yurt community for a few days. The community here is made up of the family of five who started Treebones and their 20 plus employees; making you feel as you are truly part of the family. The yurts themselves are stunning with redwood decks facing the ocean and outfitted with plush beds, cozy quilts and both hot and cold running water in the yurt. With an on-site lodge complete with restaurants, restrooms, shower facilities, convenience store and a hot tub and heated ocean view pool; there is no shortage of amenities here. Enjoy daily hikes, ocean kayaking or simply just enjoying the breathtaking views. If you are really feeling adventurous Treebones offers incredible camping sites including one featuring the human nest; a wood woven human sized nest complete with mattress.
5. Skeena Meadows Wildlife Preserve, British Columbia
This wildlife preserve stretches over 685 acres and is located in a valley, boarded by the world-class Skeena River on one side and spectacular mountain views and wildlife on the other. Glamping gets taken to a whole new level here with their 864 square feet tents that feature such luxuries as leather furniture, full kitchen facilities, hot showers and fine linens. To make these accommodations even more unforgettable they have added two outdoor decks and a wood fired hot tub to each tent. Along with the five star tent, this wildlife preserve includes a covered 4×4, side by side ATV for your personal use to explore the property. The most popular activities here are pheasant hunting and fishing, as the preserve is actually a pheasant preserve. Top notch food, service and accommodation makes this wildlife preserve feel more like a five star resort than a glamping experience.
4. Sequoia High Sierra Camp, California
If you want to be a guest at Sequoia High Sierra Camp in California you will have to hike a one mile trail to get here. This unique camp is tucked away in the mountainside and offers deluxe canvas tented cabins complete with plush-top beds, artisan furniture and include a daily maid service and all linens, towels and toiletries. An open air dining pavilion with a wood burning fireplace and a central bath house with hot showers complete the camp. Dining options include five course meals cooked by a skilled chef, a pack your own picnic lunch and a variety of local craft beer and wine. With activities such as hiking, bird watching, horseback riding and fly fishing located just a short hike away; it is easy to understand why glampers love this spot. Staying here gives visitors a true opportunity to explore California's Sequoia–Kings Canyon National Parks.
3. GAK Resort at Treasure Mountain, British Columbia
If you are looking for a unique glamping experience in a modern yurt, look no further than the Gak resort located just two hours east of Vancouver. The Gak features eco-friendly accommodations, meals made from local meats and produce and a breathtaking nature haven full of forests, wildlife and lakes. The yurts are enough of a reason to visit as they are completely off the grid, featuring solar technology, composting toilets and rainwater collection for showers. The yurts also feature huge skylights which let in the light during the day and give visitors breathtaking views of the stars at night. Other activities here include hiking, fly fishing, yoga or simply lying in your personal hammock on the deck of your yurt and connecting with nature. This unique off-the-grid resort takes glamping to a whole new level.
2. Mustang Monument, Nevada
This luxury wild horse eco-resort offers guests customized safari adventures while providing them with luxury amenities and offering a unique experience to become one with nature. Luxury tipis are the favorite accommodations here and are outfitted with hardwood floors, custom-made furniture, plush leather chairs and fine linens. The luxury bathhouse located near the tipis offers glassed in showers, Jacuzzi style tubs and plenty of hot water. Activities are endless at this eco-resort from mustang safaris to guided treks to rock climbing to roping to spa treatments. All inclusive rates include most activities and five star meals, beverages and snacks and start at $1200 per night.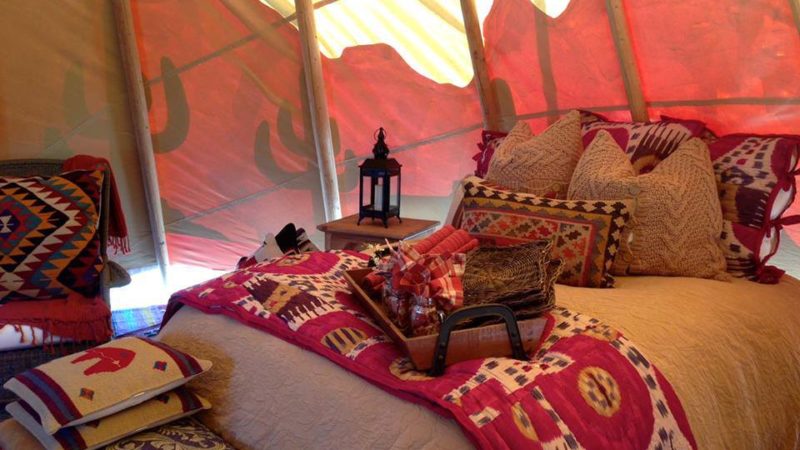 1. Clayoquot Wilderness Resort, Vancouver Island
This wilderness resort actually topped the list for being the most expensive hotel in all of North America in 2014 according to a survey done by TravelMag and it's not hard to see why people will pay big bucks to stay at this luxury glamping resort. The luxury ensuite tents are truly above the others offering both a king size bed and a double bed along with an ensuite bathroom featuring heated floors, a flush toilet and a beautiful large indoor/outdoor shower with double shower-heads. These tents become even more beautiful with their antique dressers, wood stove, opulent rugs, oil lamps and heirloom china and silver accessories. The tents are hidden in the rain forest canopy or perched amongst the trees. This all-inclusive resort includes activities such as whale watching, horseback riding, fishing, surfing, zip lining and everything else one can imagine they would want to do in the wilderness outside of Tofino on Vancouver Island.