This is the eighth in our special "12 Days of Giving" series running for the holiday season. It's a little different from what you might think of as traditional presents or giving. We aren't really talking about stuff you buy or a gift list. Rather, on these 12 days, we will be talking about different gifts that you can give to yourself, or others — those that have a deeper meaning, that can help you live with intention, be happier, be healthier. Soul gifts, you might even call them. Join us on the journey.
Passion is what drives us as human beings, what makes things desirable and worthwhile. It's why we fall in love, why we pursue a certain profession or talent, why we take up causes, why we explore the world. The dictionary defines passion as a "strong and barely controllable emotion."
So how do you find your passion? How do you develop it, and gift it to yourself or others?
While that can be a tricky and complex question, there are a few different schools of thought about passion.
First of all, there are certain things in life that you just know you're passionate about, that you probably always have been for about as long as you can remember. Things that you can't imagine not doing or not having in your life. For example, for me some of those things are: reading, writing, animals and travel. They've always been a part of me, and I wouldn't really be me without them.
"Nothing great in the world has ever been accomplished without passion." ~Georg Hegel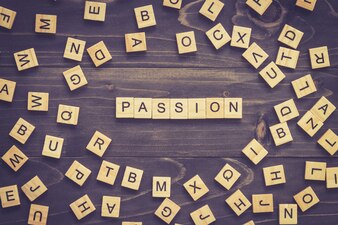 So part of giving yourself the gift of passion, is giving yourself the room in your life for those things you are passionate about. Making sure they are a part of your life in some capacity. When it comes to animals, I've almost always had pets (and have a dog right now, Selma). But I also volunteer and foster quite a bit for several animal rescue organizations (I have a foster dog right now), I dog-sit regularly for other people, and I often incorporate animal/wildlife activities in my travel. Bingo! Hitting two passions with one stone!
I make travel a priority — I forego a lot of other things that people spend money on like new car payments, expensive haircuts, new furniture or extensive wardrobes in order to put money back to fund my travel. I read books like they're going out of style, and as far as writing — well, I built an entire career around it.
Which brings me to one of the differing opinions about the idea of "following your passion" as your work livelihood.
Should you build a career around your passion?
Personally, I think there's no right or wrong answer to this question. Many people, myself included, do exactly that and because of it, lead incredibly happy and fulfilled lives. Not feeling like they are working at a job they don't really like, or merely tolerate, or even like but don't love. In short, a job. Instead, we feel like we aren't really "working" the way other people define it, so to speak, because we get to do what we love every day for our living. For people like us, we also generally can't imagine not doing our passion work, or doing anything else.
This defines me as a writer; and I have many friends and acquaintances who fall into this category as musicians, people who founded nonprofits around a cause they are passionate about, people who started up entrepreneurial ventures, and many more.
But this isn't always the best route or piece of advice for everyone. Take this article in The Atlantic, for instance. Carol Dweck, a psychology professor at Stanford University, thinks that advising people to follow their passion in work is steering people wrong. That it can lead them to think that if they don't experience an overwhelming sense of emotion about the work they're doing, or if you in fact do anything that feels like work, you are in the wrong career. Personally, I can say that these two beliefs are misguided, even if you are following your passion in your work. While overall my work is my passion and I wouldn't want to do anything else, it most certainly does feel like work many times; there are many days or projects where I just plain don't feel like doing it; and I often decidedly do not feel an overwhelming sense of emotion (at least, not positive emotion) about what I'm doing at that time. That's just life, in my opinion.
Dweck and two other college professors conducted a study on this, and now argue that passions aren't found — they're developed. For example, you may not have ever known that you were passionate about a certain subject, until perhaps you attend a class or a lecture or have a conversation with someone who knows a lot about it, and find yourself thinking it is incredibly interesting and fascinating. To the extent that you delve into it and become passionate about it. I do think that this happens to us a lot throughout life; I've gotten much more passionate about cooking in the past decade or so (though I would never want to make that my career), and I didn't really develop a passion for travel until I was gifted a month-long European trip as a high school graduation presents (thanks Mom and Dad!)
When it comes to making a passion your life's work, I think it depends on A) What kind of person you are; B) what the passion is; and C) what else you are good at or passionate about.
Like I said, I'm very passionate about food and cooking, and it's something that I enjoy immensely. But I would never want to work in that field; I think it would quickly kill my love for it. Some passions are better off left as hobbies or side interests. To give you another example, my partner Keith loves scuba diving. He's been certified for a long time and he goes on dive trips frequently (he has one coming up in less than two weeks), or goes diving while he's on other travels. He even got me into diving to a certain extent; although it's not a passion for me like it is for him, I've done those "introductory" dive sessions in Nicaragua and in Australia and had a blast. At one point, Keith even considered becoming a dive instructor or leading people on dive trips. But the more he thought about it, the more he realized that to make an activity that he enjoyed so much into a job, he believed that he would lose the joy he got from it, just as a diver.
Cultivating your passion
In his book So Good They Can't Ignore You, author Cal Newport writes, "There's little evidence that most people have pre-existing passions waiting to be discovered, and believing that there's a magical right job lurking out there can often lead to chronic unhappiness and confusion when the reality of the working world fails to match this dream." Newport's main point is that you don't have to discover your dream job, you create your dream job. In this article on Medium, Rey HS shares some good advice from Newport and others about how to cultivate your passion into a dream job.
Maria Forleo, that I follow and love to read, has another take on passion. Writing for Oprah Magazine, Forleo says that the problem with trying to find our passion is that we think about it and analyze it too much; in short, we're using our heads, when passion lies in our hearts.
Here are a few other great articles and resources on cultivating your passion:
You don't have to be good at your passion — just do it!
I had to throw this in there because I think it's important. Like I said at the beginning of this story, we all have passions, big and small. Some of them could possibly fuel our entire career, while others make up a piece of our life that makes it that much more enjoyable. That is cooking and caring for animals, for me; while my passion for writing is my life's work.
But believe me, I'm no great chef. I'm a pretty good cook, so don't think I'm belittling myself. I would say I'm above average, even. But it would terrify me to compete on a cooking show, even one like Master Chef that is geared towards non-professional home cooks. And there's no way I am good enough to cook in any restaurant. Could I get that way if I cultivated and developed that passion because I really wanted to? Yes, probably. But I don't want to. I want to keep my cooking as an enjoyable hobby, and I don't have to be James Beard material to do that.
Let's look at other potential passions someone might have: dancing, or athletics, or painting. You don't have to necessarily be great at any of these things to make sure they're incorporated into your life. If you are truly passionate about something, it must be a part of your life. There are plenty of places around that have dance classes, whether formal studios or even clubs and live music venues, like White Horse in my Austin neighborhood, that offer regular dance lessons (often times even for free). For someone who loves to dance, that could be a fantastically fun thing to incorporate into your life. Maria Forleo's article is an example of just how she approached this with dance. Or joining a local soccer, swim or volleyball team, if sports is your thing. Take an art class, or get together a group of like-minded friends who want to meet once a week or once a month at someone's house to paint, drink wine, and enjoy each other's company. Or just go buy your own art supplies and make a commitment to yourself, to give yourself the time each week to immerse yourself in that passion.
Don't let fear of not being the best at something, hold you back from doing it.
Above all, make sure your passions are part of your life!