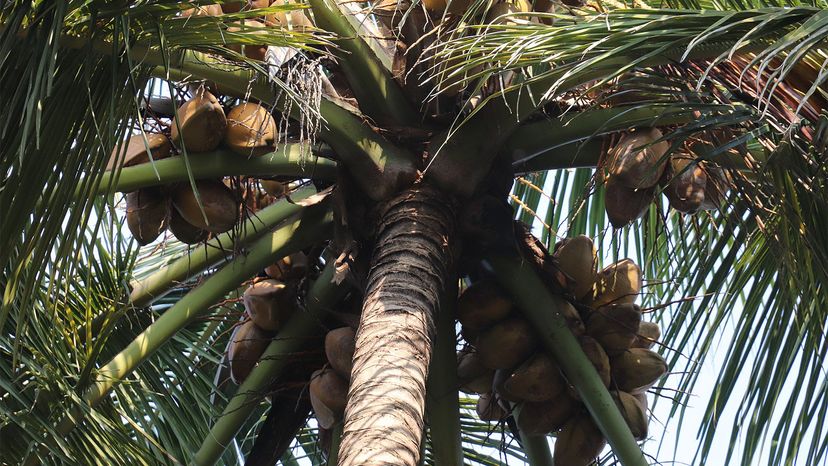 If you've seen the 2000 movie "Cast Away," you probably remember the scene in which Tom Hanks' character, who survived a plane crash and found refuge on a desert island, struggles to crack open coconuts before finally figuring out how to tap into one and drink from it.
That moment is fairly commonplace desert-island-survival-movie stuff, but just how reality-based is the idea of actually living off coconuts if you were stranded and needed food and water? Well, it turns out that, in such a situation, a coconut palm tree actually could be your best hope for survival.
There are numerous species of palm trees that produce edible fruits, ranging from date palms, which have been cultivated since ancient times in the Middle East, and the snake palm, which produces a reddish-brown fruit whose pulp has a sweet, acidic taste, to the peach palm found in Central and South America, whose fruit must be cooked for several hours before it can be eaten. But if you're looking for the palm species that would produce the most nutritious fruit and would be likely to be found on a Pacific island, the fruit that Tom Hanks (and Wilson?) could have survived on, the choice narrows down.
"My main answer to you is COCONUTS!!" says Sara Tekula, director of programs at the Merwin Conservancy, a 19-acre (7.7-hectare) sanctuary for rare palms that was hand-planted by the late poet W.S. Merwin and features over 400 species of palm from around the world. "Coconuts, coconuts, coconuts."
The coconut palm tree (Cocos nucifera) is native to tropical islands in the western Pacific Ocean, according to the Missouri Botanical Garden. They're tall trees, growing as tall as 100 feet (30 meters), and have a trunk with a branchless, light gray trunk that's swollen at the base and topped by a crown of arching green fronds that stretch as long as 20 feet (6 meters). It has fragrant yellow flowers, which appear in clusters, and of course, coconuts, which technically are a fruit rather than a nut, and grow to up to 14 inches (36 centimeters) long.
Tekula explains in an email that although coconut palms aren't native to the Hawaiian islands, they are commonly found growing there and elsewhere in the Pacific. Atlas Obscura reports that nearly 40 percent of the world's islands exist within the climate zone that's hospitable to coconut trees.