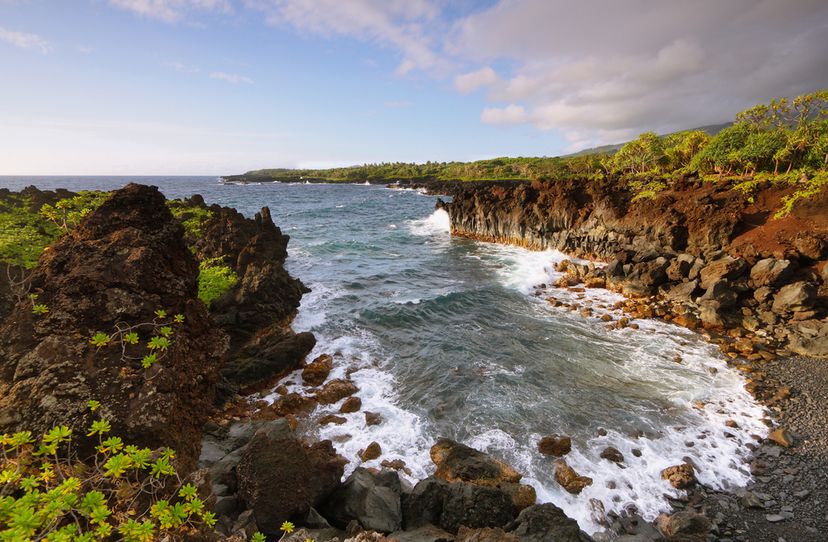 If you are having trouble deciding between a beach vacation or roughing it at a camping getaway, why not combine both in the ultimate beach camping vacation. All across the United States are breathtaking campgrounds that are located directly on the beach, high on top of beach bluffs or just a stone's throw away from the ocean. Although many beaches forbid overnight camping, and you have to be extremely careful of tides, these 15 campsites are sure to keep you safe and sound, as you fall asleep to the sounds of the crashing waves. Without further ado, here are 15 of America's prettiest beach campgrounds.
15. Ocracoke Campground – Cape Hatteras National Seashore, North Carolina
This barrier island in the Outer Banks is home to a few fabulous campgrounds, only accessible by boat or plane. Ocracoke Campground is the only campground right on the beach, only a short walk over the dunes to reach the water. The campground offers campers flush toilets, cold showers, drinking water, and nice soft sandy soil to pitch your tent on. One of the best beaches in North Carolina as it is constantly quiet, with just handfuls of shore birds that run back and forth from the water. If you happen to take a flashlight out at night you may be lucky enough to see the crabs scampering by. There is no shade at the campground and the mosquitoes can be common, but if you bring plenty of insect repellant and a couple sun umbrellas, you will be just fine. Enjoy visiting the second-oldest operating lighthouse in the country and the oldest in North Carolina on this amazing island.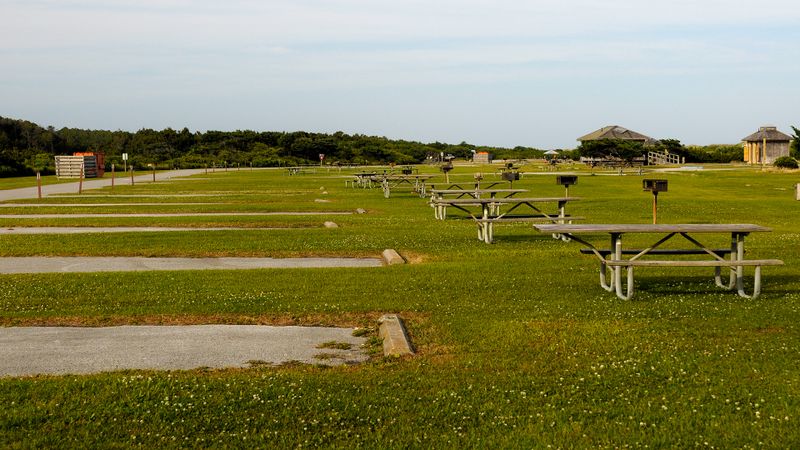 14. Bahia Honda State Park – Bahia Honda Key, Florida
The remote island of Bahia Honda Key is home to beautiful sunsets, snorkeling and incredible white powdery beaches. With over 72 RV and tent sites available, there are so many choices. Many of the sites are wooded which is a great relief in the hot Florida sun. Amenities include a marina, concession stand, electric hookups and lots of patrols to make sure everyone is safe. The snorkeling here is one of the highlights of the State Park and sea life includes stingrays, sharks, barracudas and tons of colorful fish. The sites that are located right on the ocean are perhaps the best of the best, with an ocean beach and turquoise waters literally at your front door. Rates are a little high for a campground and start around $38 a night, but the blue waters, white sand and the abundance of activities are totally worth the extra cash.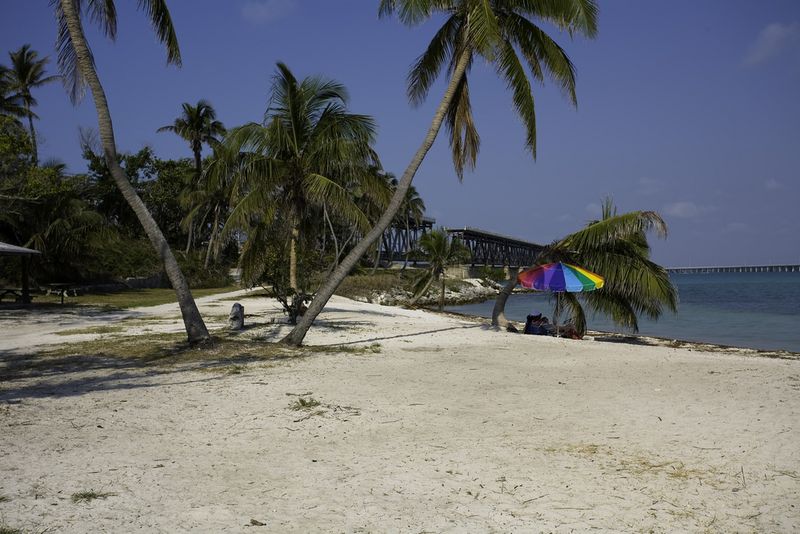 13. Anastasia State Park, Florida
Visitors to Anastasia State Park certainly won't be bored with over 1,600 acres of diverse wildlife and rich ecosystems to explore. It is described as stepping back into time when campers arrive here, with ancient sand dunes and a tidal marsh teeming with plants and wildlife. The campground itself has 139 campsites, ranging from tent only sites to ones capable of fitting RV's. There are a plethora of amenities here not limited to but including hot showers, grills, sheltered dining areas, campfire programs, interpretive programs and electric hook ups. Kids will never be bored here either renting a canoe, taking a nature hike, surfing in the waves or stargazing at night. Heading to the dunes at sunset is a popular activity for everyone here as you can get a 360-degree panorama of both sea and sand, with a 19th century lighthouse in the foreground.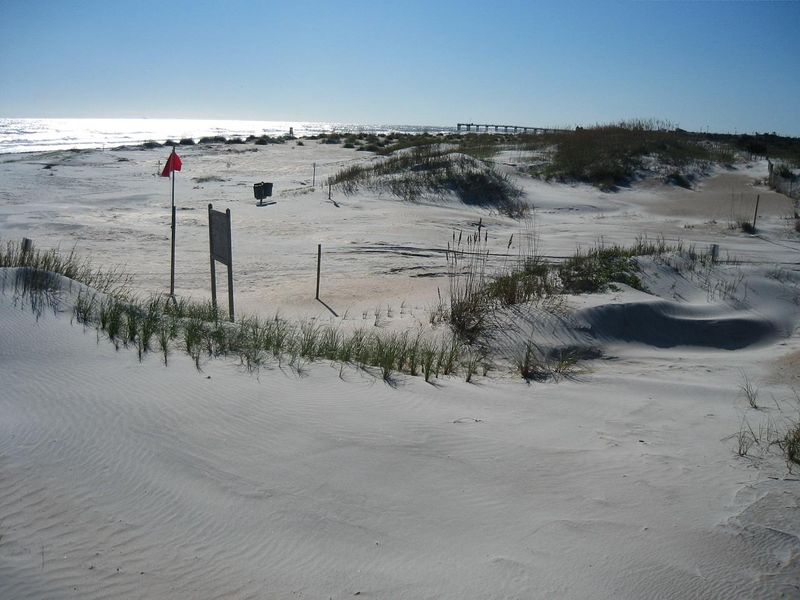 12. Kalaloch Campground – Olympic National Park, Washington
This campground is only one of two campgrounds to pitch a tent on the southern coast of Olympic National Park. Open year round with 175 campsites these sites fill up quickly especially in the summer so if you want experience this coastline make sure to book early. This campground is actually perched on a bluff high above the Pacific Coast and is known for its abundance of nearby wildlife and outstanding views. Visitors should count on seeing bald eagles overhead and whales spouting just offshore. There are plenty of hiking opportunities in the area and seven different trails lead down to the beaches just off highway 101. Olympic National Park actually covers a total of 65 miles of rugged coastline and camping here offers an array of awesome experiences. Campsites typically range from $14-$36 a night and the Kalaloch Campground is truly beautiful no matter what time of year!

11. Wright's Beach – Sonoma Coast State Park, California
Plan on spending the night falling asleep to the sounds of the waves crashing at this awesome campground located in Sonoma Coast State Park. Visitors here spend most of their time searching the beach for shells, discovering the tidal pools and rolling down the sand dunes. Expect the campground here to be quiet, peaceful and open to having your four legged furry friends join you. Campsites 1-9 are the most private and located directly on the beach, where you can expect to see plenty of dolphins and whales playing in the ocean. The bathrooms here are exceptionally clean, the rangers friendly and efficient and although this campsite remains a quiet secret; it may not for long. It is important to note that there is a dangerous undertow and swimming in the water is not recommended. Also there are no showers available here but some located just up the road.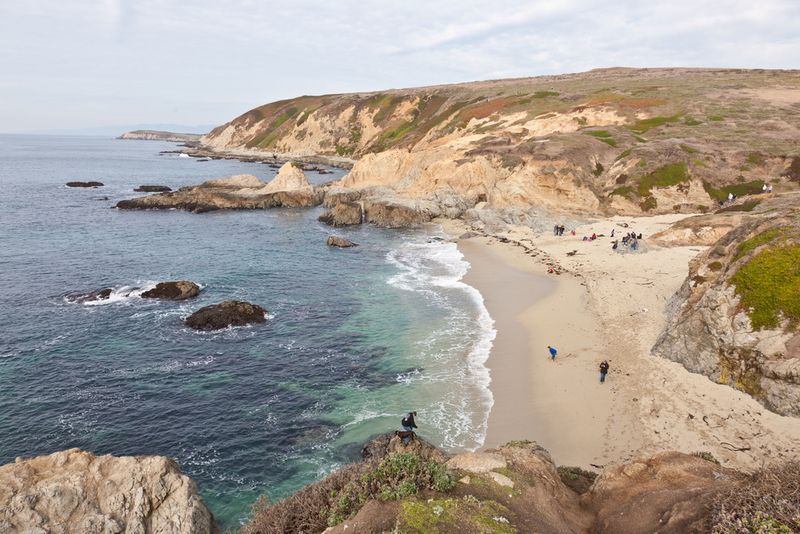 10. Malaquite Campground – Padre Island National Seashore, Texas
This oasis on the Gulf of Mexico offers 48 campsites and starts at just a mere $8 a night. The campground is tucked in the dunes just a short half mile away from the visitor's center. Tent campers are welcome to set up on the sites or on the beach and campers are accommodated on a first-come first-serve basis. Amenities include cold showers, flush toilets and paved parking. In contrast to the neighboring spring break Mecca, Malaquite Campground is actually located on the longest undeveloped stretch of Barrier Island in the world. If you are lucky enough to visit in the summertime plan on seeing plenty of sea turtles hatching and making their way to sea. These sandy white beaches are a haven for these majestic creatures.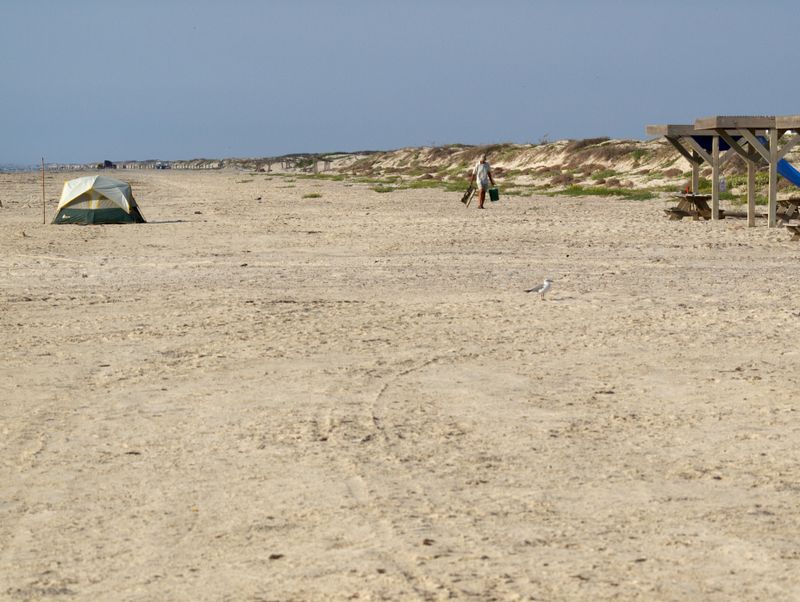 9. Horseneck Beach State Reservation, Massachusetts
Starting at just $22 a night, visitors can pitch their tent at this beautiful beach park where a breeze provides respite from the intense heat, all year round. Located on the Western end of Buzzard's Bay, just West of Martha's vineyards, campers flock to one of the 100 campsites. Pounding surf along this two-mile beach provides excellent windsurfing conditions and plenty of waves for the little ones to splash in. The scenery here is enough to amaze any visitors as wild flowers bloom, sand dunes are in the background and migratory shorebirds are all over the place. The campground offers such amenities as clean shower facilities, accessible restrooms and dump stations. Popular activities include swimming, hiking, biking, fishing, sailing and boating.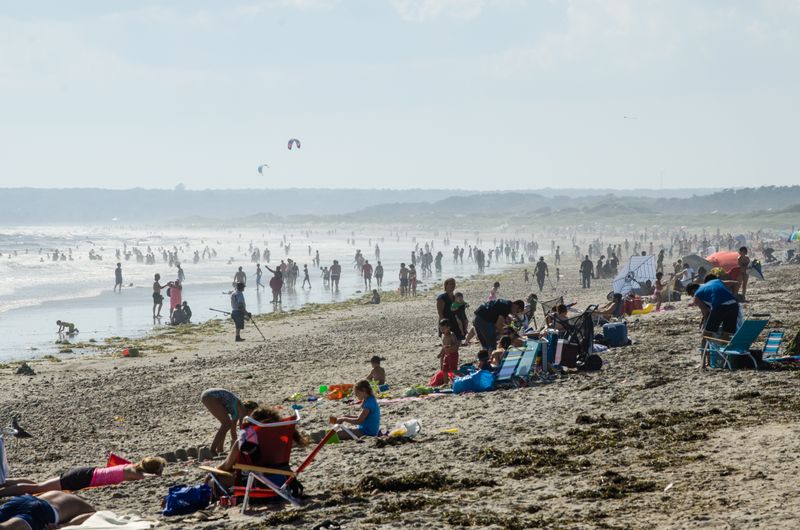 8. Ninilchik View Campground – Ninilchik State Recreation Area, Alaska
On top of a bluff over Ninilchik Beach sits 13 awesome campsites. Two 10,000 snow-capped volcanoes frame the horizon and tidal fluctuations constantly change the awesome scenery. The stairway down the bluff leads visitors to vast sandy beaches at low tide, perfect for relaxing or beachcombing. There is tons of wildlife, calling this place home, like magpies, bald eagles and squirrels. Visitors enjoy nearby fishing, clamming and hiking. The campground has a host on site, a dump site nearby and costs as little as just $1 a night to stay there. It is important to note that clamming and fishing are sometimes banned during certain seasons. Watch as the wave's crash against the cliffs, bald eagles circle overhead and enjoy the peace and solitude of this secret campground.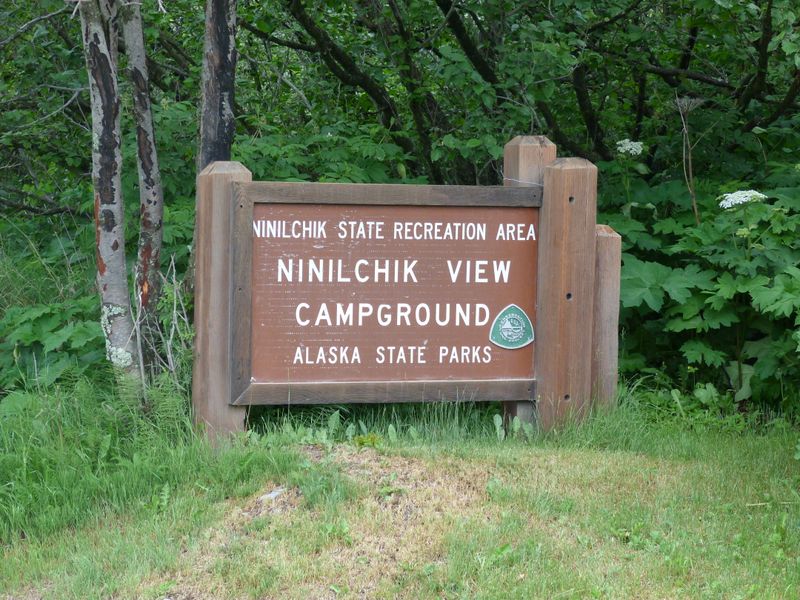 7. Assateague State Park – Assateague Island, Maryland
This campground is Maryland's only ocean campground and is located on the barrier island, sandwiched between the Atlantic Ocean and Sinepuxent Bay. Campers will look forward to two miles of ocean beaches that are popular for swimming, surfing, fishing, sunbathing and beachcombing. The camping sites are pretty basic here, with a pad, fire ring, picnic table and a couple of spots with electrical hookups. The bathhouse is stocked with flushed toilets and showers though. All of the campsites are just a short walk to the beach or bay where there are a plethora of activities. Canoeing and kayaking in the bay through secluded coves and marsh areas gives visitors the opportunities to get up close and personal to awesome wildlife.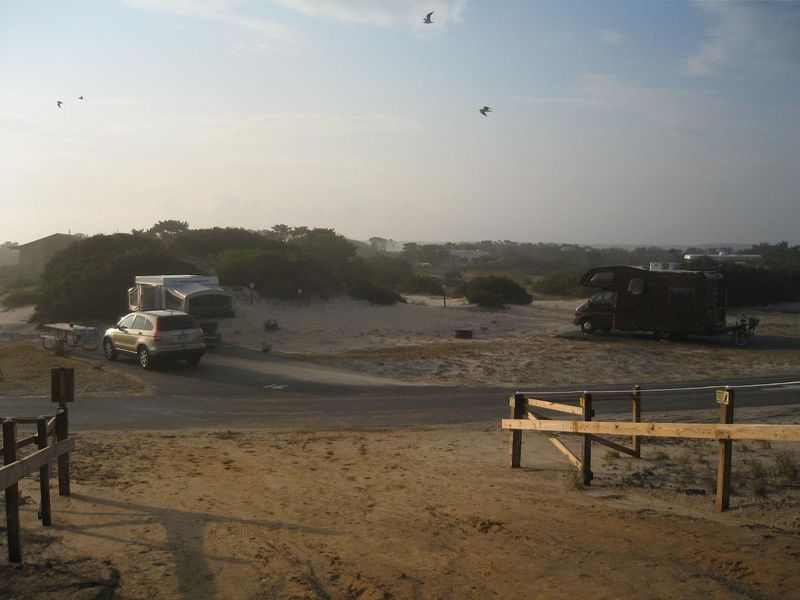 6. Sea Camp Campground – Cumberland Island National Seashore, Georgia
This remote barrier island is a labyrinth of gnarled live oak branches, picture perfect wide flat beaches and an awesome campground with 16 individual campsites as well as two group sites. With rates at $4 per person per night, you can't go wrong pitching a tent here. This remote island campground is only accessible by boat and visitors should expect restroom facilities with cold showers, picnic tables and firepits at each site. There is a small amphitheatre for ranger programs as well as a boardwalk that takes visitors out to the beach. The beach ranges over 18 miles long and a favorite pastime of many includes searching for shells and shark teeth. Keep your eyes peeled for manatees, sea turtles and over 300 species of birds that call this island home. Swim, bike or kayak around the area and just remember that camping is limited to a maximum of seven nights at one time.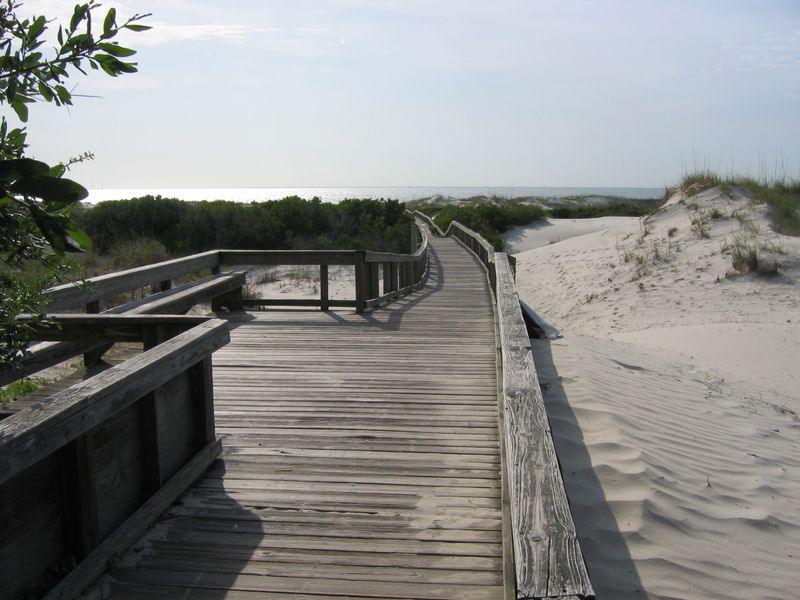 5. Oceanside Campground – Assateague Island National Seashore, Maryland
If you happen to love wild ponies, Oceanside Campground located between Chincoteague Bay and the Atlantic Ocean is the perfect place to pitch your tent and watch as a herd of wild ponies roam around; after all they have called this place home for over 300 years. There are a total of 104 waterfront campsites to choose from, all offering superior seaside sunset views. The amenities here aren't quite as grand as others on this list but that is all part of the charm. Expect adequate restrooms with cold water showers, picnic tables and fire rings. Most of the days here will be spent either surfing or playing in the waves, digging up clams and fishing for crabs. It is important to note that this location is extremely windy and make sure you have extra long tent poles to make sure your tent doesn't fly away in the middle of the day. It is also recommended to take a flashlight with you on a beach walk at night to see the ghost crabs running all about.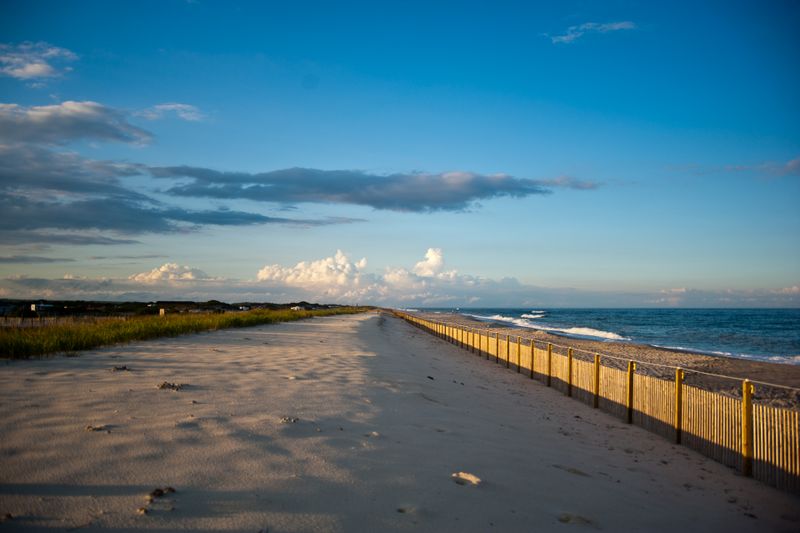 4. Jalama Beach County Park – Santa Barbara, California
This Santa Barbara country park maintains just over 100 campsites, all of them overlooking the ocean or beachfront. Each site includes a BBQ pit, picnic table and 31 of them offer electrical hook up. Full restrooms including hot showers are located nearby. Beachfront sites start at $45 a night and do fill up fast so it is recommended you book early in order to snag one of these. Campers here engage in a variety of activities including surfing, whale watching, fishing and bird watching. High winds and rough surf can make the water hazardous for weak swimmers and thankfully there are lifeguards present in the summer months. If you feel like passing on cooking over the campfire the infamous Jalama Beach Grill is just a short walk away. Here visitors can indulge in one of the famous burgers, topped with tons of veggies and an extra special sauce.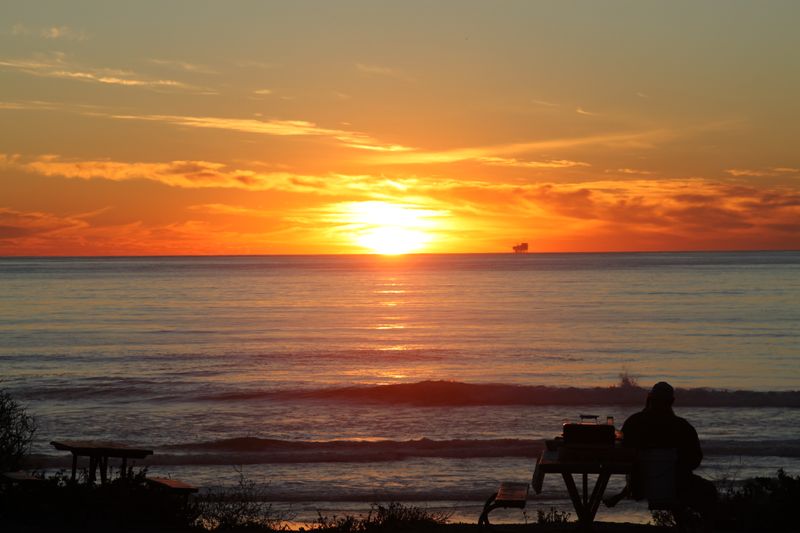 3. Cape Perpetua Campground – Siuslaw National Forest, Oregon
This rugged section of the Oregon coastline is teeming with sea life, blowholes and an abundance of wildlife. The campground is located between the old-growth forest and the beach, with access to impressive hiking trails and incredible beach views. Steep cliffs, rolling hills, sand dunes and lush forests are all part of the scenery here. There are a total of 40 campsites here; in this one of two national forests that borders the Pacific. Visitors here love to explore the many tidal pools, hiking the 23-mile trail system or simply relaxing on the beach. The campsites are each equipped with a picnic table and fire ring and flush toilets and drinking water is provided. The visitors center provides a breathtaking view of the ocean and show numerous short films in the theater. Rates start at just $22 a night and the view alone is worth it.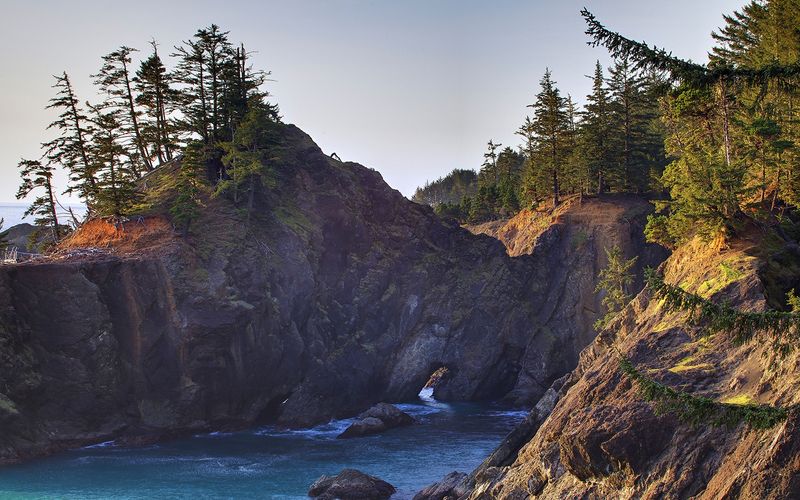 2. Westport-Union Landing State Beach – Westport, California
This campground is located atop a cliff top, making it one of the most dramatic campgrounds when it comes to epic scenery. With 86 sites this campground is first come first serve but don't let that scare you away. Visitors who get lucky enough to stay here will enjoy the soundtrack of crashing waves, all day and night. This beach covers over three miles of rugged coastline, tree-covered mountains and awesome sunsets making it the perfect place for the budding photographer to pitch a tent. Restrooms and drinking water is available here but that is pretty much it in terms of campground amenities, this is truly primitive camping at its best. Prepare yourself for unpredictable weather, activities such as geocaching, fishing and swimming and enjoy nature at its finest at this beautiful state beach in California.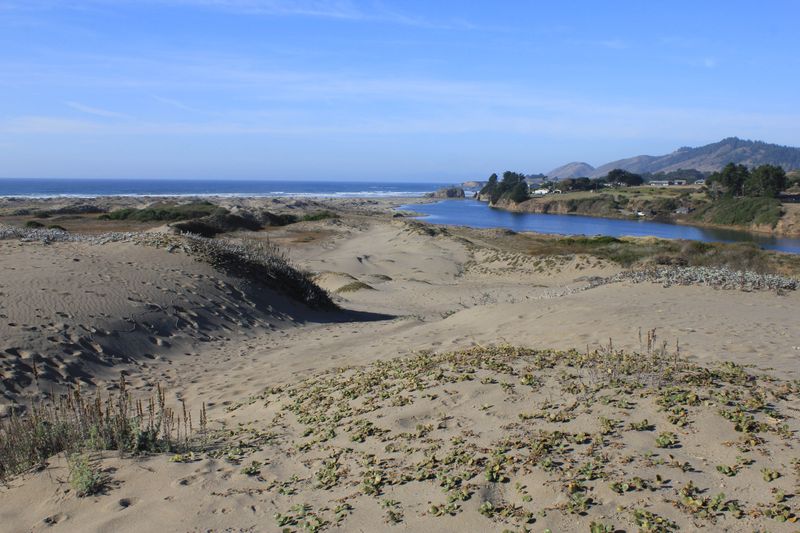 1. Wai'anapanapa State Park – Maui, Hawaii
Black volcanic sand, the bright blue sparkling sea and lush green vegetation make this one of America's prettiest beach campsites. At Wai'anapanapa State Park visitors will be privy to a wild, low-cliff volcanic landscape that offers peace and solitude, a respite from the urban cities. Shore fishing and hiking through the incredible trails are among the most popular activities to do here, although many people love to bask in the hot sun on the small black sand beach. Offering 60 campsites starting at just $12 a night, this campground is located near a ton of natural wonders including the native hala forest, legendary caves and blowholes. Located near the end of the renowned Road to Hana, it is here where campers can pitch a tent and discover the beauty of the quieter side of the island of Maui.