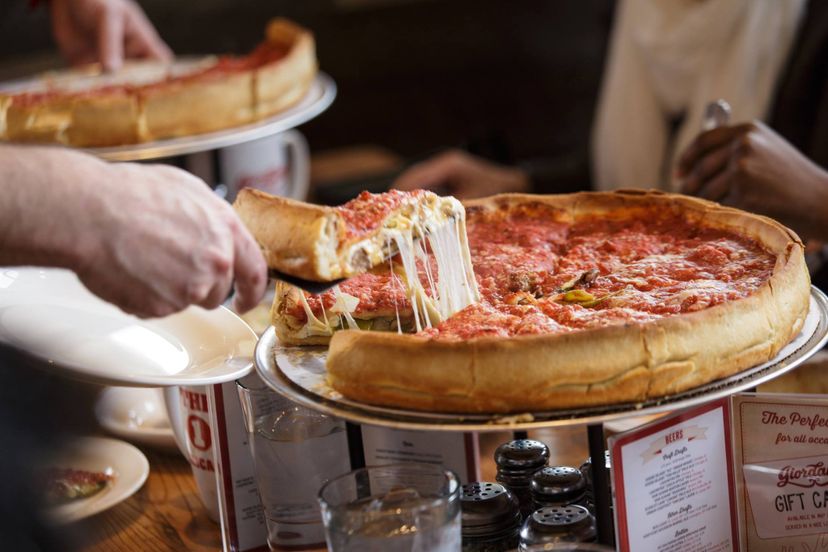 The Windy City is home to wide range of foodie favorites and local specialties like the Italian beef sandwich, Chicago dog or of course the ever present deep-dish pizza. Chicago was responsible for starting these favorite foods on their journey to stardom and while this city was once the only place you could find such specialties, Chicago has been an incubator for a number of chains who've branched out around the country. The following chains all originated in Chi-town but can now be found in other cities around the country, spreading the good word (and the good taste) of these local Chicago specialties.
6. Garrett Popcorn
Now an international chain, Garret Popcorn is and always will be-in the hearts of those who are from the city, a Chicago institution. Their sweet caramel kernels have warmed many a Chicago winter. Garret pops a wide range of flavors that build off the basic cheese, plain and caramel templates, with combinations from Macadamia CaramelCrisp to Cashew CaramelCrisp. Shipped in tin gallons as ubiquitous as the popcorn, Garret's popcorn can be enjoyed either in-store or at home. Its flagship store opened in 1949 on Madison Street in the heart of the city's downtown and is now flanked by a number of the city's hottest tourist attractions. Garrett's is a perfect snack to combat the sharp, windy winters and a finger-licking treat to compliment the sticky city summers.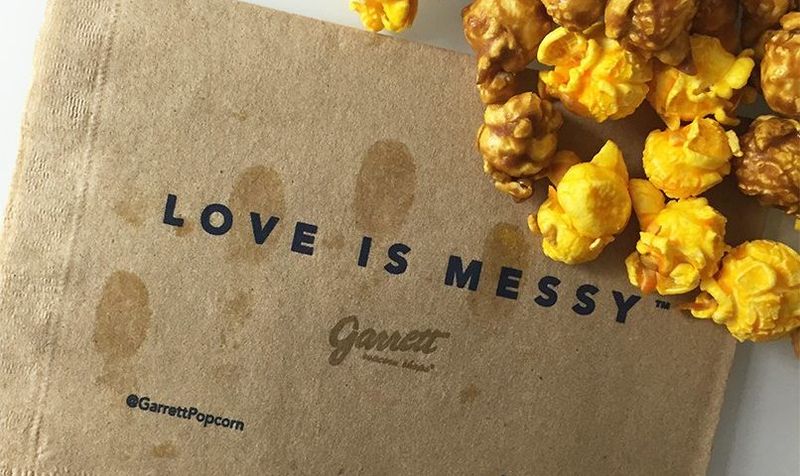 5. Harold's Chicken Shack
Harold's Chicken might be the only food chain on this list to be name checked by musicians, most notably, Chicago-born rapper Kanye West. Other rappers from the area have also mentioned the beloved fried chicken chain in their songs. With locations dotted around the city's South Side, Harold's sprung up in 1950 as a young entrepreneur, Harold Pierce, sought to serve residents of African-American communities that were being ignored at the time. Harold's wings, breasts and drumsticks are deep fried as orders are being placed. That means slightly longer wait times than other places, but it also means a more fresh, delicious piece of chicken. Only slightly less famous than the chicken itself, is Harold's mild sauce, which is tangy and spicy and a perfect complement to a succulent bite of chicken.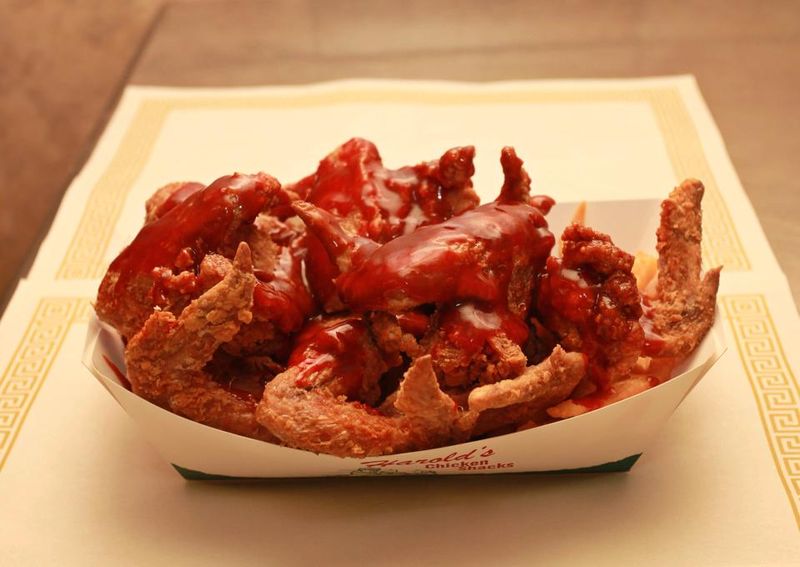 4. Portillo's
If Chicago is known as a foodie city, then one of its staples is the Chicago-style hot dog. Though it has since expanded to serving cities beyond Chicago, Portillo's, which opened its first store in the Chicago area in 1963, is the place for Chicago's best dog. Founded by Dick Portillo, the chain that bears his name serves a variety of delicious fare: chili cheese dogs, burgers, chicken sandwiches, pasta dishes, and in what might be the menu's highlight: Portillo's famous chocolate cake. What began as Mr. Portillo's pet project-then known as "The Dog House"-has expanded to 33 locations around Chicago and a handful of others in Arizona, California and Indiana. For an authentic Chicago experience, a heck of a hot dog and mouthwatering chocolate cake to top it off, Portillo's is the place to be.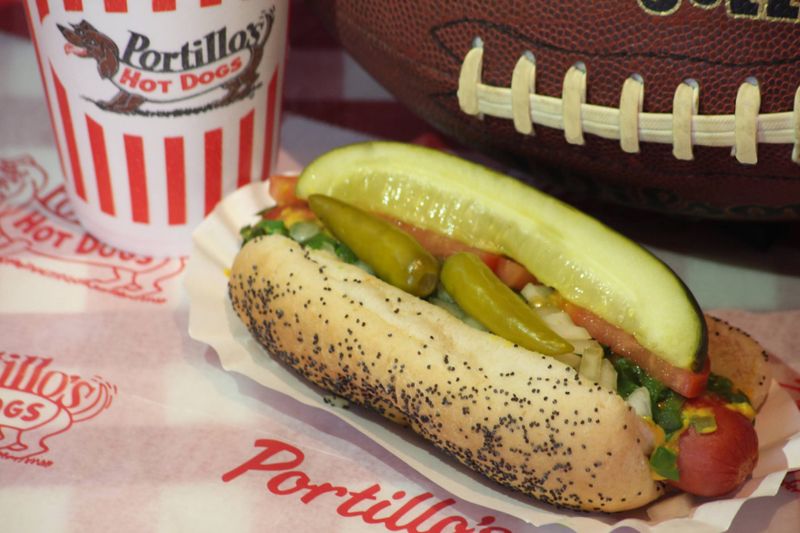 3. Lou Malnati's Pizzeria
Chicago is a blue-collar city, steeped in family values that started with the first wave of European immigrants to the second and third generation families that live there today. It's also a pizza city and Lou Malnati's is arguably the front-runner of Chicago's best deep-dish pie (its stiffest competition is also on this list). Lou's, as locals affectionately call it, opened the first of 42 sites in March of 1971 by Mr. Malnati and his wife in Lincolnwood, a neighborhood in the north side of town. The current menu is stocked with other Italian staples, and the thin crust pizza is also quite good, but it's the Chicago-style deep-dish that has kept customers coming back since its inception. What's the secret? Flaky crust, plump tomatoes from California, and of course, mounds of cheese imported from Chicago's neighbor to the north, Wisconsin.
2. Al's Italian Beef
By now, a theme connecting the food establishments on this list has emerged: Italian families have formed the bedrock of Chicago food culture as it stands today. Al's Beef, another benefactor of a recipe that sprung out of an Italian family's kitchen, is the Windy City's premier spot for Italian beef sandwiches. Like Tesla is to the light bulb and Abner Doubleday is to baseball, Al is to the Italian beef sandwich. He and his sister birthed the idea for the now iconic sub in their Chicago home during the Great Depression. Scarce ingredients forced them to slice the beef thin atop thick Italian bread and the rest is history, as they say. Al's beef is dry roasted in a blend of spices before being layered onto Italian bread. It's then topped with "Gravy" (really just a light, flavorful sauce), either lightly, drenched, or somewhere in between. The menu features other standard fare, but the Italian beef sandwich is the real draw.
1. Giordano's Pizzeria
Around 200 years ago, in a small Italian village near Torino, Mama Giordano would churn out her "Italian Easter Pie" and serve it to the community every Easter holiday. In 1974, Italian immigrant brothers Efren and Joseph Boglio opened a restaurant in Chicago that would bring their Mama's famous Italian pie quite a lot of notoriety. Today, Giordano's serves up what is widely considered by some (NBC, CBS Chicago, New York Times) to be one of the absolute best pizzerias in city that specializes in the dish. What separates Giordano's from all the rest is its buttery, cheese stuffed crust, a creation that Mama Giordano invented. The debate about which of Chicago's pizza chains is the best has been around for as long as the dish itself, but Giordano's, with its tasty stuffed crust, might just take the cake… or should we say, the pie.