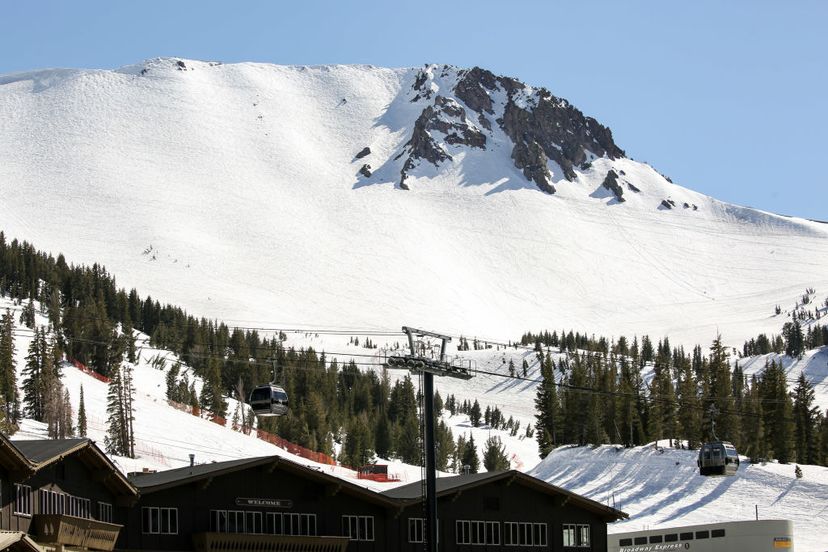 California is a population-dense state along the Pacific coast in the USA that's a haven for outdoor enthusiasts in every season. Much like it's Canadian neighbor, British Columbia, Cali is one of those magical places where you can both snowboard in the mountains and relax on the beach … on the same day. The state has the highest quantity of mountains in the lower 48 states – 6,106 in total – making it ideal for winter sports like skiing and snowboarding. So if you're itching for snow and waiting for winter, here are the top places to ski and snowboard in California.
Northstar California
Northstar California actively promotes daily nonstop flights from New York to Northstar and with good reason. Of course the plane won't actually land on the mountain, but once you get to experience these hills, you'll feel like you're flying. You can buy and reload your lift tickets online, which makes lineups move a lot more quickly.
While Northstar is considerably smaller than some of the mountain resorts on this list, it still offers over 3,100 acres of skiable terrain, and the mountain itself has an elevation of over 6,300 feet, meaning that it's a long, fun ride down. The resort has been featured in USA Today as the perfect place for families and beginners to enjoy, so while it doesn't feature the most extreme runs in the area, it's the perfect place to get started if you're visiting Lake Tahoe. Transworld Snowboarding ranked Northstar in the top 10 for best parks, pipes, and overall resorts. With that kind of acclaim, you can be sure this resort is totally worth a trip.
Mt. Rose
Mt. Rose has some serious powder and with an elevation level of over 8,200 feet, there is no need to explain why. This resort offers both skiers and snowboarders the opportunity to join competitive teams, so if you're in the mood for something action-packed and thrilling, you should definitely plan a trip. Of course they also provide all kinds of programming for beginners as well.
Before you head out on the slopes, eat some breakfast and grab a lift ticket for the day for less than $100 all in – pretty incredible value and an opportunity to fill your stomach before you take off for the day without having to make reservations in advance. Keep in mind that the elevation of this mountain is the highest in all of Lake Tahoe, meaning that you'll be met with a real challenge at Mt. Rose, whether you want it or not! You can dip your toe in the sport here, but you may enjoy this ski and snowboard spot in California more if you're already hard-core about winter sports.
Diamond Peak
Diamond Peak is a hidden gem and the best resort in California if you're looking for something family-friendly, especially since passes are free for anyone under 6 years old! There's also a Child SKi Center dedicated to teaching little ones how to shred in a safe space. Like all of the other resorts featured on this list, Diamond Peak offers a full range of lessons for skiers and snowboarders of all ages. The 1960 Olympics put the Lake Tahoe region on the map as far as winter sports are concerned, and the rest is history.
Before you head out, check their website for up to date snow depths on the mountain, daily pictures of what the mountain looks like today versus yesterday, and the live cams that let you know what's going at the summit, mid-mountain, and base area.
Sierra at Tahoe
By this point it's obvious that all of the best skiing destinations in California come by way of Lake Tahoe, and Sierra is no exception. It also happens to be the closest resort to San Francisco and the Bay area, making it ideal if you're doing a hybrid trip where you want to spend some time in the city too. Of course, the resort has its share of cross-country trails and downhill skiing and snowboarding opportunities, but what really sets itself apart is the parks and pipes. If you've ever heard of the X Games, or you've always thought about busting out some of the gnarly tricks you see in snowboarding video games, Sierra is the place to go.
The resort's parks stay open for a large portion of the season, even when snowfall is at a minimum. If you've got a bit of downtime, check out the snowshoeing, which is a great way to get your heart rate up when you feel like an activity that's a little bit more relaxed. But if you're there for the skiing and snowboarding, rest assured that Sierra has a variety of runs that will get your adrenaline pumping.
Squaw Valley – Alpine Meadows
Squaw-Alpine markets itself as the place to go to bring out your adventurous side. The resort is really composed of two different mountains, Squaw Valley and Alpine Meadows. While the website offers two different weather reports for each separate mountain, when the weather conditions are great for skiing, the terrain and the view you get to see from either of them are absolutely incredible.
The resort is located about 45 minutes away from the airport and offers packages where you get your skiing and snowboarding tickets and lodging for one price. The company owns over 6,000 acres of terrain, so you have lots of options whether you want to cross country ski or go for something more thrilling. Of course the more thrilling option would be the more adventurous …which is right up their alley (and hopefully yours too!).
Kirkwood
In addition to season passes and day passes, Kirkwood offers insane backcountry ski and snowboard expeditions. They also offer one and two-day camps for experienced athletes looking for guidance from a top coach on how to improve.
Don't be deterred if you're not a pro though. Kirkwood has group and private lessons for beginners and is consistently recognized as offering one of the best kids programs, making it family-friendly. Kirkwood clearly exemplifies why they have all of the bases of a great ski resort covered, whether you're a beginner who's a little bit nervous going down a basic hill, or an experienced rider who's looking for a real adventure.
Mammoth Mountain
This resort is one of Southern California's best parks. Mammoth Mountain not only does skiing and snowboarding right, but offers vacation packages for winter sports, snowmobiling adventures, and the Sprint U.S. Grand Prix, which features former Olympians who race competitively. This resort is also one of the parks included in the IKON Pass, a membership that allows passholders to access slopes all around the world, including 14 states in the USA, 4 provinces in Canada, and 5 other countries such as Japan and Switzerland.
Mammoth is truly in a class of its own when it comes to amazing skiing and snowboarding in the state of California. You can book a tour before you ride, play golf, and snowboard all in the same location. There's also ample opportunity for shopping and dining in the area so even if you feel you need a break from the slopes, there's plenty available to keep you entertained.
Sugar Bowl – Royal Gorge
Sugar Bowl has been providing both skiers and snowboarders with four great mountains – Mt. Disney, Mt. Judah, Mt. Lincoln, and Crow's Nest Peak – to rip down for over 75 years now. Like many winter hideaways in the state of California, Sugar Bowl is located in Tahoe. There is a good mix of difficulty, with 17% of the hills rated for beginners, 45% as intermediate, and 38% as advanced.
The Sugar Bowl is dubbed the country's largest resort for cross-country skiers, and the staff there offer world-class training for anybody learning to ski or snowboard and those who consider themselves to be experts already alike. 1650 available acres to shred and an average of 500 inches of snowfall annually make Sugar Bowl an ideal spot to ski and snowboard in California.