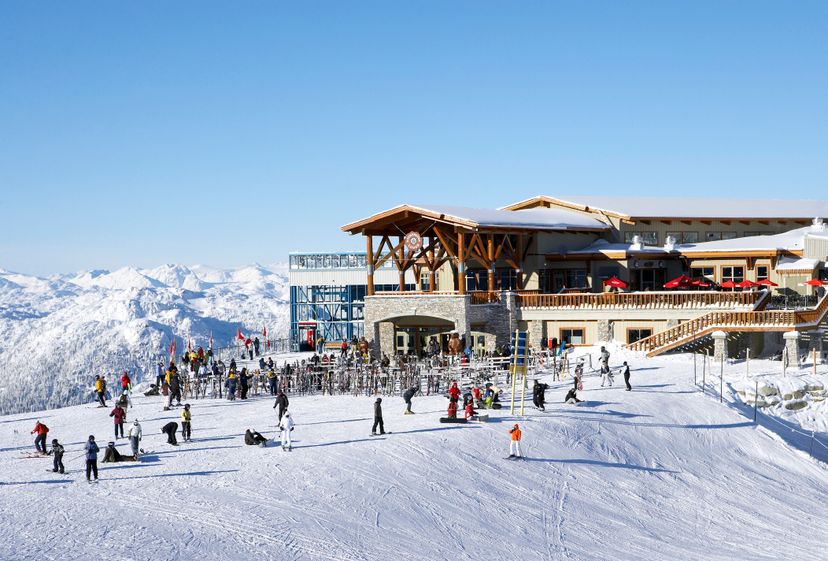 John Muir famously said, "The mountains are calling and I must go" and for good reason. They're the perfect place to get away from the busyness of everyday life, to breathe in the fresh air, and take in the views. While some prefer to relax on the beach with a piña colada in their hand, others travel to the mountains the first chance they get. In colder temperatures, the mountain offers winter sports like skiing and snowboarding, while in warmer temperatures, you can do activities such as hiking, horseback riding, swimming, and fishing. So whether you're looking for a romantic getaway, a family vacation. Or a solo holiday, why not head to a mountain resort this year? To help you decide where to book, we've rounded up a list of some of the best mountain resorts in North America, with places in both the United States and Canada.
Sun Mountain Lodge – Winthrop, Washington
Since 1968, Sun Mountain Lodge has been welcoming guests to the Methow Valley area of Washington. This valley at the foothills of the Northern Cascade Mountain is a favorite vacation spot in all seasons with summertime activities like hiking, fishing, canoeing, and golf and the property boasting over 200 kilometers of trails in the winter (making it the largest cross country ski resort in the country). Accommodations range from the Main Lodge, with hand crafted wood furniture made by local artisans, to the rustic Gardner Lodge, to Mount Robson guest rooms with private decks and 16 cabins located on Lake Patterson. With fine dining and a wine cellar stocked with over 3,500 bottles of vino, it's no wonder the resort has won numerous awards from TripAdvisor, Fodor's, and the Washington State Wine Commission!
Attitash Grand Summit Hotel – Bartlett, New Hampshire
The Attitash Grand Summit Hotel sits at the base of Bear Peak and Attitash Mountain and offers 143 deluxe and condominium style rooms. The resort itself is the big attraction! Home to the Attitash and Bear Peak mountains the resort has a total of 78 ski runs, making it a popular winter destination, the resort is also a family favorite during the warmer months. Summer activities include an aerial zipline that is 4,969 feet before transferring to another line that is 2,196 feet. They also have an alpine slide over one mile long, a mountain roller coaster, and a huge water slide. You can also take a scenic chair ride to the summit of Bear Peak and enjoy horseback riding or a bike ride. The activities are endless in all seasons at this mountain resort!
Teton Springs Lodge – Victor, Idaho
The Teton Springs Lodge offers luxury mountain log cabins, a full service spa, friendly staff, world-class golfing, and on-site fly-fishing. With polished western décor, full size kitchens, and outdoor grills the cabins give you the privacy of your own mountain retreat while still having all the benefits of an upscale resort complete with a fitness center, a PGA designed golf course, and fine dining. With outdoor activities such as horseback riding, hot air ballooning and skiing in the winter, Teton Springs is one of the best lodges for corporate outings, conventions, family getaways, or a relaxing romantic weekend.
Vail Cascade Resort and Spa – Vail, Colorado
Located along the banks of Gore Creek, the Vail Cascade Resort and Spa offers guests luxury amenities and access to scenic mountain surroundings. Famous all over the world for the Vail Ski Resort, the surrounding area is just as beautiful and inviting. Enjoy biking and hiking trails in the summer, indoor and outdoor tennis courts, volleyball, basketball, and Vail's largest fitness and athletic training facility. During winter enjoy skiing with chair lifts located right outside the hotel door to Vail Mountain. Several dining options and craft beers can be enjoyed during your stay and a variety of accommodations are available depending on your budget, from hotel rooms to condos and vacation home rentals.
Mountain View Grand Resort and Spa – Whitefield, New Hampshire
Originally established in 1865, the resort has been a popular destination with its panoramic views of the White Mountains. Activities here include skiing, snowshoeing, and dog sledding in the winter and golf and swimming in the summer. The terrain in the White Mountains offers incredible and challenging hiking as well. Cider pressing and foliage hikes are popular activities in the fall and the views at this time of year are spectacular. The Cog Railway is located nearby – the world's first mountain train – so don't miss the opportunity to take a ride! Accommodations include 8 different types of guest rooms and luxury suites, depending on your budget and what you're looking for. A wine cellar with over 6,000 bottles of wine compliment the dining area where local ingredients are sourced by the chefs. The resort also has a fitness facility, sauna and spa.
Triple Creek Ranch – Darby, Montana
Located in the Montana high country, Triple Creek Ranch is a luxury ranch resort for adults and teens 16 and up. The resort features fine dining by a chef who graduated from the French Culinary Institute in New York and a wine cellar that has won awards from the Wine Spectator. The resort also offers a cooking school where you can learn to replicate the meals by the resort's chefs, which is a fun activity to do during your stay. Accommodations range from one, two, and three bedroom luxury cabins to ranch homes featuring private hot tubs. Outdoor activities include fishing, white water rafting, trap shooting, golf, and tennis or sign up for a cattle drive or horseback riding on the open plains. Whether it is private dining at the Chef's table, honing your cowboy skills, or just kicking up your feet, the Triple Creek Ranch is one of the best mountain resorts in North America. They also offer inclusive packages, allowing you to eat, drink, relax, and play to your heart's content, for one all-inclusive price.
Whiteface Lodge – Lake Placid, New York
Located in Adirondack Park at Lake Placid and designed by a former luge Olympian athlete, The Whiteface Lodge has won awards by TripAdvisor, Conde Nast, and the Wine Spectator. The resort features a 24 hour onsite health and fitness center, luxury spa, and restaurants featuring ingredients from local farms, and native fish and game. If you love outdoor activities, Lake Placid is a great vacation spot. From boating, fishing, hiking, cycling and golfing, to wintertime dog sledding and tobogganing, you'll enjoy your time at Lake Placid. While you're there, be sure to see what it's like to be an Olympian with a bobsled ride at the Olympic Sports Complex.
Nita Lake Lodge – Whistler, British Columbia
With incredible reviews, the Nita Lake Lodge is rated one of the top 25 hotels in Canada, sitting on the shores of a glacier fed lake in the Great White North. Accommodations include rooms with double soaker tubs and glass enclosed rain showers. The lodge is a five minute shuttle ride from Whistler village where various festivals occur throughout the year including beer, BBQ, and music festivals. The lodge is located just 500 meters from the Creekside Gondola for skiing on Whistler Mountain – a beloved pastime of those visiting the area. The resort restaurant offers food prepared with locally sourced ingredients, including vegetables grown on the lodge's own rooftop garden! With beautiful mountain views and Lake Nita at your doorstep, the Nita Lake Lodge makes for a great weekend escape or family vacation.
The Fairmont Chateau – Lake Louise, Alberta
Located within Banff National Park, Lake Louise is surrounded by mountain peaks and the Victoria Glacier. The park is a UNESCO World Heritage Site and known for its progressive environmentalism. The Fairmont Chateau was originally built over 100 years ago as a base for outdoor enthusiasts and has since been updated and expanded. With 550 luxury rooms, seven restaurants, and a luxury spa, the Fairmont has also become a popular destination for weddings and events. During the summer, guests can enjoy hiking, canoeing, and fishing in the Canadian Rockies. Or if you're feeling up to it, you can brave the frigid winter temperatures and sample some of the best skiing Canada has to offer.
Sonora Resort – Sonora Island, British Columbia
Located within British Columbia's Discovery Islands, the Sonora Resort is easily accessible from Vancouver or Seattle, Washington. This five star luxury resort in the wilderness is a perfect romantic getaway, family vacation, or corporate retreat. Outdoor enthusiasts can enjoy activities like fishing, river rafting or kayaking, or take an eco-tour or tour of the nearby glaciers or even a trip to see grizzly bears. The resort offers spacious rooms, suites, and private villas along with all the amenities (including a spa, of course).
Four Seasons – Jackson Hole, Wyoming
Located near Grand Teton and Yellowstone National Park, the Four Seasons at Jackson Hole offers a combination of luxury accommodations with a rustic outdoor feel. Take your pick from guest rooms including suites and penthouses, some which overlook the Teton Village – a great spot for skiers as it's known for having the largest vertical rise in America. If you visit in summertime, check out the National Elk Refuge, do some fly fishing, or whitewater rafting. You might want to take in the two and a half mile aerial tram at Teton Village during your stay, which offers beautiful views of the mountains. Five star accommodations and fine dining along with superb service makes this a great destination.