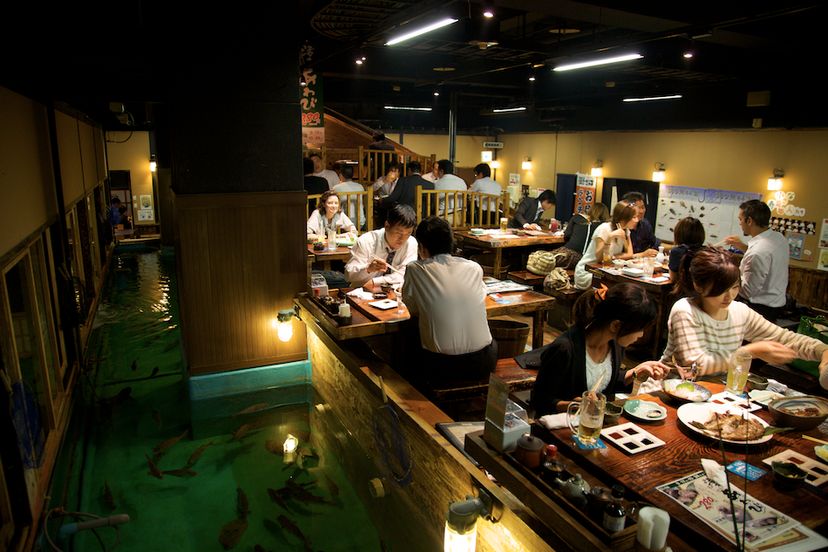 The restaurant list across Tokyo is endless, from Michelin rated dining spots to tiny but excellent food stalls. The breadth of choice is absolutely astounding—and a food-lover's paradise. No matter if you're peckish or famished, craving something spectacular or ordinary, or if you're hunting down the best sushi restaurant or most popular burger joint, you'll find it with a little patience and perseverance. In Tokyo, you'll also find some genuine curiosities—from exclusive restaurants to places with fun, quirky themes. Tokyo's urban landscape features some of the coolest food-stops in the world.
7. Ninja Akasaka, Chiyoda
Ninja Akasaka is exactly the kind of place you might find someone like Lady Gaga—yes, she's been here and so has Stephen Spielberg, two types who you might imagine would appreciate a ninja-themed restaurant. Outside, Ninja Akasaka looks like a clandestine hideout, featuring a jet-black door that's fairly non-descript. Enter and you're enveloped by black paneled walls—take a few steps in and black-clad Japanese ninjas appear, they lead you to the hidden entryway and walk you through a labyrinth into "Ninja Village". This hidden fortress features a waterfall spilling from one side and the semi-separate rooms are Japanese style all the way. Order Japanese, Chinese, or French cuisine from the menu—it'll be cooked up by chefs with some serious global experience. And your meal? Yup, you guessed it: ninja-shaped food and all the while you'll be entertained by ninja antics.
6. Aronia de Takazawa, Minato
Aronia de Takazawa is the kind of place Foodies flock to but here, they usually don't get a seat. Chef Takazawa runs a tight ship at his restaurant, which features only two tables and a stainless steel kitchen. Actually, its austerity is quite captivating and you'll be wondering why it took you six months to get a reservation, but you'll fall head over heels once you try the dishes. Find Aronia de Takazawa by looking at door handles, not signs, for the restaurant name is engraved there. Yoshiaki Takazawa is a master chef, a chef so prized people will actually make reservations far in advance—and you should too. Meals are a sensory, arty enterprise gone completely right blended with a serene, traditional Japanese tea ceremony. Akiko, Takazawa's wife, works by his side, creating astounding, 10 course meals that will teach your palate something new indeed.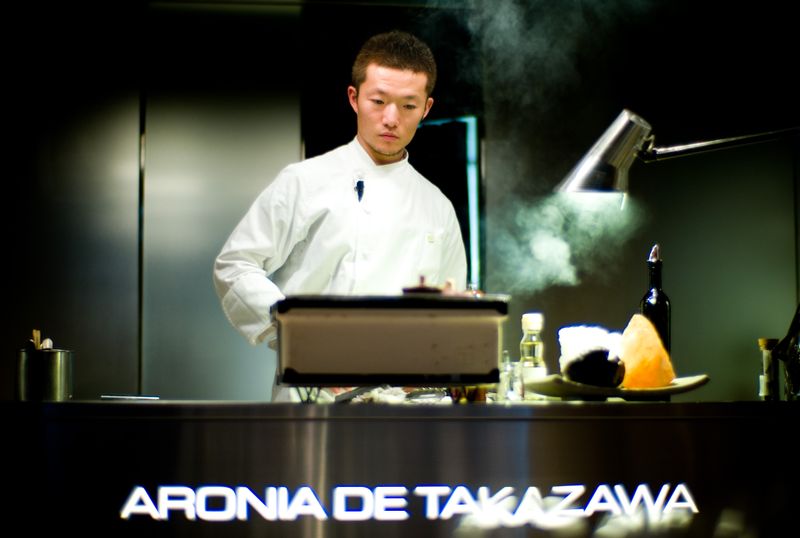 5. LUXIS Aqua Restaurant and Bar, Shibuya
Sparkling chandeliers and a massive aquarium define LUXIS in Tokyo's Shibuya area. The restaurant, named for both "luxury" and "oasis", doles out a lot of each. Set within the trendy Ebisu area, one can imagine that LUXIS draws in the type of people attracted to higher end luxury and sensational backdrops, and that's just what they get. The seating is comfortable with large chairs and the décor is quite fashionable too, but the central attraction in LUXIS is the aquarium, filled with an array of marine creatures including scores of tropical fish and turtles. Dimply lit with vaulted ceilings, the open space has plenty to look at all around. With Ebisu being such a hotspot for nightlife, LUXIS is often filled with people eating and socializing their way into the night. It's a great place to relax, enjoy, and order from their extensive menu.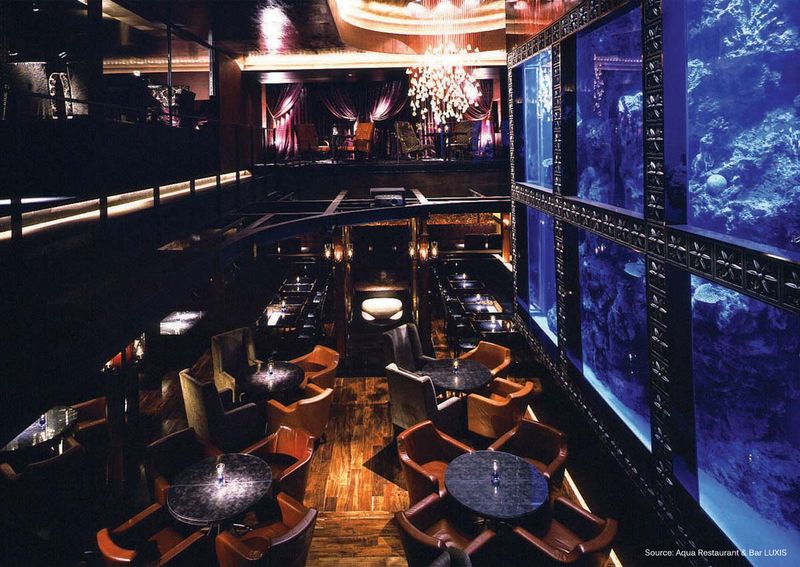 4. Zauo, Shinjuku
In Tokyo's Shinjuku district is Zauo, a restaurant where you snap up your own fresh fish for dinner. It features a fish tank stocked with sole and seabream that the chef will cook up to your liking. The venue is fashioned after a fishing boat, with seating on deck, where "passengers" enjoy not only catching their own fish but watching others do the same. The vibe is festive and fun, and a great place for a laugh. The experience is a thrill and though you do have to pay for your own bait, it's rather inexpensive. There's also an option for ordering fresh seafood off the Zauo menu to add to your meal if you don't happen to catch something quite large enough. Patience is a virtue here because even though the tank is stocked, it can take some a little while to get a bite.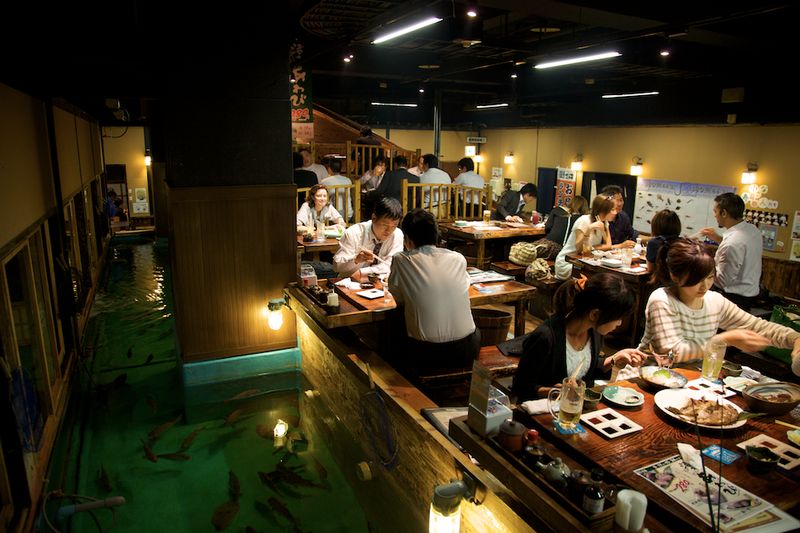 3. Sukiyabashi Jiro, Chuo
Though there's nothing that obviously cool about Sukiyabashi Jiro at first glance, the fact that it's run by a world-renowned, yet surprisingly humble sushi master makes it a definite restaurant to consider. You'll be splurging here at this three-star Michelin rated restaurant in Ginza, but if you love sushi (and you've really got to love sushi to visit) then Jiro Ono will treat you to one of the most incredible meals you'll have while in Tokyo. If sushi is an art form, it is most certainly seen within Sukiyabashi Jiro. At the bottom level of an office building in Ginza is where you'll arrive and if you have expectations, you might be a little bit disappointed: the restaurant is a simple ten tables surrounding a large, wooden counter. The best sushi of your life will arrive in form of salmon roe, mantis shrimp, flounder, squid, yellowtail, and other fish varieties.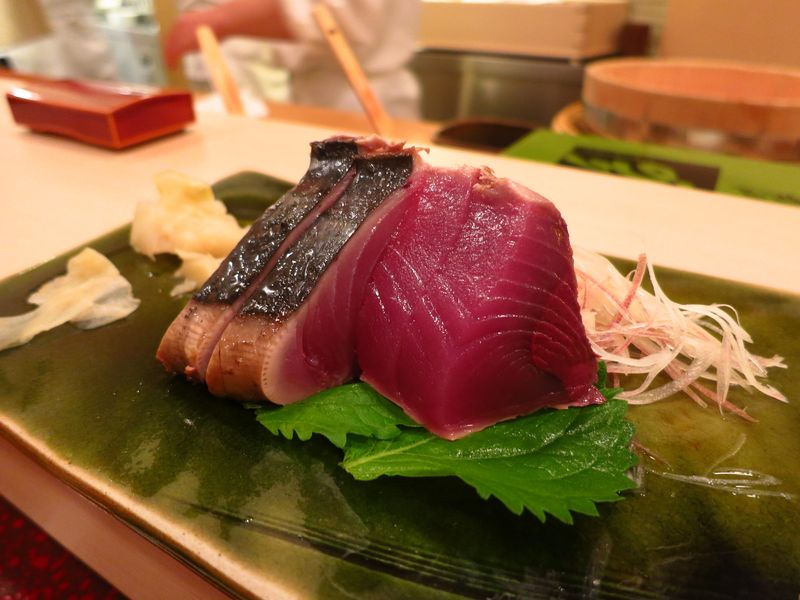 2. Alice's Fantasy Restaurant, Shinjuku
Get ready to meet "Alice" at Alice's Fantasy Restaurant, Tokyo's most interesting theme restaurants. The front door is book-shaped, and when passing through "Alice" beckons through a whimsical passage, which is both charming and vibrant and filled with characters. The central attraction is the large, heart shaped table in the middle of the restaurant, adorned with blood-red hearts in a shade so very reminiscent of Alice in Wonderland. The menus are heart shaped too, embellished with little keys and the chairs are fairytale-esque—perfect for the setting. The entire costumed staff is pretty cute, adding to the restaurant's overall character, and the Cheshire Cat is front and center of course with his classic grin, surrounded by full scale murals. The menu—which is reviewed as decent—ranges from western spaghetti ragu to sushi and a slew of desserts…but most don't go for the food.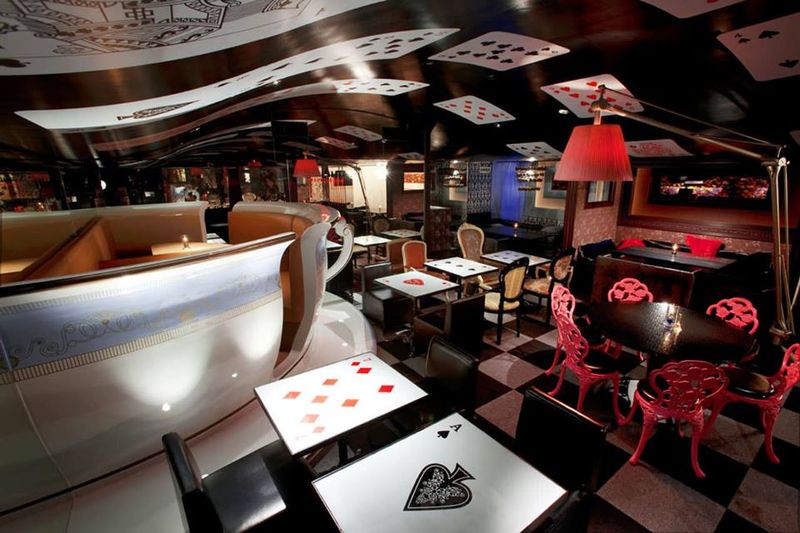 1. Aoyama Flower Market Tea House
Aoyama Flower Market Tea House is one of the prettiest, ethereal, and most unique destinations serving food in Tokyo. The tea house is just that but also a flower market exuding an enchantment that's hard to pass up. If you happen to stumble across this little gem, you'll be drawn in just by the look of it: green, lush, and illuminated with tiny little lights across the ceiling, spilling down onto interior columns. Inside, the entire restaurant/florist is lavishly adorned with beautiful flowers of all types and the backdrop hums with soft instrumental music. From Omotesando Station, it's less than a ten minute walk to Aoyama and a great spot for a light meal on route to nearby attractions. The menu is nothing spectacular—on offer are sandwiches, salads and desserts along with beer, wine, and specialty teas—but it's the perfect respite from Tokyo's busy streets with a backdrop that can transport any busy mind to a place where time seems to stand still.