St. Lucia, with its varied topography, provides some stunning visuals. This Caribbean island is covered with lush tropical rainforests, possesses miles of white sand beaches, and has a coast line that ushers up volcanoes and volcanic rock masses that rise up into the sky. Altogether, the vistas create an awareness of the variability of nature. This small island has lots to offer in terms of activities, accommodation and points of interest.
8. The Pitons
No trip to St. Lucia would be complete without taking in the iconic Piton Mountains that shoot up from St. Lucia's west coast. The towering Piton Mountains are the most photographed landmark on the island, and with good reason. Le Gros Piton and Le Petit Piton rise 798 and 743 meters, respectively and provide a stunning contrast in color, with their dark outlines cast against the green waters of the Caribbean Sea below. They are dark because they have been formed from lava and rock. These two twin peaks are connected via a ridgeway (they are actually located about four kilometers from each other). These volcanic spires are covered in lush tropical rainforests. For the adventurous, the Pitons can be climbed, but an ascent up this steep pitch is arduous and takes several hours in both directions. It is recommended that you hire a local guide. This land mass and some of the water area surrounding it is a UNESCO World Heritage Site.
7. Reduit Beach
On the western outskirts of Gros Islet, located along the shores of Rodney Bay, Reduit Beach is one of the most famous in St. Lucia. Many consider this to be one of the best on the island. Miles of white sand wrap around Rodney Bay, and provide for great swimming and watersports (equipment is available for rental at various spots up and down the beach). This beach is bordered by lush green vegetation, so shade is available if the sun is too strong. You won't go hungry during your stay here. The beach is lined with restaurants and snack vendors. There are also picnic areas. Several of the better known hotels in St. Lucia are located within walking distance of Reduit Beach, so the beach is very popular with tourists.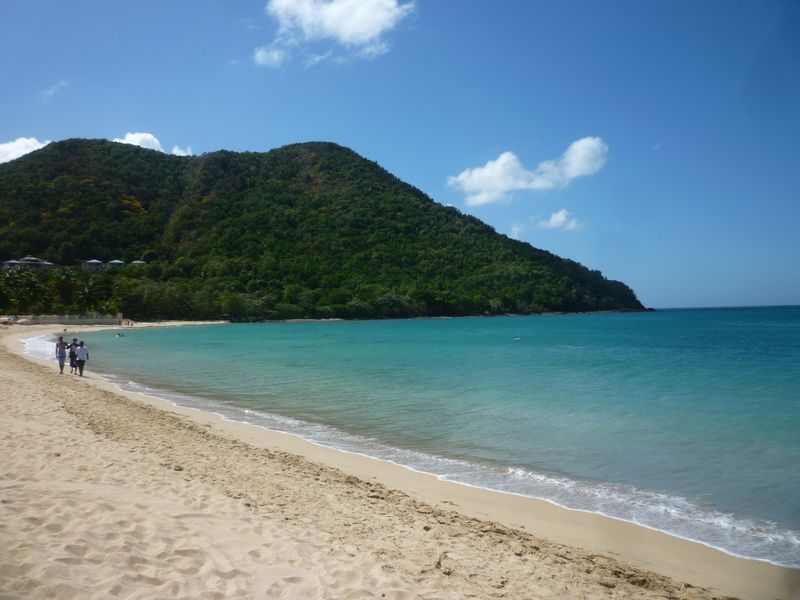 6. Anse Chastenet
This expansive resort is one of the most famous on the island. Set amongst 600 acres of lush tropical vegetation that include not one but two white sand beaches.  There is also a black sand beach close by showing the diverse beauty of the beaches surrounding this resort. Anse Chastenet is all about immersing yourself in the beauty afforded by the surrounding ecosystem, with fragrant flora and fauna, as well as an assortment of wildlife. There are traditional rooms and suites as well as rooms that are fashioned to connect with the stunning views, with wrap around balconies.  The hotel is set against two bays, which are actually a marine reserve that protects miles of vibrant coral reefs, where tropical fish are abundant and offers great snorkeling. This is also one of the best spots on the island to take in the full picturesque view of both of the Piton Mountains. Depending on whether or not you seek an active holiday, or something more sedate there is lots to do onsite, with a full service spa, yoga, tennis, scuba diving, snorkeling and sea kayaking.  It's very popular with honeymooners, who in particular enjoy romantic candlelit dinners in their treehouse restaurants.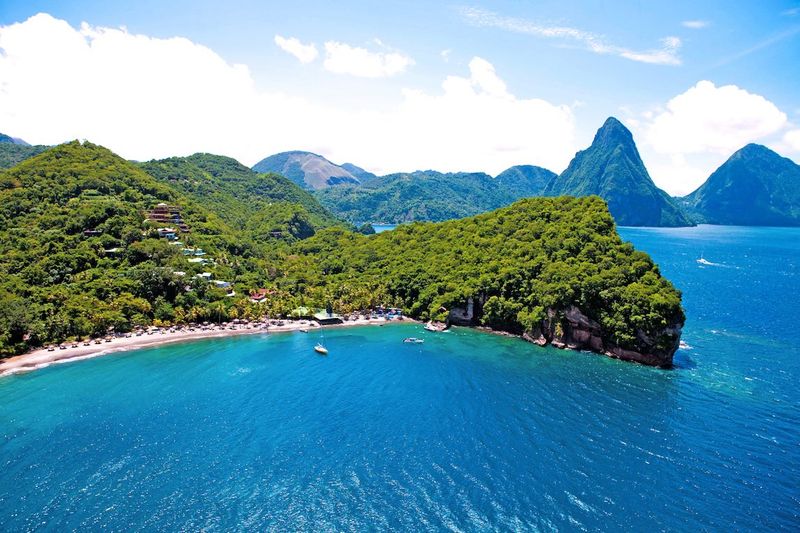 5. Castries
Castries is the capital of St. Lucia, and is its largest city, housing the bulk of the population. It's popular with tourists on day trips and is a frequent port for cruise ships. The harbor was actually constructed within an extinct volcano.  Just south of Castries is Morne Fortune, which was one of the major battlegrounds where the French and British fought for control of St. Lucia. At the site today are the remains of Fort Charlotte, a military cemetery, and a museum; it's also currently home to the Governor General.  Morne Fortune also provides one of the most panoramic views of Castries and surrounding areas.  Another hot spot in Castries is Derek Walcott Square (St. Lucian-born Walcott won the Nobel Prize for Literature in 1930).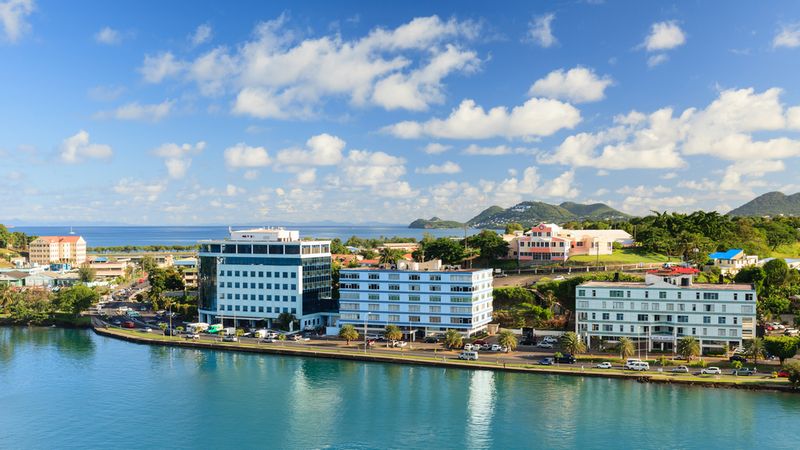 4. Castries Market
Open for business since 1894, the Castries open air market is prime for people watching (and also getting a little shopping in at the same time). Located underneath a vibrant orange roof, the market has hundreds of vendors. Local producers sell spices, mangoes, cucumbers, fresh fish and meat, as well as a host of native Caribbean fruits and vegetables. Local women are dressed in traditional St. Lucian attire.  There are food vendors selling authentic dishes. There is an entire section with hand glazed pottery and woven gifts. Travelers take note: this market is hopping every day of the week- except Sunday, when it is closed.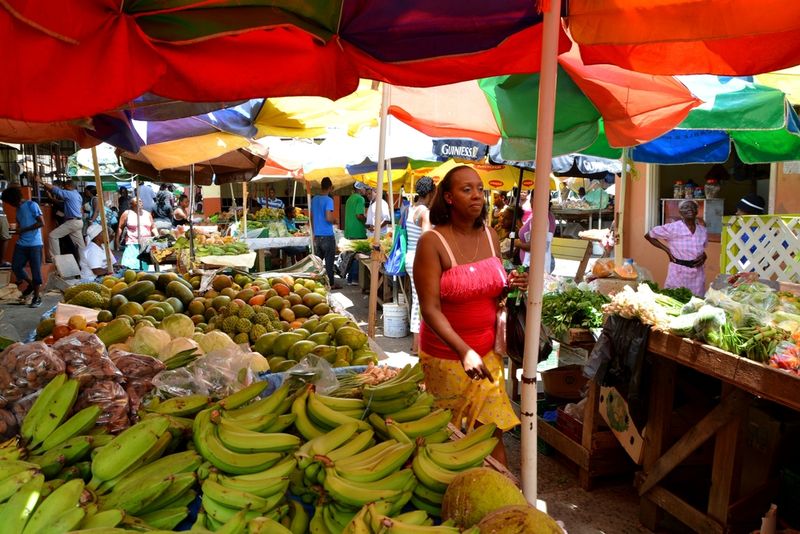 3. Marigot Bay
Marigot Bay is located just south of Castries and is a popular home base for travelers wanting to visit various points on the island, because of its proximity to Soufriere and Rodney Bay. This area is small, with a handful of hotels and restaurants.  Boutique shopping is close by in the Marina Village. Close to Marigot Bay is the popular beach Anse Cochon, where shallow reefs make for great swimming and snorkeling (turtles, squid and octopus are often viewed). Marigot Bay may look familiar; it's been the setting for films over the years- including the original Dr. Doolittle, starring Rex Harrison.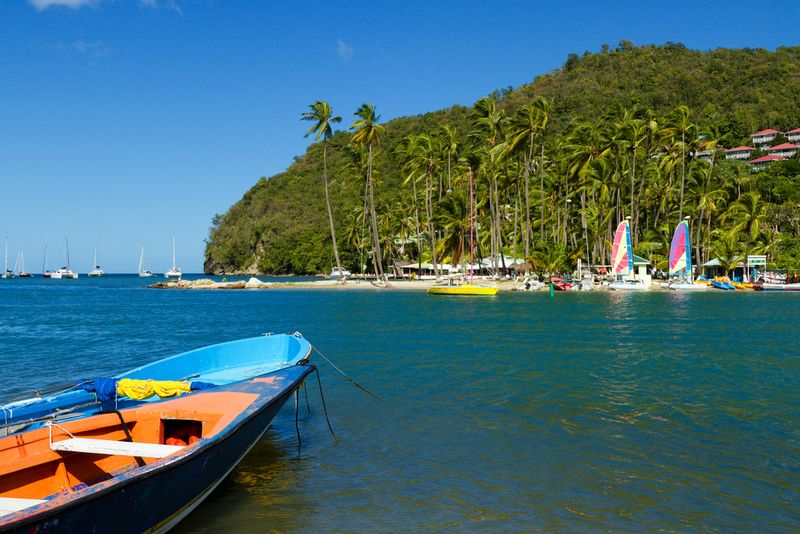 2. Sulphur Springs
Just south of Soufriere, Sulphur Springs is known as the world's only "drive-in volcano". Visitors can literally drive in to the crater of the Soufriere Volcano, with boiling water and mud on either side of the roadway. This volcano is dormant, with the last eruption having taken place in the late 18th century.  You can walk fairly close to the pools, with observation platforms taking you precariously close to the edge. Downstream is a series of hot spring pools, where guests can immerse themselves in hot spring and mud baths, which reportedly have therapeutic quality.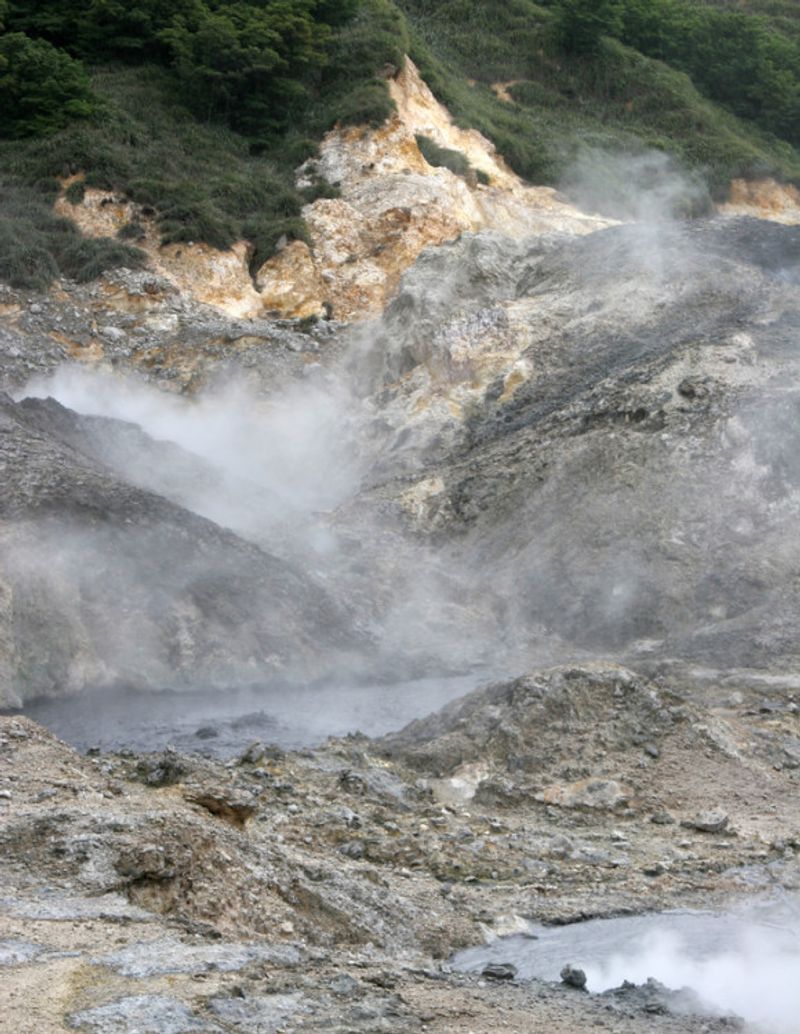 1. Pigeon Island National Park
St. Lucia's first national park is a great place to explore- in part because of its beauty and in part because of its rich history.  Joined to the mainland by a causeway, this former island was apparently used as a hideout for St. Lucia's first French settler, Jambe de Bois (Wooden Leg), who would lie in wait to pounce on and robe passing Spanish ships in the 16th century. There are artifacts, ruins, garrisons and barracks to explore and wander through, a nod to its military roots in the 18th century… For sun seekers, there are beaches with calm water to play in.