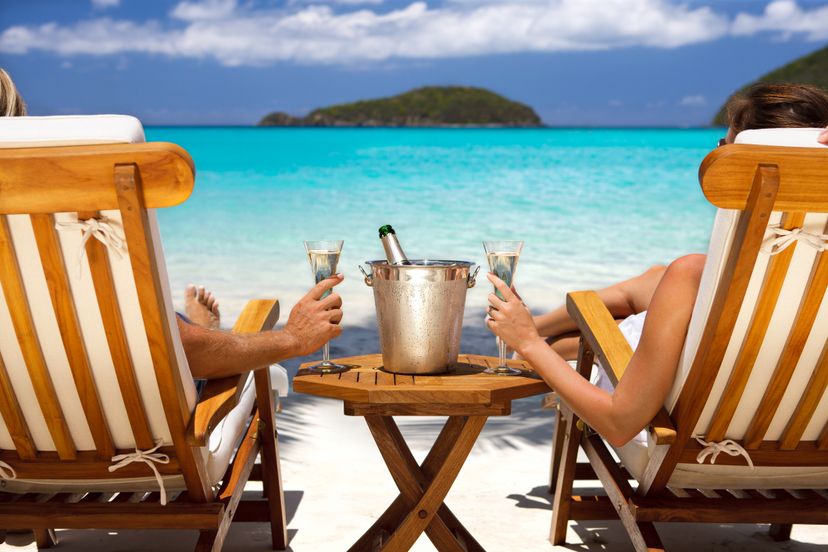 Some of the best adults-only resorts in the world are located right in the Caribbean. Adult-only resorts are great for couples that are looking for the ultimate romantic getaway or for adults simply looking for relaxing vacation free of kids. Whether you're looking for tranquil, relaxation, romance, or lively entertainment, there is an adults-only resort for everyone. 
Many of these resorts are also all-inclusive which means you'll be pampered with impeccable service, luxurious accommodations, and amenities, all you can eat food and beverage as well as plenty of activities to keep you entertained. When you're ready to book your adults-only vacation be sure to check out our list of the best adults-only resorts in the Caribbean. 
Couples Tower Isle – Ocho Rios, Jamaica
Come to experience Couples Tower Isle where sophistication meets elegance. This adults-only resort is located on the lush coast of Ocho Rios, Jamaica. Even famous celebrities are drawn to this island. The resort boasts white sandy beaches and clear waters that you are really going to love. Better yet, the all-inclusive boutique hotel features its own private island, offering plenty of room for privacy. 
Farm-to-table dining is offered at six unique restaurants and whether you want to dine in candlelight overlooking the Caribbean Sea or in an upscale dining room. Further, the award-winning spa features treatment rooms that cluster around a plunge pool and offer everything from couples massages to seaweed wraps. With over 19 acres of beautiful beachfront property, it is easy to spend your days relaxing in one of the four pools, soaking in the Jacuzzi, playing a round of golf, or paddleboard through the waters. Your stay at Couples Tower Isle will be both relaxing and exhilarating making it one of the best adults-only resorts in the Caribbean. 
The Caves – Negril, Jamaica
The Caves located in Negril, Jamaica is the most intimate resort on the list. Boasting only 12 exclusive cliff-side accommodations. The accommodations range from one-bedroom cottages to a four-bedroom deluxe villa, all featuring beautiful furniture, and great amenities. 
Choose to have your meals in one of two main dining gazebos, the Private Cave Dining or the Blackwell Rum Bar. Perched on top of the cliffs are a Jacuzzi, sauna, and a salt-water swimming pool. Most visitors here choose to dive off the cliffs into the ocean for thrills. Further, the Aveda Amenity Spa boasts breathtaking views, exceptional treatments, and couple's massages you don't want to miss. One favorite activity here is to float on the rafts while the sounds of the waves lull you to entire relaxation. You can expect plenty of privacy, exceptional service, friendly staff, and the ultimate romantic experience at The Caves. 
Sandals Grenada – St. George's, Grenada
There are several adult-only Sandals resorts in the Caribbean from Montego Bay, Jamaica to Castries, Saint Lucia, and beyond but the Sandals Grenada in St. George's, Grenada stands out from the rest. This extraordinary resort offers an innovative and incredible experience for adults-only. In the heart of Grenada's exclusive Pink Gin Beach is where you will find a whole new sandals experience, one that takes you beyond the unexpected.
This luxurious resort features all the amenities you can ever imagine from hospitable butler service, 10 restaurants and 6 bars, including swim-up bars, unlimited premium liquors, and stocked bars in every room. Splurging and staying in one of the Skypool Suites is the way to go here, as you open your bedroom doors to reveal an infinity-edge plunge pool that blends into the horizon. When you're looking to be entertained, the resort offers unlimited scuba diving, three freshwater pools, two river pools, day and night entertainment, and an excellent spa. And the best part, the peace, and quiet that comes with an adults-only resort.
Royalton Cayo Santa Maria, Cayo Santa Maria
If Cuba is calling your name you'll want to stay at the Royalton, located in Cayo Santa Maria. This resort boasts 122 rooms with views of the lush gardens and the picturesque white sandy beach. If you really want to treat yourself, stay in one of the Royalton Suites which features a terrace Jacuzzi, spa-like bathroom, and VIP amenities.
The resort is also equipped with 2 pools, 3 specialty restaurants, 4 bars, friendly butler service throughout the resort, an amazing spa, daily entertainment, and more. The hospitable staff ensures their guests have everything they need. Come check it out for yourself and you'll quickly see why this is one of the best adult-only destinations in the Caribbean. 
Bucuti & Tara Beach Resort, Aruba
This beautiful adults-only beach resort is situated on one of the dreamiest beaches in the world where breathtaking views of the sparkling sea and tropical sunsets are the norms. In fact, Bucuti & Tara Beach Resort is the only adults-only resort in Aruba and is nestled on Eagle Beach away from the high-rise hotels and crowds.
Experience romance like never before with starlit dinners on the beach, side-by-side couple's massages, scenic hiking trails, sunset horseback rides, and more. Dine at one of the many restaurants where ingredients are locally sourced whenever possible. You will also enjoy movies under the stars, freshwater infinity pools, penthouse suites that feature four-poster king beds, and spa-like bathrooms. There is no shortage of luxury amenities at this resort. Indulge, relax, play, and stay at one of the best couple's resorts in the Caribbean.
Couples, Negril 
Negril is a picturesque town located in western Jamaica that is known for its miles of sandy beaches, shallow bays, and calm turquoise waters. Here you can find Couples, the most intimate adult-only resort on this list. Its secluded location is nestled among pure white sand, coconut trees, and tropical flowers. The suits feature  Luxurious bathrooms, nightly hor d'oeuvres, and beautiful furnishings that you will enjoy.
There are plenty of restaurants to choose from. You and your partner can dine in an open-air dining room, beachfront or private dinners on the beach. Further, spa treatments are offered in a variety of locations on this resort including exclusive treatment rooms, in an open-air hut with a thatched roof, or in the intimate treehouse, where couples can indulge in side-by-side massages. You can also relax in one of two swimming pools, soak away your stresses in the Jacuzzi, or discover the underwater world with scuba diving or snorkeling. A plethora of amenities, luxury rooms, incredible dining, and more await you at this incredible resort.
Secrets The Vine, Cancun, Mexico
Secrets The Vine in Cancun, Mexico is described as chic, contemporary, and is an adults-only haven. This luxury resort offers elegant accommodations, gourmet dining, a world-class spa and more. It's also worth noting, this is one of the largest resorts on this list, but don't let that deter you from visiting here. Offering 495 guestrooms and suites, guests should expect Italian porcelain floors, private terraces, luxury bathrooms and more. 
The suites will either be located ocean front or at the very least will have a spectacular ocean view. You will have your choice of six a la carte restaurants, one buffet, and one café which all offer an array of local and international cuisine. Activities range from complimentary green fees to cocktail classes to spa treatments to scuba diving and more. Further, you can enjoy three sparkling infinity pools and their fully-equipped fitness center. Dine, play, stay, and indulge in complete luxury here at this perfect resort.
Galley Bay Resort and Spa, Antigua
This intimate Caribbean vacation destination was designed with romance in mind and is one of the most stunning adults-only getaways in the Caribbean. The resort is located in Antigua which is one of the best Caribbean islands to visit. The resort is spread across 40 acres featuring just 98 guest rooms. This beautiful resort boasts tropical gardens and beachfront property. 
If you choose to vacation at Galley Bay Resort and Spa make sure to splurge on a Gauguin cottage, hidden among the gardens and offering lagoon views and individual plunge pools. When it comes to dining, you can choose from three different open-air restaurants, three lounges, and top-shelf beverages. You can expect to enjoy cocktail parties, live entertainment, and barbecues in the evenings. Further, complimentary water sports equipment, a beautiful pool and plenty of beach to explore will make the day's fly by. This award-winning resort awaits you! 
Palm Island Resort, The Grenadines
Sit in the sun on your own private island, steps away from the Caribbean Sea when you choose to stay at Palm Island Resort in The Grenadines. The private island is only accessible by boat but as soon as you step foot on the island you'll be welcomed by the friendly staff ready to serve you a delicious cocktail. There are only 43 accommodations on this island which include a combination of guest rooms, suites, and villas. The rooms feature wooden rattan ceilings, bamboo furnishings, private terraces, and deep soaking tubs. 
The island has a total of five white sandy beaches to relax on, ensuring you have the most privacy. You can explore the island by bike or you can hike one of the many nature trails where you will witness breathtaking fauna and flora. Further, there are also lounges, bars, grills, and top-notch restaurants, as well as romantic picnic lunches and private beach dining options. This is a once-in-a-lifetime opportunity for the ultimate romantic vacation.
Excellence Playa Mujeres – Cancun, Mexico
Stretched out on two miles of powdery white sands sits this exclusive adults-only resort, located just a short way away from the hustle and bustle of the city of Cancun. Excellence Playa Mujeres is located in a private community that boasts an inland marina and a spectacular Greg Norman signature golf course. This resort oozes luxury. 
There are a total of nine restaurants to choose from as well as eleven bars. The suites are absolutely remarkable at this resort. You can choose from an ocean-front two-story rooftop terrace suite, a swim-up suite or suite spa complete with a four-poster bed, private jacuzzi, and more. A world-class spa, an abundance of amenities, and plenty of luxury will keep you happy!