Canada is known for its wild beauty, from places like the pristine Northwest Territories wilderness to the salty woodland East coasts. Almost every province and territory has a bucket list-worthy hike in its National Parks Canada or provincial park. Whether it's -30 or 30 degrees, there's always another trail waiting for you to lace up your boots or peak calling you to its summit. So why not get out and explore the Great Outdoors? To help you get back on the trail and plan any future trips, we've rounded up some of the best hikes in Canada.
Bruce Trail, Southern, and Central Ontario
Not only is the Bruce Trail Canada's oldest and longest marked footpath, but it's also a UNESCO World Biosphere Reserve. With a distance of 900 km of main trail running from Tobermory to Niagara, doing the entire trail in a day is impossible (it generally takes between 30 and 40 days), however, there are easy ways to make a day hike out of it. The popular trail is divided into 9 sections, each varying in length and those sections can be further shortened to whatever length is suitable for your day trip or personal preference. Many sections (with the exception of some northern areas) are fairly accessible terrain and are suitable for people of all hiking skill levels.
East Coast Trail, Newfoundland
On Canada's beautiful eastern coast, Newfoundland and Labrador offer some of the most pristine woodland, accompanied by some of the quaintest seaside towns in the country. The trail extends from Topsail Beach to Cappahayden along the Avalon Peninsula. The East Coast Trail is still under development (currently 336 kilometers long), but will hopefully one day be 540 kilometers when complete. Nonetheless, there are some great day hikes available, including the Sugarloaf Path, which takes about 8 hours round trip. Start in Marine Lab, on Logy Bay, and follow the trail to Quidi Vidi village. Along the way, you'll encounter wondrous woodland and scenic ocean vistas amidst great elevation changes. Other paths include the Cape Spear Path, which takes you to the most easterly point in North America.
Acadian Trail, Cape Breton Highlands National Park, Nova Scotia
Climb to the highland interior of this scenic Nova Scotia park 365 meters above the Cheticamp River. Take in panoramic ocean views and mountainous terrain as you trek through the Cheticamp River valley, up steep inclines, and across streams. Keep an eye out for black bears, moose and other wildlife that inhabit the lush forest near the Acadian coastline. The loop is 8.4 kilometers from start to finish and will take about 3 or 4 hours to complete, depending on your speed. Part of the renowned Cabot Trail, this loop is home to groves of hardwood trees, making it a spectacular – and colorful – autumn hike.
Duck Mountain Provincial Park, Saskatchewan
Saskatchewan may not seem like a first-choice destination for hiking, but the prairie province has more to offer than it's credited for. Duck Mountain Provincial Park, at the southern edge of the province's boreal forest region, is a testament to that. The Trans Canada Trail runs directly through the park for 14 kilometers, right on the border with Manitoba, which offers the chance to hike in 2 provinces with relative ease. Duck Mountain is a gem on its own, with rich flora and fauna, including nodding trillium, mountain maple, and 180 species of birds. Meadows, wetlands, forests, and lakes can all be experienced in one hike. For the true nature enthusiast, Duck Mountain offers a wilderness hiking experience like no other.
Sea to Sky Trail, Whistler, British Columbia
One of the most ambitious developments in recent years is the Sea to Sky Trail, which now runs 180 kilometers from sea level near Squamish to high into the mountains near Whistler. The Whistler section of the trail is 33 kilometers in total and has already been completed with wide, often paved, pathways. One of the best sections is between Brandywine River Falls and the Cheakamus River Crossing. Visit the falls, then follow the winding, hilly trail over a suspension bridge and along the riverside through the forest. After crossing a second suspension bridge and the river, you'll arrive at the site of the 2010 Olympics Athletes' Village. This multi-use trail, which is about an hour from the city of Vancouver, is maintained year-round – perfect for walking, biking, and even snowshoeing or cross-country skiing.
La Cloche-Silhouette Trail, Killarney Provincial Park, Ontario
What's more Canadian than the Group of 7? The famous painters were enamored with the pink granite coast of Georgian Bay. A.J. Casson, Franklin Carmicheal, and A.Y. Jackson were so inspired by this stretch of wilderness that they actually pressured the government to make a park! Today, anyone can hike the 80-kilometer loop through the La Cloche Mountains. There are shorter hikes available from 2 trailheads in the George Lake Campground. The western section of the trail is moderate and dotted with lakes and rivers. The eastern portion of the trail is strenuous but takes you up to The Crack, the top of Killarney Ridge. The Crack is roughly 12 kilometers round-trip, and takes about 8 hours to complete – but is for experienced hikers only!
Les Deux-Criques Trail, La Mauricie National Park, Quebec
Nestled in the Laurentian Mountains, Les Deux-Criques is a 17-kilometer trail in La Mauricie National Park. It's rated as a "difficult" hike by the park, in part because of several up-and-down climbs on the trail. The entire trail takes about 7 hours, but you'll want to pencil in extra time to stop at some of the lookouts along the way or photograph the Ruisseau du Fou waterfall at the far end of the trail. And yes, it's called "Deux-Criques" because there are 2 creek crossings. The trail makes up the final leg of the 75-kilometer Laurentians backpacking trail, which provides additional opportunities for hikers looking for more than a single adventure in the boreal wilderness.
Caldron Lake, Alberta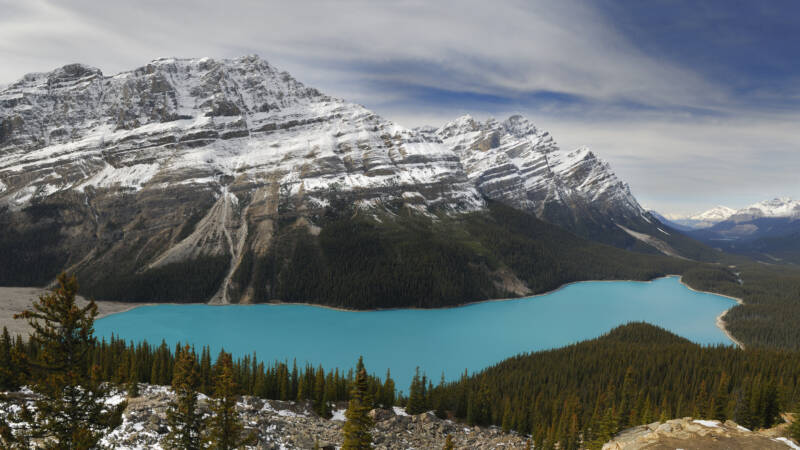 This little-known, 16-kilometer trail is a hidden gem, just outside of Banff National Park's Rockies. Alberta is rife with excellent trails, but even experienced hikers will find this one challenging – and rewarding. The trail takes you into glacier country, with one path leading to Peyto Glacier. The more difficult hike is down to Caldron Lake itself. The steep incline, followed by glacial wash-out flats and a moraine make this a great 7-hour hike for anyone who likes a challenge. Would-be adventurers take note: Signage is almost non-existent, which adds to the wilderness appeal of the trail, and the glacial stream must be forded as the bridge has been washed away by glacial melt, which increases in volume later in the day and Spring after the melt.
Canol Heritage Trail, North West Territories
This trekking is not for the faint of heart! This trail runs a total of 355 kilometers from Norman Wells to the Yukon, through the Mackenzie Mountains. Only accessible in summer and then just barely as it is one of the coldest places on earth. The trail follows an abandoned World War II pipeline through Canada's north. The trail is considered one of the most difficult and rugged in Canada; it lacks any amenities and you'll need to arrange for your own emergency services, pick-up, drop-off, and food drops if you plan to hike end-to-end. Experienced wilderness hikers will revel in the grandiosity of the true north and the breathtaking wildness it offers. Guide services are available and shorter portions of the historic trail are offered as day hikes out of Norman Wells.
Fundy Trail, New Brunswick
The Bay of Fundy's claim to fame is that it's home to the world's highest tides, so it only makes sense that there'd be a wonderful hike in this location! Wrapping around 16 kilometers of cliffs, the trail opens up previously inaccessible portions of the Fundy coastline, one of the few coastal wilderness areas between Labrador and Florida. The area is renowned for its marine life, being a prime breeding ground for Right whales. Waterfalls, Precambrian rock, and untamed forests capture the imagination, and lookout points along the way highlight panoramic views of 250-foot high coastal cliffs. For those looking for more, the Fundy Trek runs between St. Martin's and Riverview, offering 125 kilometers of Appalachian mountain and coastal hiking to choose from.