Boston has always been extremely proud of its past. After all, the American Revolution started here. In Boston, history isn't just confined to museums; it's everywhere, especially along the city's famous Freedom Trail, the path that traces the "footsteps" of colonial Boston's struggle for freedom and independence. Boston's compact size, quaint architecture, and acres of green open space give the city an almost European feel. Yet Boston is also a thoroughly modern city.
Boston's student population -- there are more than 100 colleges and universities in the Boston metropolitan area -- gives the city a definite youthful vibe. Today's Boston is not so much old provincial capital, but a cosmopolitan city with a decidedly New England charm.
The Best of Boston
For a small city, Boston offers visitors plenty of big-city culture. Boston is home to impressive art collections, and the Museum of Fine Arts and the Isabella Stewart Gardner Museum are among the world's finest museums. Boston also supports a well-established performing arts scene -- the Boston Symphony and the Boston Ballet are both world-renowned.
Family attractions abound in Boston, with fun things for kids to do and to see at both the Museum of Science and the New England Aquarium. Boston's shopping is another great reason to visit, since there are tons of boutiques and interesting stores to choose from on Newbury Street. And you won't just find baked beans and scrod in Boston restaurants anymore. In recent years, Boston has become a "real" restaurant city, with new specialty and interesting ethnic eateries opening almost every week.
Fast Facts & Info
Fast Facts & Info
Geography and landscape: Boston is almost entirely surrounded by water. This city was originally settled by early American colonists on a small peninsula jutting out from Boston Harbor. Boston Harbor is part of Massachusetts Bay and the Atlantic Ocean. The Mystic River borders Boston to the north, and the Neponset River lies to the south. To the west, Boston is famously bordered by the Charles River, which separates Boston from the nearby city of Cambridge.
Today, Boston comprises an area of 48 square miles of mostly gently rolling hills -- much of it on reclaimed marshland built on landfill. The city's bustling waterfront scene, its parks, and its graceful skyline make Boston a pleasant city for visitors to enjoy.
General orientation: Boston Common is where Boston begins. Visitors will pass through and around this 50-acre park many times during their stay. Park Street Station, considered the hub of the city's subway system, is located here. The Freedom Trail, the 2.5-mile red brick path that winds through Boston and the important sites of the American Revolution, begins here too.
Boston is a city of 20 distinctive neighborhoods, housing 589,000 residents. Some of the most popular neighborhoods for visitors include The Waterfront, the Downtown/Financial District, the North End, the Chinatown/Theatre District, Back Bay, and Beacon Hill. Keep in mind that some neighborhoods are quite crowded during the school year, as over 200,000 students attend college in the area.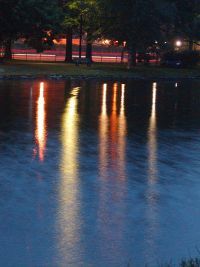 Safety: Boston is a safe city, but as with any major city, you should take the usual safety precautions. Stay in well-populated areas, travel with others, especially at night, and keep track of your belongings.
The tourist areas in Boston are generally safe, but some areas deserve mention. Don't visit the Boston Common or the Public Garden late at night unless you are there for a large public event, such as a concert. Although long past its hey-day, you should avoid walking in Chinatown and parts of Downtown Crossing, Boston's red light district, at night too. The North End, the Waterfront area, and the Theatre District are typically full of people and have lots of activity, but you should be cautious very late at night.
Climate/weather: Boston is a city of four seasons with a tremendous range of weather conditions. The weather in New England is extremely changeable, even on a daily basis, so it's best to be prepared for a wide range of weather conditions.
Boston's winters are cold, snowy, and long, with the first snowflakes often beginning to fly by late November and measurable snow in April is not unheard of. The range of average winter temperatures can be between 0 and 37 degrees Fahrenheit (-17 to 3 degrees Celsius). Spring is the month of May when temperatures average from 60 to 70 degrees Fahrenheit (15 to 21 degrees Celsius).
In the summer, the temperatures range from 60 to 95 degrees Fahrenheit (15 to 35 degrees Celsius). July and August can be either uncomfortably humid or, with a cooling sea breeze, perfectly delightful. Autumn in Boston brings the fall foliage season and exceptional New England weather of warmish days and crisp, cool nights.
If you're thinking of visiting Boston, go to the next page, where you'll find tips on getting to the city as well as getting around once you've arrived.