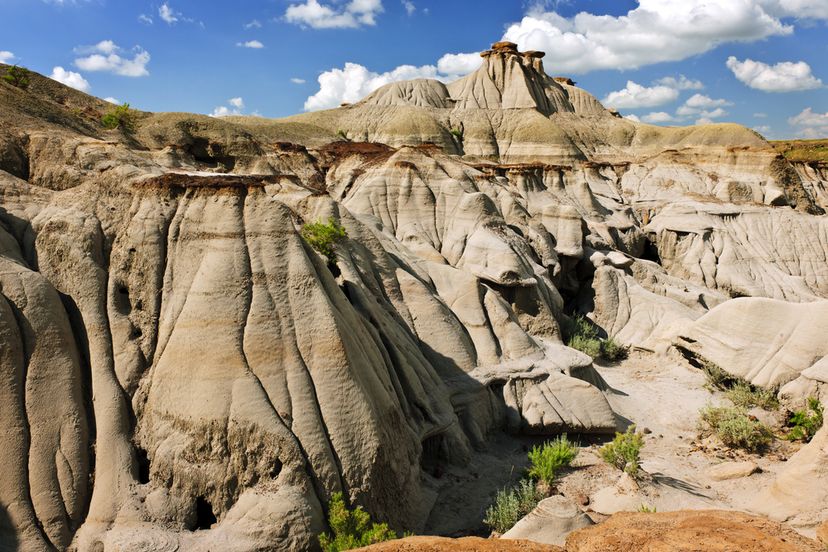 Discovering and visiting Canada's Natural UNESCO World Heritage Sites is an achievement many people would love to accomplish; not just for the beauty of these sites but also for the rich history among them. From world famous fossil sites that date well before the age of the dinosaurs to the first international peace park; Canada is home to some unbelievable locations. Canoe through rivers where wild bison graze on the shores or catch a glimpse of the endangered whooping crane. Visit the largest ice field in North America's subarctic interior or soothe your aches away in the natural hot springs. From snow capped mountain tops to rocky fossil beaches we have rounded up Canada's Natural UNESCO World Heritage Sites. Tag along with us as we explore what makes these sites so unique and discover the beauty and history that surrounds them.
1. Canadian Rocky Mountain Parks
Rugged snow covered mountain peaks and ice fields in the winter, towering waterfalls and shimmering lakes in the summer are just a slice of what awaits you in the Canadian Rocky Mountain Parks. Included in this list are Banff National Park, Hamber Provincial Park, Jasper National Park, Kootenay National Park, Mount Robson Provincial Park, Mount Assiniboine Provincial Park and Yoho National Park.
Millions of visitors visit these parks annually to discover such significant natural landscapes as the Columbia ice field; the largest in the North America's subarctic interior and the dividing line between Jasper and Banff. The visitors looking for relaxation flock to the natural hot springs in Banff to heal their aching bodies and the ones looking for adventure discover extensive cave systems throughout these parks. Besides the natural wonders, these parks house many species of wildlife including mountain goats, bighorn sheep, bears, puma and moose. The Burgess Shale fossil site is also located amongst the parks and is one of the most important fossil sites in the world housing information about how our world evolved. Whether you can explore one or many, it is easy to understand why people flock to these breathtaking parks.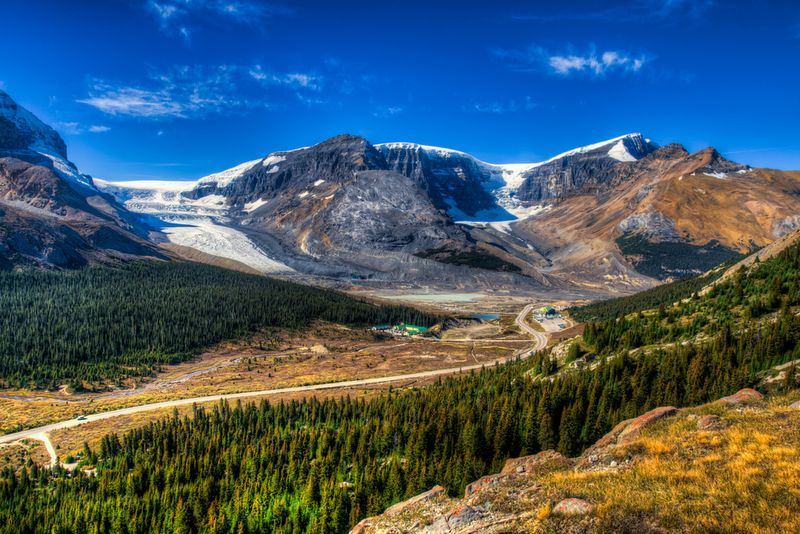 2. Dinosaur Provincial Park
This beautiful park is located right in the heart of Alberta's badlands and contains fossils from over 35 species of dinosaurs dating back 75 million years ago. That makes Dinosaur Provincial Park one of the most important fossil sites in the world regarding these ancient creatures that once roamed the very land we live on today. Twisted pinnacles of rocks among the barren landscape makes it hard to imagine a time when trees and flowers flourished in the subtropical paradise that was once here. The fossils and skeletons collected in this park are in over 30 major museums throughout the world.
Visitors to this provincial park are encouraged to explore the landscape while keeping in mind most of it is a protected reserve. Hop on one of the fabulous bus tours for a closer look and guided activities at stops along the way. Check out the visitor's center with interactive exhibits and short films about fossils and dinosaurs. Choose from one of five self-guided hikes or sign up to go on a real fossil safari. A trip to Dinosaur Provincial Park is unlike any other park you have been to so allow yourself a number of hours to truly enjoy this step back in time, more than 75 million years ago.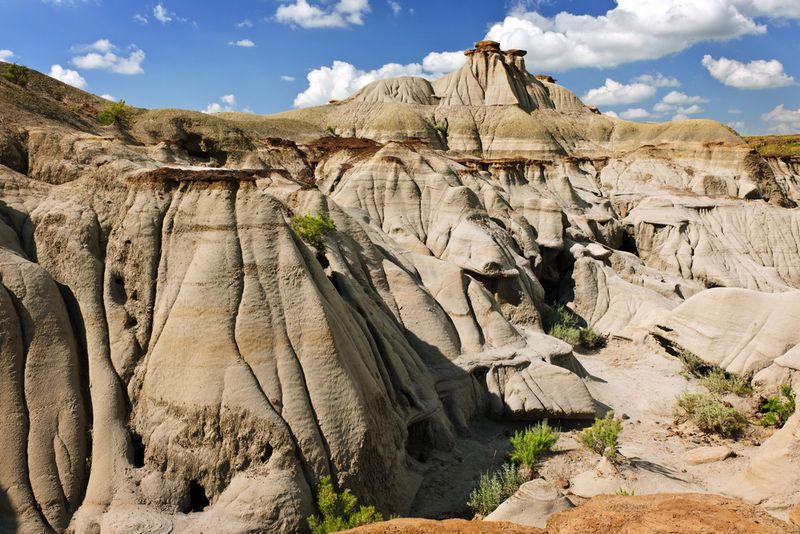 3. Gros Morne National Park
Heading all the way across Canada to Newfoundland's west coast is where you will find a park that illustrates some of the world's best examples of the process of plate tectonics. Gros Morne National Park is a combination of sheer cliffs, freshwater fjords, perched lakes and much more spectacular scenery. Deep ocean crust and the rocks of the earth's mantle lie exposed in this true natural wonder as the demonstration of glaciations in an island setting truly makes the scenery spectacular.
The park offers visitors the chance to hike through the wild uninhabited mountains, tour by boat under the towering sheer drop off cliffs formed by glaciers and lay their head down at night at a campsite on the beach. Shoreline communities with colorful houses, friendly locals and an abundance of wildlife make this an area you want to put on your bucket list. Minke and finback whales along with harbor seals are a common site from the park in the waters as well as arctic hare and caribous on land. Discover a new side of Newfoundland in the stunning beauty of Gros Morne National Park.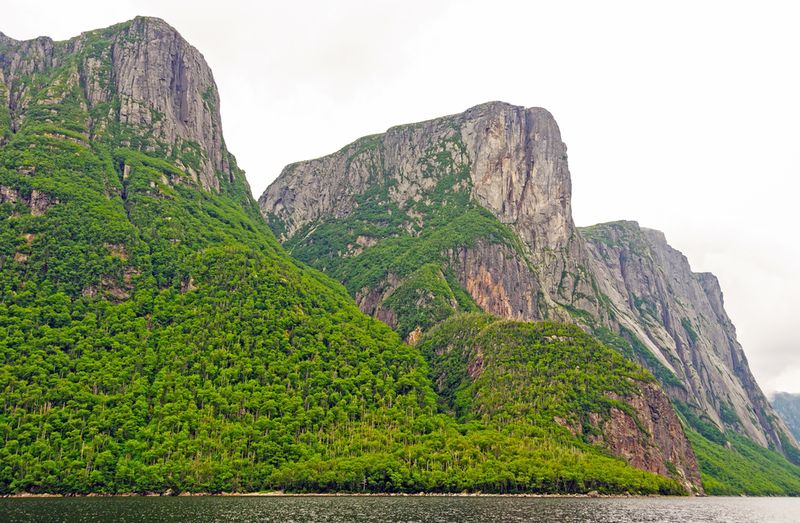 4. Joggins Fossil Cliffs
Sticking in Eastern Canada the next stop on our list is Joggins Fossil Cliffs, located on the beautiful Bay of Fundy in Nova Scotia. Stretching almost 15km down the shoreline is a paleontological site home to some of the world's best examples of Carboniferous fossils. Dating back 300 million years ago this collection is the most comprehensive of its kind and demonstrates the best examples of the terrestrial life from the Pennsylvanian strata age.
What was once a buzzing lush tropical forest home to towering giant seed fern trees, insects and reptiles is now a landscape made of beach, sea cliffs, low bluffs and rock formations. Visitors are encouraged to visit Joggins Fossil Cliffs and seek out the fossils along the shoreline. There is no "finders' keepers" here though, everything must be left in place as every piece of rock is a potential historical find. The visitor's center offers interactive exhibits and the chance to book your guided tour of the cliffs.  Home to the largest and most comprehensive fossils from 300 million years ago, Joggins Fossil Cliffs is truly a spectacle of nature.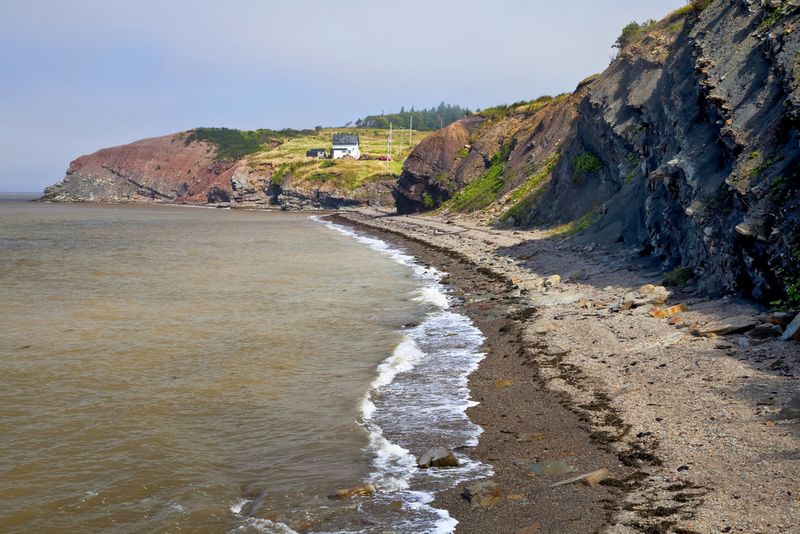 5. Kluane / Wrangell-St. Elias / Glacier Bay / Tatshenshini-Alsek
Heading back west the parks Kluane, Wrangell-St. Elias, Glacier Bay and Tatshenshini-Alsek make up an international park system that is home to the largest non-polar ice field in the world. Located in both Canada and the United States bordering Yukon, Alaska and British Columbia; these parks were designated as a UNESCO World Heritage Site for its long and spectacular glaciers along with its important habitat for grizzly bears, caribou and Dall sheep.
This North American "Mountain Kingdom" contains a variety of landscapes ranging from high mountain peaks to valleys to lakes and streams and glacier systems. This wide range of landscapes encourages many climate zones and the different elevations encourage a variety of ecosystems to thrive. On the Canadian side Kluane Park offers incredible ice field viewing and is home to the highest peak in Canada; Mount Logan. Tatshenshini-Alsek Park draws visitors who like to kayak and canoe to the two magnificent river systems that run through the park. Whether you have the chance to explore the Canadian Side or the American; this natural World Heritage Site is home to some incredible natural wonders of glaciers, ice fields and more.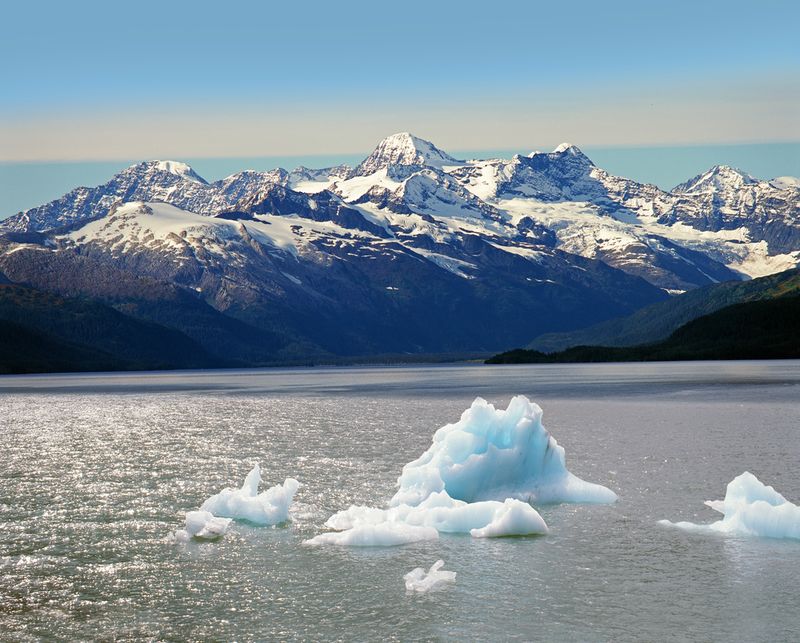 6. Miguasha National Park
Stepping back over 370 million years ago; Miguasha National Park was the very location where life on earth was making the transition from the sea to land. Today, thousands of beautifully preserved fossils have been extracted from the Escuminac cliffs. Most of these fossils are fish species from the Devonian period. These lobe-finned fish gave rise to the first four-legged air-breathing terrestrial vertebrate. Pretty impressive we must say.
This national park located in south-eastern Quebec welcomes visitors and encourages them to learn more about this history rich area. The Natural History Museums offers a close-up look at the well preserved fossils along with the opportunity to take a guided tour throughout. The "Evolution of Life" trail leads you on a 3km hike along the fossil rich cliffs with plenty of breathtaking views and photo opportunities. Miguasha National Park and the Natural History Museum will lead you down a path in history where you can discover and understand how life on earth really started.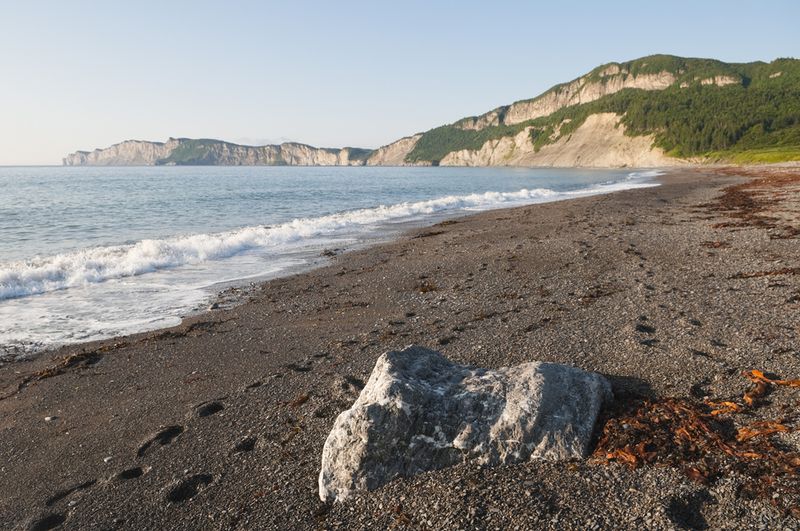 7. Nahanni National Park
Nahanni National Park runs along one of the most spectacular wild rivers in North America in the Yukon. This breathtaking national park is comprised of deep canyons, huge thundering waterfalls, mountain ranges, and a unique limestone cave system. This national park is also one of the least visited parks in the country with only one thousand visitors per year.
The Nahanni River with all of its enormity and impressive landscape is deserving of its UNESCO designation as a World Heritage Site. The rivers are older than the mountains they dissect and throughout the park there are examples of almost every category of river and stream known to mankind. Coupled with one of the largest North American waterfalls; Virginia Falls has pushed this national park into the spotlight. The undisturbed natural setting with its abundance of natural hot springs and caves to explore begs to be discovered. Getting here is not always easy and only accessible by air or foot. The reward is a landscape so diverse and awe-inspiring that words cannot possibly explain it.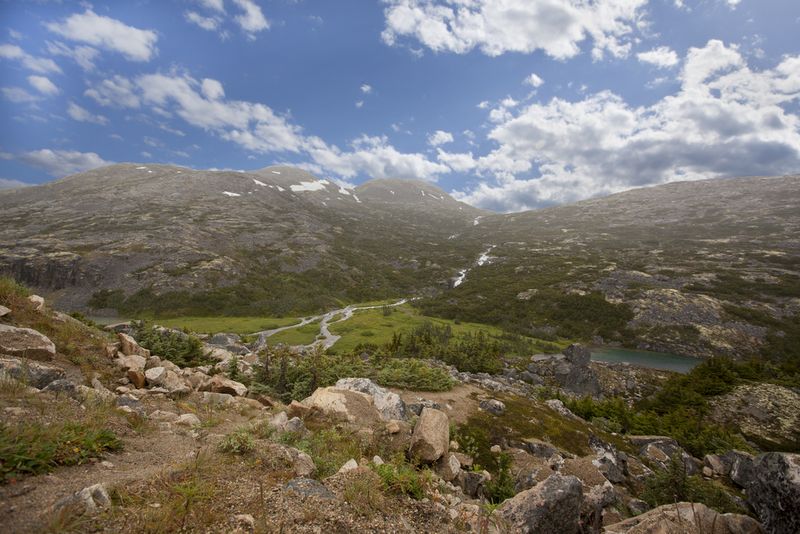 8. Waterton Glacier International Peace Park
The world's first international peace park is a combination of Canada's Waterton Lakes National Park and Glacier National Park of the United States. The international peace park sits on the border of these two countries in both Alberta and Montana and offers awe-inspiring scenery as well as an abundance of wildlife and diverse plant species. It is unusual in its landscape as it offers a sudden transition between prairies and mountains without the usual foothills most other landscapes include.
The diversity of its flora and fauna is what earned this park its place on the UNESCO World Heritage rating. Plant communities and ecological complexes that can be found here are nowhere else in the world and the high concentration of animal species in a small area is unique. Visitors can spend endless hours hiking through the valleys, forests and around the lake. The Canadian side tends to have slightly better scenery and a must stop is the Prince of Wales hotel; a grand hotel set amongst the beautiful mountain setting. Wildlife, plants, mountains and more are what make this National Park so stunning.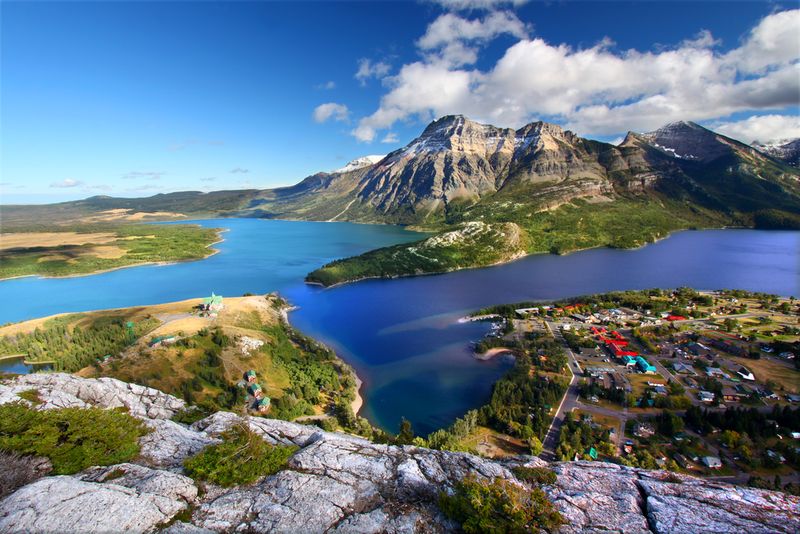 9. Wood Buffalo National Park
The home to North America's largest population of bison and the natural nesting place of the whooping crane along with the fact that this area has the world's largest inland delta makes the value of this park enough to land it on the list of UNESCO's World's Heritage Sites. The largely undisturbed grass and sedge meadows provide the perfect home for the threatened wood bison while the boreal forests protect a number of species including the endangered whooping crane.
Hiking or paddling is the best way to explore this extremely large National Park which borders northern Alberta and the Northwest Territories. Trails such as the Salt River Trails will take you along a saline creek to sinkholes and large strangely shaped rocks scattered throughout the land. Be sure to be on the lookout for bison and wolves, as this remains one of the few remaining places that this predator-prey relationship between the two species still exists. The three rivers throughout the park are calm and gentle allowing you to hop in a canoe and paddle your way along. With an abundance of wildlife, sinkholes and even a salt dessert; you never know what's around the corner at this interesting and downright beautiful National Park.