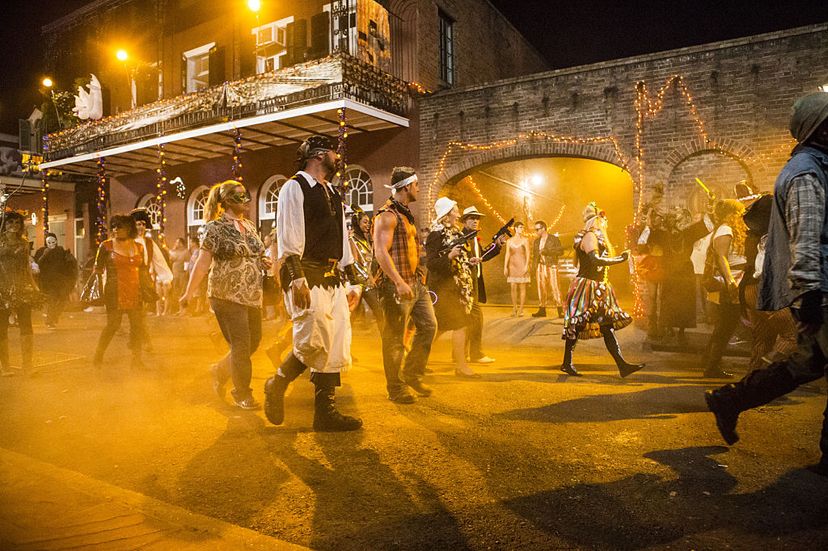 Halloween is celebrated in many different places across the world. While everyone has their own traditions and ways of celebrating some of the most common activities include costume parties, trick-or-treating, haunted attractions, and telling scary stories. Some places even put on parades and festivals with pumpkin carving contests, apple bobbing, and more. Come follow along as we discover some of the coolest places to celebrate Halloween.
Ireland
Ireland is actually where the Halloween holiday originated from. It still remains one of the best places to celebrate it, although it is known as Samhain Night here. This medieval Irish festival originated when it marked the end of the harvest, which brought shorter days and the dark half of the year. It was at this time that the dead are believed to revisit the mortal world. 
If you want to experience the country's best Halloween celebrations make sure you head to Derry City. The Banks of the Foyle Halloween Carnival is a nine-day event and celebrates everything spooky. You can count on parades, fireworks, ghost tours, haunted houses, workshops, scary movies, and even a Dragon Safari. A plethora of family-friendly programs also go on all festival long. Visit the origin of Halloween for one unforgettable experience.
Transylvania, Romania
The entire country of Romania has a spooky yet amazing reputation for its breathtaking Gothic architecture and enveloping forests. But it is the impressive Bran Castle that draws most visitors here. The castle was once said to be the home of Vlad the Impaler, the inspiration for Bram Stoker's famous Dracula. The castle is where tens of thousands of enemies were impaled on stakes, Vlad leaving their bodies to rot (yikes). 
Today for brave visitors the castle is open to the public and nothing seems scarier than touring through here on the night of Halloween and learning the truth about the terrifying legends. You can choose to book a guided tour and stay in nearby accommodations or you can join one of the specialty Halloween tours. These include Romanian cuisine, live medieval and Romanian folk music, live shows and the infamous Count Dracula wedding at the Hunyad Castle. Just don't forget your costume!
New Orleans, Louisiana, USA
New Orleans is renowned for its Mardi Gras celebrations but Halloween is the second most celebrated holiday in this city. It also happens to be one of the coolest places to celebrate Halloween in the world. Combine the city's reputation for voodoo with some of the best haunted and paranormal tours in the world and you have yourself an unbelievable Halloween experience that you'll never forget.
New Orleans is known as the most haunted city in the United States. During your visit, make sure you book a tour in the French Quarter or through one of the world-famous cemeteries. Furthermore, Frenchmen Street is where you will find the biggest Halloween street parties in which locals and tourists take to the streets in elaborate costumes. Some of the scariest haunted houses in America, activities at the zoo, an awesome annual Halloween parade, and the Voodoo Music and Art Experience are all a part of this city's celebrations. If you couldn't get here for Mardi Gras, visiting at Halloween is the absolute next best thing.
Mexico
The holiday isn't called Halloween in Mexico but instead, it's called the Day of the Dead. In Mexico, the Day of the Dead is a three-day celebration that begins October 31st each year. It's a celebration of the dead and it is believed that spirits return each year on these three days to spend time with their loved ones. 
Each city and town offers a different way of celebrating Day of the Dead. If you head to Oaxaca, near Acapulco you will find the streets transformed into a huge street festival where people dressed in costumes visit cemeteries and the town gets decorated with skulls, skeletons, and flowers. The main square is where the biggest party happens with an abundance of food, drinks, and dancing all night long. And if you head to the small island of Janitzio, you will find elaborate rituals which include folk dancing, fishermen in their rowboats with torches, and a gathering of families in the cemetery at night to sing and chant. Nonetheless, you'll certainly have an unforgettable experience wherever you go in Mexico. 
Sleepy Hollow, New York, USA
The famous grounds of Washington Irving's timeless legend of the Headless Horseman are the perfect place to get spooky this year. Halloween celebrations take place throughout the entire month of October. One of the most popular events is when the 300-year-old Philipsburg Manor is transformed into a terrifying landscape that features vampires, witches, ghosts, and state-of-the-art special effects. 
If you're looking for a more family-friendly tour then head to the Lyndhurst Castle where a guide will take you to meet the spirits of the Mummy, Frankenstein's Monster, and The Phantom of the Opera. Other activities in this town include haunted hayrides, live music, street fairs, parades, and lantern tours. Don't miss out on visiting Old Dutch Burying Ground which is one of the oldest cemeteries in the United States and of course the Sleepy Hollow Cemetery where the legendary Washington Irving is buried.
Long Beach, California, USA
One of the scariest Halloween celebrations can be found in Long Beach, California. Here you can check out the most haunted place in the world, the cruise liner Queen Mary. Docked off Long Beach in California this is one of the coolest and most unique places to celebrate Halloween. 
Dark Harbor starts October 1st each year and runs for the entire month offering terrifying experiences to those who dare to visit. This month-long event features six mazes haunted by more than 200 spirits and ghosts, many inspired by the actual spirits that are said to haunt the ship. Visitors should also expect rides, more monsters, live shows, delicious food, and beverages. It's worth noting, this experience is not for young children and no costumes are allowed other than on Halloween.
New York City, New York, USA
New York City's Village Halloween Parade is a must-see event. The parade literally shuts down lower Manhattan and draws visitors from all over the world. The parade was established in 1974 and features dancers, costumes, and giant mile-long puppets. Anyone in a costume is welcome to participate in this event and those wanting to watch should show up early to grab a spot along 6th avenue. 
If this incredible parade isn't enough of a Halloween experience for you then head to an after-dark Crypt Crawl under the Cathedral of St. John the Divine or join a ghost walk where you might just run into the ghost of Edgar Allen Poe, known to hang around the village. The city is overflowing with haunted hotels, bars and buildings and even the museums and zoos go all out for this spooky annual celebration.
Hollywood, California, USA
Visiting Universal Studios is fun on any given day but experiencing the park on Halloween is something you don't want to miss. The Hollywood park transforms into a creepy wonderland of horrors featuring interactive mazes, additional shows and rides, and "scare zones" that will have you screaming in fear. Horror-movie fans will love the over the top special effects and scream-worthy attractions. 
But if you prefer to avoid the theme parks why not head to one of the largest Halloween parties in the world? In West Hollywood, over 500,000 people head to the streets of Santa Monica Blvd for the Halloween Carnaval. This event features live entertainment, food vendors, photo stations, a queen, and much more. Many of the bars along the road take part in this event with special drinks and patio parties. It is one of the biggest Halloween events in all of Los Angeles and the best part is that it's FREE to attend! The event is open from 6 pm-11 pm on Halloween night.
London, England
There is an abundance of awesome Halloween events that happen in London and your hardest decision may just be deciding which ones to attend. If you're looking to be frightened there is no better place to head than the popular Dungeon, which has been giving panic attacks to visitors since 1976. An elaborate, interactive experience takes visitors face to face with notorious villains such as Jack the Ripper and Sweeney Todd. Actors escort participants through 14 shows and three terrifying rides. 
For those looking for an experience that is a little less intense, the ghost walks that happen through the city are always a hit. Join along as you visit the site of Sir William Wallace's execution and an old churchyard that is haunted by Queen Isabella. Or take a guided tour around Jack the Ripper's old haunts in East London where you can even grab a pint where two of his victims were allegedly drinking.
Salem, Massachusetts, USA
Salem is a historic coastal city located in the state of Massachusetts, USA. It was here that twenty-six people were once tried and put to death for being witches and Halloween is when the town celebrates witches in the most interesting of ways. Better yet, you can visit Salem anytime during the month of October and get the full Halloween experience.
Visitors here should expect guided tours of haunted and infamous spots, trial and hanging re-enactments, fireworks, parades, and a witch's circle. Don't miss out visiting the Witch House Museum, which was once home to Judge Jonathan Corwin — one of the judges in the trials and one of the remaining buildings left in Salem that has direct links to the trials. On the night of Halloween, there are magic shows, witches balls, séances, fireworks, and more to choose from. With plenty of accommodation options, dining options, and interesting shops there will be no shortage of things to do in this town.